Bug Costume Ideas
They may not be cute little balls of fur that make us say "aww" but you have to admit, bugs are pretty awesome. It doesn't matter if they have 100 legs or a beautiful pair of wings; insects are much needed in our world. Before you squish the spider that's been living in the corner of your bedroom window, take a minute to appreciate the little guy. Spiders eat other pesky bugs! In fact, one spider has the potential to eat all the other troublesome insects in your house, so let's cut them some slack. They can't help that they look creepy! If you have the inclination to dress as an insect for Halloween, then take a moment to browse these bug costume ideas. It will be a great way to give people the willies while simultaneously showing them that there's no reason to fear insects!
Bug Costumes for Kids
Little kids don't have the same hang-ups about insects that adults do. They don't mind that bugs are a little gross because kids can be a little gross, too. Kids will catch a whole bunch of lightening bugs with their bare hands and not think twice about it. In fact, they'll touch any bug with their bare hands and not even flinch (meanwhile, we scream if we even see a spider in the house). If you have a youngster who is fascinated with every creepy crawly under the sun, then they'll love dressing up in our bug costumes for kids. Children can learn about their favorite arthropod while looking exactly like them. They will love wearing any of these costumes while they watch an army of ants building anthills in the backyard. Round up all the neighborhood kids and dress them up as cute little bugs, forming the cutest insect community in history!
Monarch Butterfly Costume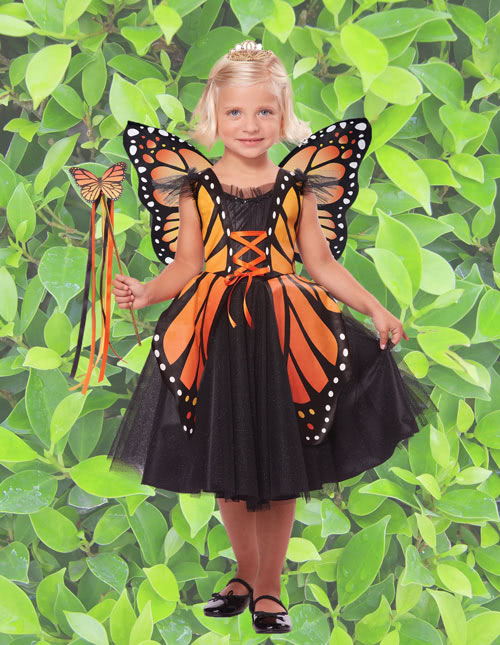 Butterflies are so small, yet so beautiful just like your little girl. Children who are enchanted whenever a butterfly flutters into the yard will love wearing this elegant monarch butterfly costume. Your little girl will feel like princess of the butterflies once she's wearing this dress printed to look exactly like a monarch, with tangerine-colored wings and contrasting white dots. She'll love twirling and spinning in the sunshine while she wears the layered tulle skirt and sparkly gold tiara. This costume also comes with a wand, perfect for pointing out all the butterflies that flutter into the garden! Be sure to take lots of pictures of her when she's dressed as a butterfly while she poses next to bright and colorful flowers in your backyard.
Baby Bee Costume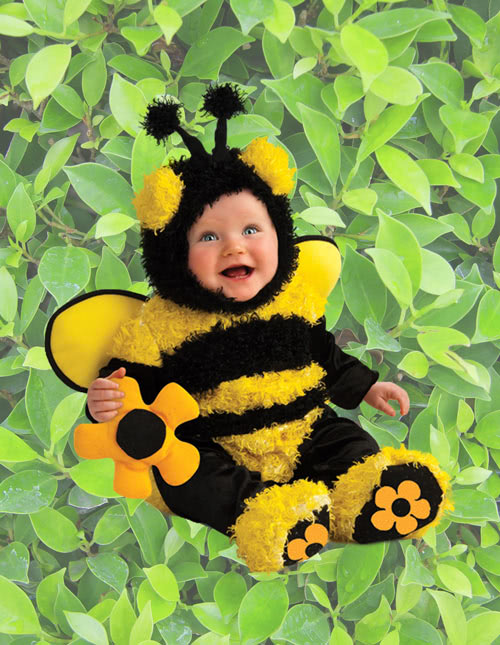 Have you ever thought that your baby is a lot like a busy bee? They both have the ability to move from place to place fairly quickly, they're both attracted to bright colors, and they both love snacking on sugary treats. If you've been searching for the perfect costume for your infant then look no further than this baby bee costume . You'll love seeing your little bundle of joy crawling around in this textured black-and-yellow romper. This faux fur jumpsuit features anti-slip soles on the feet so your little one can motor around safely. The yellow velour wings are attached to the jumpsuit so you don't have to worry about them getting lost while they're crawling around outside. The matching headpiece fastens comfortably under the chin with a Velcro tab and the bouncing antennae are sewn to the top. The flower rattle makes a noise that your baby will love, providing lots of entertainment for your little bee. Make sure to take lots of pictures of your baby when he or she is all dolled up as a busy bee, enjoying all the adventures that the great outdoors have to offer! Wear the sunflower hood accessory so you and your little one have coordinating outfits.
Baby Spider Costume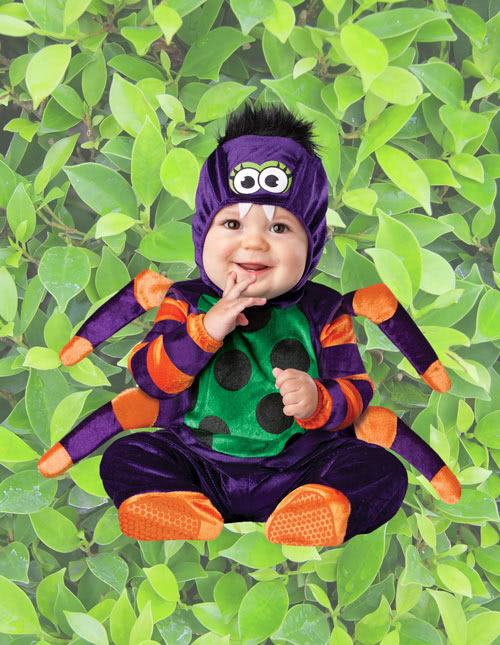 Do you sing the "Itsy Bitsy Spider" nursery rhyme to your little one every night before bed? If your infant loves listening to you sing the popular lullaby while you use your fingers to illustrate the lyrics, then this baby spider costume is perfect. This purple velvety jumpsuit feels comfortable on babies' gentle skin and the no-slip grips on the bottom of the feet are skid resistant. The velvety onesie features attached plush legs and an emerald-colored panel on the tummy. The purple spider hood has felt teeth, a tuft of hair, and two large eyeballs. It conveniently attaches under the chin via a Velcro tab. Use some spider web decoration to form a spooky scene, then position your tot in the web and take lots of pictures. Your little one just may try crawling up a water spout in this costume, so stay vigilant!
Baby Butterfly Costume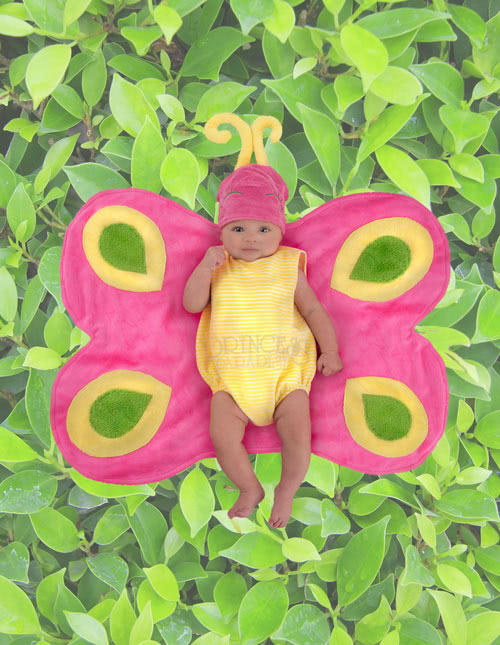 Your newborn will one day blossom into a beautiful butterfly but for right now they are still a little caterpillar. If you want to see what your baby will look like as a sweet little winged creature, then this baby butterfly costume is exactly what you're looking for. This costume comes with a soft romper, a comfortable hat with antennae, and a cushioned swaddle blanket. The swaddle blanket is in the shape of butterfly wings. Just place your infant on the blankie and start snapping tons of pictures to share with all your friends and family.
Bug Costumes for Pets
In our office, we absolutely love our pets. We love taking them on walks, we love playing fetch with them in the backyard, and we love dressing them up to look like other creatures. (We are a costume company after all!) If you also love dressing up your pooch in adorable get-ups, then you will be a big fan of these bug costumes for pets. All of these pet costume ideas will create cute photo opportunities that will definitely get a lot of love on social media. Browse all of our bug pet costumes and pick the one that best transforms your furry friend into a beast that's half canine/half insect!
Dog Spider Costume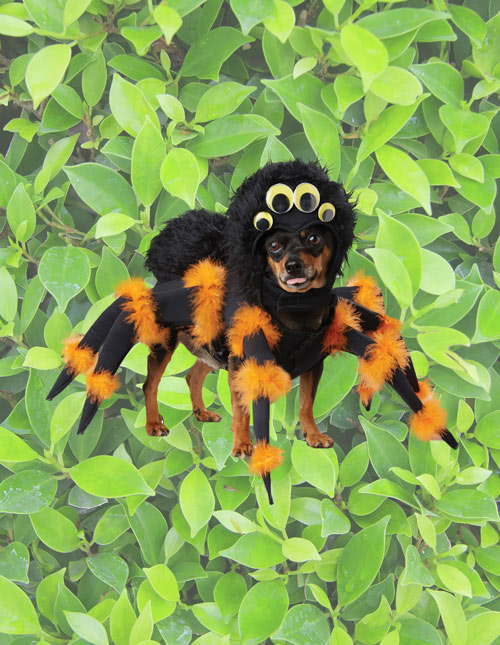 Are you in search of a pet costume that has the potential to frighten people? No matter how cute your pooch is, they will turn into a monstrous beast once they're strapped into this dog spider costume . Known to scare the pants off of anyone with arachnophobia, this costume will transform your pup into a fuzzy black-and-orange creepy crawly. Your neighbors will get a kick out of it whenever they see you walk your new hybrid pet around the block!
Tarantula Spider Costume for Dogs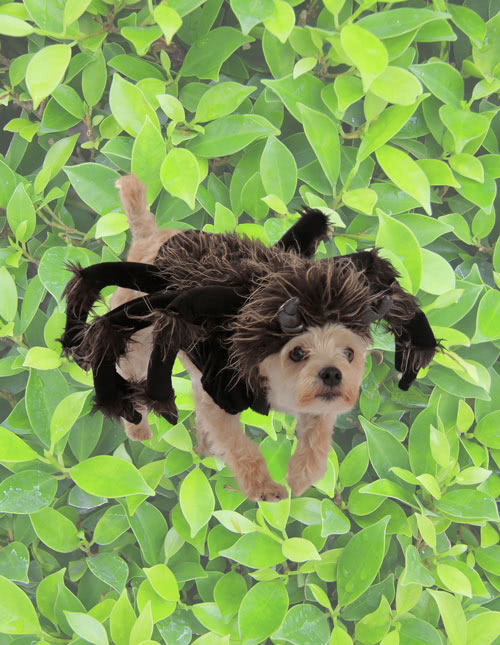 Wait, what is that thing that's running down the dark alley? It's moving really fast and it has so many legs. Oh man, it's getting closer and we can finally get a better look at it. It's a… tarantula dog! If you are looking for a pet costume that could potentially make people run in the opposite direction then the tarantula spider costume for dogs is what you need. This costume comes in sizes small through large so all kinds of pups can sport this soft costume. It fastens via a Velcro tab underneath the belly and features plush legs, too. Dress up your dog and take him trick or treating so the whole neighborhood can be scared of your new crossbreed!
Pet Butterfly Costume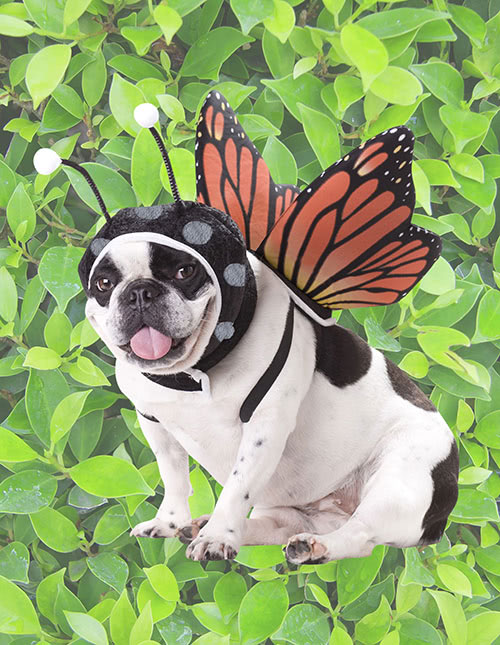 Have you ever wondered what your pup is dreaming about while they're sleeping and kicking their legs? We can't say for sure, but we have a feeling that all dogs secretly want to be beautiful butterflies. Make your dog's dreams come true by outfitting them in this pet butterfly costume which will transform them into an enchanting and popular flying creature. This costume comes with wings which fasten around the shoulders and a soft headpiece that features plush antennae. You'll love watching your hound show off their lovely new wings while they frolic in the field!
Scorpion Dog Costume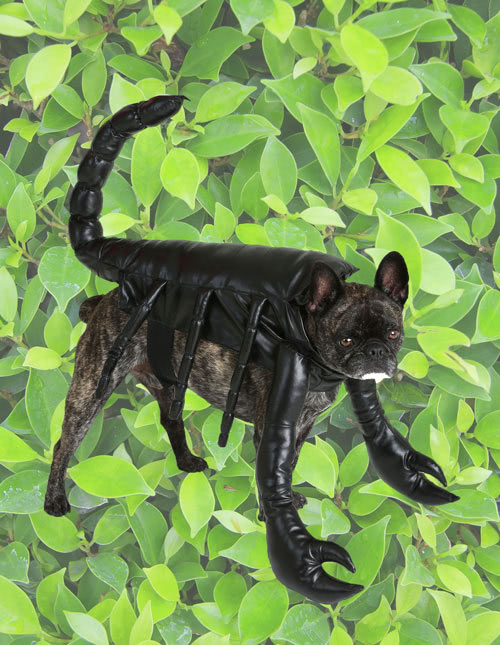 What has 10 legs, 2 claws, and 1 vicious stinger? A scorpion dog! If you want to turn your pet into a new and exotic dog breed that will amuse animal lovers everywhere then this scorpion dog costume is exactly what you need. This costume comes with a stuffed faux leather scorpion suit which fastens around the body and neck via stretchy belly bands. The claw legs attach to the body with a hook and loop fastener. You'll love calling for your furry friend and watching him or her waddle over wearing this unique pet costume for dogs. Be careful now, don't get stung!