Boxing Costumes
So, you're thinking about trying your hand as a star of the boxing ring this Halloween? Well, get ready for your weigh-in by practicing your one-two punch and getting one of our boxer costumes! Sports themes are always a popular costume choice, and boxer Halloween costumes are perennially a top-selling item. Which isn't much of a surprise, given the sport's popularity worldwide and the bevy of boxing movies that have been Hollywood smash hits!
We offer everything you'll need to go round after round this Halloween with the boxer costumes women, men, and kids will love. Our costumes feature realistic-looking trunks and boxing robes with details right from the ring. Start your shopping by getting a little more info on our top boxing costume ideas right here!
Boxer Halloween Costumes
When it comes to adult boxing costumes, we have something for everyone. Men will want a boxing robe costume that will have them looking like a heavyweight champ. And ladies can look tough in a women's boxer costume or choose a sexy boxer costume for a knockout look. If you're a fan of sports movies, we've got you covered, too. A Rocky Balboa or Clubber Lang costume will have you looking just like your favorite film fighter! Check out these top boxing costumes to help you decide which outfit to choose.
Women's Boxer Costumes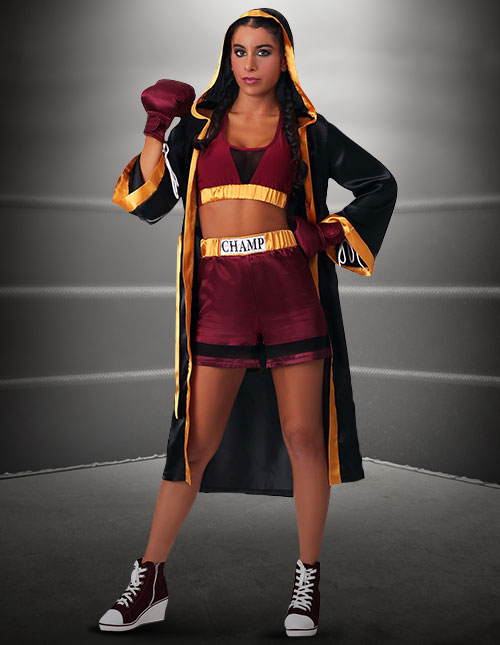 Women's boxing is a sport that's been surging in popularity. And with our Tough Boxer Costume, ladies can experience what it's like to be a knockout artist for Halloween. Featuring boxer trunks, a sports bra top, and a women's boxing robe made of svelte satin fabric, the outfit is a devastating combo. It looks sharp, too, in burgundy and black with gold trim and red gloves included. It even features a "Champ" patch on the waistband to let everyone know you're #1 in the ring!
Boxing Champ Boxer Costumes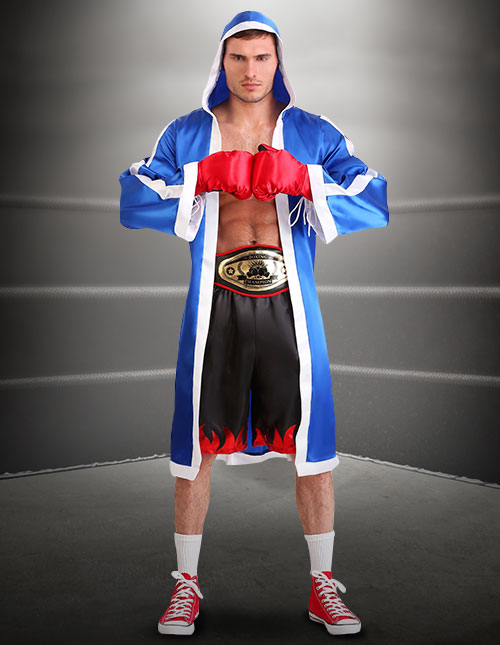 When guys want a boxing costume, they don't want any old outfit. They want a costume that will have them looking like a world champion! Our Boxing Champ Costume does just that with the macho styling that fighters love to flaunt in the ring. It features trunks that are black with red flames, and they're paired with a slick blue and white boxing robe. It includes red boxing gloves, too, but its piece de resistance is the championship belt. It has a gold fabric medallion that shows off your title!
Sexy Boxer Costumes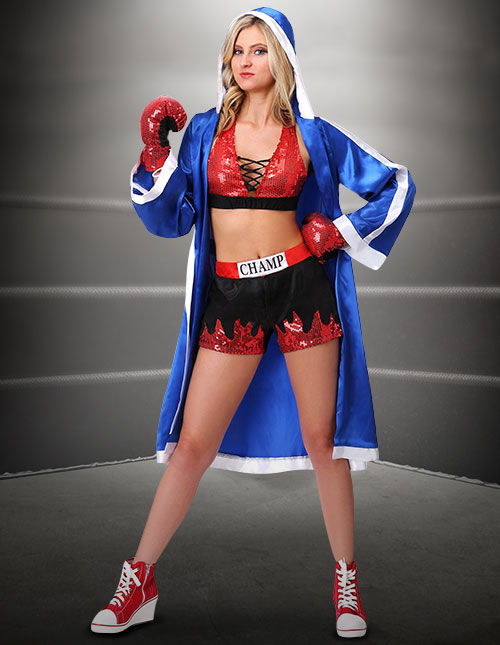 Going as a girl boxer for Halloween doesn't mean you need to give up your fabulous fashion sense. With our Knockout Beauty Costume, you can have a ring outfit that will be a stunner! This costume features trunks, a top, and boxing gloves that are covered in dazzling red sequins. It also includes a blue satin robe with white accents to make it a complete boxing outfit. With details like a lace-up style bra and sizzling red flames on the shorts, this women's boxer costume is ready to make you a superstar.
Rocky Balboa Costumes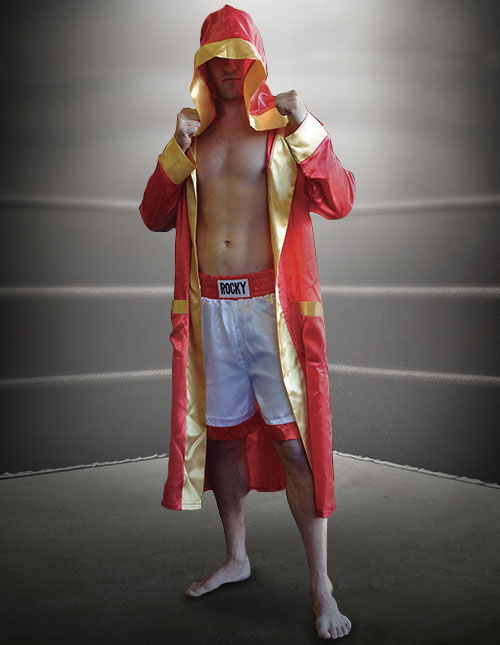 There have been many boxing movies over the years, but to be the most iconic fighter from the box office, there's only one costume to consider. You'll want to go as the one and only Rocky! You can have an authentic Rocky Balboa costume by pairing up our Rocky Costume Robe and Rocky Boxing Trunks. Each is an officially licensed, exact replica of the Rocky outfit seen in the original movie. It's accurate right down to the Shamrock Meats patch on the back, added by Rocky as a favor for Paulie in the film!