Planning your next vacation? This map of haunted hotels is a ghost hunter's paradise. Take a tour of the United States and stay in some of the most haunted hotels in each state. You'll have to sleep with one eye open in some of these places so we sincerely hope you don't plan on taking this time to catch up on sleep. The accounts of paranormal activity in each venue varies, but the one thing they all have in common is some of their residents have never checked out. Prepare to see apparitions, be touched in your sleep by ghostly hands, or even levitated. (Okay, that last one sounds pretty cool!) Some of these permanent occupants enjoy playing tricks and others will not hesitate to tell you to get out of their hotel. If you are feeling brave, we've created a printable map with the shortest route to visit all the hotels in the contiguous states. We also did our homework and whipped up an infographic to help you learn a little bit about each of these haunted hotels, including the spookiest rooms to request at each location, in order to best prepare you for your journey!
Haunted Hotels Infographic
Click Image for Larger View


Embed This Image On Your Site:
Haunted Hotels Travel Map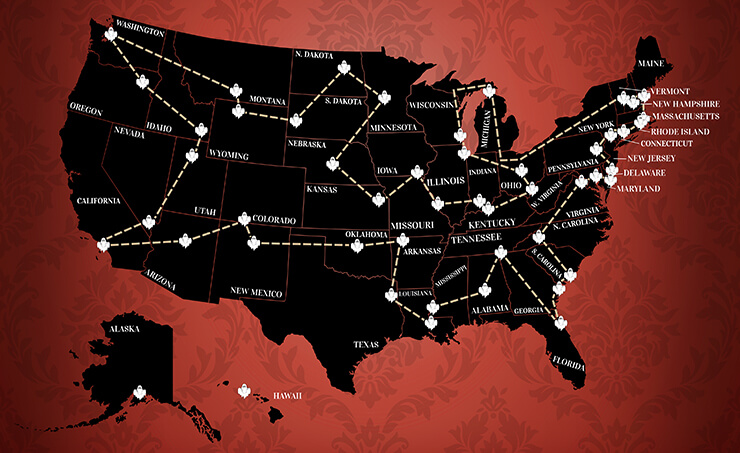 Click image for printable version.
Haunted Hotels:
A Ghost Hunter's Road Trip Guide Transcript
St. James Hotel
Selma, Alabama
1200 Water Avenue
This hotel is believed to be haunted by the ghosts of Jesse James, his girlfriend Lucinda, and their dog. Guests report sudden lavender scents (Lucinda's favorite) and a dog barking in the courtyard even though there are no dogs at the hotel.
Spooky Rooms: 214, 314, 315
Anchorage Hotel
Anchorage, Alaska
330 E Street
Crying coming from underneath beds, unexplained knocking, and the sound of children playing in the halls even when there are no children at the hotel are a few of the paranormal manifestations.
Spooky Rooms: 202, 215, 217
The Hotel Monte Vista
Flagstaff, Arizona
100 N San Francisco Street
Knocking from inside the closet, a sudden blaring of the TV, and a woman in a rocking chair are only the start. Male guests have reported being awakened unable to breathe with what feels like hands covering their mouth and their throat.
Spooky Rooms: 220, 305, 306
Crescent Hotel
Eureka Springs, Arkansas
75 Prospect Avenue
Formerly a hospital with a morgue in the basement, nurses are still seen to this day rolling patients around in wheelchairs. Some of the ghosts like to play pranks and even pull covers off guests at night.
Spooky Rooms: 202, 218, 419, 424
The Queen Mary
Long Beach, California
1126 Queens Hwy
Unfortunately, B340 is no longer rented out due to high activity, but you can request another haunted room when making your reservation. One deck of the ship is said to have a sailor who shakes people awake at night.
Spooky Rooms: B340
The Strater Hotel
Durango, Colorado
699 Main Avenue
The employees of the hotel refuse to work alone due to so much paranormal activity. Shadowy apparitions are seen, and when guests are alone, they describe feeling as if a cold hand has been placed upon their shoulder.
Spooky Rooms: 323
Curtis House Restaurant & Inn
Woodbury, Connecticut
506 Main Street S
Guests have distinctly reported feeling the presence of someone who has crawled into bed with them. Not only do they stay there all night, but some have even shoved the living guests out of bed.
Spooky Rooms: 1, 16
Addy Sea Bed & Breakfast
Bethany Beach, Delaware
99 Ocean View Street
If you anger the spirit while trying to take bath in the copper tub, it will violently shake. Mysterious music has been heard throughout the property and some have even heard footsteps on the roof at night.
Spooky Rooms: 1, 11, 16
Casa Monica Hotel
St. Augustine, Florida
95 Cordova Street
Accounts of distant screams and guests awakened at night to find several people at the foot of the bed are common at the hotel. Black hand prints have also appeared on the hallway ceilings on several occasions.
Spooky Rooms: 411, 511, Ponce de Leon Suite
The Marshall House Hotel
Savannah, Georgia
123 E Broughton Street
Amputated limbs were buried under the floorboards in this old hospital. Apparitions are seen carrying their limbs looking for a surgeon to reattach them. A ghost child has also left bite marks when playing with young visitors.
Spooky Rooms: 306, 414
Ihilani Resort
Kapolei, Hawaii
92-1001 Olani Street
Not only does a woman on the 17th floor enjoy hovering over guests as they sleep, but she also enjoys opening and closing the sliding balcony doors in their rooms during the middle of the night.
Spooky Rooms: 17th Floor
Enders Hotel
Soda Springs, Idaho
76 South Main Street
Guests have seen what appears to be the ghost of an erratic man roaming the halls. Many have also claimed to feel followed and have felt spirits touch their face throughout their stay.
Spooky Rooms: 3rd Floor
Congress Plaza Hotel
Chicago, Illinois
520 S Michigan Avenue
A room on the 12th floor had to be fastened shut from the outside due to the amount of paranormal activity. Other rooms have had accounts of a gloved hand coming from the walls and items inexplicably rearranged.
Spooky Rooms: 441
French Lick Springs Hotel
French Lick, Indiana
8670 IN-56
Spirits enjoy calling the front desk and employees have seen a vision of a man riding horse in the hall. Hotel stayers have seen apparitions hovering above their bed and witnessed a reappearing blood stain in the bathtub.
Spooky Rooms: 6th Floor, 7th Floor
The Mason House Inn
Bentonsport, Iowa
21982 Hawk Drive
Several people have reported seeing a floating head in room 8 and others have seen what appears to be a man who likes to stare. There is also a young boy who likes to play tricks and tugs on guests' clothes in the night.
Spooky Rooms: 5, 7, 8
The Eldridge Hotel
Lawrence, Kansas
701 Massachusetts Street
Room 506 has so many unexplained anomalies that it is believed to be a spirit portal where ghosts can cross in and out to another world. Cold spots and electrical complications are only the beginning.
Spooky Rooms: 506
Jailer's Inn Bed & Breakfast
Bardstown, Kentucky
111 W Stephan Foster Avenue
The spooky B&B used to be a jail which is not only apparent by the decor but also the ghostly tenants. Screams and cries are among some of the unexplained noises that guests hear during their stay.
Spooky Rooms: The Colonial Room
The Myrtles Plantation
St. Francisville, Louisiana
7747 U.S. Hwy 61
Waking up and seeing a ghostly figure watching you sleep is only the tip of the iceberg. Videos and pictures have captured the apparitions as well. Other instances include voices of children and objects flying off dressers.
Spooky Rooms: All
Captain Lord Mansion
Kennebunkport, Maine
6 Pleasant Street
All paranormal activity here suggests that a ghostly woman has never checked out after death. The Jacuzzi turns on by itself, as does the TV, fireplace, and lights. She's just going about her day like other guests.
Spooky Rooms: Lincoln
Kent Manor Inn
Stevensville, Maryland
500 Kent Manor Drive
Unexplained cigar smoke, flickering lights, disembodied footsteps, and doors that lock and unlock on their own are just a few of the regular occurrences that spook guests at Kent Manor Inn.
Spooky Rooms: 210, 303, 305
Lizzie Borden House
Fall River, Massachusetts
230 2nd Street
"Lizzie Borden took an axe and gave her mother forty whacks. When she saw what she had done, she gave her father forty-one." The gruesome murders have led to the hauntings by these eternal residents.
Spooky Rooms: Andrew Borden Room, John Morse Room
Mission Point Resort
Mackinac Island, Michigan
6633 Main Street
Most activity at the resort occurs in the theater. A male whose death was ruled a suicide (evidence suggests otherwise) likes to flirt with women. He has also been heard on EVPs saying, "Shotgun."
Spooky Rooms: All
Palmer House Hotel
Sauk Centre, Minnesota
500 Sinclair Lewis Avenue
A visit to the Palmer House Hotel might include a few ghostly encounters from a man who appears over your bed, the woman who sleeps on top of guests, or even the ghost who likes to slap legs at night.
Spooky Rooms: 11, 17
Linden Bed & Breakfast
Natchez, Mississippi
1 Connor Circle
The ghost of a woman in the east wing has been seen jumping from a window several times but always disappears before she hits the ground. Beds have also been known to shake at night and a persistent tapping has been heard.
Spooky Rooms: All
The Lemp Mansion
St. Louis, Missouri
3322 Demenil Place
Upon arriving, guests sometimes experience sudden feelings of sorrow, taps on their shoulders, and even their hair being stroked when no one is near. Floors have also been known to vibrate periodically.
Spooky Rooms: Elsa, Charles
The Pollard Hotel
Red Lodge, Montana
2 Broadway Avenue
A woman in a yellow dress likes to trick guests by making loud noises, turning lights on, and spreading the aroma of her French perfume. Many report feeling oppressed or odd in her presence.
Spooky Rooms: 309, 310, 311, 312
Arrow Historic Hotel & Pub
Broken Bow, Nebraska
509 S 9th Avenue
Loud booms and other strange noises are a frequent occurrence here. A red-haired woman who roams the halls is thought to be a witch that was murdered and buried nearby. One past owner has also been seen walking to the kitchen.
Spooky Rooms: N/A
Boulder Dam House
Boulder City, Nevada
1305 Arizona Street
Several guests have reported feeling an uneasiness throughout the hotel as if they were unwelcome. On more than one occasion, visitors have felt a hand touch their shoulder and even come through the floor to grab their ankles.
Spooky Rooms: 209
The Tilton Inn
Tilton, New Hampshire
255 Main Street
Years ago, the Tilton Inn was destroyed in a fire and even though the building is new, the residents are old. A playful, young girl has been felt jumping on the bed and stroking guests' hair as they sleep.
Spooky Rooms: Sanborn
Hotel Macomber
Cap May, New Jersey
727 Beach Avenue
Persistent pounding on the door has been known to alarm guests. A loud banging noise can also be heard and, as legend has it, a guest who frequently traveled with her trunk is vacationing permanently.
Spooky Rooms: 10
La Posada de Santa Fe
Santa Fe, New Mexico
320 E Palace Avenue
A permanent resident in room 256 has been known to turn the tub on in the middle of the night, throw glasses off the shelves, and fill the room with lavender perfume when someone has been smoking a cigar.
Spooky Rooms: 256
The Shanley Hotel
Napanoch, New York
56 Main Street
A playful spirit likes to pinch and poke guests on the behind and some have had their hair pulled. Others have reported feeling dizzy or have felt as if they've been slapped on the left side of their face.
Spooky Rooms: 3rd Floor, Gentlemen's Quarters
The Omni Grove Park Inn
Asheville, North Carolina
290 Macon Avenue
Dubbed the "pink lady," this presence appears in a pink mist. She is a friendly ghost who has been said to nurture and stroke the hands of ill children. Occupants report having their feet tickled in a playful way.
Spooky Rooms: 545
Totten Trail Historic Inn
Devils Lake, North Dakota
4 Historic Square
The ghosts here are a bit darker than at some of the other hotels. Guests have reported a sense of anger and hostility following them around the inn. They also enjoy rearranging all the furniture when the visitors are asleep.
Spooky Rooms: All
The Buxton Inn
Granville, Ohio
313 E Broadway
Shadowy figures have appeared to the guests and an apparition of a cat has been felt jumping onto beds and snuggling next to the sleeping occupant. A few women have felt as if someone was tugging on their ponytail.
Spooky Rooms: 7, 9
The Stone Lion Inn
Guthrie, Oklahoma
16 W Warner Avenue
Guests have seen apparitions in the mirror and have felt as if someone was attempting to tuck them in at night. Perhaps even scarier, some people have reported hearing a voice telling them to get out.
Spooky Rooms: 3rd Floor
Hot Lake Hotel
La Grande, Oregon
66172 Hwy 203
Previously, the hotel was an experimental hospital and then an insane asylum, so the ghostly screams and constant mutterings of what can only be described as crazed lunatics, is really no surprise.
Spooky Rooms: Upper Floors
The Inn at Jim Thorpe
Jim Thorpe, Pennsylvania
24 Broadway
Chairs have been turned upside down and shadows have been seen lying next to guests in the beds. Perhaps the most bone-chilling is when those shadows want to snuggle and grip the guests with their ice cold limbs.
Spooky Rooms: 211, 303, 310
The Biltmore
Providence, Rhode Island
11 Dorrance Street
At the Biltmore, you might find a ghost who likes to sit on you or even sleep on top of you. Some of the ghosts are known to have a history of violence and a few guests have gone missing during their stay.
Spooky Rooms: 16th Floor
The Battery Carriage House Inn
Charleston, South Carolina
20 S Battery
What appears to be the ghost of a man with no head has hovered over guests and entered rooms through closed doors. Other spirits have been seen lying in bed with guests and chairs have been thrown against walls.
Spooky Rooms: 8, 10
Hotel Alex Johnson
Rapid City, South Dakota
523 6th Street
As legend has it, a woman was either thrown or jumped from the window of room 812. Guests of the room have awakened to the window opening at night. She also enjoys turning dresser drawers upside down.
Spooky Rooms: 812
Read House Hotel
Chattanooga, Tennessee
827 Broad Street
A woman who was nearly beheaded by what was believed to be her husband or a lover has an aversion for any male who crosses her path. She has been known to gnash her teeth in anger.
Spooky Rooms: 311
The Jefferson Hotel
Jefferson, Texas
124 W Austin Street
Visitors have reported getting little sleep because the playful ghosts enjoy tickling them in their sleep and scratching their feet. Scratch marks have also been seen on the walls in the hallways.
Spooky Rooms: 19, 20
Kirk Hotel
Tooele, Utah
57 W Vine Street
Disembodied voices and footsteps are the least of your worries here. Residents have reported their beds shaking at night and the maintenance staff has even noticed blood smudges that reappear after cleaning.
Spooky Room: 3rd Floor
The Quechee Inn at Marshland Farm
Quechee, Vermont
1119 Quechee Main Street
Whistling can often be heard throughout the inn even when no one is around. Spirits are said to also be responsible for unexplained footsteps and hidden belongings that are returned shortly before occupants check out.
Spooky Rooms: 1, 2, 3, 4, 5, 6
Old Towne Inn
Manassas, Virginia
9103 Main Street
Floating apparitions have been seen entering rooms and some are believed to be the culprits of the middle of the night ankle grabbing. Some guests have even reported being levitated!
Spooky Rooms: 52, 54
Sorrento Hotel
Seattle, Washington
900 Madison Street
Keep your valuables hidden at the Sorrento because guests have reported their items being levitated and dropped. An apparition of a woman has been seen and unexplained footsteps are often heard.
Spooky Rooms: 408
The Historic Lowe Hotel
Point Pleasant, West Virginia
401 Main Street
Many people have seen a woman dancing throughout the hotel, especially on the mezzanine. A young child has also been seen riding a tricycle in the halls and adults have felt him tugging on their clothes.
Spooky Rooms: 2nd Floor
Pfister Hotel
Milwaukee, Wisconsin
424 E Wisconsin Avenue
The hotel is famous for the ghostly encounters with MLB baseball players. Electrical anomalies, incessant door knocking, and pounding behind the headboards are responsible for many sleepless nights.
Spooky Rooms: 7th Floor, 9th Floor
Irma Hotel
Cody, Wyoming
1192 Sheridan Avenue
Pictures have been known to fall off the walls in several areas and guests have reported seeing an apparition with no bottom half floating around the hotel. Some have even heard scratching from behind their headboard at night.
Spooky Rooms: 20, 35
Sources: hauntedplaces.org, hauntedhouses.com, onlyinyourstate.com
Which of these hotels are you most excited to visit? Have you been to any of these hotels before or know someone who has? Share your paranormal experiences with us in the comments! We love to hear a good ghost story. If you want to make your quest even more interesting, you can dress up like a ghost and see if they think you are one of them! Safe travels and enjoy your trek!
Design Credit: Kate Lemke