Planning your next vacation? This map of haunted hotels is a ghost hunter's paradise. Take a tour of the United States and stay in some of the most haunted hotels in each state. You'll have to sleep with one eye open in some of these places so we sincerely hope you don't plan on taking this time to catch up on sleep. The accounts of paranormal activity in each venue varies, but the one thing they all have in common is some of their residents have never checked out. Prepare to see apparitions, be touched in your sleep by ghostly hands, or even levitated. (Okay, that last one sounds pretty cool!) Some of these permanent occupants enjoy playing tricks and others will not hesitate to tell you to get out of their hotel. If you are feeling brave, we've created a printable map with the shortest route to visit all the hotels in the contiguous states. We also did our homework and whipped up an infographic to help you learn a little bit about each of these haunted hotels, including the spookiest rooms to request at each location, in order to best prepare you for your journey!
Haunted Hotels Infographic
Click Image for Larger View


Embed This Image On Your Site:
Haunted Hotels Travel Map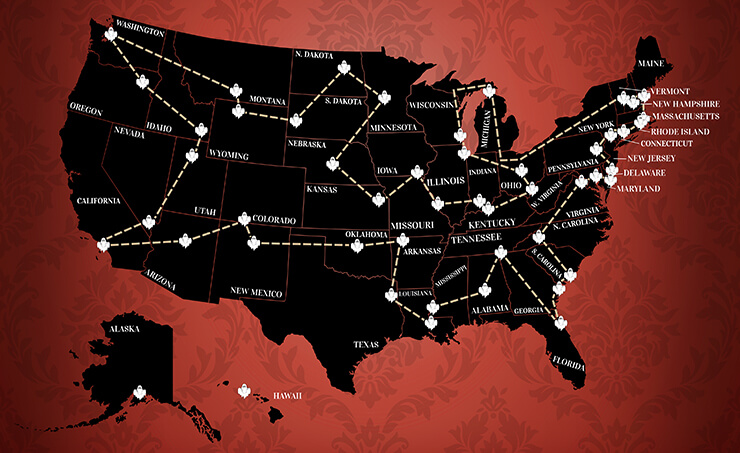 Click image for printable version.
Which of these hotels are you most excited to visit? Have you been to any of these hotels before or know someone who has? Share your paranormal experiences with us in the comments! We love to hear a good ghost story. If you want to make your quest even more interesting, you can dress up like a ghost and see if they think you are one of them! Safe travels and enjoy your trek!
Design Credit: Kate Lemke