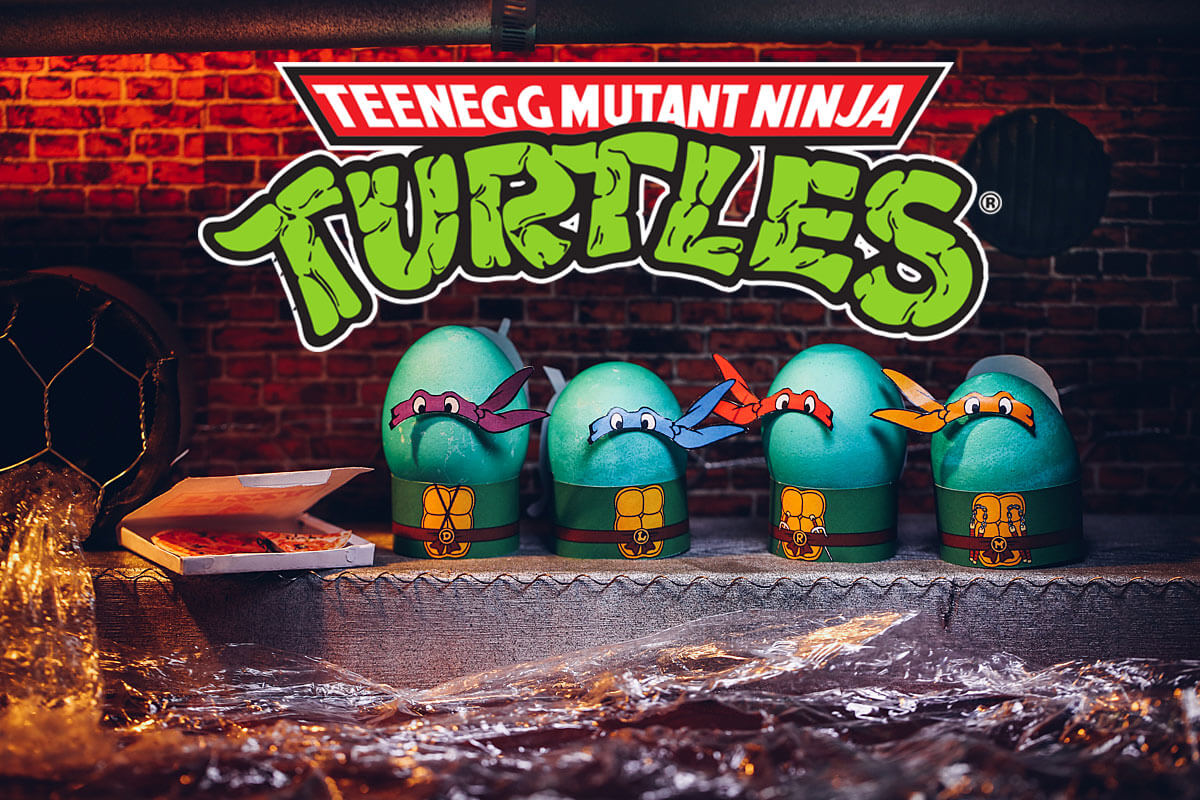 From deep within the sewers of New York City, we bring you the pizza eating, crime fighting, and oh so adorably green TeenEGG Mutant Ninja Turtles. We know what you are thinking, are we cracking up? We spelled teenage wrong, yes, but let us eggsplain. Are you sensing a theme? With the Easter season quickly approaching and a new Ninja Turtles film on the cusp, we had the perfect eggscuse to create egg costumes for our favorite characters (and enemies) from the classic cartoon. Let's open up the manhole cover and take a trip down to their legendary hideout to see these 12 eggstraordinary characters.
Ninja Turtles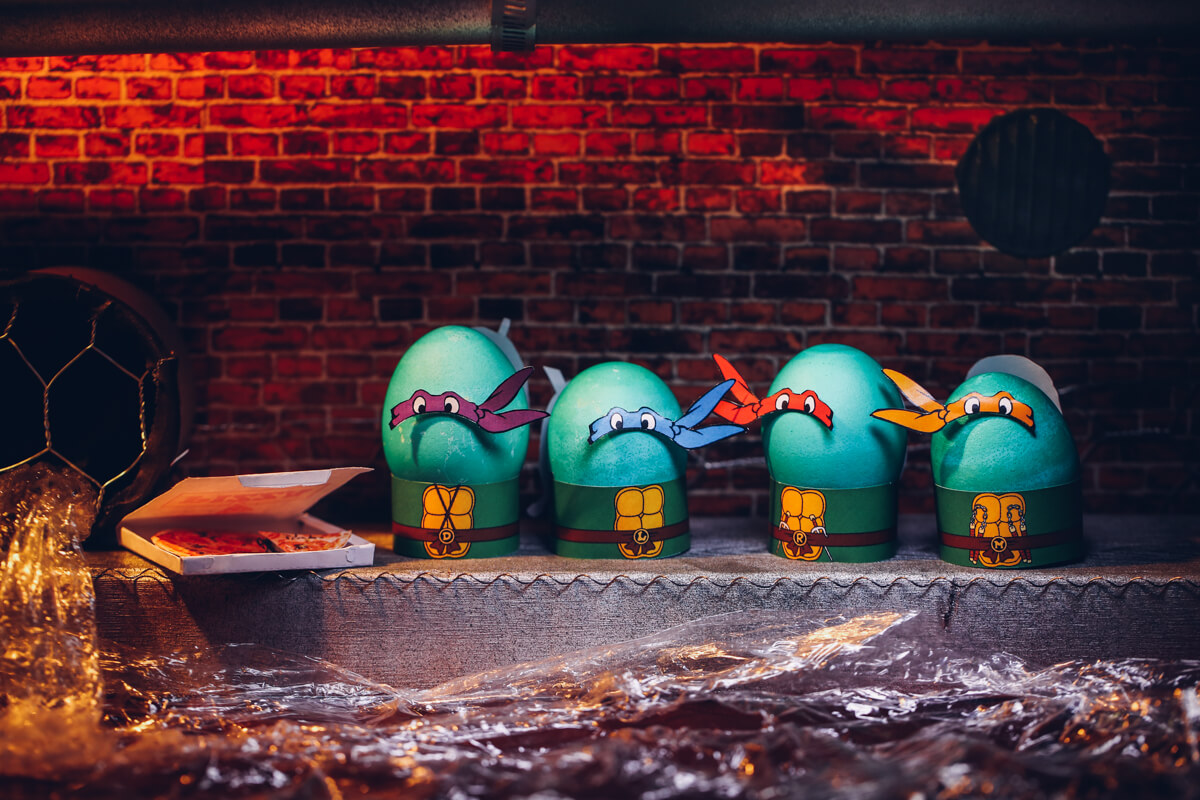 Donatello Egg Costume Printable - HERE Leonardo Egg Costume Printable - HERE
Raphael Egg Costume Printable - HERE Michelangelo Egg Costume Printable - HERE
The strength of their brotherhood makes this group of turtles some tough shells to crack. When they aren't fighting crime, you can likely find them hanging out below the streets of New York City. Donatello, Leonardo, Raphael, and especially Michelangelo sure know how to take a slice out of life and out of a pizza. Come Easter morning, if these heroes in an eggshell have eggscaped, we recommend checking all your pizza boxes. Chances are they've scrambled off with some 'za!
Bebop & Rocksteady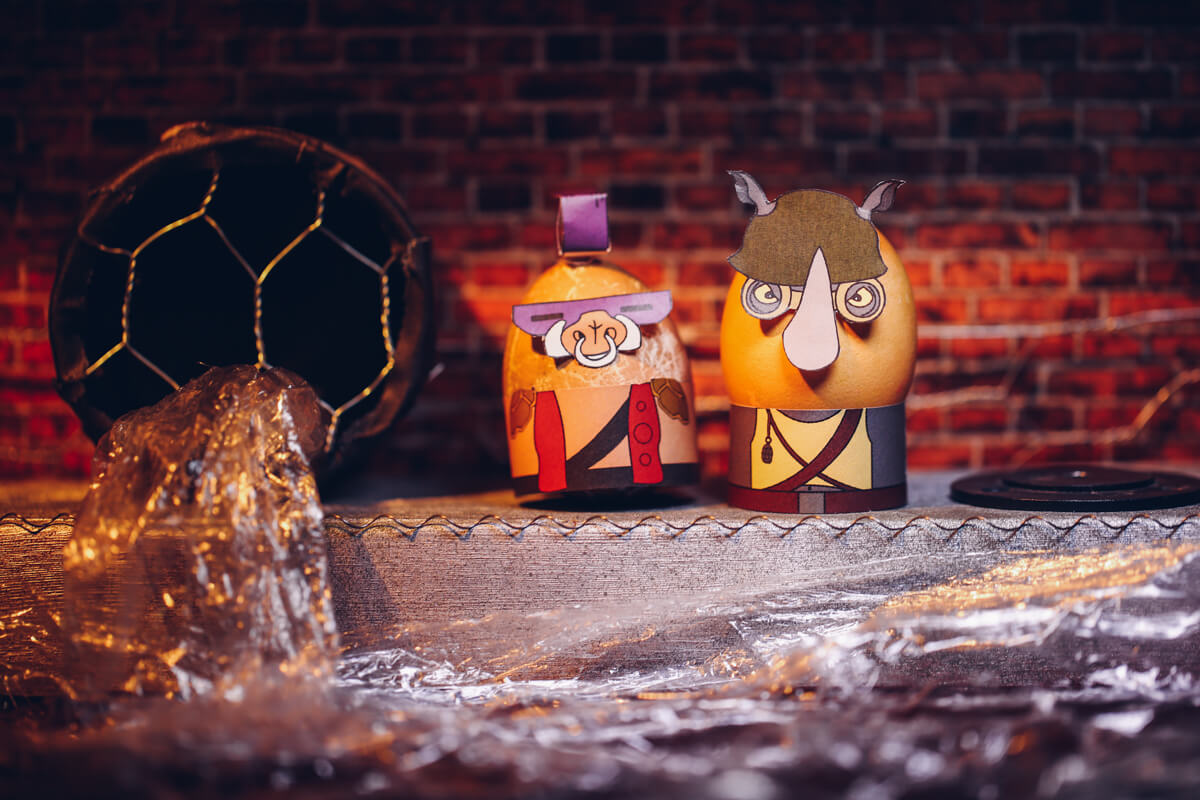 Bebop Egg Costume Printable - HERE Rocksteady Egg Costume Printable - HERE
Shredder mutates Bebop and Rocksteady in an attempt to get revenge on the Ninja Turtles. However, his plan wasn't well hatched and now they're eggs. In fact, Krang's brain extraction machine said it best, "no yolk to extract." These fellas prove to be no intellectual match for the Ninja Turtles, and if the Turtles have it their way, they will soon be eggstinct.
April & Splinter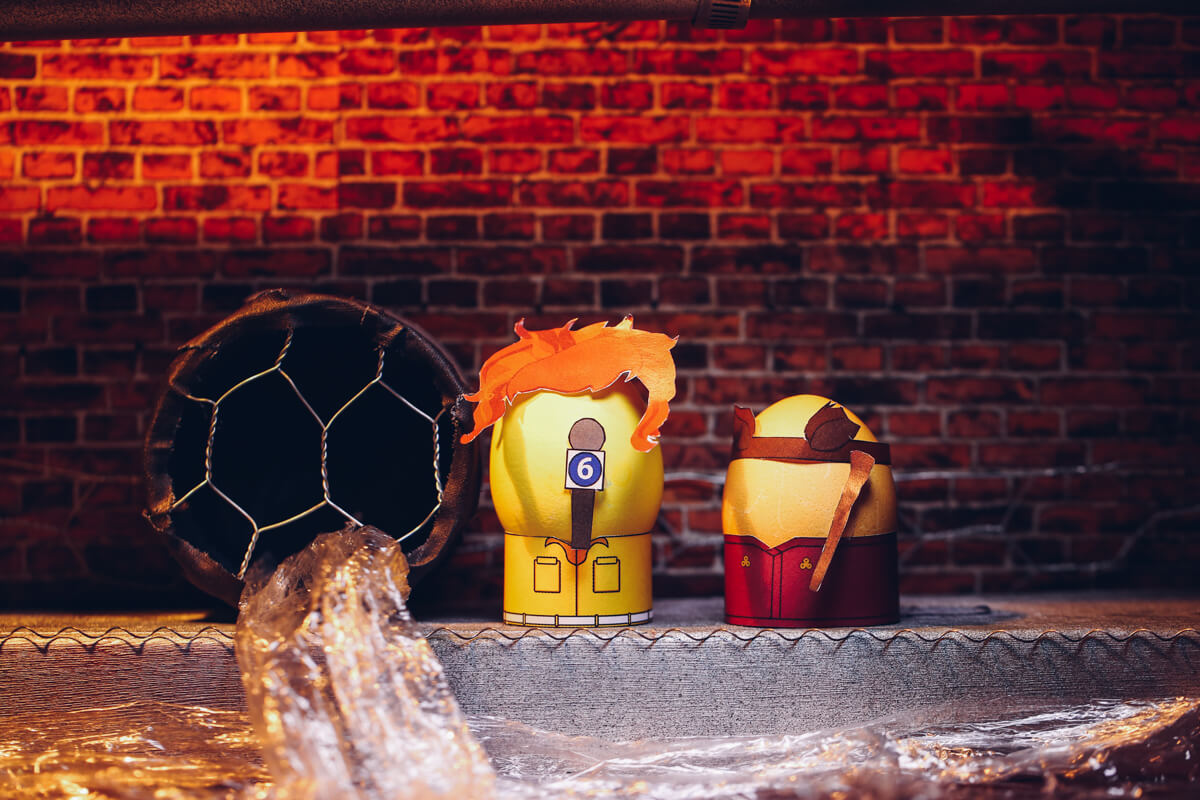 April Egg Costume Printable - HERE Splinter Egg Costume Printable - HERE
Splinter, the Turtles' teacher, leads by eggsample as he taught the heroes martial arts and treats them like his own. He lives in the sewer with the Turtles, so we can imagine that it is eggstra stinky in there with all those boys. When the Turtles meet April, a news reporter, they use her access to up-to-date crime information to take a new a-poach to defeating the city's rotten eggs.
Krang & Shredder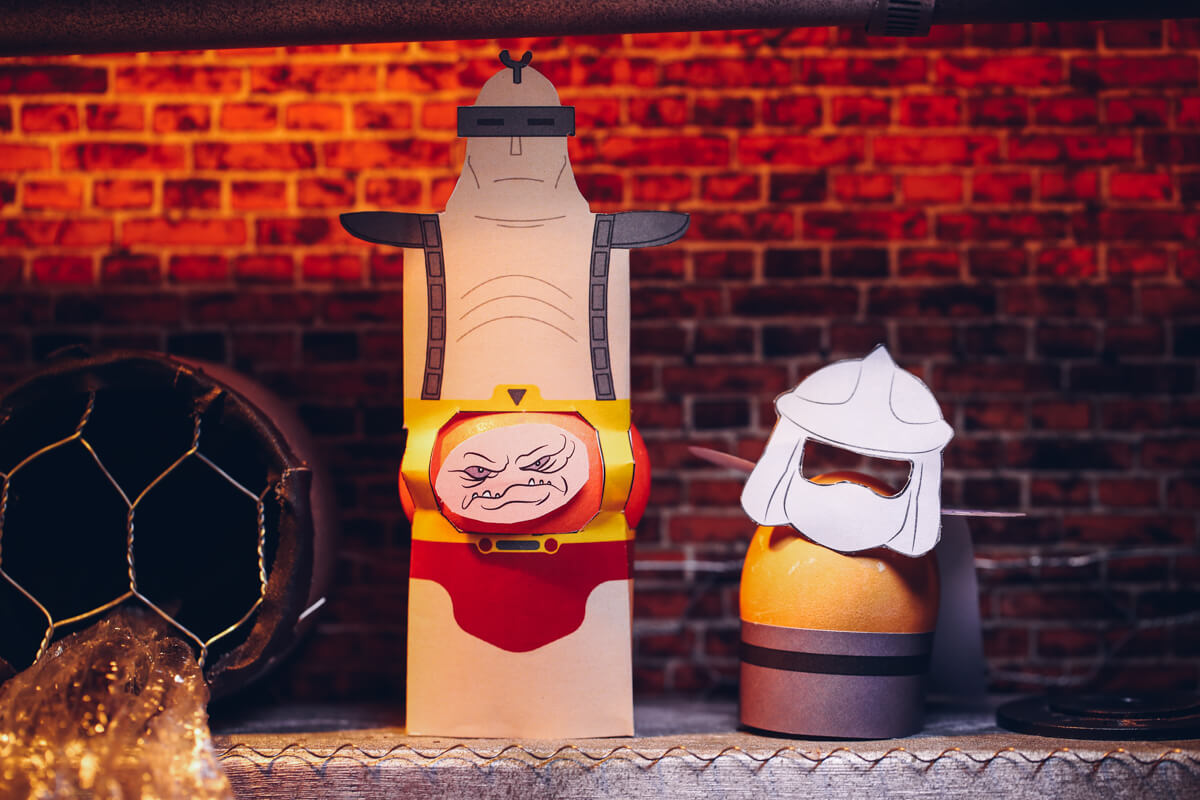 Krang Egg Costume Printable - HERE Shredder Egg Costume Printable - HERE
Shredder and Krang are the arch nemeses' of Splinter and the Turtles, or perhaps we should call them the deviled eggs? Krang is the bubblegum colored brain that rests within a powerful robotic body that Shredder designed for him. While Shredder's intelligence is eggsquisite, his constant need for sabotage left many of his plans soft-boiled.
Vanilla ice & Casey Jones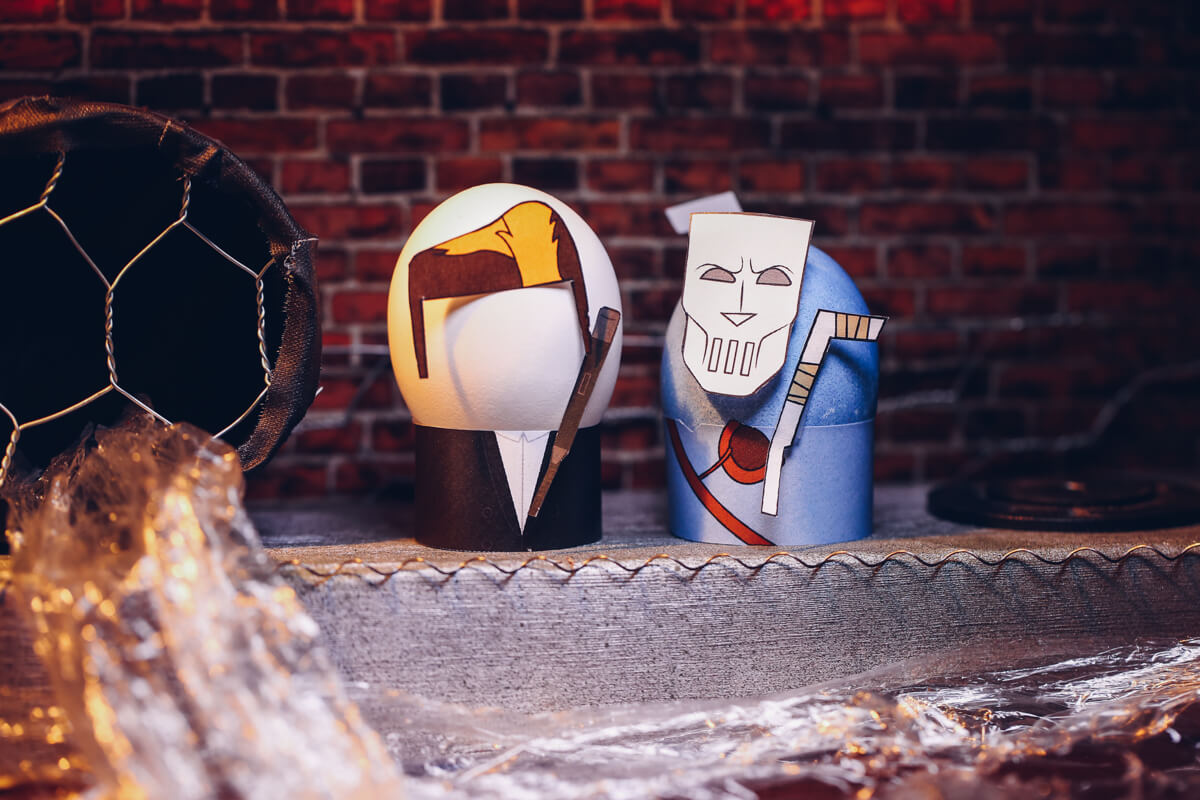 Vanilla Ice Egg Costume Printable - HERE Casey Jones Egg Costume Printable - HERE
We realize that Vanilla Ice isn't eggsactly from the cartoon series, but we couldn't resist including him in this list as a, sorry, Easter egg. The Ninja Rap is so catchy we still can't get it out of our heads! Go Ninja, Go Ninja, GO! Casey, on the other hand, has been in most incarnations of the series and has aligned himself with the Turtles. When he met April, the only thing he was batting was his eyes. They were a match made in egg heaven.
Download them all
The TeenEGG Mutant Ninja Turtles are ready for action come Easter. Use our free printable egg costume templates to create your very own collection this year. Trust us, they are all they are cracked up to be!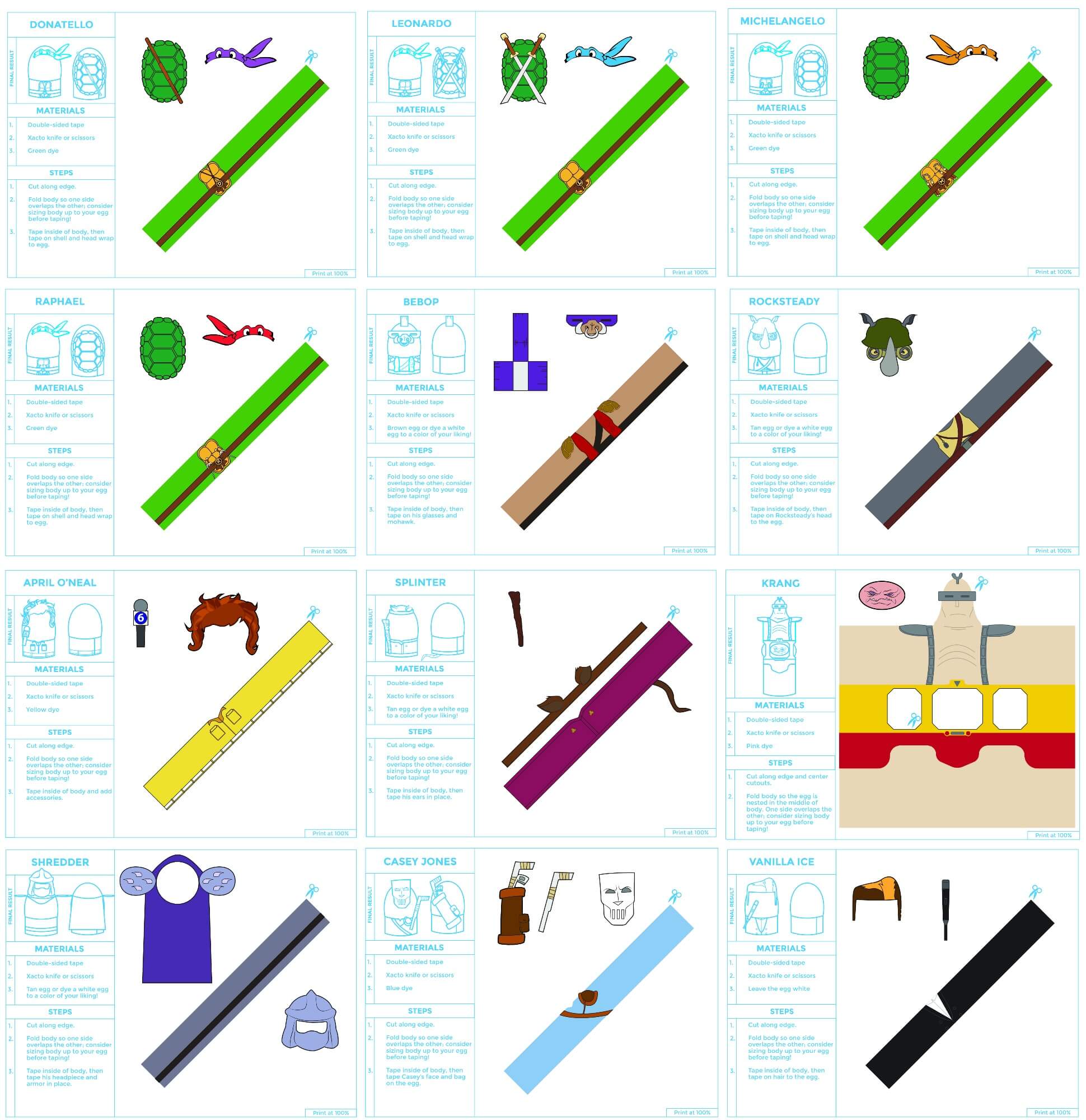 Click Image to Print All 12 Egg Costumes
Now that you've got your Teenage Mutant Ninja Turtles costumes for your eggs, make sure you check out your very own Ninja Turtle costumes to make this Easter even more festive! How do you plan to decorate your eggs this year? Will you dress them in costume, dye them fun colors, or both? Share all your eggciting ideas (and pictures!) with us in the comments below!