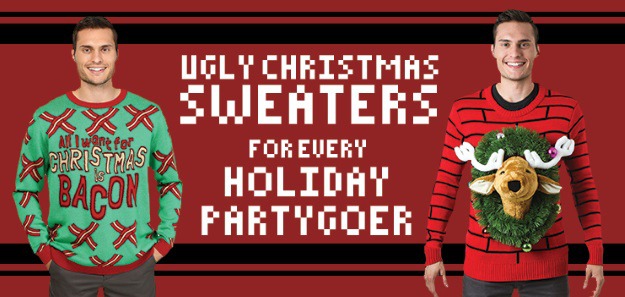 During the holidays there is little time for anything other than Christmas shopping and celebrations with your friends and family. These days, ugly Christmas sweater parties are aplenty, but that wasn't always the case. By some stroke of genius, someone (we aren't sure who) made it cool to go to a thrift store or dig up their old Christmas gifts from grandma and transform them into the inspiration of many Christmas parties. Since then, ugly holiday sweaters have become a hot commodity and many people are left wondering where to buy ugly Christmas sweaters for their event. The thrift stores are sold out, grandma's stock has run out, and you want something that suits you. Well, we're here to help with ugly Christmas sweater ideas for every holiday partygoer.
The Traditional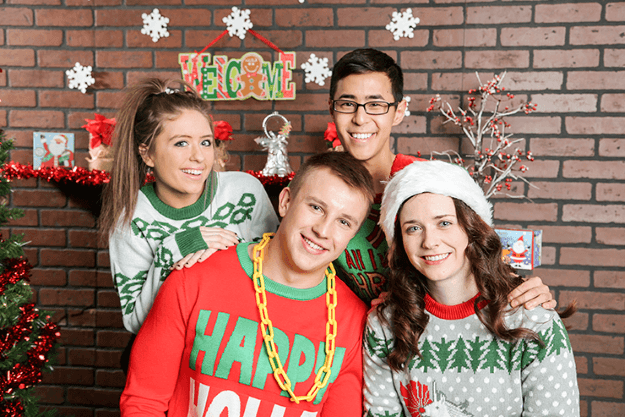 Do you have an ugly sweater party at work or just prefer a more conservative look for your festivities this year? Whether you are into the fruit cake sweater or something a bit more antiquated looking, we have what you are looking for right here! No need to search countless thrift stores on the off chance that there may be one left! (Not to mention the hassle of finding something in your size!) With this style, you might not win the ugliest sweater award, but who can resist wearing a red-nosed unicorn sweater?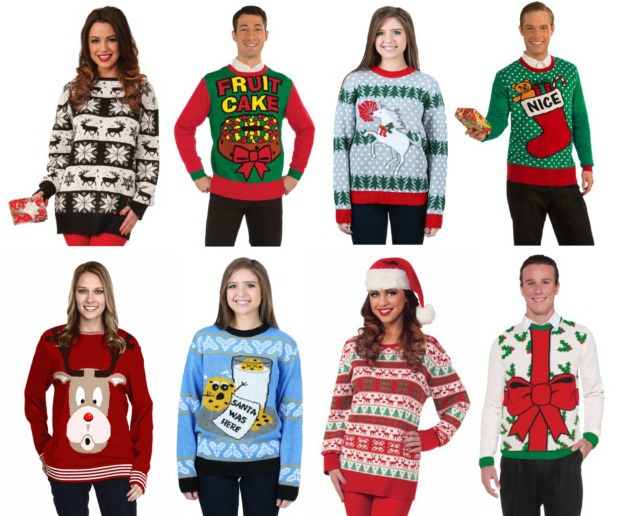 Snow Drift Sweater - Shop Fruit Cake Sweater - Shop Unicorn Sweater - Shop Nice Sweater - Shop
Reindeer Sweater - Shop Milk & Cookies Sweater - Shop Winter Wonderland Sweater - Shop Present Sweater - Shop
The Jokester

So, you're a funny one, eh? Perhaps you are looking to crack a joke about Santa (pun 100% intended) or want to proclaim your love for bacon and beer. No matter what your goal is, you obviously have a sense of humor, so your ugly Christmas sweater should reflect that. If you wear the Happy Holla Days sweater for Christmas, does that make you a rapper or a wrapper? There are just so many questions that come to mind when looking at these sweaters that they are bound to bring laughs and plenty of interesting conversations.

Peeking Santa Sweater - Shop Holla Days Sweater - Shop Pooping Santa Sweater - Shop Santa's Crack Sweater - Shop
Bacon Sweater - Shop Free Santa Sweater - Shop Pooping Moose Sweater - Shop Beer Sweater - Shop
The Geek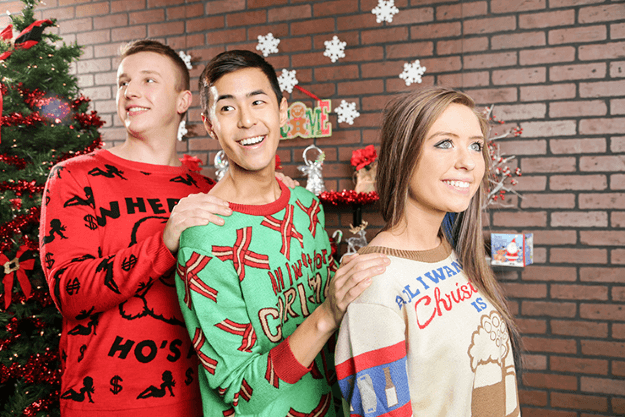 We certainly hope you have your extra cheesy grin prepared if you are going to the party with any of these sweaters. You know those awkward family photos? Pair a few of these sweaters with some over-the-top grins and you have recreated the cover of Stepbrothers or The 40 Year Old Virgin. Just gaze about six inches away from the camera or everyone you talk to at the party and you are bound to win "Best in Snow" this year. After all, an ugly Christmas party just wouldn't be the same if things weren't a little weird. Right?!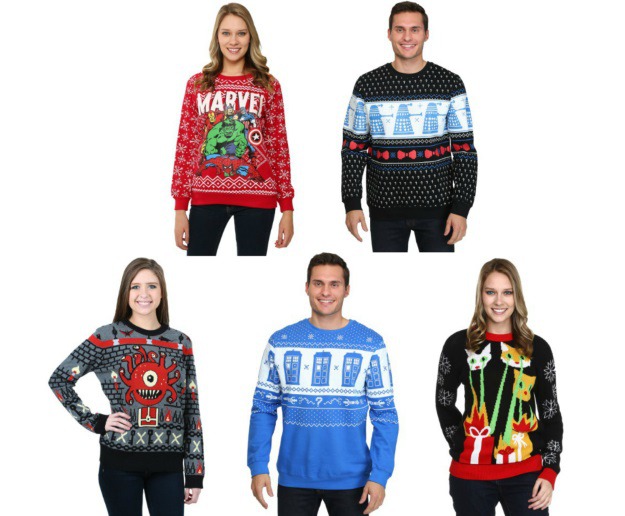 Marvel Sweater - Shop Dalek Sweater - Shop
Beholder Sweater - Shop TARDIS Sweater - Shop Laser Cats Sweater - Shop
The Overachiever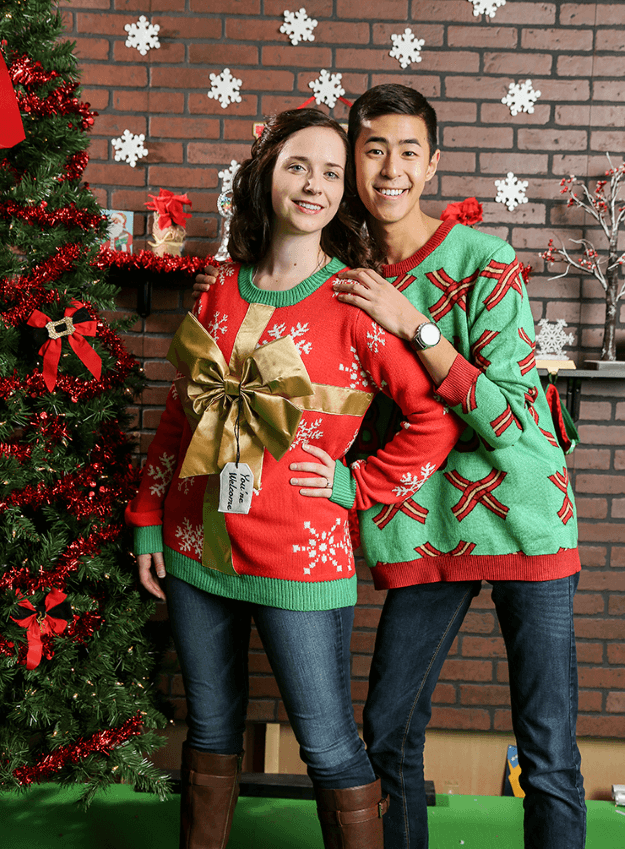 Nothing says you are trying too hard quite like a sweater strung with Christmas lights or fully wrapped in tinsel. Those sweaters take so much time and around the holidays who has the time to spare? We've got sweaters that give you the 3D effect, without any of the work. Sounds too good to be true, but it isn't. Grab the deer by the horns this year (literally) and check out some of these sweaters so you can pretend to be the overachiever you really don't want to be this year!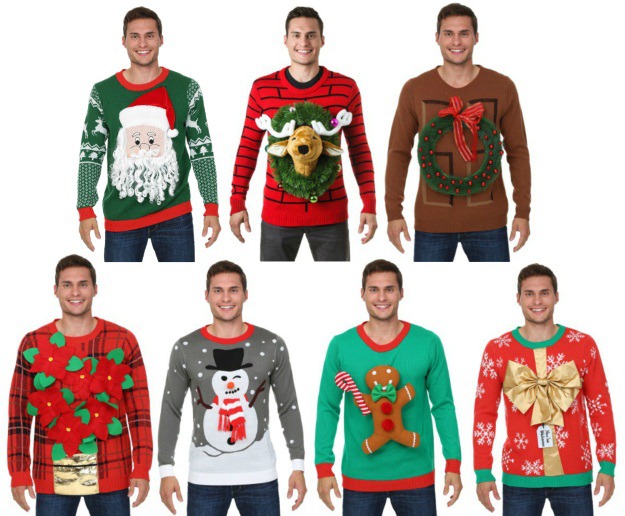 Santa Sweater - Shop Reindeer Head Sweater - Shop Christmas Wreath Sweater - Shop
Poinsettia Sweater - Shop Snowman Sweater - Shop Gingerbread Sweater - Shop Present Sweater - Shop
The Movie Buff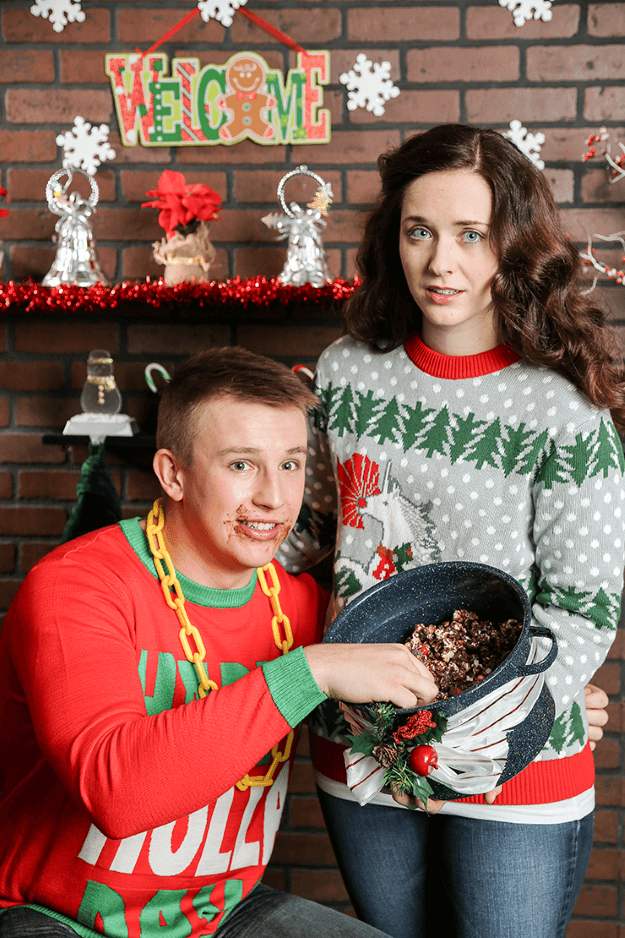 There are some Christmas movies out there that are so good you have to make a point to watch them every year, but where do you even begin? Set a day aside to watch some movies, snuggle on the couch, and eat some Christmas popcorn. (Mmm, chocolate!) If you don't have that kind of time this year, you can show your love of movies at the ugly sweater party instead with these geeky Christmas sweaters. Now the question is, how do you choose your favorite? When all else fails, it would be fun to say, "Merry Christmas, ya filthy animal" to everyone you see!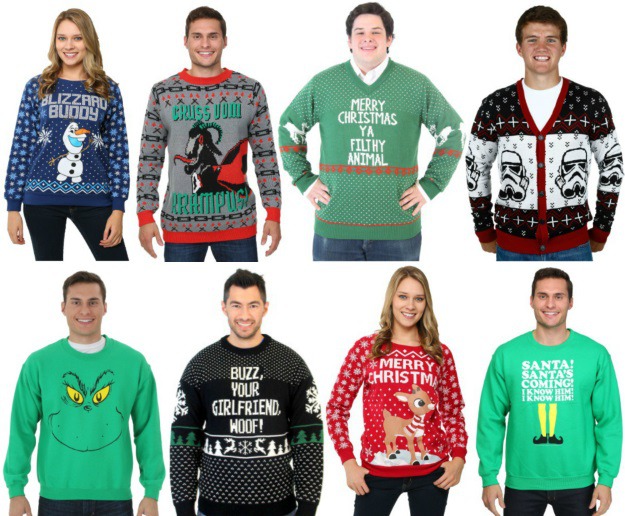 Olaf Sweater - Shop Krampus Sweater - Shop Green Home Alone Sweater - Shop Stormtrooper Sweater - Shop
Grinch Sweater - Shop Black Home Alone Sweater - Shop Rudolph Sweater - Shop Elf Sweater - Shop
The Innocent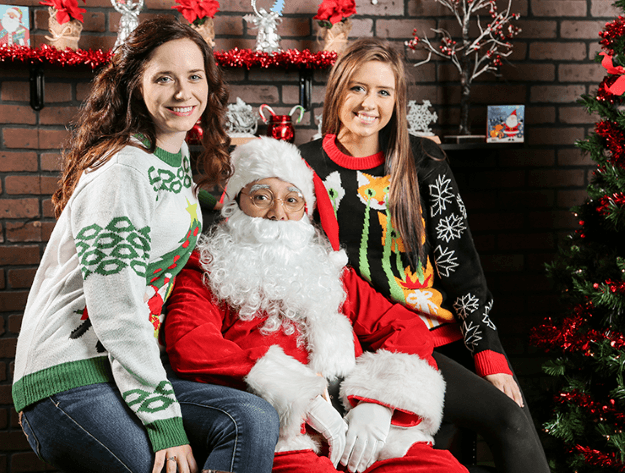 For the ugly Christmas sweater parties that include the kids (pets, too!), you'll need to make sure that they also have something equally ugly to celebrate the occasion. Finding a holiday sweater for your child at the thrift store is seemingly impossible. Apparently, small children didn't hop on the sweater bandwagon quite like the adults did in past decades. Luckily, we have a few options that aren't so hideous that your strong-willed child will refuse to wear it and still follows in the spirit of ugly sweaters.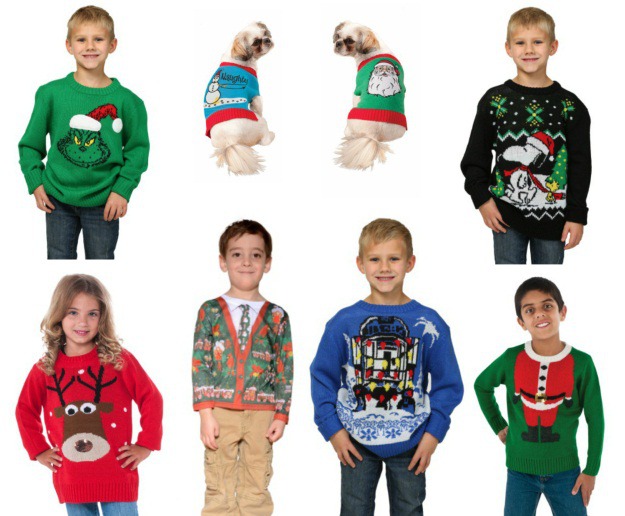 Grinch Sweater - Shop Naughty Pet Sweater - Shop Santa Pet Sweater Snoopy Sweater - Shop
Reindeer Sweater - Shop Ugly Christmas Sweater - Shop R2D2 Sweater - Shop Santa Head Sweater - Shop
The One With No Filter

Whether you've been tipping back a little too much egg nog or just have no filter (hey, we aren't judging), these sweaters will be a perfect compliment to your humorous personality! Inappropriate snowmen and Christmas themed innuendos combined with a few adult beverages sure sounds like one of the most perfect ugly sweater party ideas we've ever heard. If you are on the lookout for a mens ugly Christmas sweater with a hint of crude humor, these inappropriate ugly Christmas sweater styles are a match made in Christmas heaven.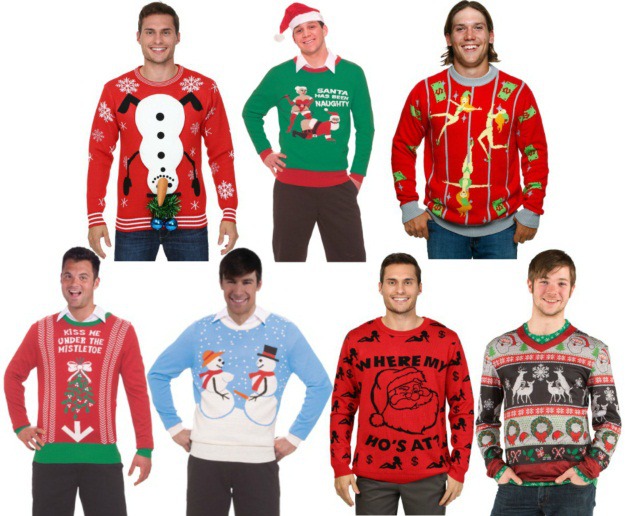 Snowman Sweater - Shop Naughty Santa Sweater - Shop Dancing Elves Sweater - Shop
Mistletoe Sweater - Shop Frisky Snowmen Sweater - Shop Santa's Ho's Sweater - Shop Frisky Deer Sweater - Shop
Have you decided what you will be wearing to your ugly Christmas sweater party? We want to hear all about your sweaters. AND if you have pictures, that's even better! For more ugly Christmas sweater ideas, be sure to check out the rest of our collection. We have everything from classic ugly Christmas sweaters to geeky ugly Christmas sweaters. Don't forget to document your party experience thoroughly and should the opportunity arise to take a selfie with Santa, we hope you brought your Pole-aroid. Merry Christmas!