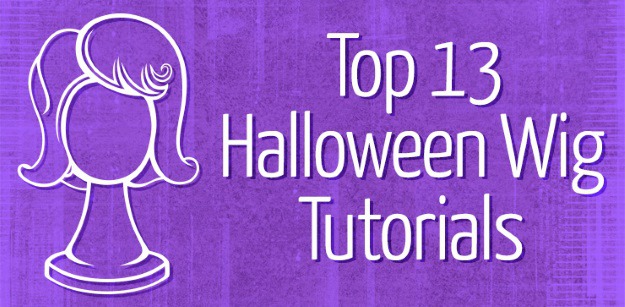 Wouldn't it be nice to have a different hairdo every day? Imagine rocking a stylish, asymmetrical bob during the week, but by the time the weekend rolls around you have tantalizing, fiery red locks. You'd look like a 21st century Jessica Rabbit! You're probably thinking, "How can I make this happen?!" Wigs. The answer is WIGS! No need for stressin' over your tresses, commitment-phobes! You don't have to make a long-term hairstyle switch; just throw your hair in a ponytail, grab a wig cap, and toss on a funky wig. Voilá! You're sporting a head-turning new coif without having to consult your stylist! If wigs are a little foreign to you, don't sweat it. We compiled 13 of the best online wig tutorials so you can ensure that your mane is always on point.
1. How to Brush an Old Afro Wig
Going as Diana Ross for Halloween? You better spruce up that wig, girl! Make sure your 70's inspired 'fro is nice and fluffy. This helpful wig tutorial teaches you how to get that bounce and volume. You can always use our black and gold disco wig if you're looking to transform into a foxy mama!
2. How to Decrease Shine in a Synthetic Wig
This tutorial shows you how to better conceal the fact that you're wearing a wig, by making any inexpensive wig look less shiny and more natural. It just takes a few easy steps and some products that you probably already own! You can practice styling our flapper wig and fool people into thinking you just got back from the salon!
3. How to Defrizz a Synthetic Wig
It's such a total bummer to have frizzy hair! It's even more of a bummer to have a frizzy wig. If your accessory is suffering from an extreme case of the frizzies, use this video to get it looking sleek again. You can use this black witch wig to practice on!
4. Marilyn Monroe Wig Re-Styling Tutorial
Pay homage to the original blonde bombshell! Marilyn Monroe was a known perfectionist who wouldn't step out of the house if one hair was out of place. Use this video to get your golden tresses to look tremendous. Use this wig and you'll have the starlet's signature look.
5. How To Put On A Wig Cap (For Long Hair)
If you plan on sporting a wig for the evening, wearing a wig cap is a must! This tutorial helps girls who have long hair easily conceal their luscious locks inside of a mesh wig cap. With the help of this accessory, you can keep your long hair under control.
6. How To Curl/Straighten Your Synthetic Wig
Curly hair or straight hair? Oh, decisions, decisions! Use one of our funky Blue Wigs and style it to your preference. Wear it with curls or straighten it to achieve a more polished look. With synthetic wigs, low heat is key. You'll look amazing no matter what!
7. How to Style a Short Wig
The pixie, the bob, and the Rachel! Short hair styles are trendy and easy to manage. Find out how you can style your short wig in sassy ways with this helpful video. Practice on this 80s rocker wig. You can have the short hairdo without the commitment!
8. How to Dye a Wig
Thinking about changing up your 'do? You can dye your wig another color... any color you want! Just watch this video and get the step by step directions. It's perfect for people who are into Cosplay! You'll have tons of fun dyeing this lush, layered wig!
9. DIY Mermaid Ombre Wig
Are you in search of some mermaid hair to go along with your sexy mermaid costume? Now you can get a pastel ombre hairstyle that would perfectly complete your mermaid costume. This video shows you how to dye your synthetic wig. You can also use this look for a Nicki Minaj costume. We're thinking the vibrant colors would work well if you used this wig.
10. How to Cut a Beyoncé Inspired Bob
Want to make sure that your hair is on fleek for your Queen Bey costume? Get a Beyoncé-inspired bob by cutting a long wig and you won't be a "single lady" for long. Get Beyoncé's diva 'do by watching this video and cutting this wig!
11. How to Layer Cut a Wig with Clippers
Get out your man's clippers and give your wig some volume! This video explains how to give your wig some custom layers – all you have to do is make your boyfriend loan you his trusty electric razor. This Fever Jessica blonde wig is perfect for layering!
12. Pigtails on a Non-Parted Wig Tutorial
If you're going to dress as Joker's diabolical gal pal Harley Quinn, you're going to need her signature ponytails! This video teaches you how to part a non-parted wig and create spunky pigtails that would work perfect for a Harley Quinn costume.
13. Elsa Wig DIY
Don't "wig out" quite yet! We have one more video for you. If you already have a long blonde wig, you can totally reuse it if you're going to dress as Elsa from Frozen this year! The video teaches you how to transform a straight, blonde wig into Elsa's iconic, golden braid. The tutorial shows you how to tease the crown and create the widows peak. You can use this Rapunzel wig to create your own unique Elsa wig!
How did your first wig experience pan out? Did you decide to be a beach blonde for a special occasion? Or did you go the trendsetter route and transform into a modern day mermaid with long pastel strands? Have fun getting wiggy with it and let us know how it felt to rock a brand new 'do! Be sure to check out our complete selection of wigs!