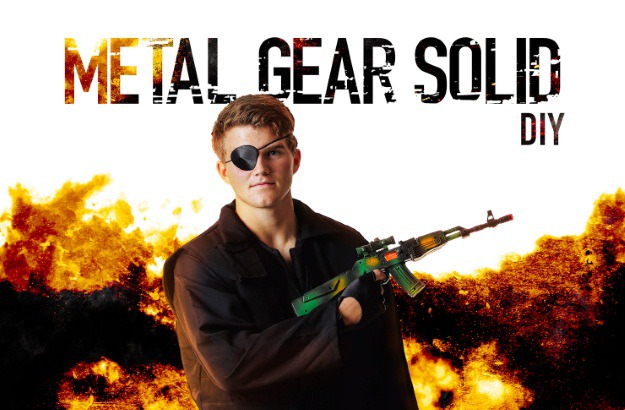 Metal Gear Solid is a wildly popular and critically acclaimed franchise of video games, a continuation (as sequels and prequels) of the earlier generation of Metal Gear games. But if you're reading this, you probably knew that already. Solid Snake is the main protagonist of the series in general, though his commanding officer–and later antagonist, among other things–Big Boss has served as the protagonist since Metal Gear Solid 3: Snake Eater. While Big Boss is the focus of this do-it-yourself costume tutorial, we're also including tips on dressing as Solid Snake because he appears eerily similar. It's almost like Solid Snake is a clone…almost exactly like he's a clone. (Okay, he's a clone.)
Big Boss from Metal Gear Solid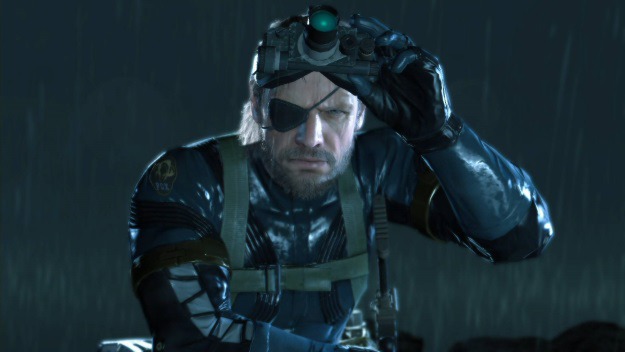 [Source]
Our tutorial is based on this screenshot of Big Boss (a.k.a. Naked Snake or Punished "Venom" Snake) from Metal Gear Solid V: The Phantom Pain. We have also included some options to dress as his clone and protagonist of the rest of the Metal Gear series, Solid Snake.
DIY Big Boss Halloween Costume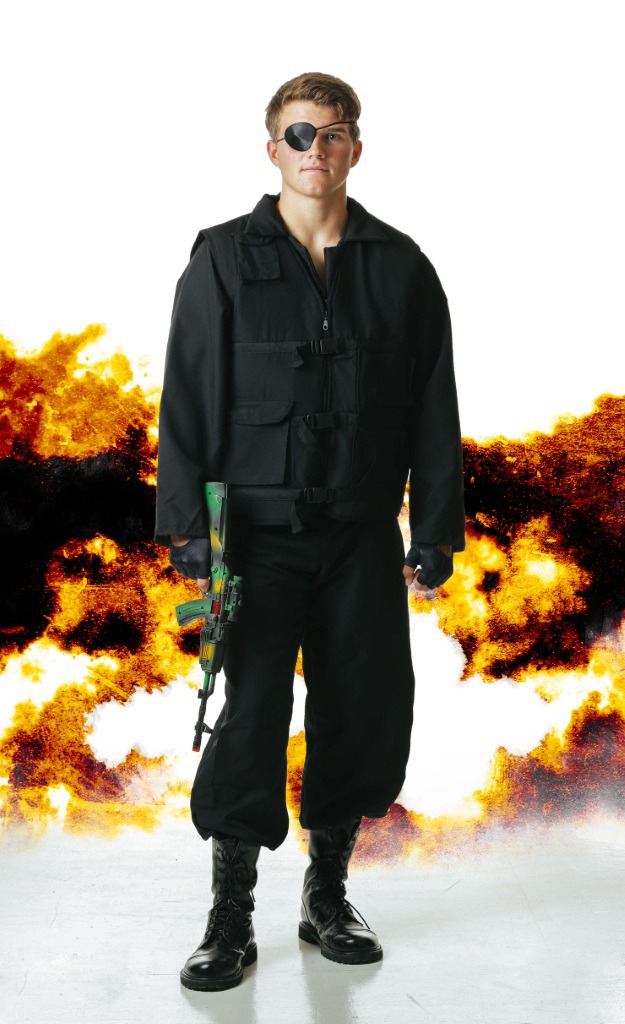 This is our completed costume. We went with a dark jumpsuit and vest, but keep in mind that it's mostly a foundation: there's some variation in his appearance throughout the Metal Gear Solid series, so it's all about what you add to this basic outfit. We suggest starting with a "tactical" harness, holsters, and pouches. The "tactic," of course, is to allow you to carry as much candy as possible.
Products Used
SWAT Jumpsuit Costume Pirate Eye Patch w/Earring Adult Black Combat Boots
Fingerless Motorcycle Gloves Rifle Machine Gun
These are the products used in this tutorial. If you're aiming for Big Boss as he appears above, this is all you'll need. We did include some additional products below if you're dressing as Solid Snake or older versions of either Snake.
DIY Big Boss Costume Tutorial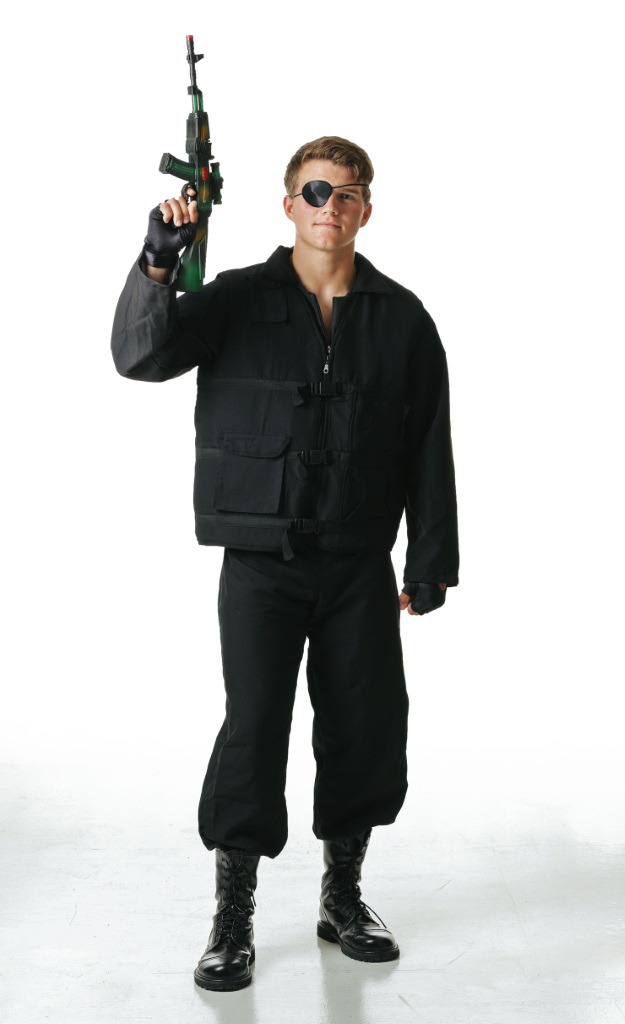 We started by removing the patches from our SWAT jumpsuit, and added the eye patch (on the right eye!), combat boots, and motorcycle gloves. Don't let the product image of gloves fool you - they look great on men or women. Add the rifle and you're set. (And yes, we realize that the gun is an obvious toy. Safety first, kids.) As far as costumes go, it's not time-consuming at all. You're looking at 15 minutes, tops!
You can add realism with a fake mustache and beard, makeup scars, and dirt and grime, but these aren't necessary. This could add an hour or more to your preparation time, so make sure to take that into account.
Alternate Options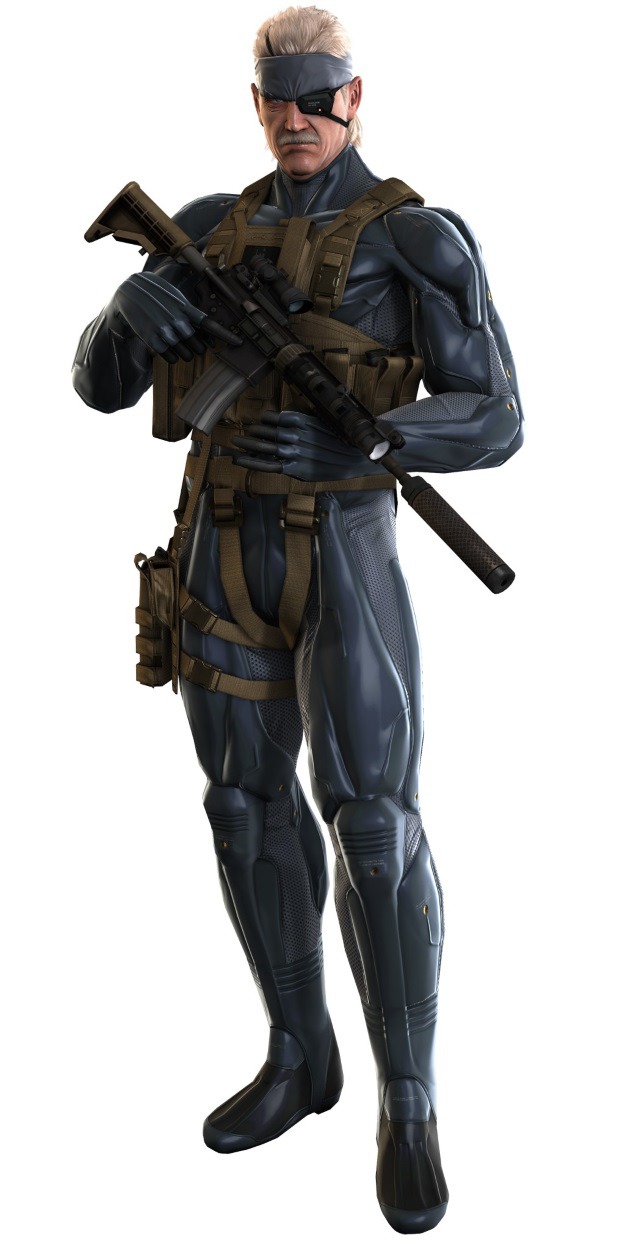 [Source]
This is an image of "Old Snake", an aged version of Big Boss's clone, Solid Snake. It's just one example of the directions you can go by changing up the accessories.
Products Used For Alternate Version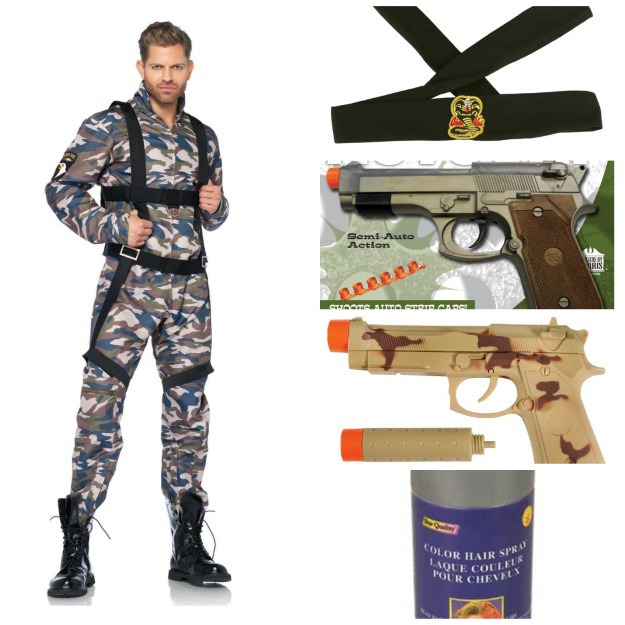 Men's Jumpsuit w/Harness Karate Kid Cobra Kai Headband
Silver Hair Spray Desert Storm Pistol Toy Pistol w/ Silencer
These are other products to consider. In some of the games, you may find that our paratrooper costume is a better fit for Big Boss or Solid Snake. If you need a headband, the Cobra Kai headband works great once the logo is removed. If you wanted to dress as an older Big Boss or even Solid Snake ("Old Snake"), pick up some silver hair spray. (And remember, if you're going as Old Snake, wear the eyepatch on your left eye!) We also included some handguns as alternatives to the rifle.
What did you think? Have you dressed as Big Boss or Solid Snake for Halloween or Cosplay, or are you planning on doing so in the future? Let us know in the comments below! If Metal Gear Solid isn't your game of choice, check out our variety of video game costumes. We're sure to have a costume that's right for every kind of gamer!