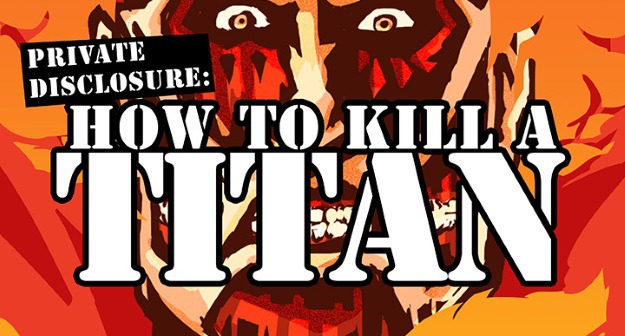 Attack on Titan (aka 進撃の巨人 or Shingeki no Kyojin) made a colossal splash on pop culture the last few years. From the pages of the unstoppable Japanese manga to the anime series you couldn't peel your bloodshot eyes away from, Attack on Titan took the world by gnashing-toothed storm. And the storm only seems to intensify with time!
There was the live-action movie making a footprint on Comic-Con, wild speculation about the true nature and origins of Titans, and "leaked" information that brewed the perfect storm for fans and YouTube/Wikia speculators. Yep, the mystery mingled with misinformation created a steamy mess that we couldn't resist. So, we tried to do some untangling by dredging up information that true fans might appreciate. Again, proceed with caution, but if you can still enjoy a show or manga with a little bit of the backstory in your noggin, then spoil away friends!
* COLOSSAL, TITANIC, MASSIVE SPOILER ALERT!
*
The first infographic in this post, Private Disclosure: How to Kill a Titan, includes spoilers from season one of Attack on Titan that anyone with a Netflix account or the DVDs could potentially know. The second infographic underneath, Classified: Known Titan Shifters, also includes TITANIC - potentially show/manga RUINING - spoilers. Last, there is potentially some speculation that may be written out of the plot, as all of the enclosed information was learned on shingekinokyojin.wikia.com, and we can't control what happens from this point. You know, should the writers change their direction or what have you! In other words, take it with a grain of salt, and don't beat us about the head and nape of the neck if anything changes down the way.

Embed This Image On Your Site:

Embed This Image On Your Site:
That's a lot of Titans! We hope that these two infographics have gotten you even more excited about the upcoming Attack on Titan movie and future seasons of the show. We also have a killer set of exclusive Attack on Titan costumes, including Mikasa and Eren, so you know you'll have an outfit to cosplay in when you're screening the film. (Good luck actually killing a Titan for real, though.)
Design: Brady Johnson