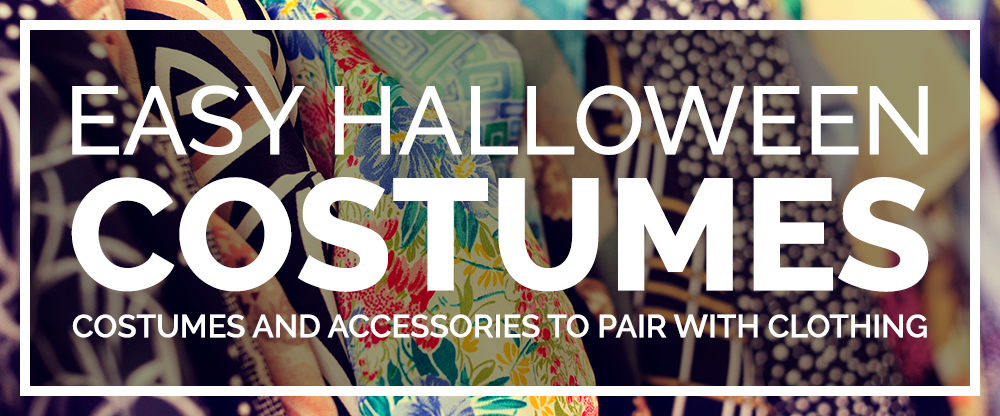 Wearing costumes for Halloween is fun, but it can sometimes feel like a chore if you have to deal with hats, gloves, tails, wings, and other costume accessories. Sometimes, you just want a simple costume that you can easily put on and take off...like a costume kit that you can wear with your normal clothes! Whether you want an easy costume for work or you know you'll be wrangling kids on Halloween, we can show you some last minute Halloween costumes to fit your lifestyle!
1. Tunic Costumes to Slip Into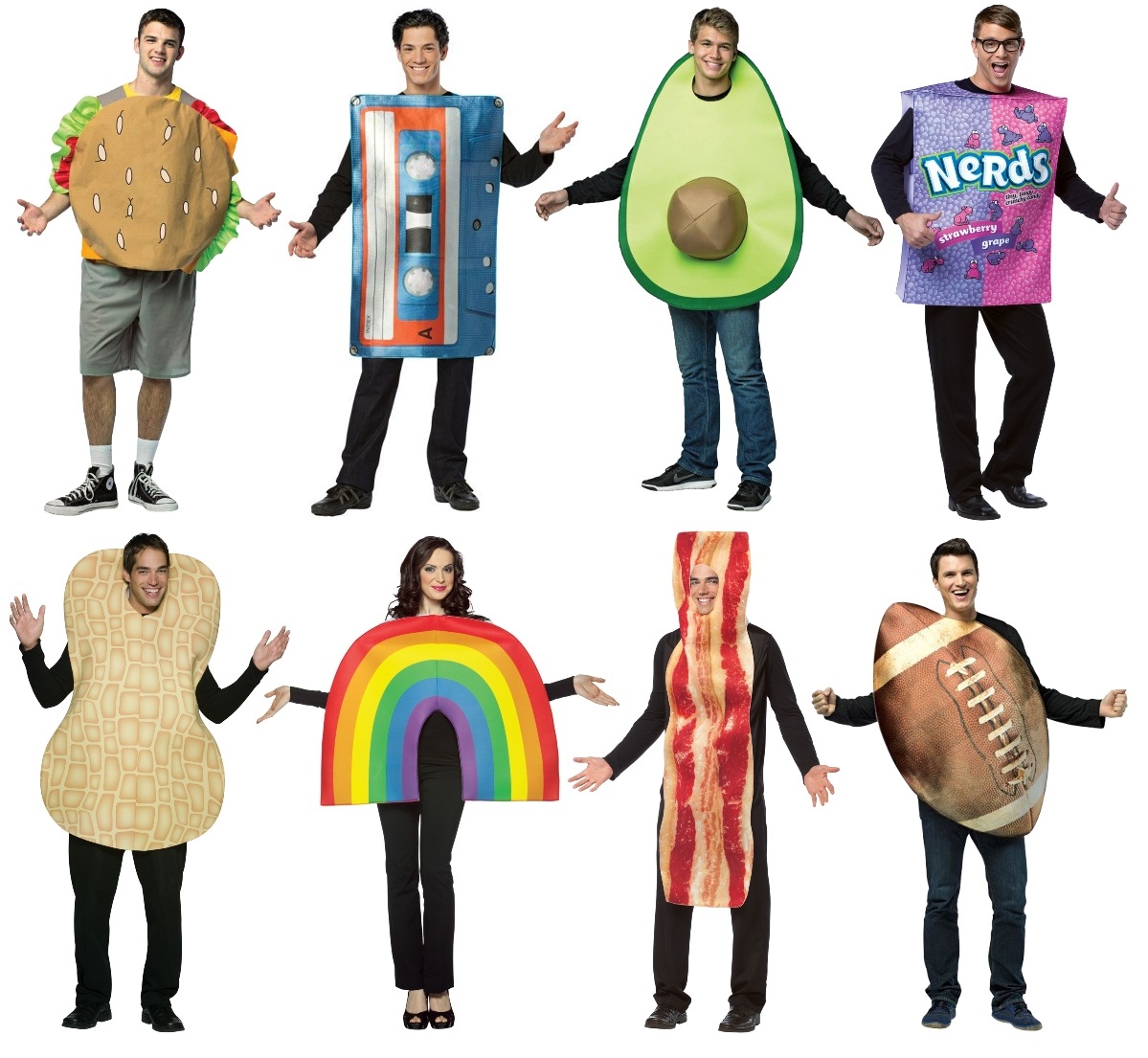 These unisex costumes are easy to put on and take off, making them great costume ideas for people on the go! Many of these tunic outfits can be found in the food costumes or funny costumes, but you can find other ideas like a football and rainbow, too. Wear these simple costumes over black or other neutral clothes, though they work great worn over your regular clothing as well. That way, if you're meeting with an important client at work on Halloween, you can simply slip out of your costume and put it back on afterward with ease!
2. Costume Kits to Pair with Your Closet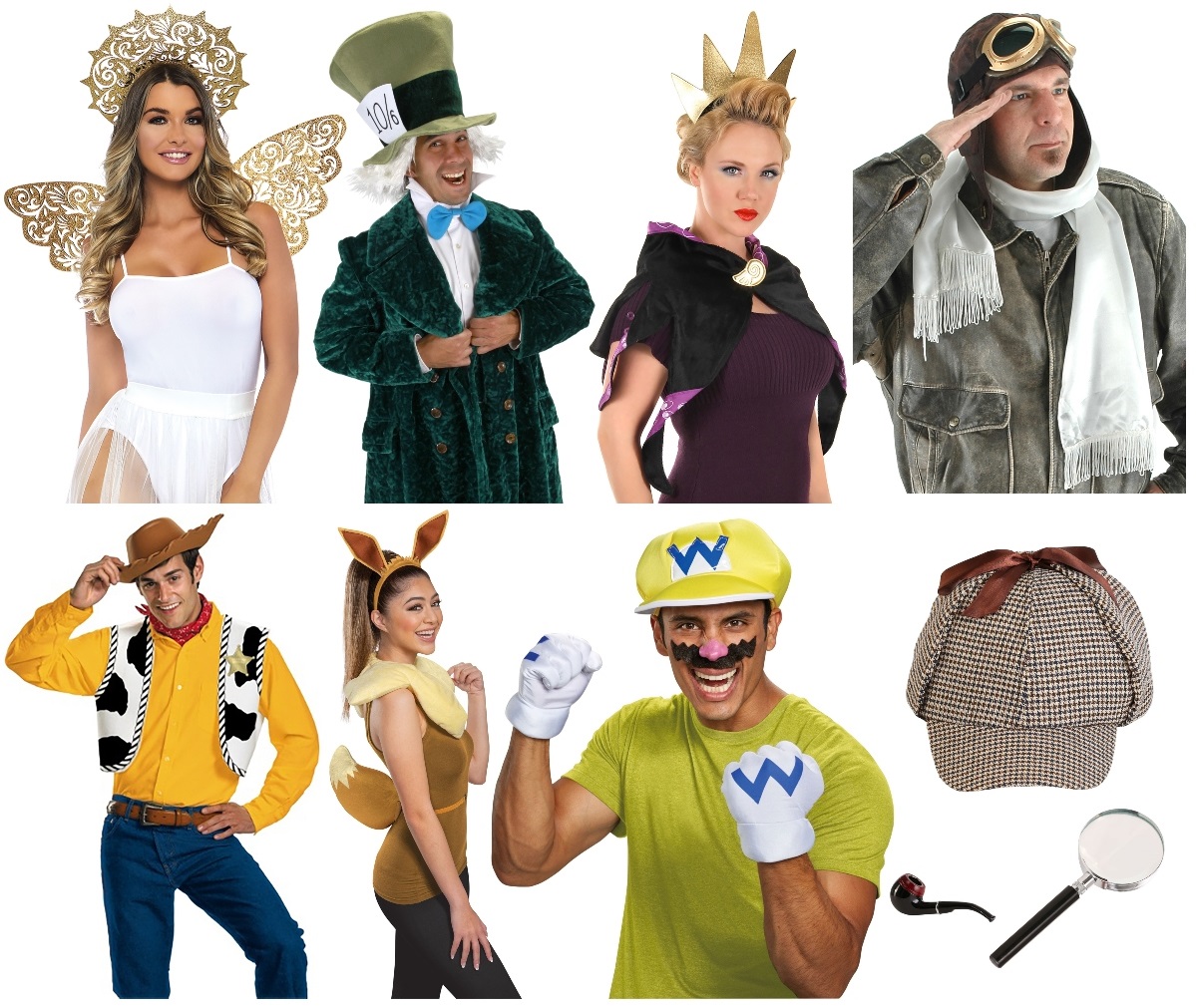 Turn your closet into a costume wardrobe with these handy Halloween accessory kits! If you know you'll be wrangling kids or your job involves a decent amount of physical activity, you may want cheap costume pieces that are easy to put on and take off. These costume kits are also perfect if you're not a fan of wearing costume fabrics. (They can be itchy and weird if you have sensitive skin!) They're great on a budget too, as most of these are costumes under $20. No matter the reason, you can still create cute and clever costumes without all the time or trouble with just a few costume accessories.
3. Animal Costume Kits for Party Animals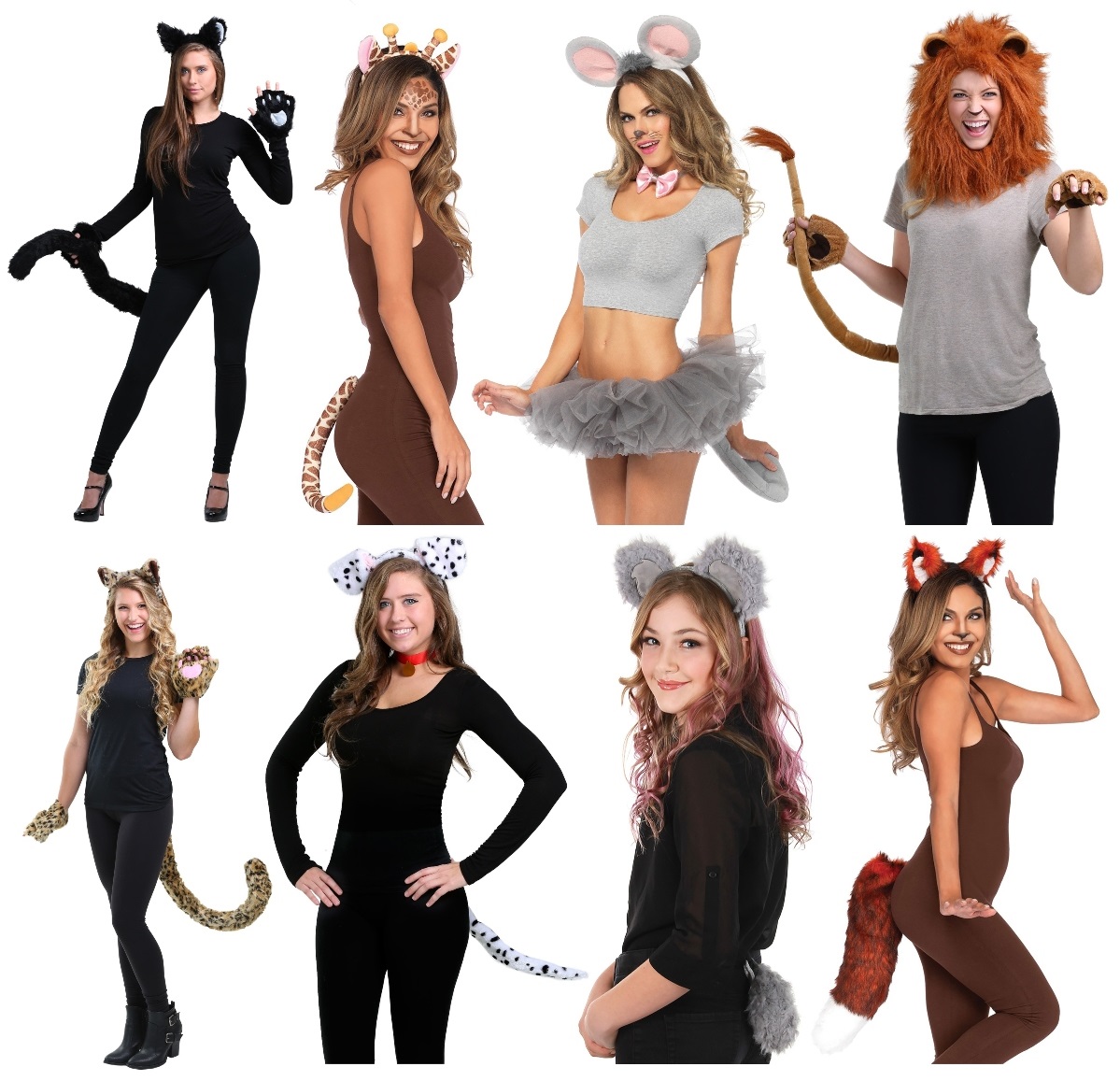 If you want to be an adorable animal (duh!), there are tons of amazing animal accessory kits that you can pair with your own clothes. Another great budget costume idea, these cheap costume kits are great on the go. Similar to the other costume kits, these easy costume ideas for women and men are great for people on the go. (Especially if you have kids!) You have the classic and easy cat costume, as well as dogs, foxes and others. The best part is that you can add your animal accessories to your child's dress-up trunk once you're done using them for Halloween! We'd count that as a win-win in our books.
4. Hoodie Costumes for Cool Weather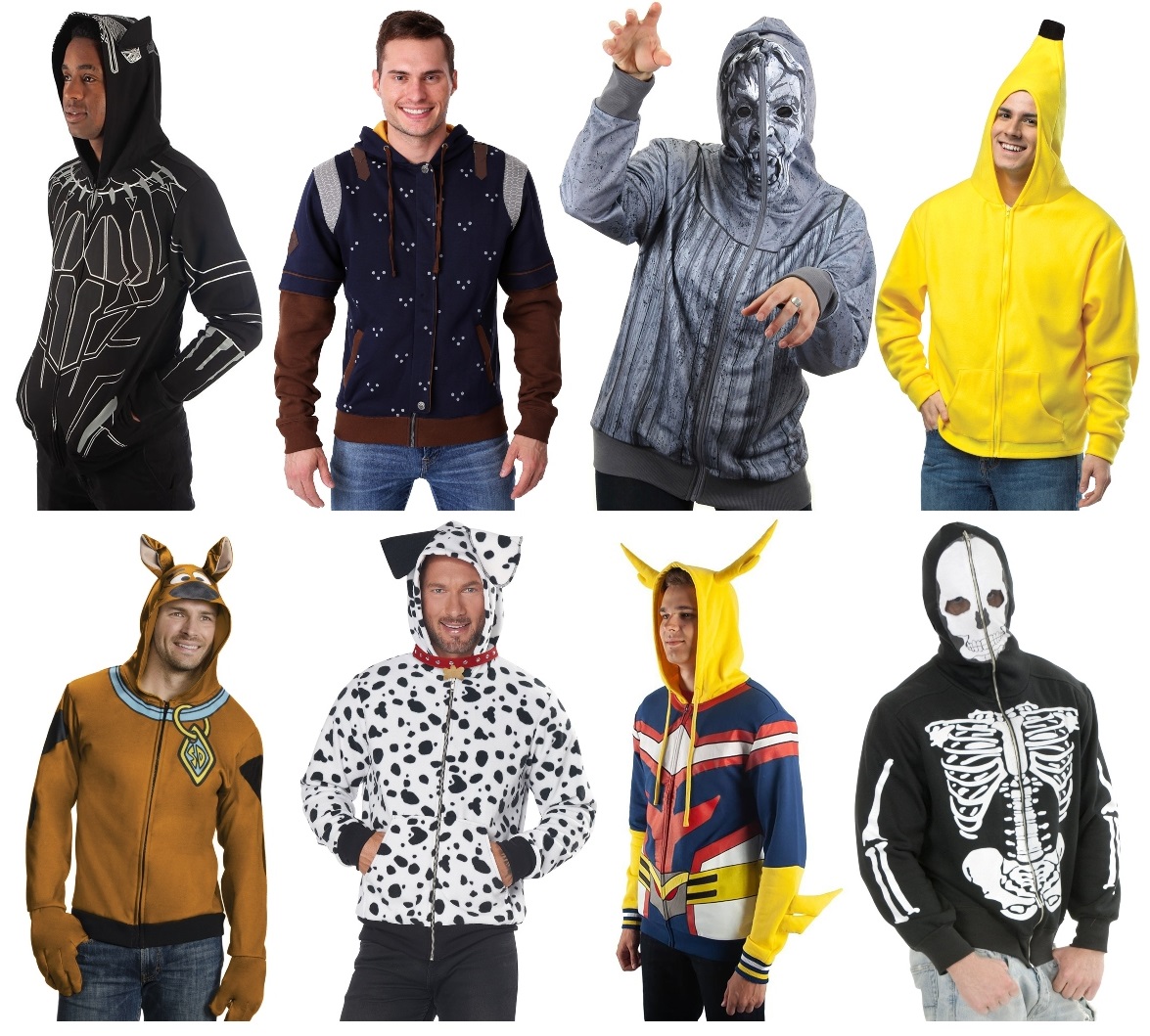 Hello, hoodies! These easy costumes for men and women have been saving your hide ever since trick-or-treat duty fell on you. Don't blow your budget and stick with a cheap costume at a friendly price. Bundle up in a cozy sweatshirt costume, grab your favorite thermos filled with your beverage of choice, and hit the pavement with your costumed crew in tow. You're not the lame dad that refuses to dress up—you're the cool dad that gets the job done in style. Bonus cool points if you can coordinate with one of the kids for a daddy and me costume!
5. Jumpsuit Costumes for a Comfy Holiday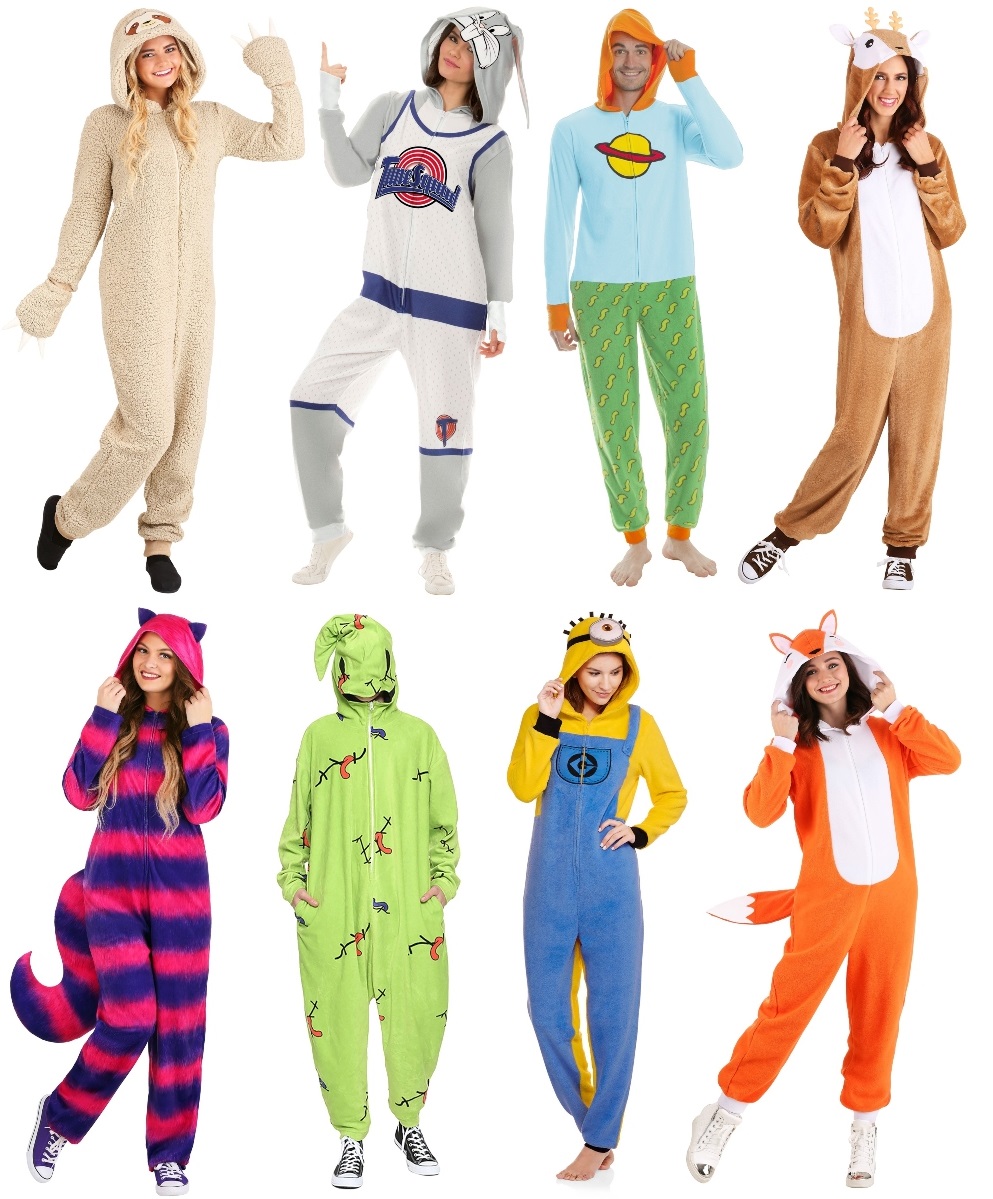 Jumpsuit, onesie, union suit—these simple Halloween costumes may look like character pajamas...and you're not wrong! Rock Halloween in comfort and style with a number of cozy costumes. (This may be your one chance to wear pajamas to work!) Some people might call you out on wearing a lazy costume, but they're just jealous. Sit back, sip on your morning cup of joe, and take in the holiday in ultra-plush comfort.
6. Kigurumi Costumes: The Ultimate in Cute and Comfort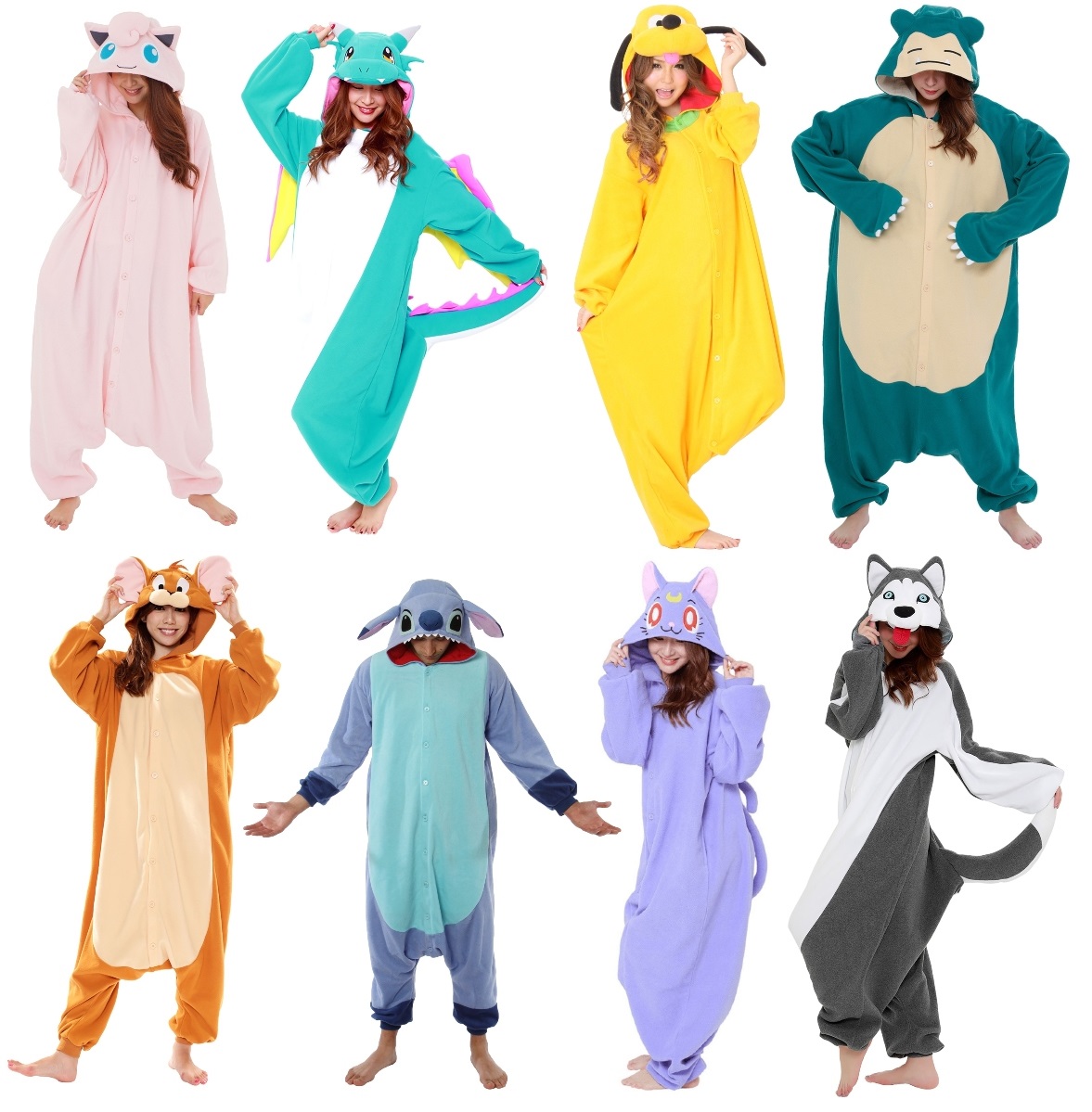 In the same vein as the jumpsuit costumes, kigurumi costumes are cozy, fleece, one-piece outfits that are cute and baggy. (And gender-neutral, too!) There's no need to make the effort of putting on complicated Halloween makeup either, thanks to the plush character hoods. These easy adult Halloween costumes will keep you warm on a chilly October day!
7. Shirt Costumes for Easy Wear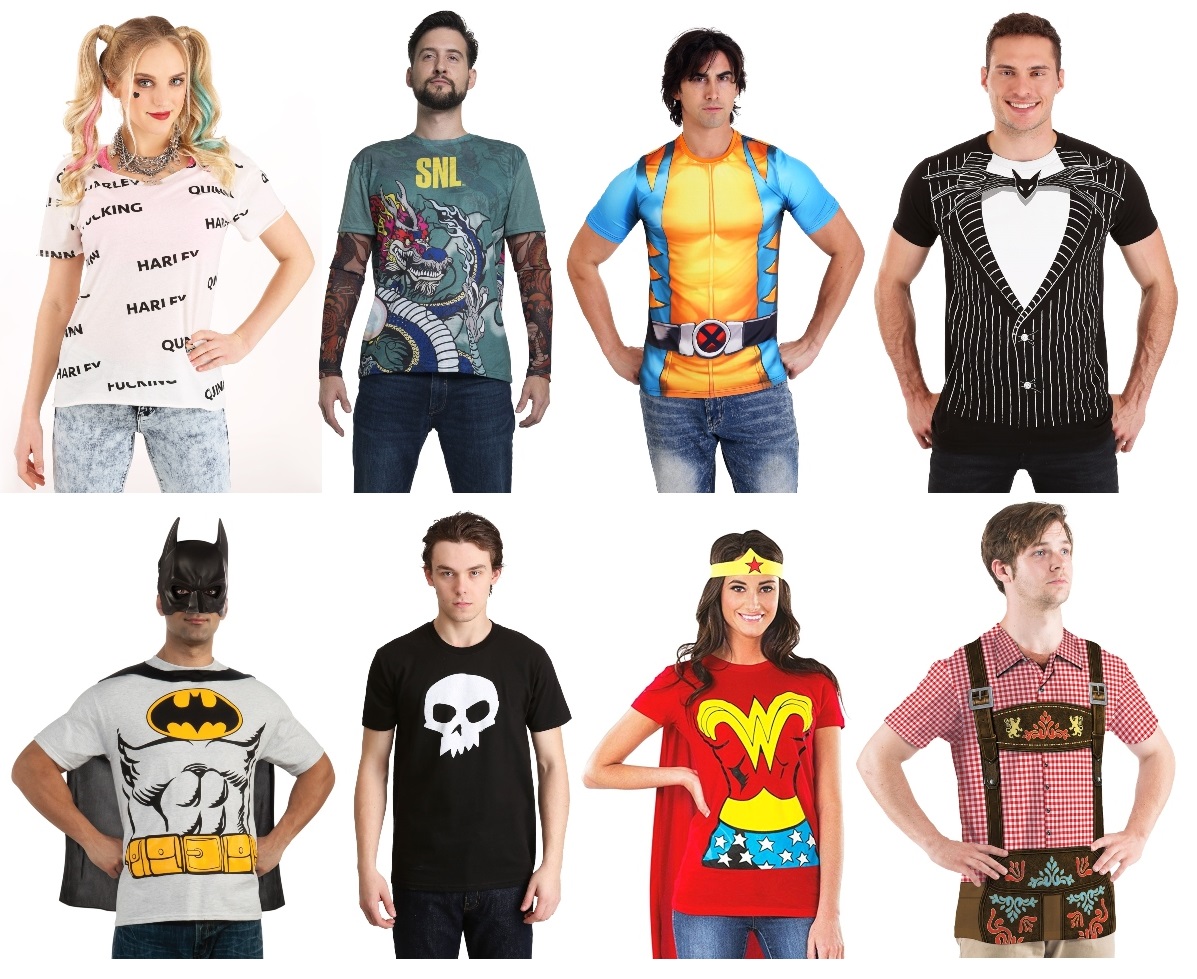 It doesn't get any easier than a t-shirt! Costume t-shirts are great in a pinch, especially if you need a last-minute Halloween costume idea. Some of them may even include a few costume accessories, such as the Batman and Wonder Woman t-shirts. Save money on Halloween with these costumes under $30! These shirt costumes work great as part of a complete costume or as stand-alone looks, and they are also great for events like costume runs outside of Halloween.
8. Cozy Dress Costumes for Creature Comfort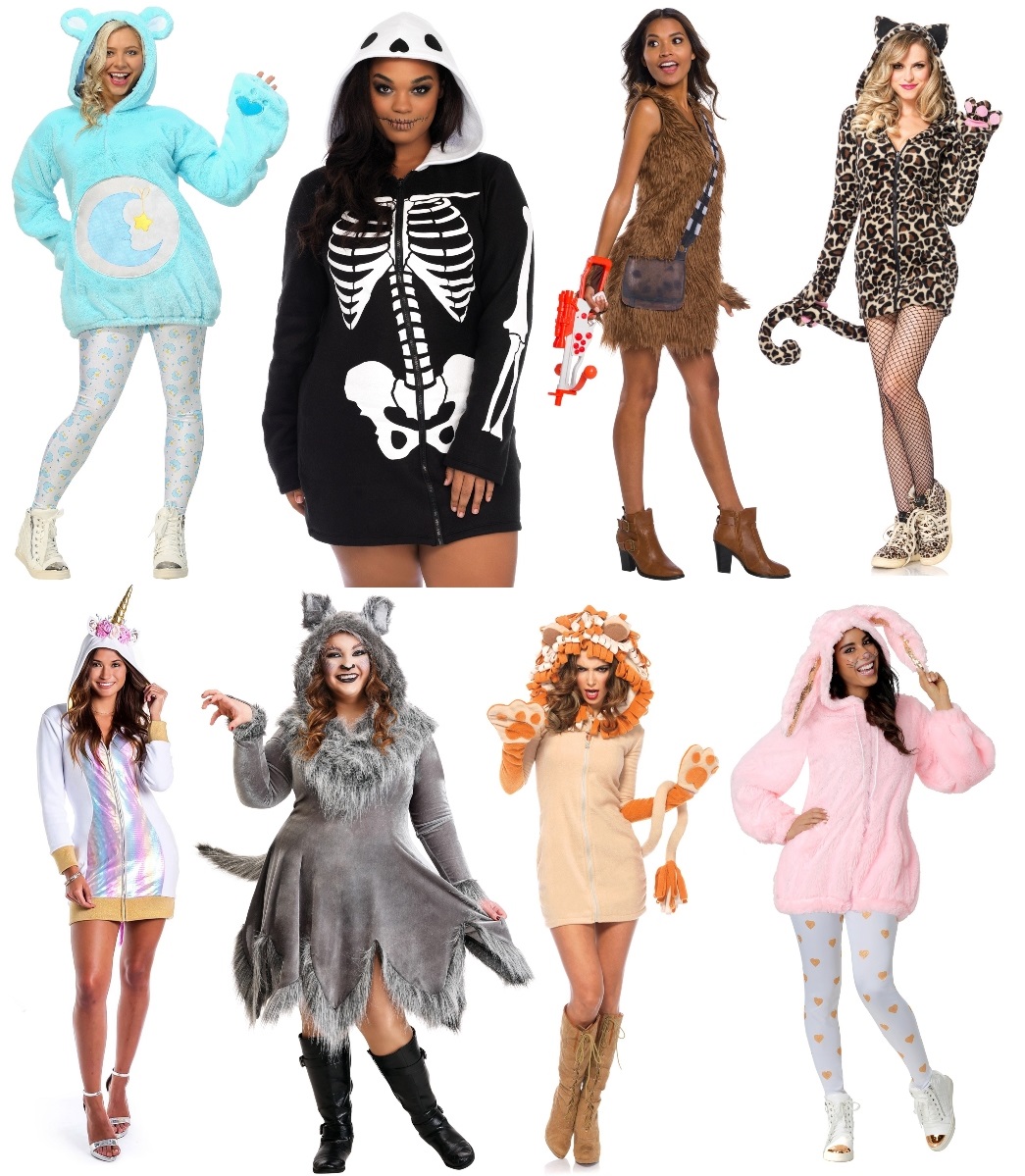 Say yes to these cozy costume dresses! These simple Halloween costumes are usually only the dress, sometimes with the addition of gloves or leggings. They're also makeup-optional, so put in as much effort as you want into your look. You'll look great when you pair these cozy dresses with the footwear you desire, whether you want to wear boots, shoes, or sandals! Easy costumes and a snazzy look!
9. Poncho Costumes to Strut your Stuff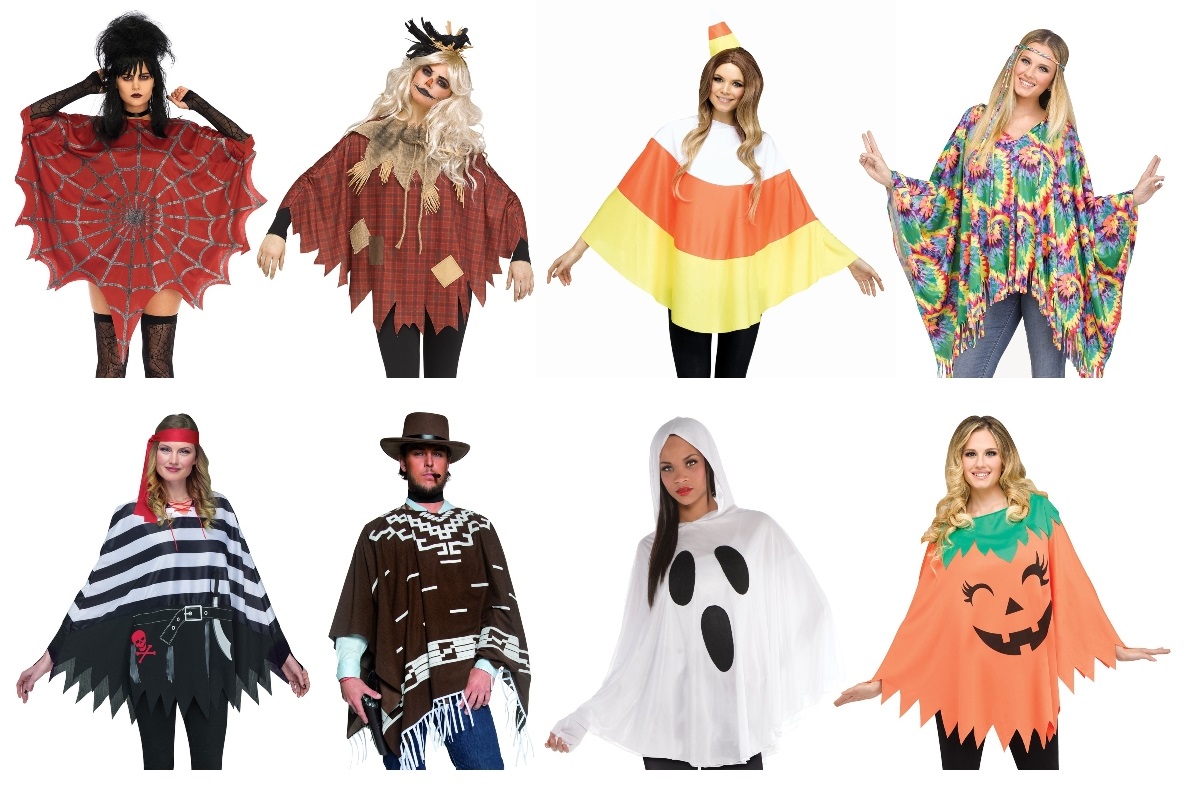 Are you traveling for Halloween and looking for a costume that's easy to pack? Maybe you're a fan of cozy wraps. Perhaps you want to be dressed up while you're walking! If so, you might be a fan of the poncho costume! These quick and easy Halloween costumes are so simple to slip into and wear, you might want them year-round!
10. Put a Wig On It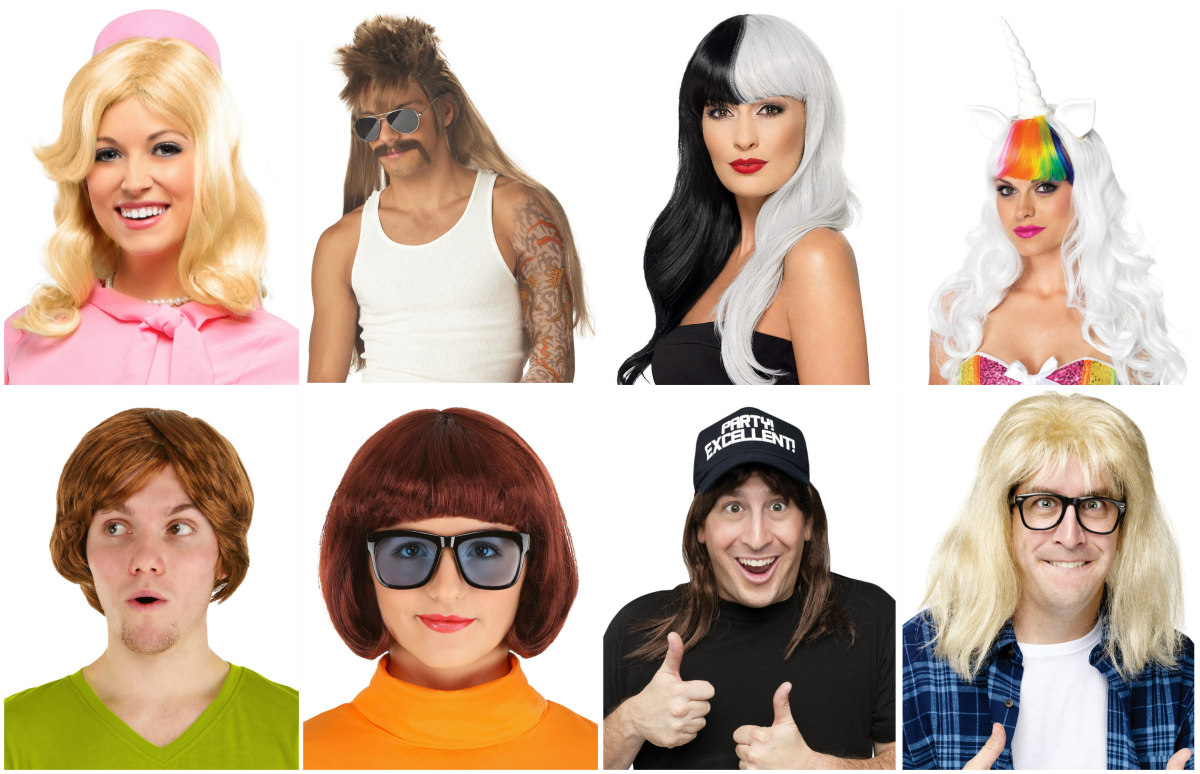 Sometimes all you need to transform street clothes into a costume is a wig! A classic blonde or mullet wig can turn you into any number of characters. Stylable wigs give you plenty of options, too. Consider this black and grey wig for a fashionable take on Cruella or the Bride of Frankenstein! If you already own the right shirt and glasses, then you just need a wig to complete looks from movies or television. These Wayne and Garth wigs may be all you need for a Wayne's World costume. Or put together a Scooby-Doo group costume with wigs for Shaggy, Velma, and the rest of Mystery Inc. When you think about it, wigs are the ultimate accessory because you don't need to carry them around all night!
We hope you find the right costume for your needs! With so many convenient costume styles to choose from, you don't need to feel stuck. Do you like your costumes cute and cozy, or is functionality your fave? Have you worn any other last minute costumes that suited you? Feel free to share your experiences with us in the comments! We love hearing about all of your favorite costumes.