The 2000s were a wild time to be alive. Beyblades hit the shelves, tank tops were mercilessly layered with every other article of clothing, and MySpace was the social media site of choice. It's hard for some of us to imagine 2000s costumes exist, yet here we are! There are plenty of movie and TV costumes from the 2000s—even costumes based on celebrities and cartoons! Keep reading for tips on picking the perfect 2000s theme party outfit, and we'll also share some fashion tips and party ideas. We're making fetch happen!
Britney Spears Costumes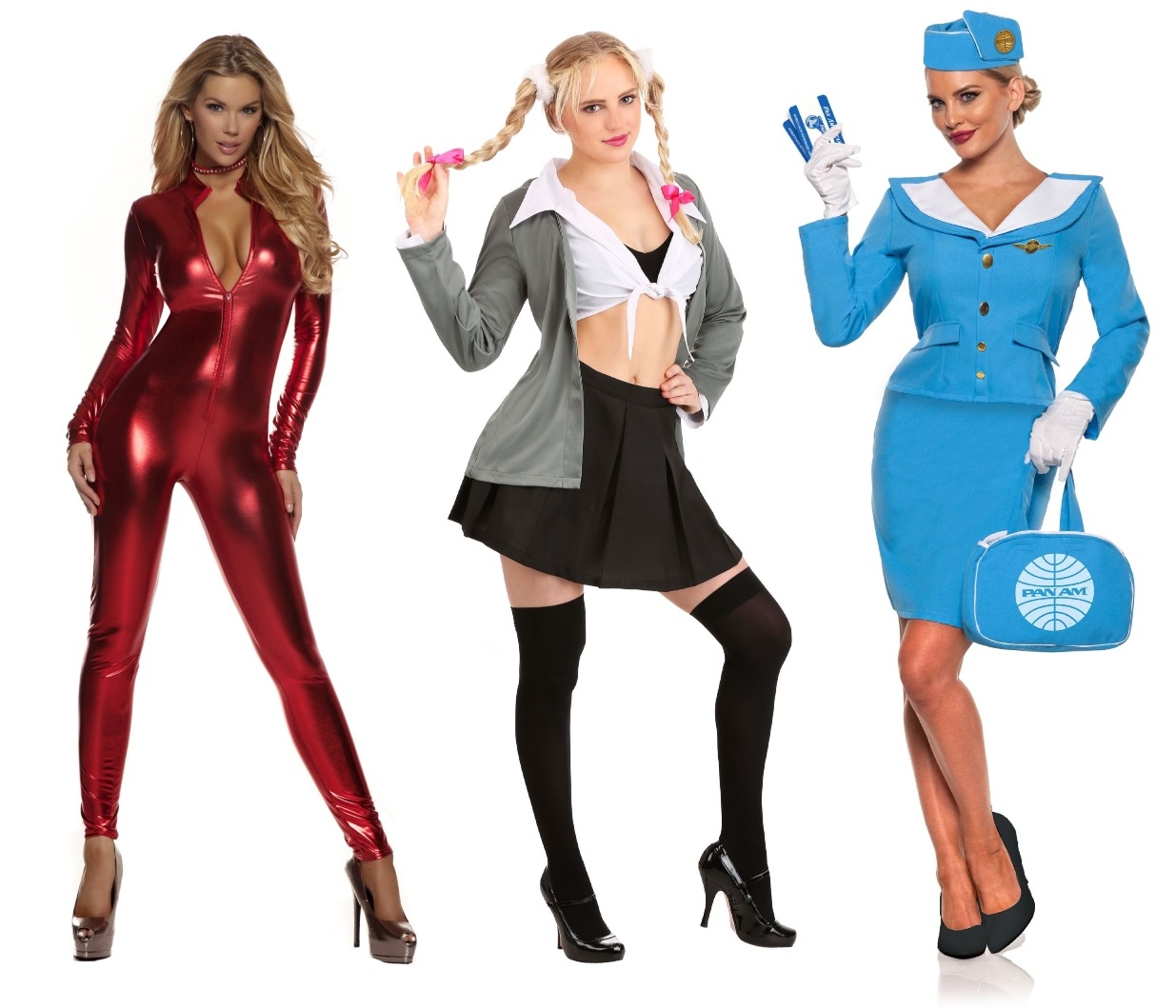 Was it even the 2000s if you didn't hear Britney Spears on the airwaves? She hit her peak in the 2000s with albums like Oops!...I Did It Again, In the Zone, and Britney. Britney Spears also had a ton of excellent outfits that make even better Halloween costumes! Her retro stewardess costume in "Toxic" is totally Britney, and you can find similar outfits to capture her look. However, don't forget greats like "Oops!...I Did It Again" and "Baby One More Time". While one of these 2000s costume ideas falls just into the late 90s, Britney is enough of a 2000s icon that we'll let it slide.
Mean Girls Costumes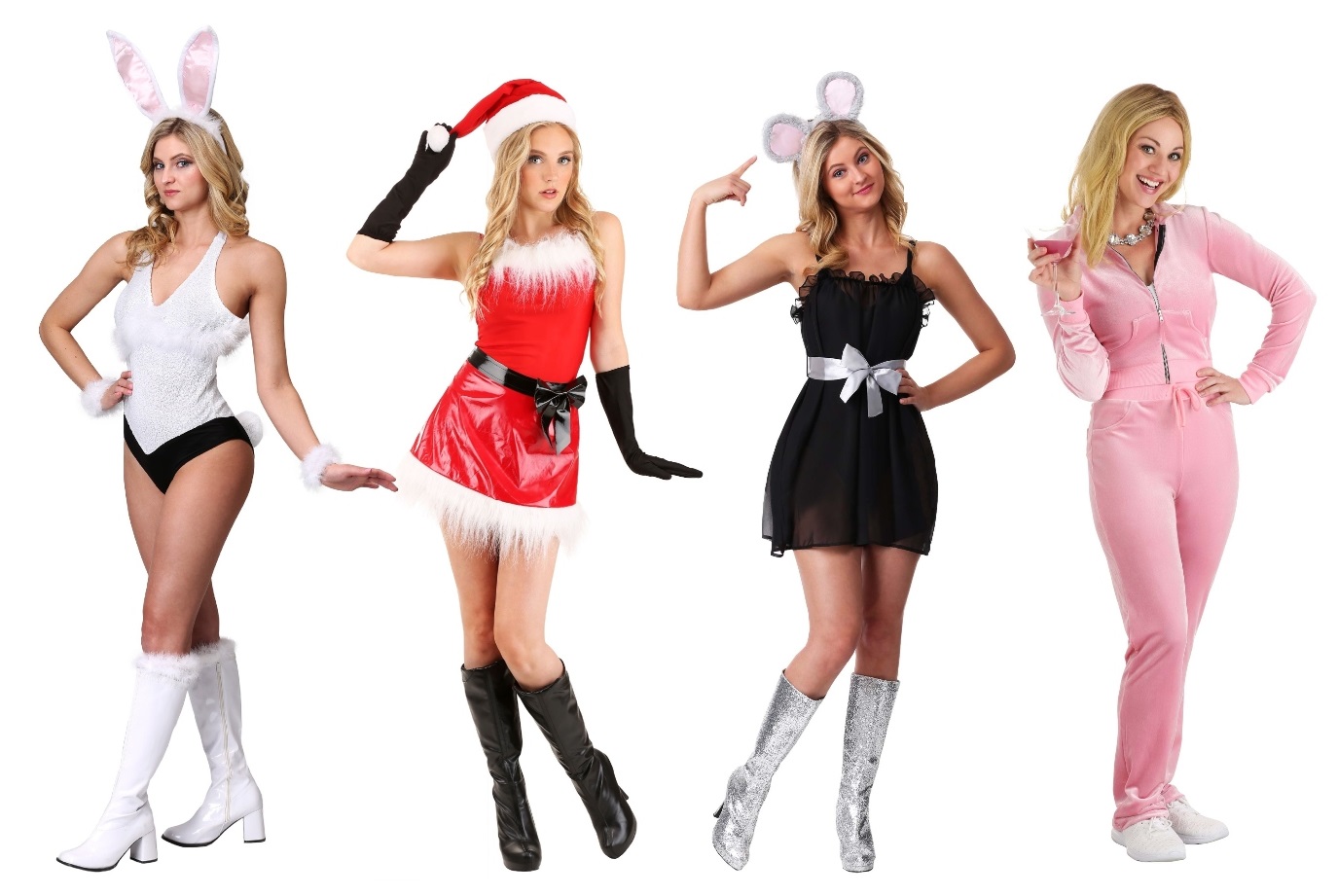 It's your turn to be the cool mom with these Mean Girls Halloween costumes! (As if you weren't cool enough already.) Velour jumpsuits were in, along with sexy costumes and strappy tanks. Find a pair of cute shoes to match your 2000s Halloween costume for women, and you'll be ready to party! We hope you have your favorite Mean Girls quotes at the ready.
Harry Potter Costumes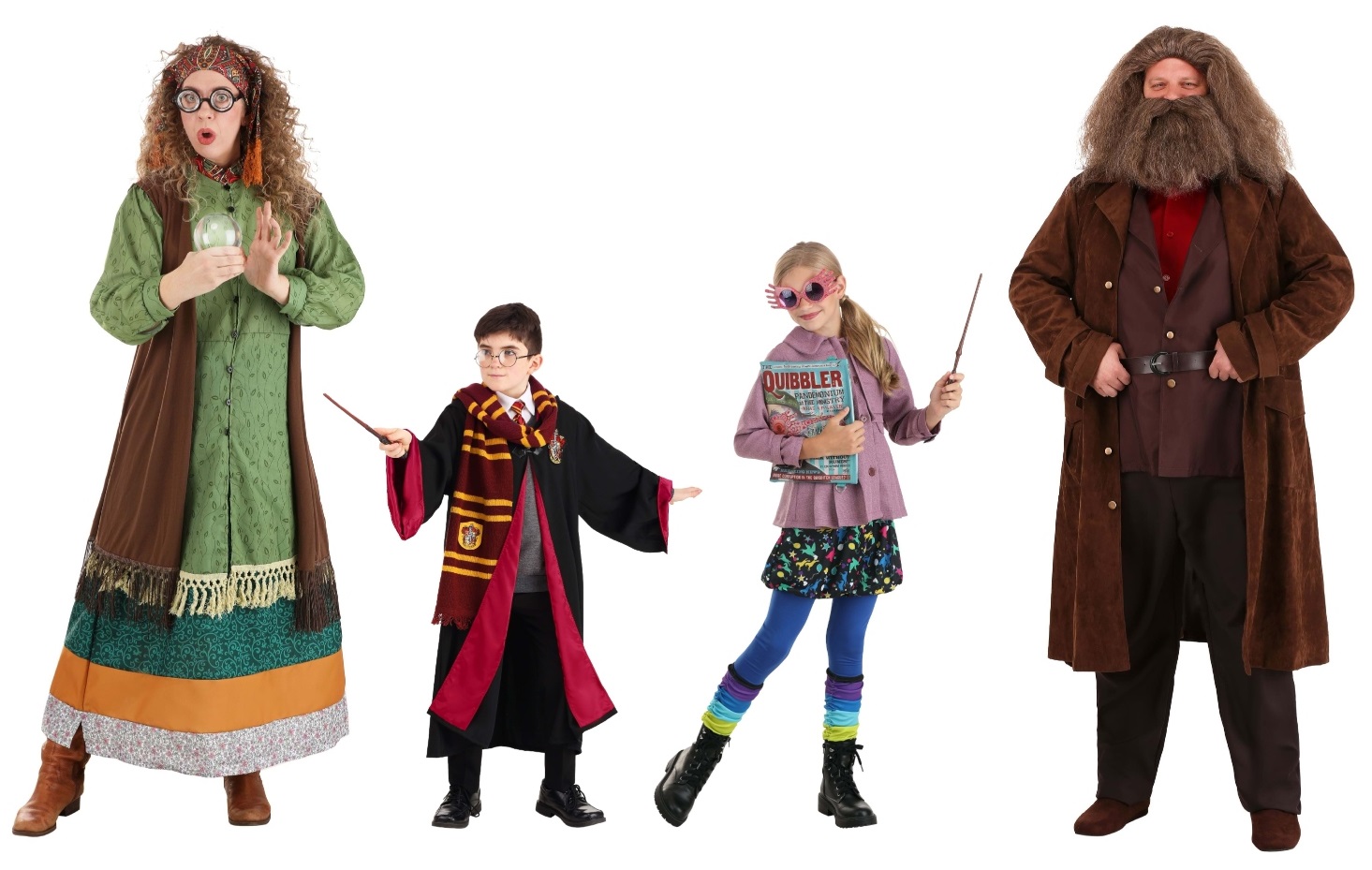 Harry Potter has had us in its grasp since it was first published in 1997. The book series finished its release in 2007, and the Harry Potter film series ran from 2001-2011. It's hard to find anything as solidly 2000s as Harry Potter. You can easily find a variety of Harry Potter robes for adults and kids, from Hufflepuff to Ravenclaw, along with character costumes that include teachers and students. Any 2000s party will feel more magical with a touch of Harry Potter!
Batman Costumes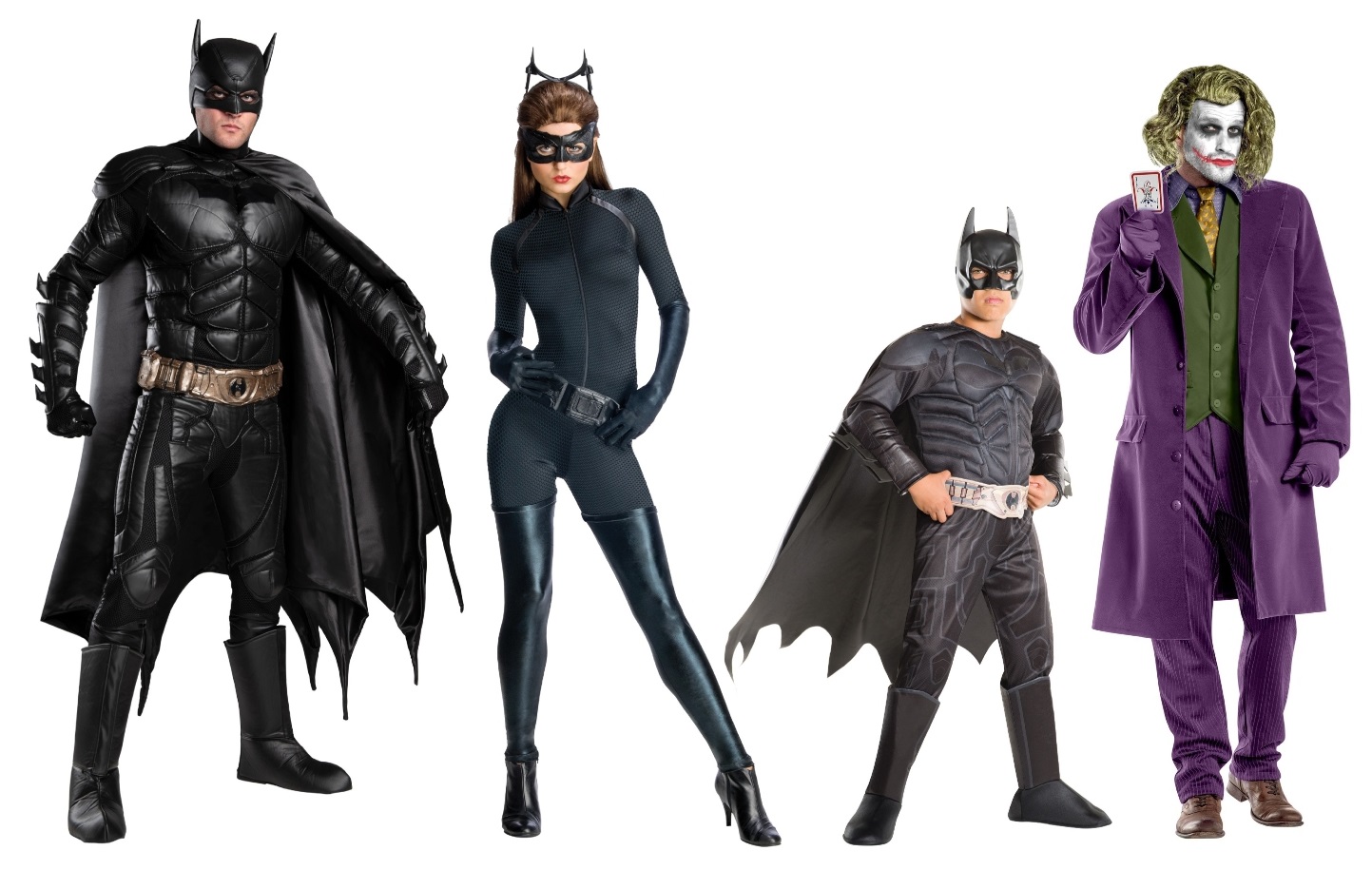 Batman Begins and The Dark Knight breathed new life into the Batman franchise in the 2000s. We were reintroduced to the origins of Batman as a character and then captivated by Heath Ledger's enduring portrayal of the Joker. It shouldn't surprise anyone that you can still find 2000s Batman costumes after the impact of these movies! If you want to expand it into couples' costumes territory, add a Catwoman costume from the third installment that wrapped up the trilogy in 2012.
Pirates of the Caribbean Costumes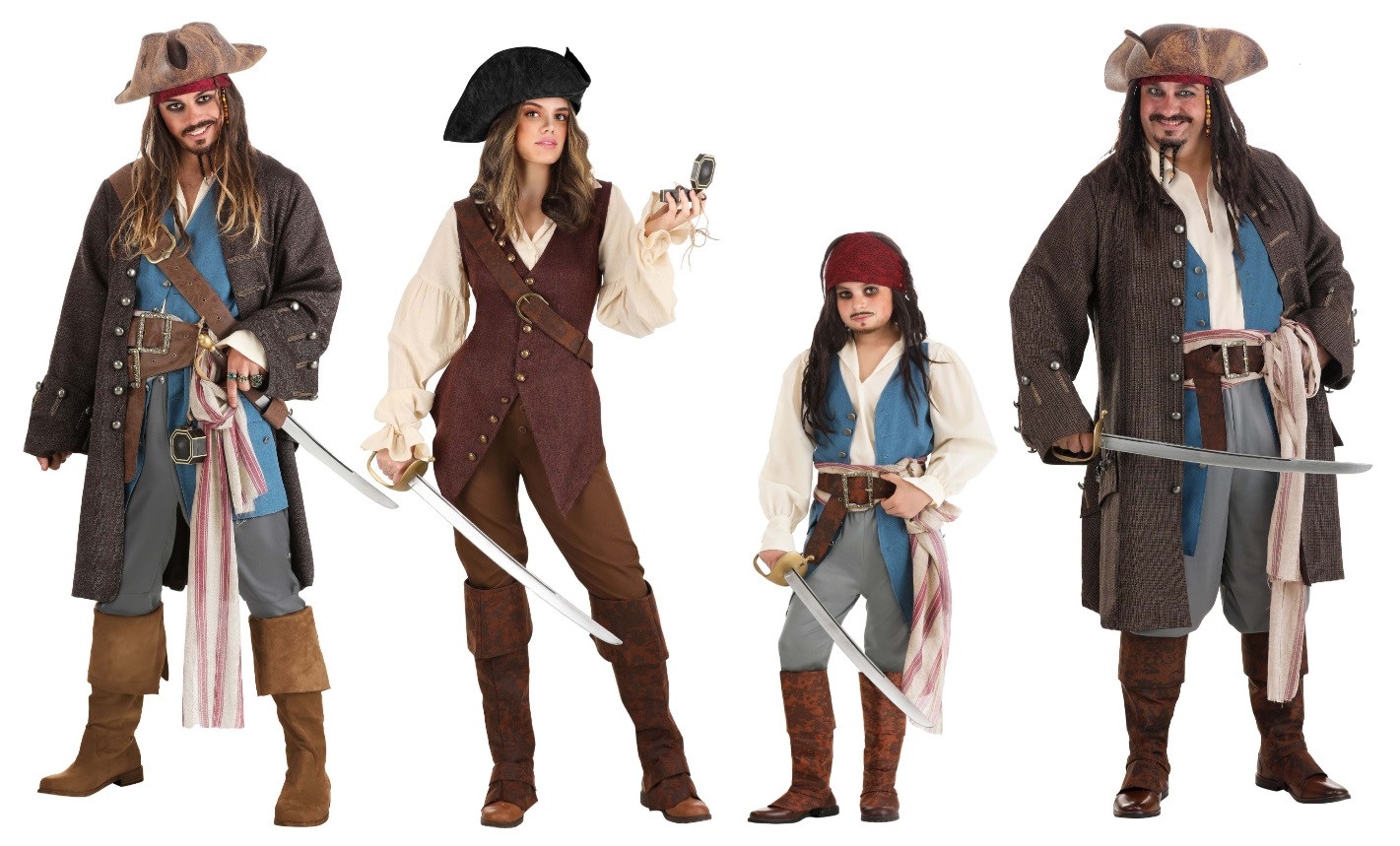 The Pirates of the Caribbean films revitalized the Disney movie lineup and overall outlook of pirate movies in a way no one could have predicted. Shove off to your next 2000s party dressed as Captain Jack Sparrow, or Elizabeth Swan if you'd prefer. These Pirates of the Caribbean costumes will surely delight guests of all ages. If you can nail the Jack Sparrow run, you'll be the hit of the party!
Shrek Costumes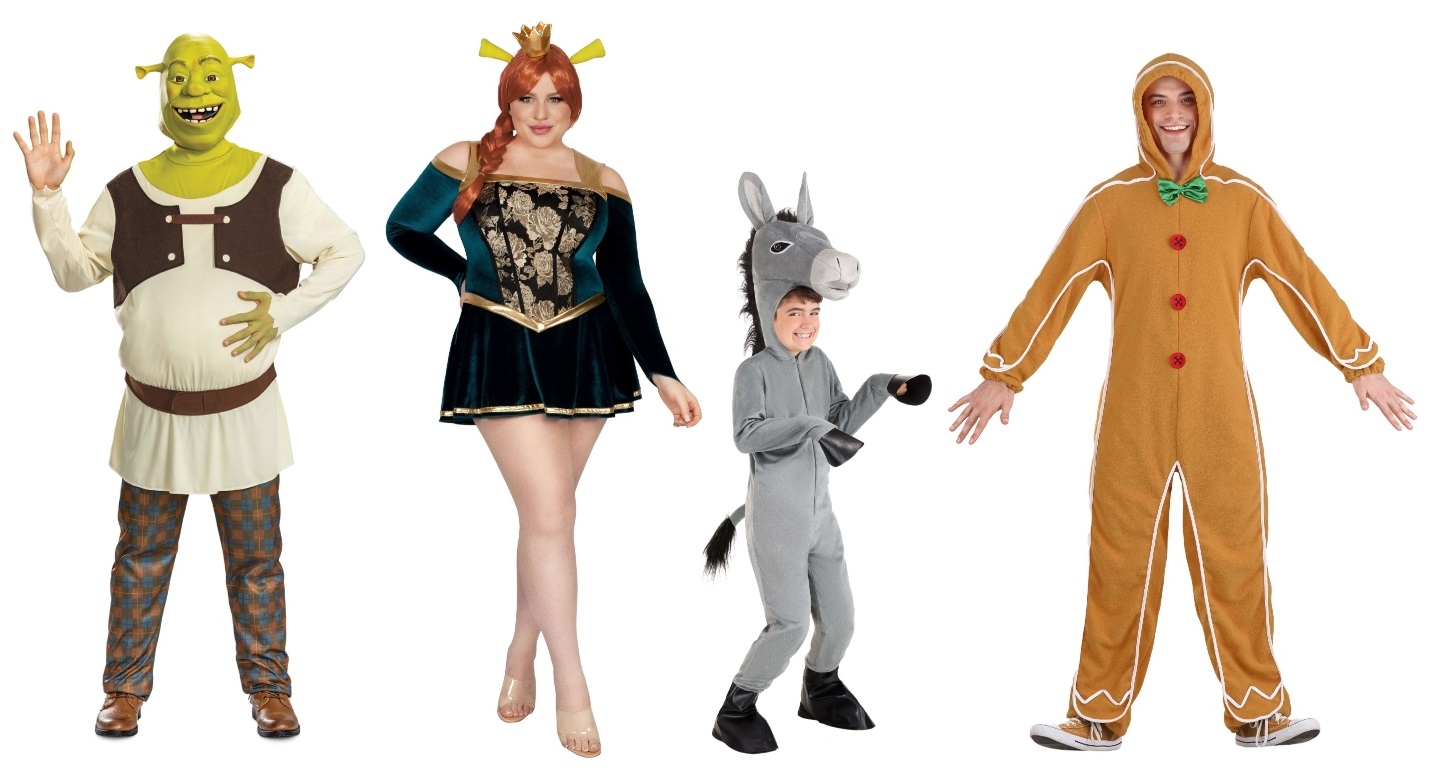 Get ready to feel old because the Shrek movies are now considered cult classics. Three of the four core Shrek films came out in the 2000s, making Shrek another inescapable franchise of the decade. These Shrek costumes are great at Shrek watch parties, but they're also perfectly at home for any 2000s-themed bash. You can easily wear these 2000s costumes as a group, couple, or solo! We hope you're ready to belt out some "All-Star" by Smash Mouth if there's karaoke at the party.
Bring it On Costumes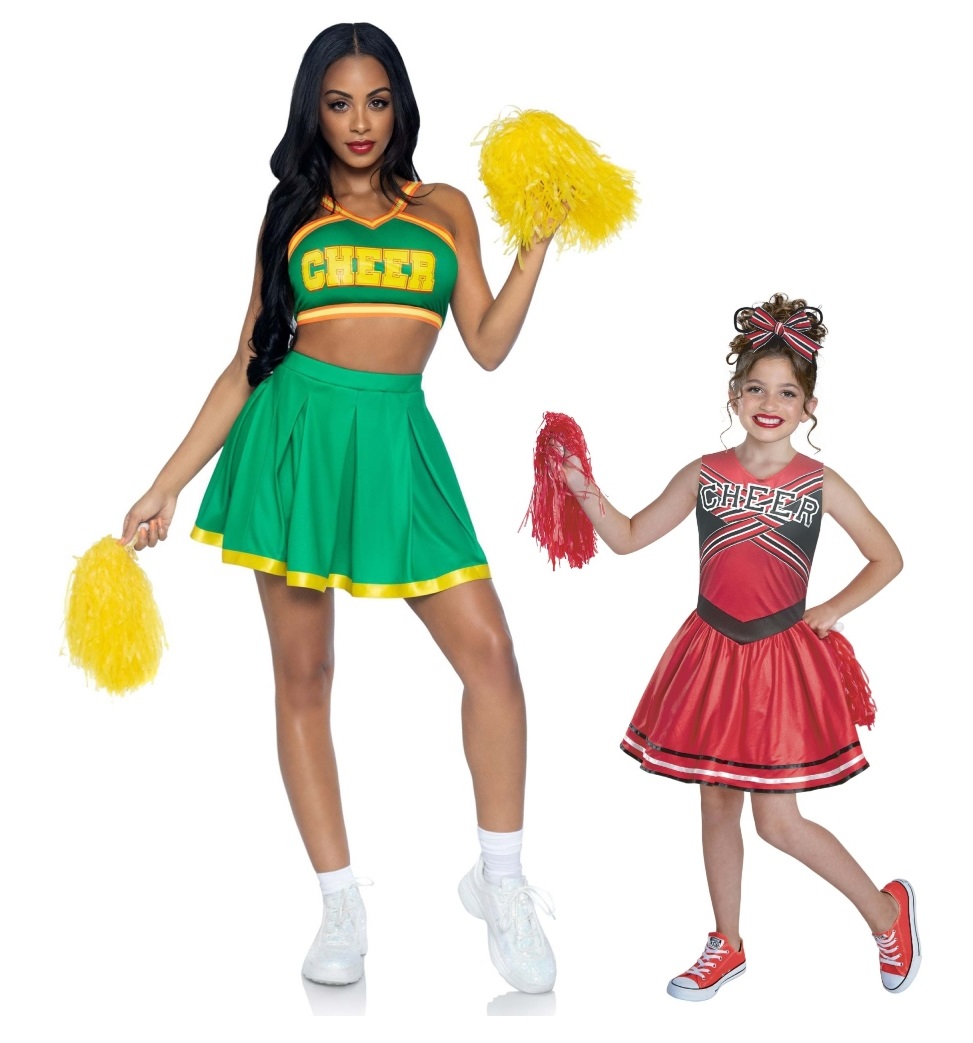 The 2000s were jam-packed with comedy movies for teens, from Mean Girls and The Princess Diaries to Napoleon Dynamite and Bring It On. In the case of Bring It On, we couldn't resist the drama between two high school cheer teams competing for the national championships! These costumes are peak 2000s nostalgia, so get ready to rock your area party or Halloween bash. Should your little girl want to go trick-or-treating dressed as part of the cheer squad, there's also a child-size costume.
The Office Costumes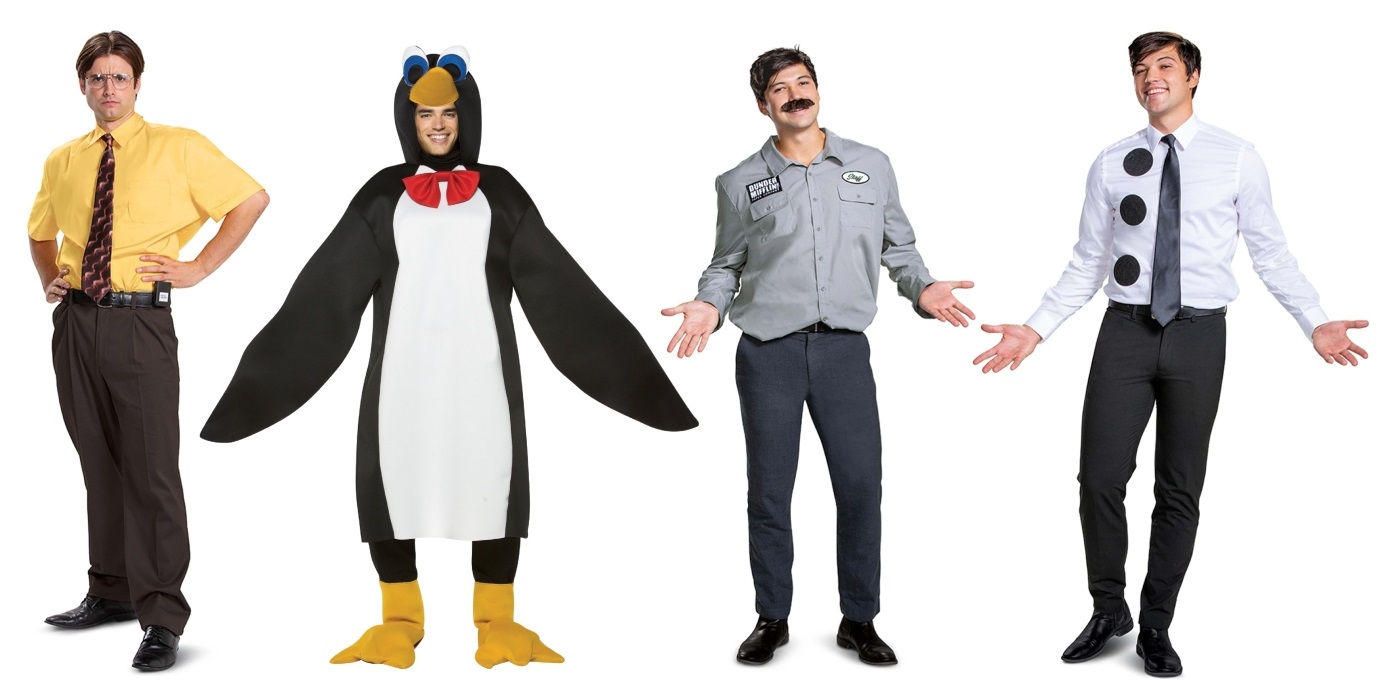 Few sitcoms are as recognized for their Halloween episodes as much as The Office. This popular TV series ran from 2005-2013, giving us six Halloween-themed episodes. While you could dress as one of the characters, if you take the extra step of wearing a The Office Halloween costume from one of the six holiday episodes, you'll be the star of the party! Jim's simple 3-hole punch costume is peak office humor, and we also carry a penguin costume that looks exactly like the one worn by Angela Martin. If you're DIY-savvy, you may even be able to make one of the other famous The Office costumes, such as MacGruber or Lady Gaga!
Christina Aguilera Costume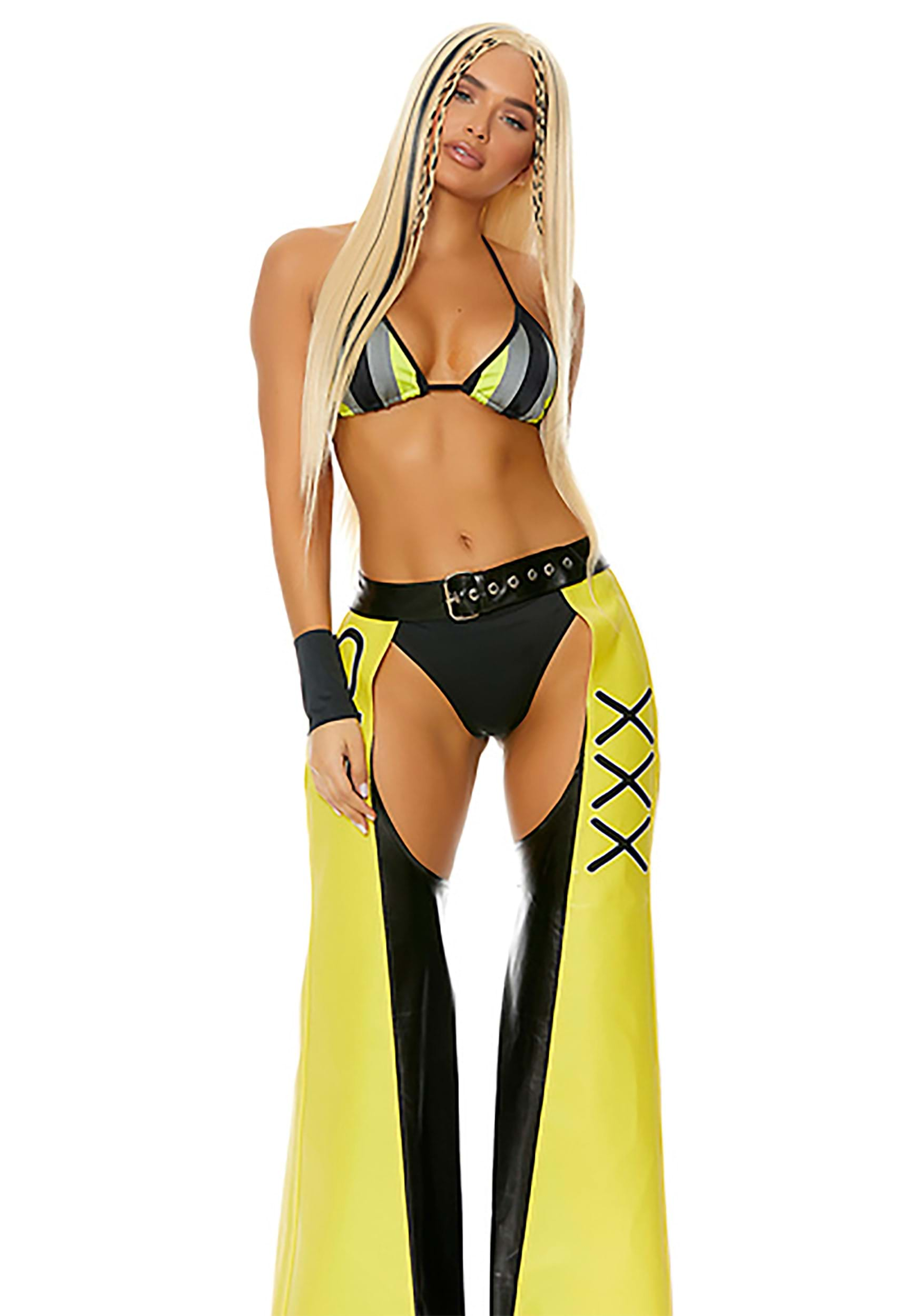 Christina Aguilera Dirrty Costume
Christina Aguilera was a force to be reckoned with in the 2000s music scene. Her debut album from 1999 vaulted her solidly into the music scene for the rest of the coming decade. What would be more appropriate for a 2000s decade party than a Christina Aguilera costume? This Dirrty costume is derived from her 4th album release in 2002. It helped to transform her image from a teen pop icon to an adult artist.
Saw Costumes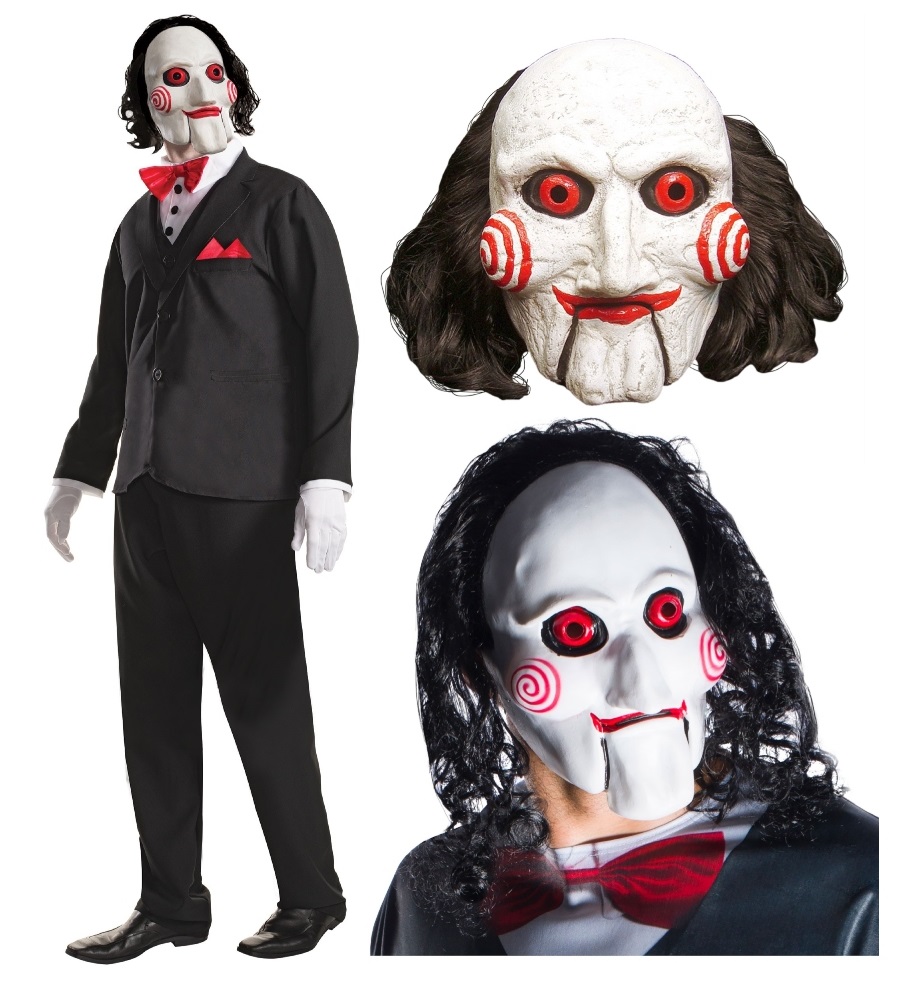 There was no escape from the Saw franchise in the 2000s. The six core movies ran every year from 2004-2009, marking a grisly trail that changed the horror genre with its elaborate traps and nonlinear plotline. It was incredible that you could expect a new Saw movie every October! While the Jigsaw killer was tough to track down throughout the series, given the copycats and misdirection, the one constant was Billy the Puppet. Billy has appeared in every single Saw movie, including the spinoffs. If you're hoping to make a grisly entrance at your next themed 2000s party, give everyone a fright as Billy the puppet!
The Incredibles Costumes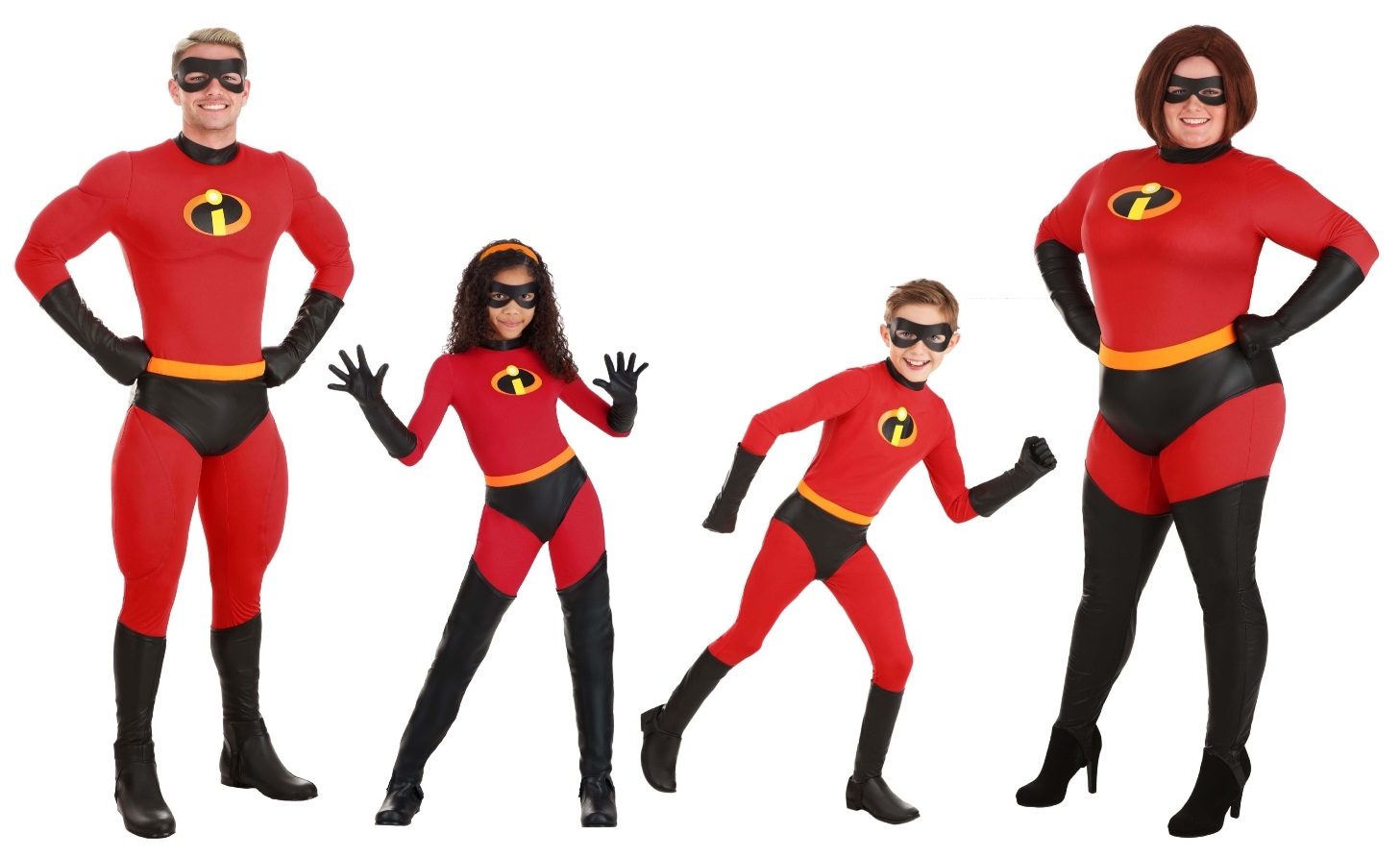 What's the best family costume idea for a 2000s party? Look no further than The Incredibles! There are many Incredibles costumes to work with, from the core family of four to characters like Jack-Jack, Frozone, Syndrome, and Edna Mode. We had been itching for a sequel since the movie came out in 2004. (And our wish wasn't granted until 2018!) If you do decide to wear an Incredibles Halloween costume, don't forget to keep a few of your favorite movie quotes handy.
Proud Family Costumes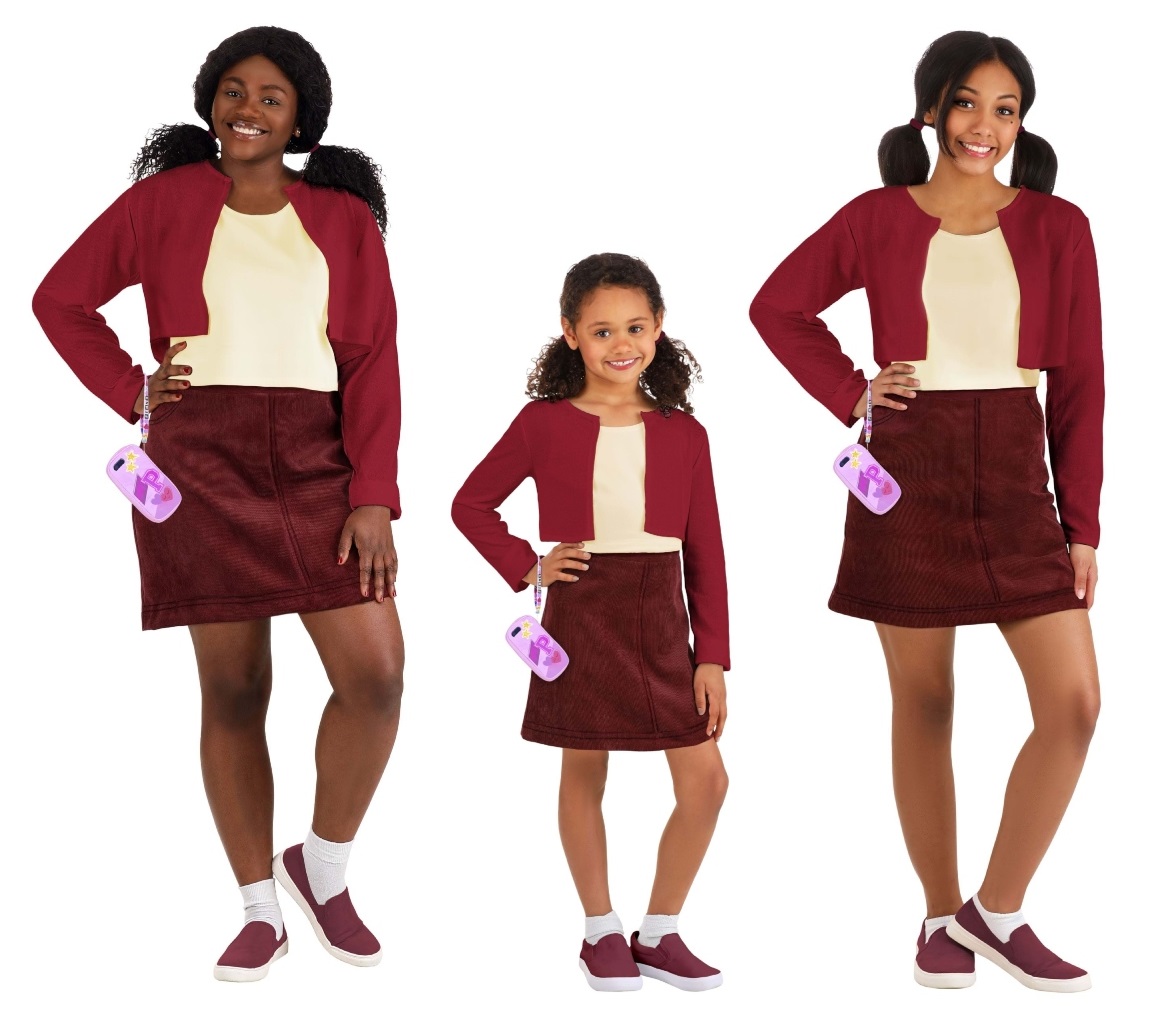 The Disney Channel had several cartoon series separate from their movies that you couldn't miss in the 2000s! Original series like The Proud Family, Kim Possible, and American Dragon: Jake Long kept us tuning in to catch all the latest episodes. Like many teens, Penny Proud was looking to find her place in school life and growing up. However, she's often at odds with her overprotective father, who embarrasses her with his quirky attitude and failing snack food business. (And what teen isn't embarrassed by their parents from time to time?) Wearing these Penny Proud costumes to a 2000s costume party will make us proud!
Coraline Costumes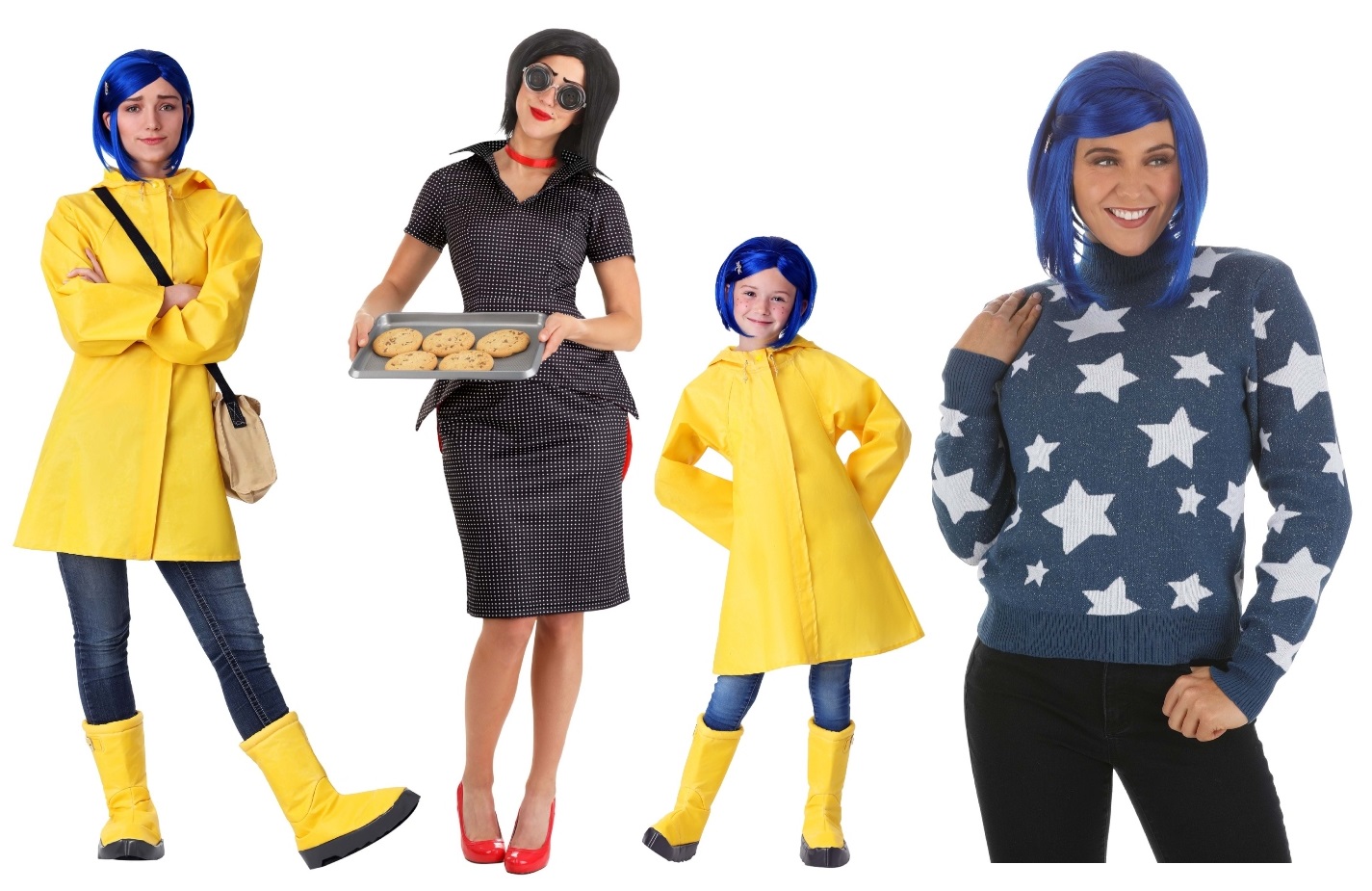 The first feature film by studio Laika, Coraline is a masterpiece of design and animation. Following the storyline of a book by the same name, Coraline is about a young girl who feels ignored by her parents. She stumbles onto the Other World, which feels better by comparison, but not everything is as it seems... These Coraline costumes are perfect for Studio Laika fans and people who love excellent animated movies of the 2000s.
Gladiator Costumes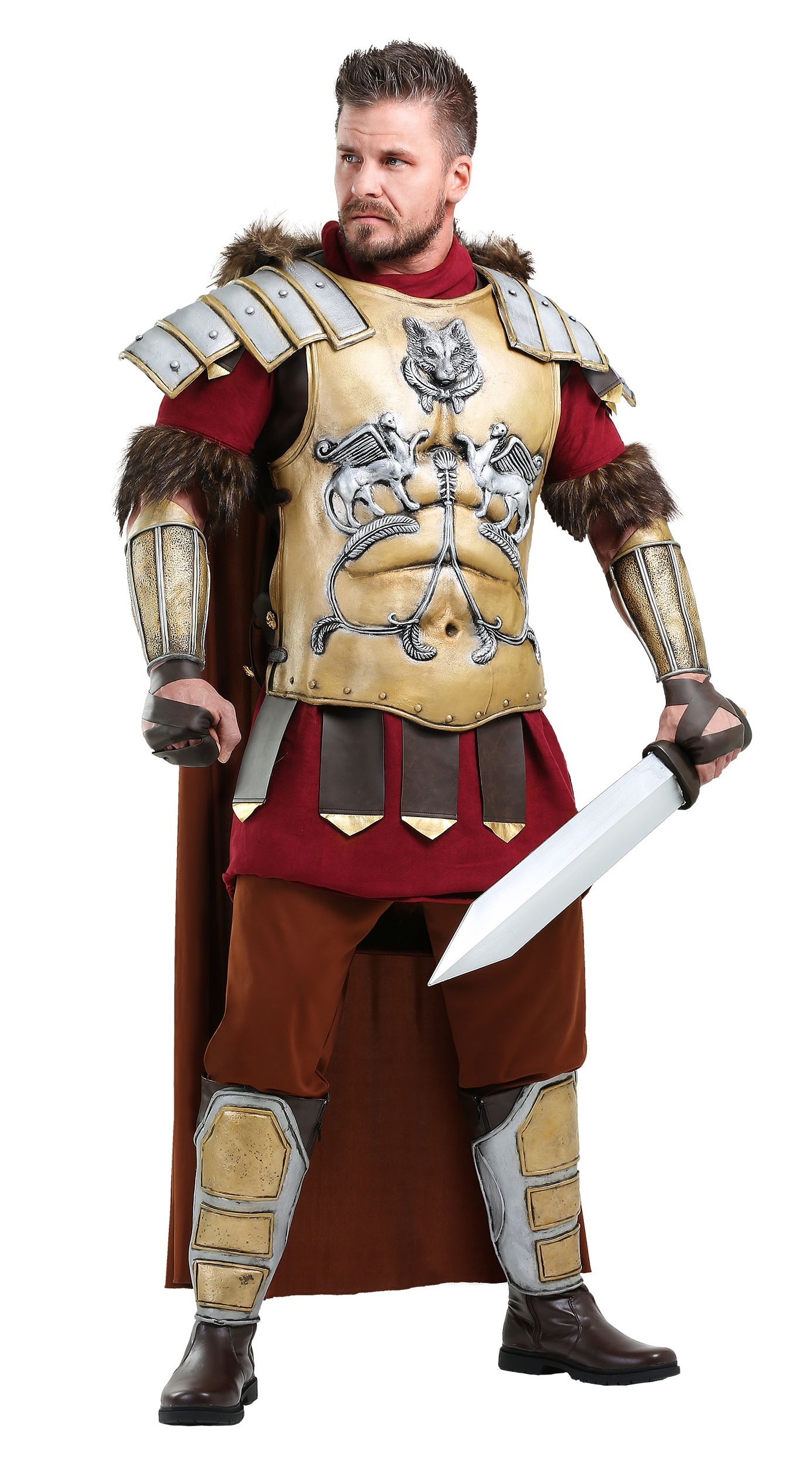 Are you not entertained? This Gladiator costume is an excellent pick for movie buffs! Gladiator inspired a new wave of historical films in the 2000s and won several major awards. You could say that Gladiator started Y2K off with a bang when it came out in the year 2000!
Avatar: The Last Airbender Costumes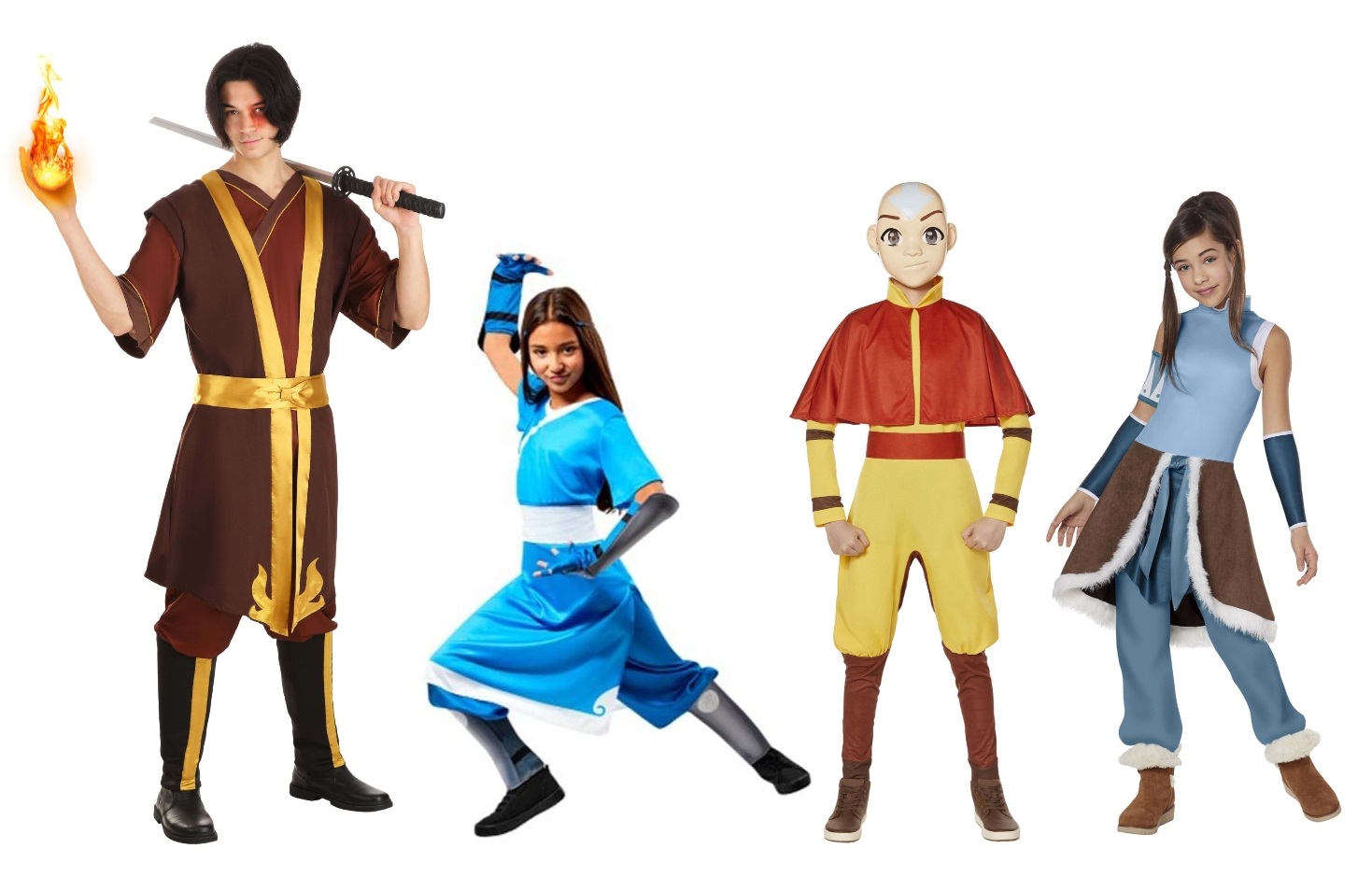 Nickelodeon had an excellent cartoon lineup in the 2000s. Danny Phantom, Invader Zim, The Fairly Odd Parents, and Avatar: The Last Airbender! ATLA has, in particular, withstood the test of time to be one of the most beloved modern cartoons. We still remember our favorite lines and characters, and it's also a popular cosplay costume! These Avatar: The Last Airbender costumes will please any 2000s kid or any child who had access to the show later. (Of course, we were excited to see ATLA on Netflix for a while so we could binge the whole series again!
Up Costumes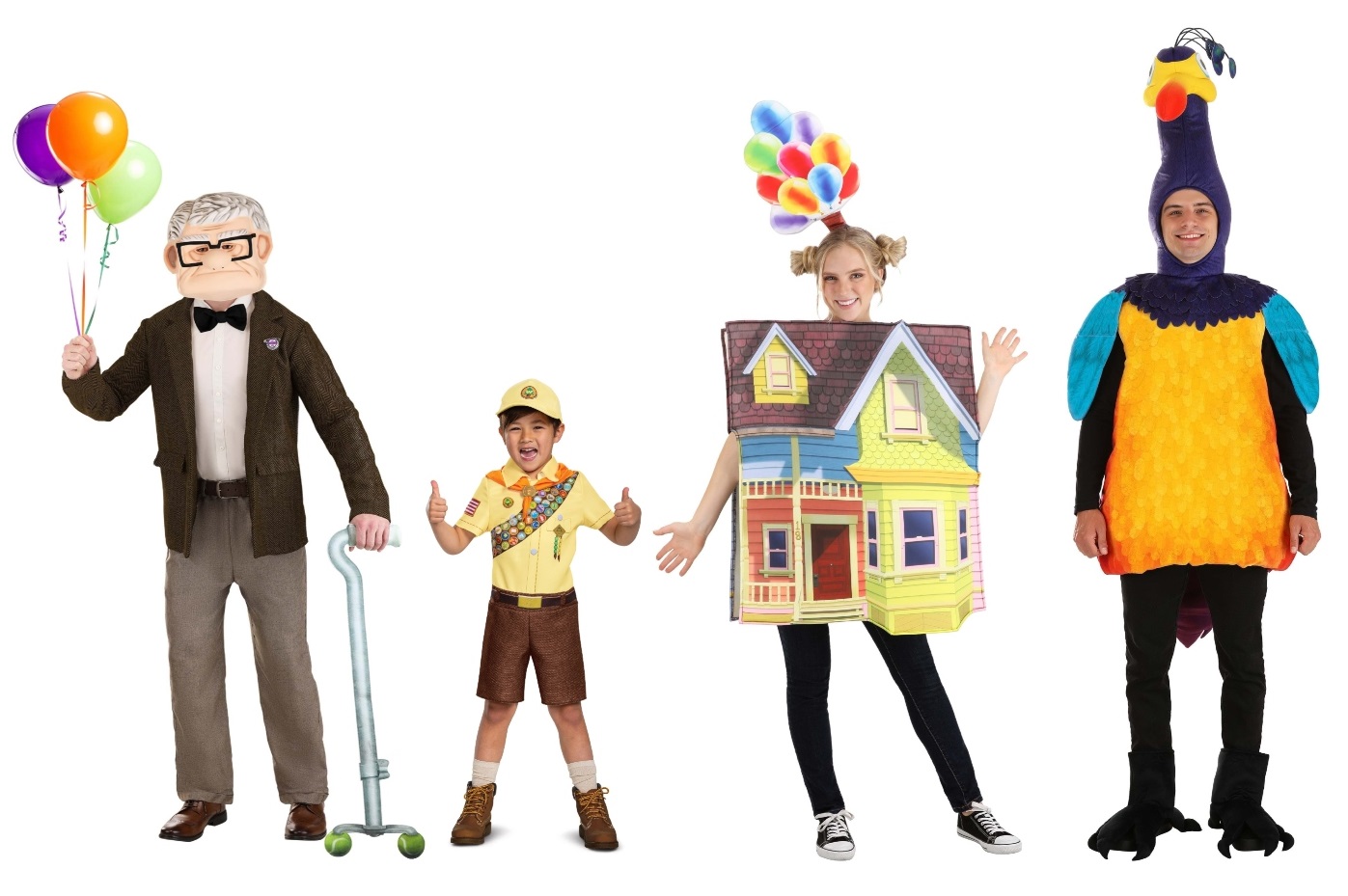 Coming at the end of the 2000s, Up was a masterpiece in animation that we'll never forget! We follow Carl as Russell assists him on his journey to make good on a promise to his late wife, Ellie. The stunning visuals as Carl's house lifts into the air with a massive canopy of brightly-colored balloons still stick with us today, along with the scenes featuring Carl's life with Ellie. (There wasn't a dry eye in the theater!) These 2000s Disney costumes are great for parties of all kinds, from decade-themed festivities to Halloween and Disney events.
Teen Titans Costumes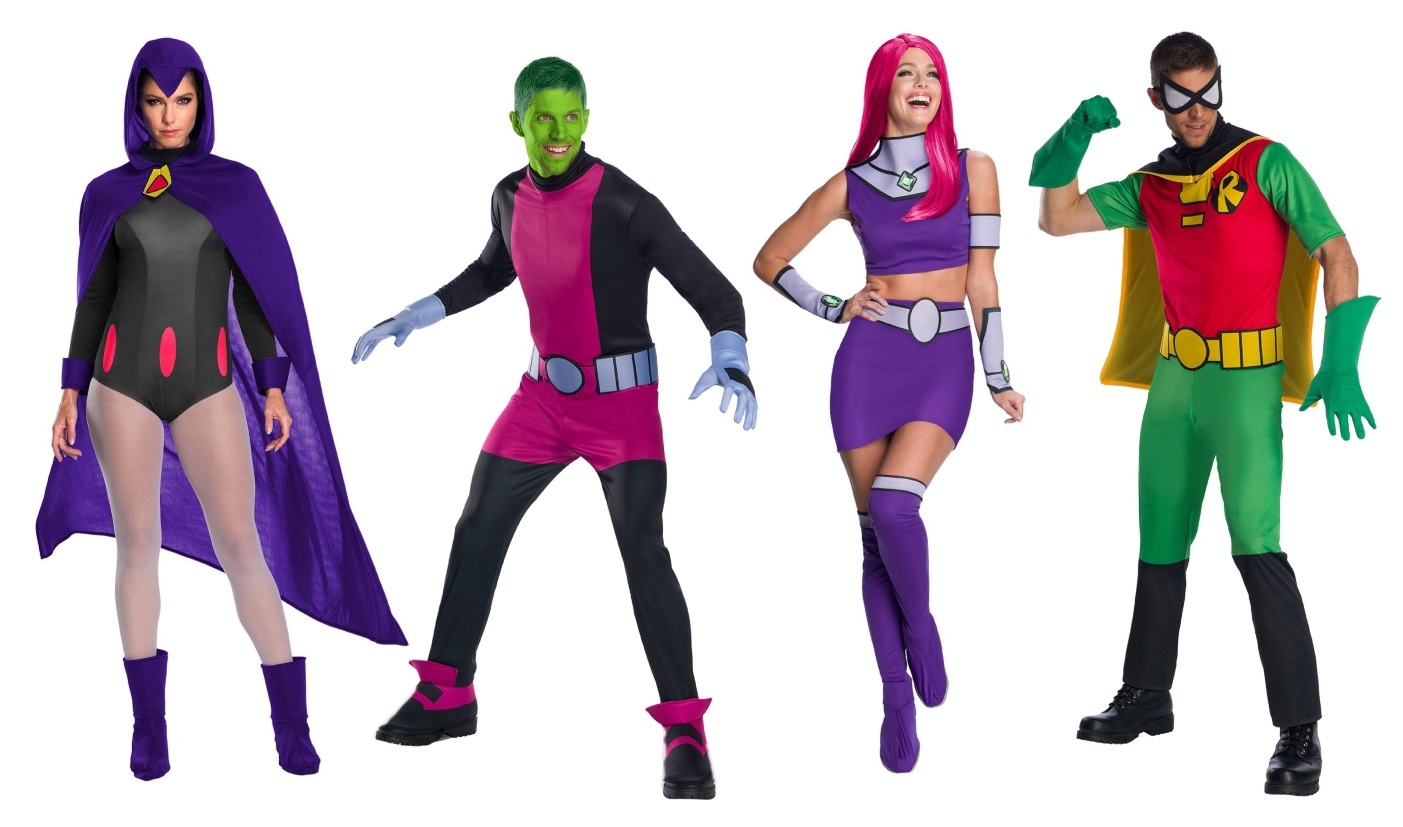 When there's trouble, you know who to call—Teen Titans! Now that the theme song is lodged in your brain, we'll share some of our favorite Teen Titans costumes with you! This popular cartoon series from 2004 became a Cartoon Network staple for kids, teens, and families everywhere. While Teen Titans was a superhero show with a lot of action, there were episodes and situations focused on the Titans' downtime and relationships with each other. The show's scope resonated with many fans and continues to be a favorite for cosplayers and diehard DC fans alike.
Napoleon Dynamite Costumes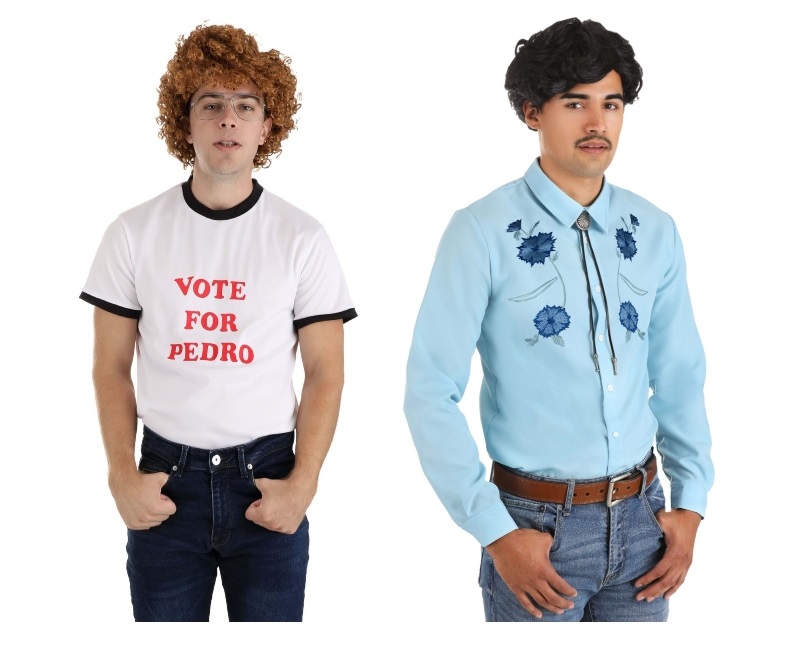 Love it or hate it, Napoleon Dynamite was a cultural phenomenon of the 2000s. The movie is intensely quotable and has some of the most bizarre yet memorable scenes. We love everything from the pockets tots to Kip's internet dating, and who could forget Napoleon's legendary dance for Pedro's shot at the student body president? Everything about the movie is as awkward as its teenage heroes while being simultaneously ingenious. Just know that you will be expected to do Napoleon's dance if you wear a Vote for Pedro shirt!
Sharkboy and Lavagirl Costumes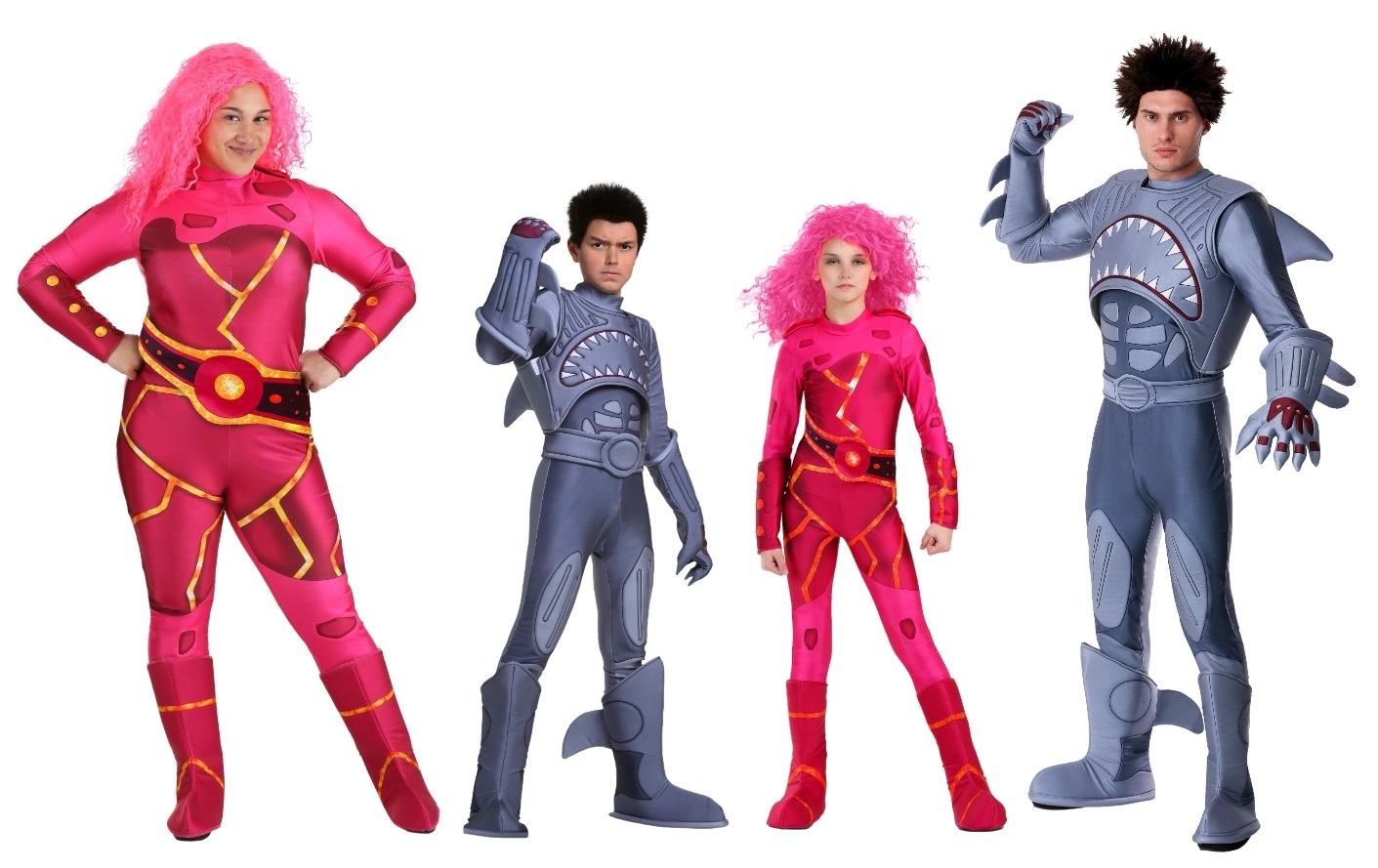 Initially panned by critics due to its poor 3-D effects, Sharkboy and Lavagirl in 3-D is a product of the mid-2000s. The movie itself falls solidly into so-bad-it's-good territory, with sets that make it feel like a Disney Channel movie fever dream. It vaulted to cult classic status for its strikingly odd visuals, kid-centric storyline, and unique characters. This unlikely movie spawned a sequel in 2020, We Can Be Heroes. And you can be a hero, too, by wearing one of these Sharkboy and Lavagirl costumes!
Ice Age Costumes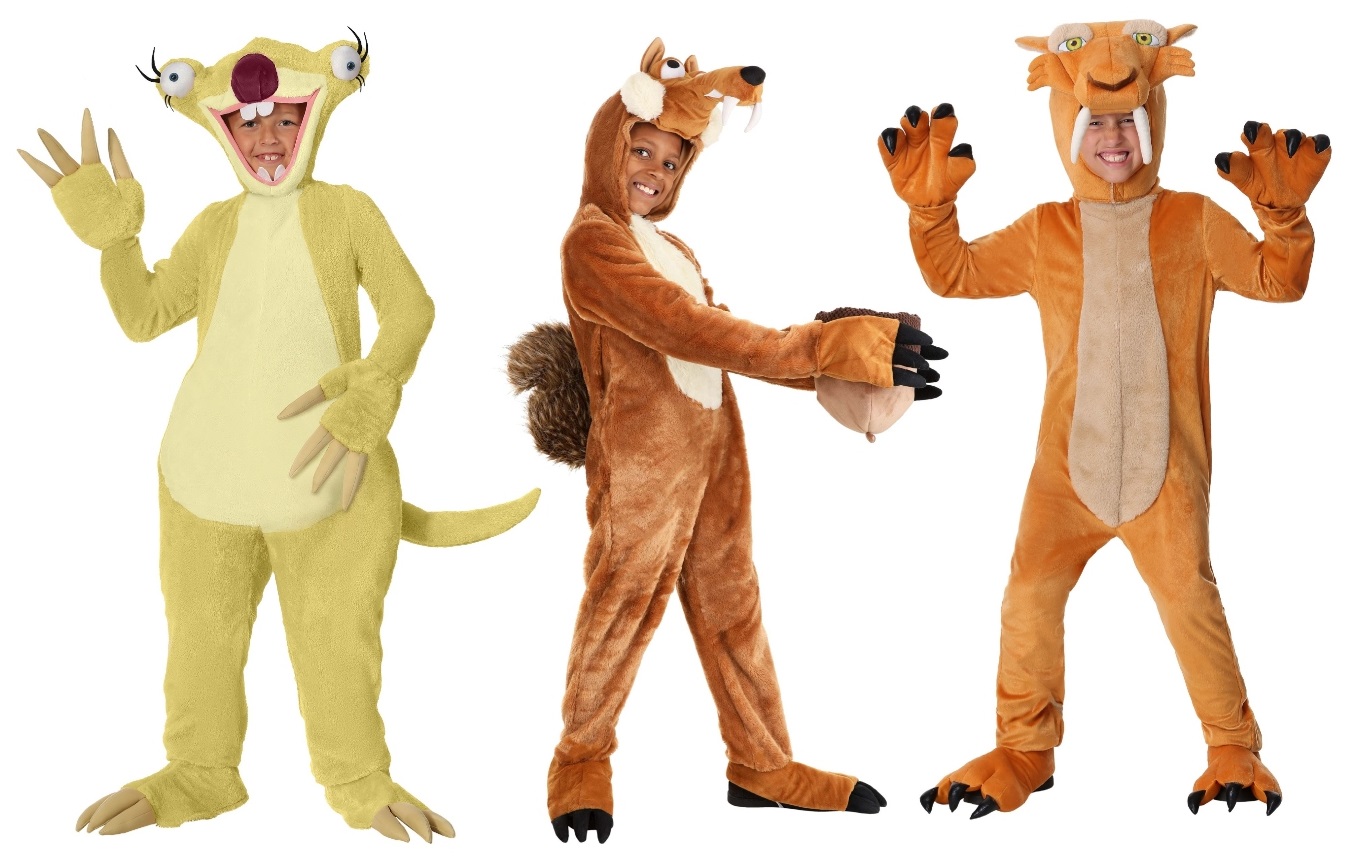 Ice Age has come a long way since its inception in 2002, but the original will always be near and dear to us! Character costumes like Scrat, Sid the Sloth, and Diego are perfectly at home for any 2000s costume party. Three of the Ice Age movies came out in the 2000s, so if you're handy at making DIY costumes, you could also find a way to create an outfit for one of the other characters. We hope you have fun at your next costumed event!
Kim Possible Costumes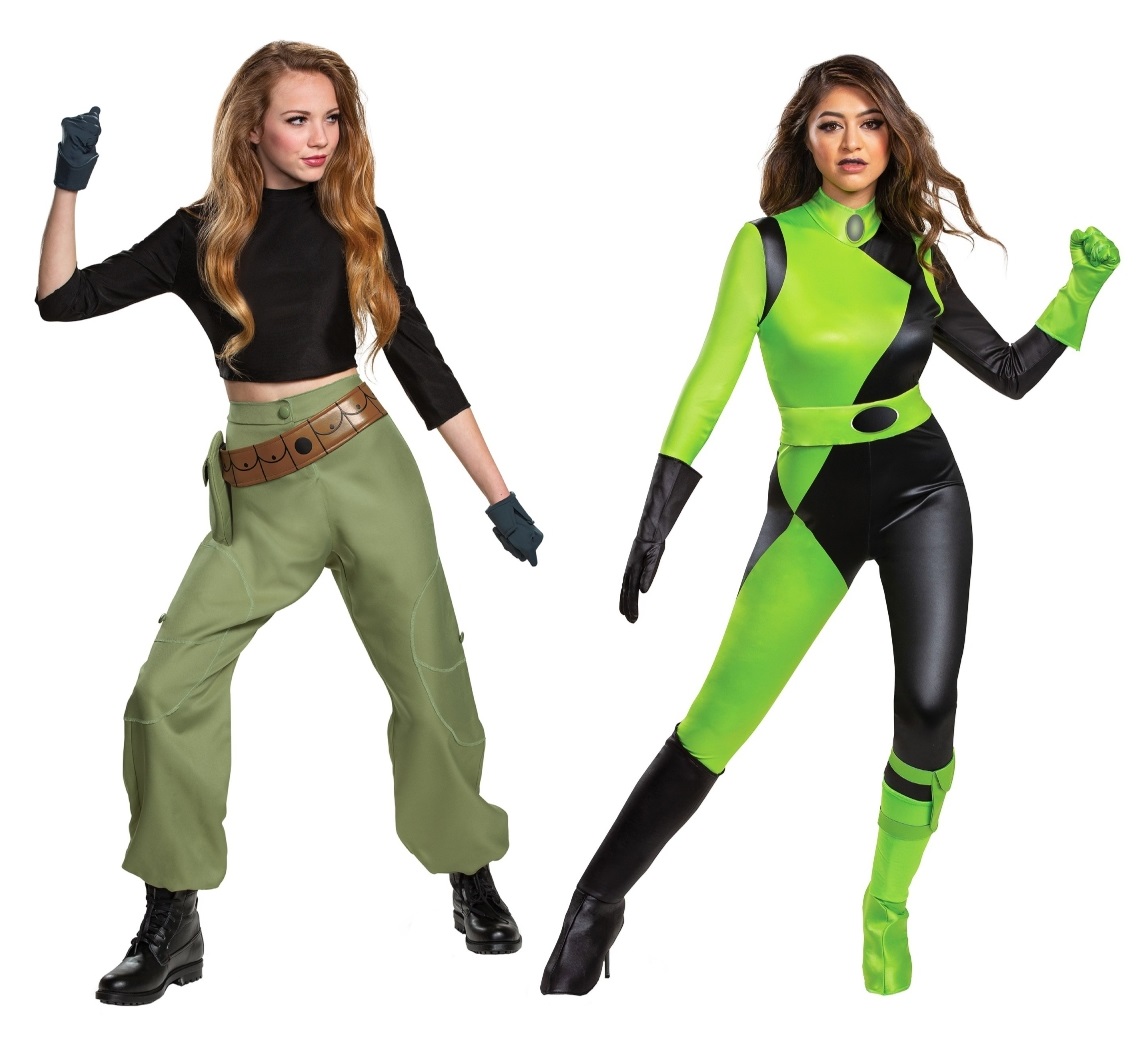 What's the sitch? Kim Possible was the it girl of 2000s animation. However, Shego is equally amazing as one of the show's villains. Dr. Drakken's sarcastic sidekick, Shego, was witty, fun, and stylish. These Kim Possible costumes are great solo or worn as a matching set. Should you piece together a Ron or Wayne costume or even Dr. Drakken, you're sure to make someone's night!
Enchanted Costumes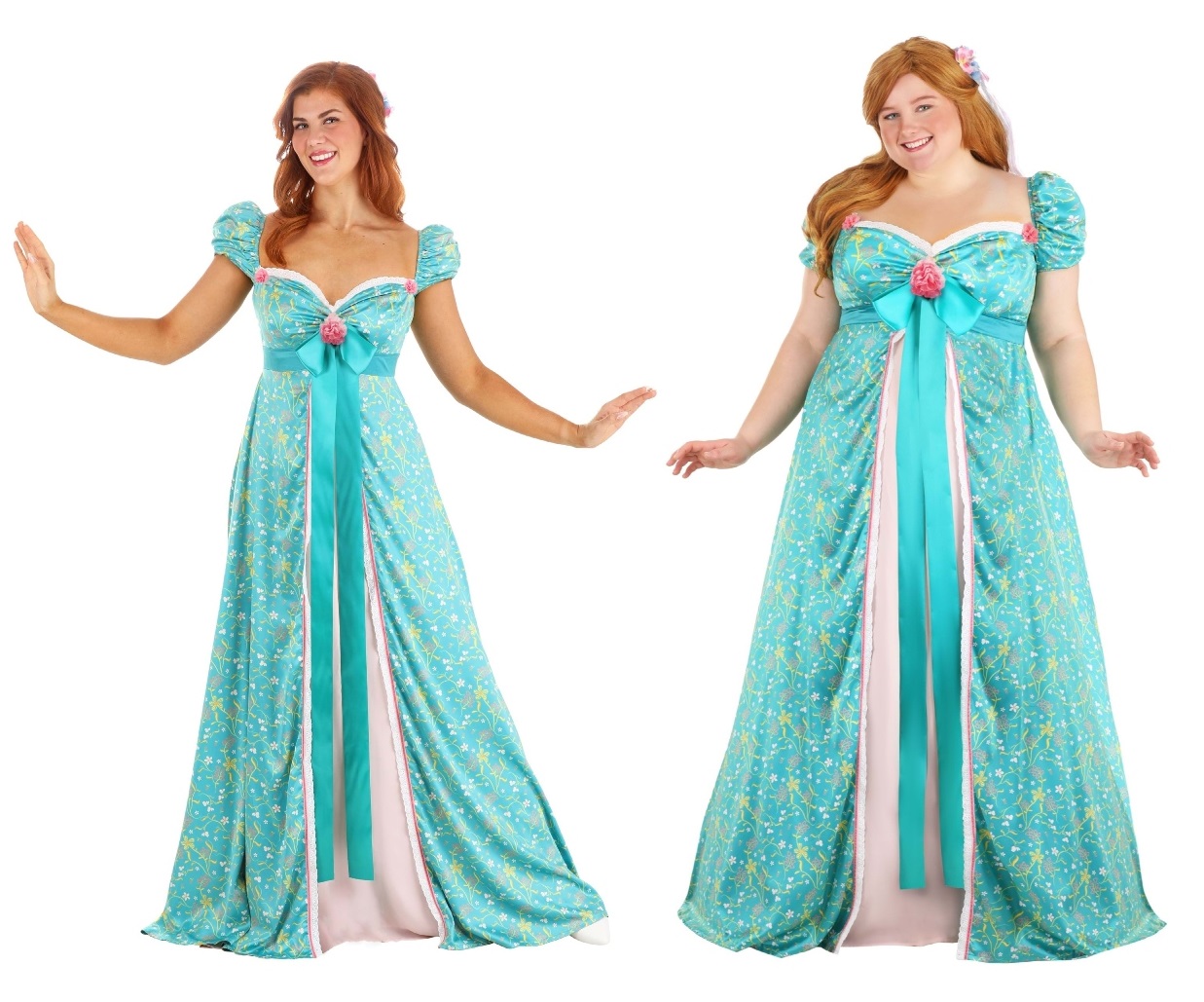 Disney is well-known for their Disney Princess animated movies. While Disney has done live-action adaptations of several of them, Enchanted was a step in a new direction with an original live-action princess. Hilarity ensued as Giselle left her typical storybook-animated realm to end up in the crushing reality of New York City. If you want to be the most meta Disney Princess, pick up one of these Giselle costumes!
Lilo & Stitch Costumes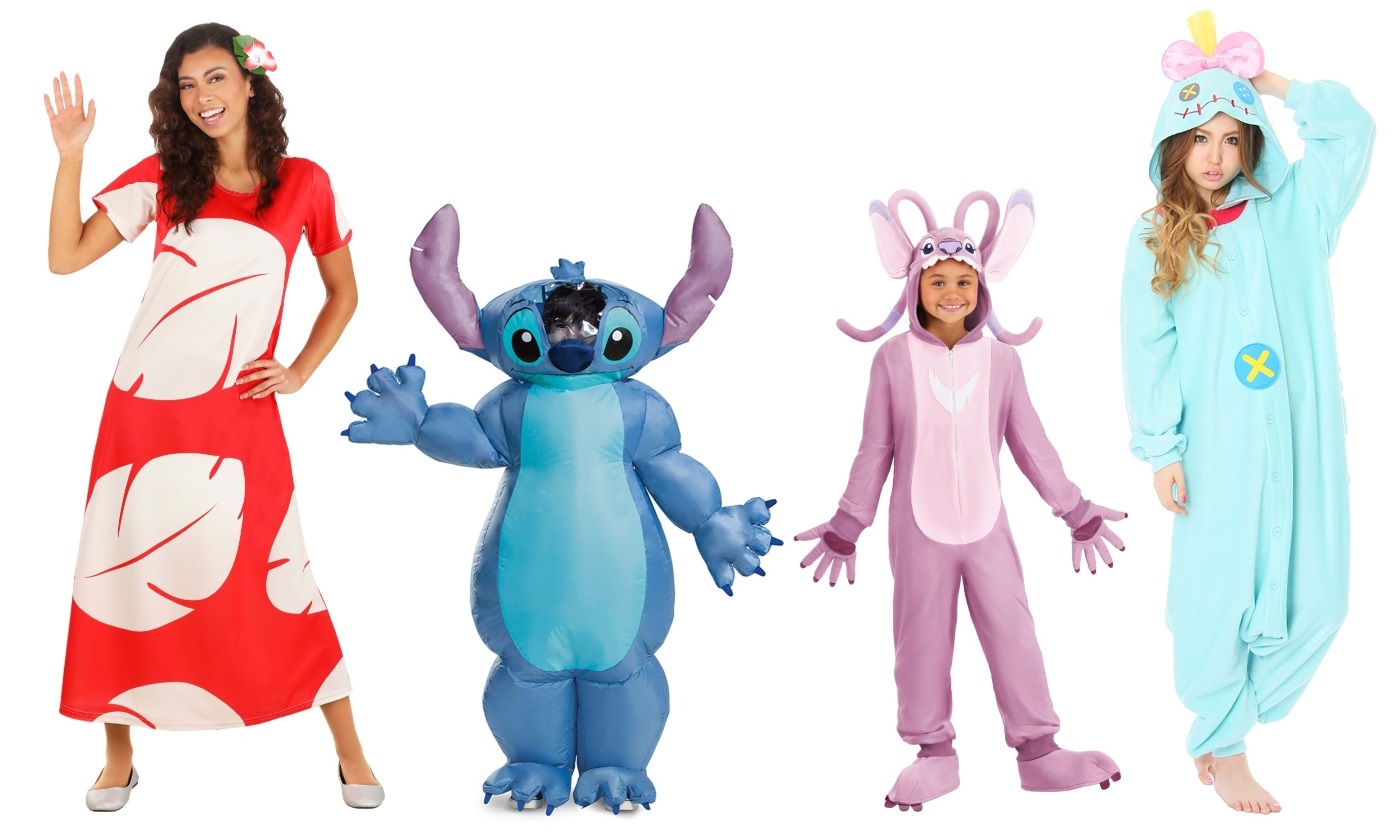 Yet another 2000s Disney movie that's a little different from their bread-and-butter Princess movies, Lilo & Stitch offered an original storyline about a young girl and her pet "dog". Stitch may not be a dog, but he's adorable! You can find Stitch and Lilo costumes for any occasion and a handful of other character costumes from the movies.
The Lord of the Rings Costumes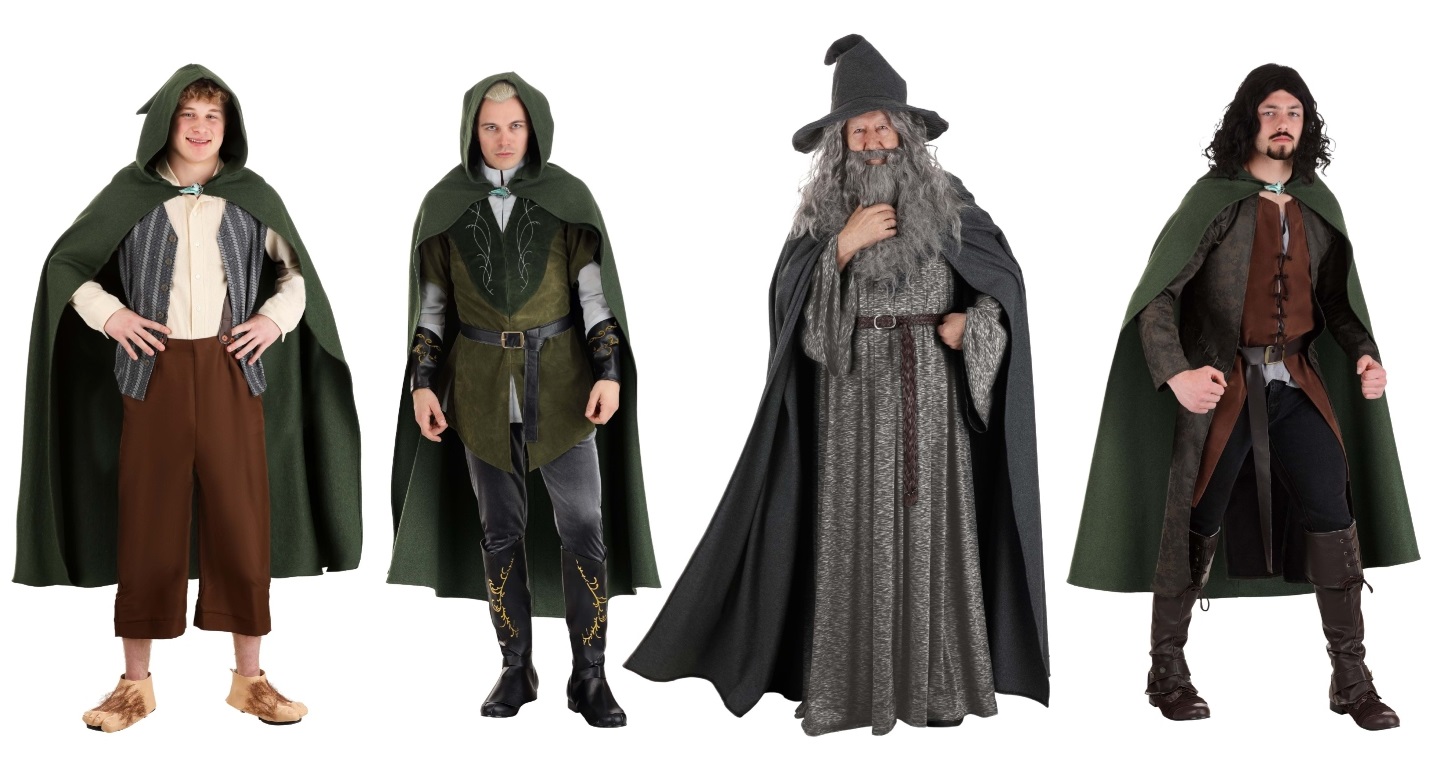 Fantasy fans, rejoice! The entire The Lord of the Rings movie trilogy came out in the 2000s, introducing the masses to one of the best fantasy book series ever. You can also get plenty of mileage out of Lord of the Rings costumes, considering they're great 2000s Halloween costumes, appropriate for comic cons, and commonly spotted as Renaissance festivals. Whether solo or in a group, don't forget to keep your favorite quotes in mind!
Monsters, Inc. Costumes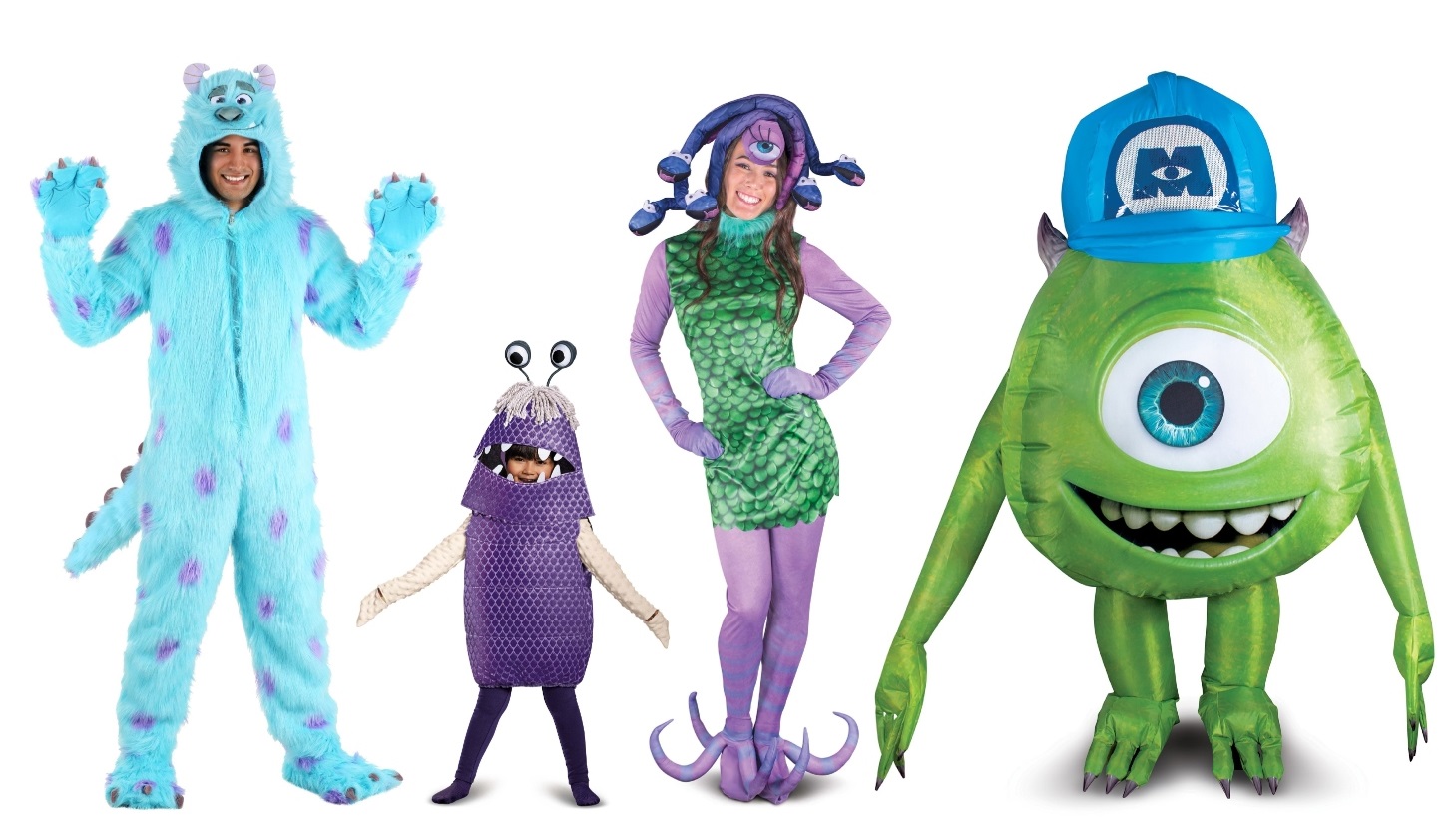 Pixar was on a roll in the 2000s, and we couldn't pass up mentioning 2001's Monsters, Inc. The movie looked at scaring kids trying to sleep from the monsters' point of view, and we met a colorful cast of characters along the way! As was the case for many other 2000s movies, sequels were soon to follow. And costumes as well! These Monsters, Inc. costumes include many of our favorite characters from the movie.
The Emperor's New Groove Costumes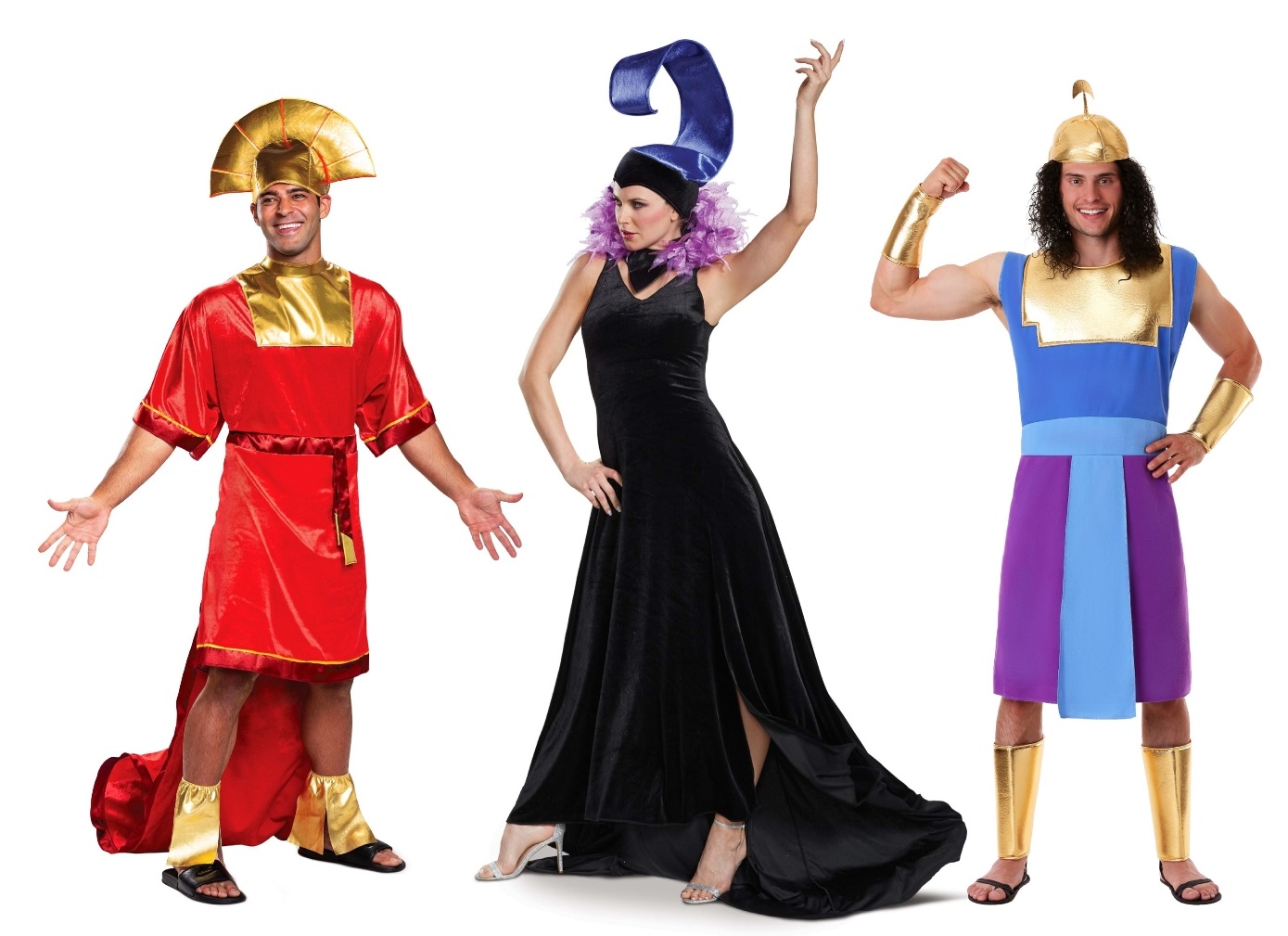 Boom, baby! You could say that we started the new millennia off right with The Emperor's New Groove. Fun, funky, and fresh, the colorful cast of characters drew us into a world we won't soon forget. Easily one of Disney's most quotable movies, you'll want to be on your A game when you wear these Emperor's New Groove costumes. Don't let anyone throw off your groove at the party!
2000s Party Ideas
It hardly feels that long ago to some of us, but people are hosting 2000s parties like they would for any previous decade. However, how does one host a 2000s party, or what can you expect as an attendee? We'll share some of our best 2000s party ideas with you below. From the clothing to the music and popular foods, you'll want absolutely everything to make it feel like it's Y2K again!
2000s Music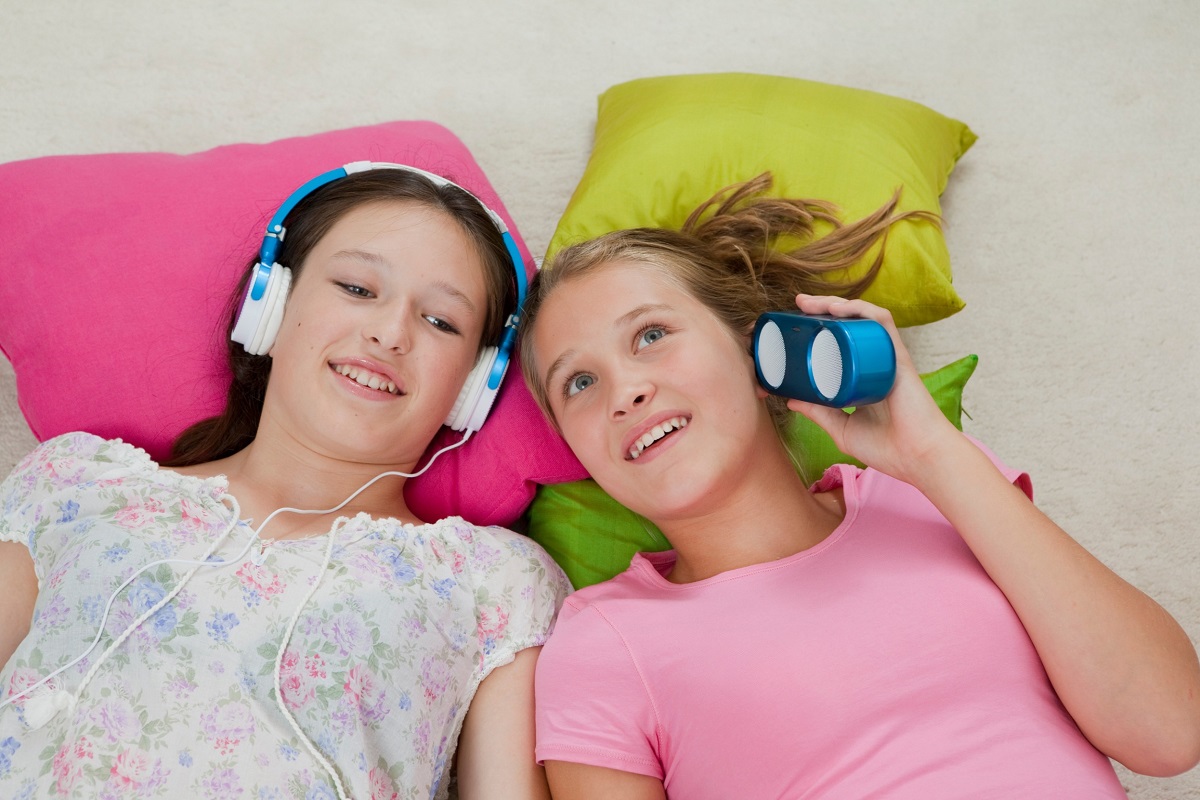 As we followed the 2000s into the digital age, we had more music at our fingertips. Dance-pop songs were all the rage, and the hip-hop and rap scene was bustling with new hits. You had access to everything from Britney Spears and Pink to Outkast, Eminem, Avril Lavigne, and many more. People downloaded songs on Limewire, and you could watch your favorite music videos (or make your own) on YouTube. Ipods and other MP3 players made music incredibly portable, and we have continued to take our music everywhere ever since!
2000s Dance Moves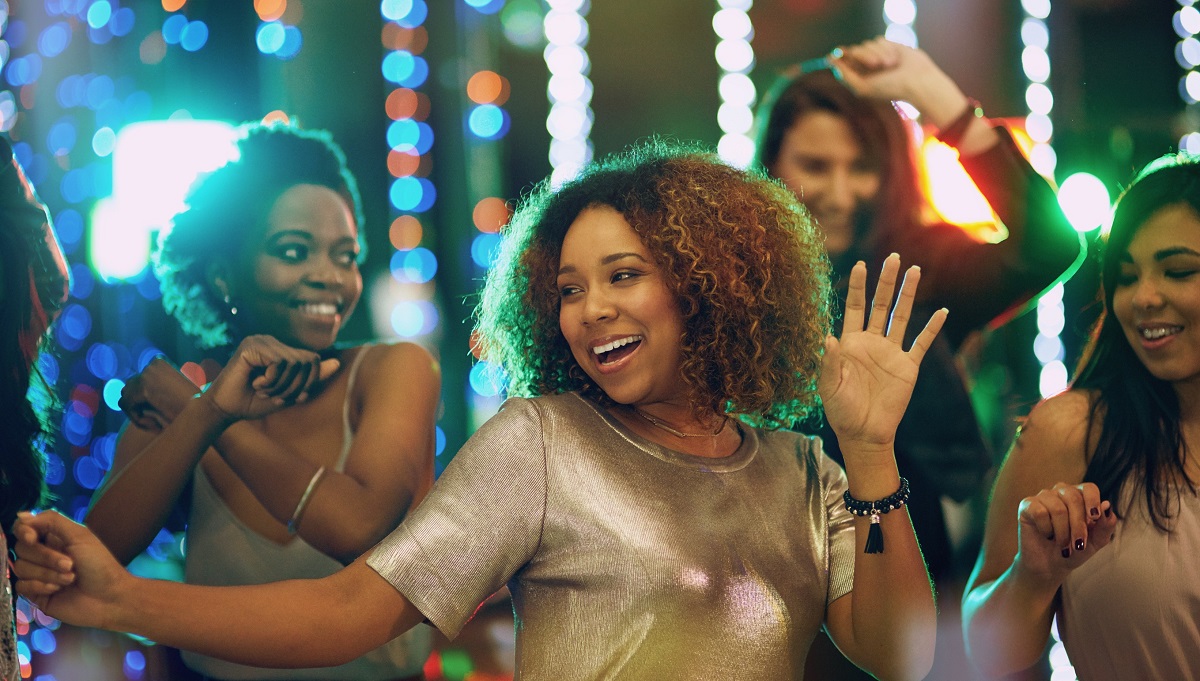 Dance trends and music trends go hand in hand! A few new dance styles and moves emerged, often propelled by particular songs or music artists. Dance moves like krumping, the stanky leg, the 1,2 step, and others were all the rage. And, who could forget the moves inspired by Beyonce's "Single Ladies"? We also had the Soulja Boy, Superman, and others, with heavy influences from hip-hop and rap music. You probably still see some of these dance moves used today!
2000s Party Decorations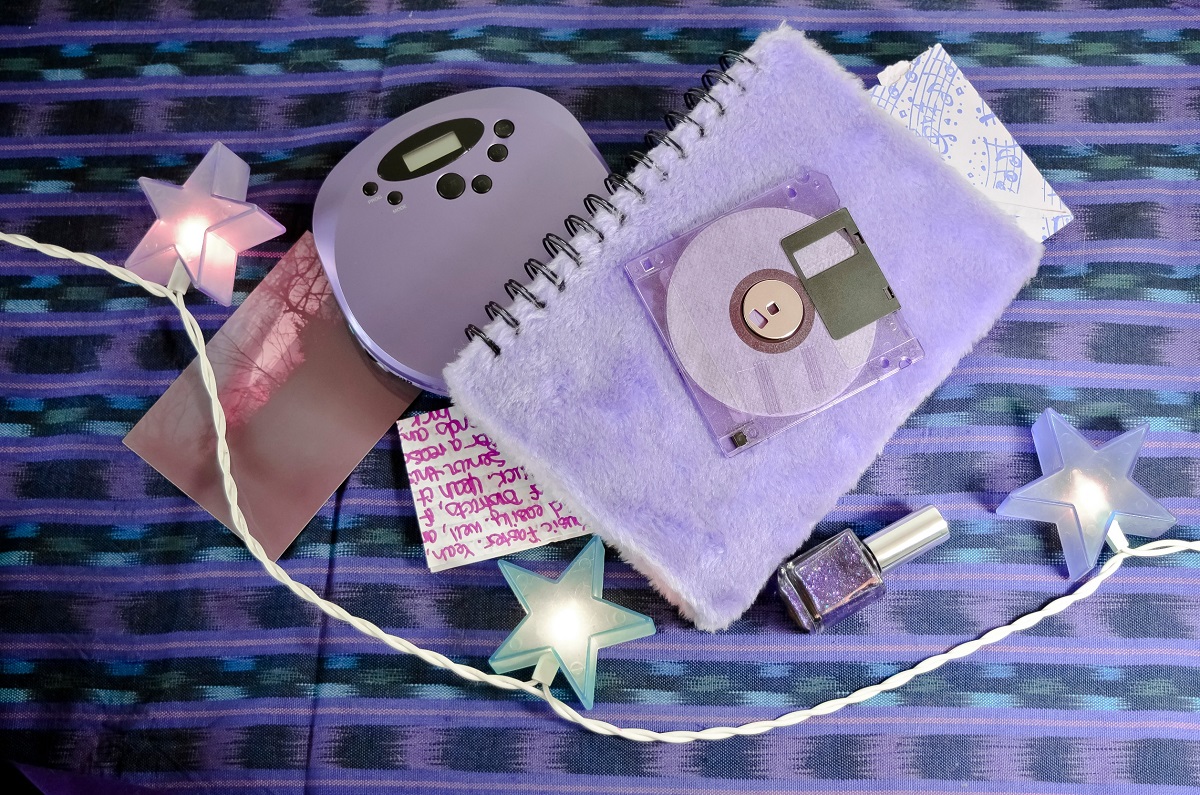 Get ready to bust out some CDs, flip phones, butterflies, and even common computer graphics! The 2000s was a tech-heavy decade, from the iconic iPod to the fabulous flip phones. Chat rooms were all the rage, and so was updating your MySpace page. We also loved to decorate with beaded curtains, posters, and plenty of Barbiecore pink! (And don't forget the faux fur and animal prints.) When you decorate for your Y2K party, keep plenty of pink on hand, and don't forget the other popular colors and textures for the decade!
2000s Food and Drink
You'd better have an impressive array of cupcakes at your 2000s party because the 2000s was the era of the cupcake craze. Bakeries became franchises that crossed state lines, and everyone opened up a mom-and-pop cupcake shop. When considering entrees for your 2000s party (because you can't just make a meal out of cupcakes), there was also the bacon trend! Bacon burgers, bacon fries, bacon milkshakes, you name it! Of course, you can always find some of your other favorite foods (such as slider sandwiches) to serve at your 2000s party.
2000s Activities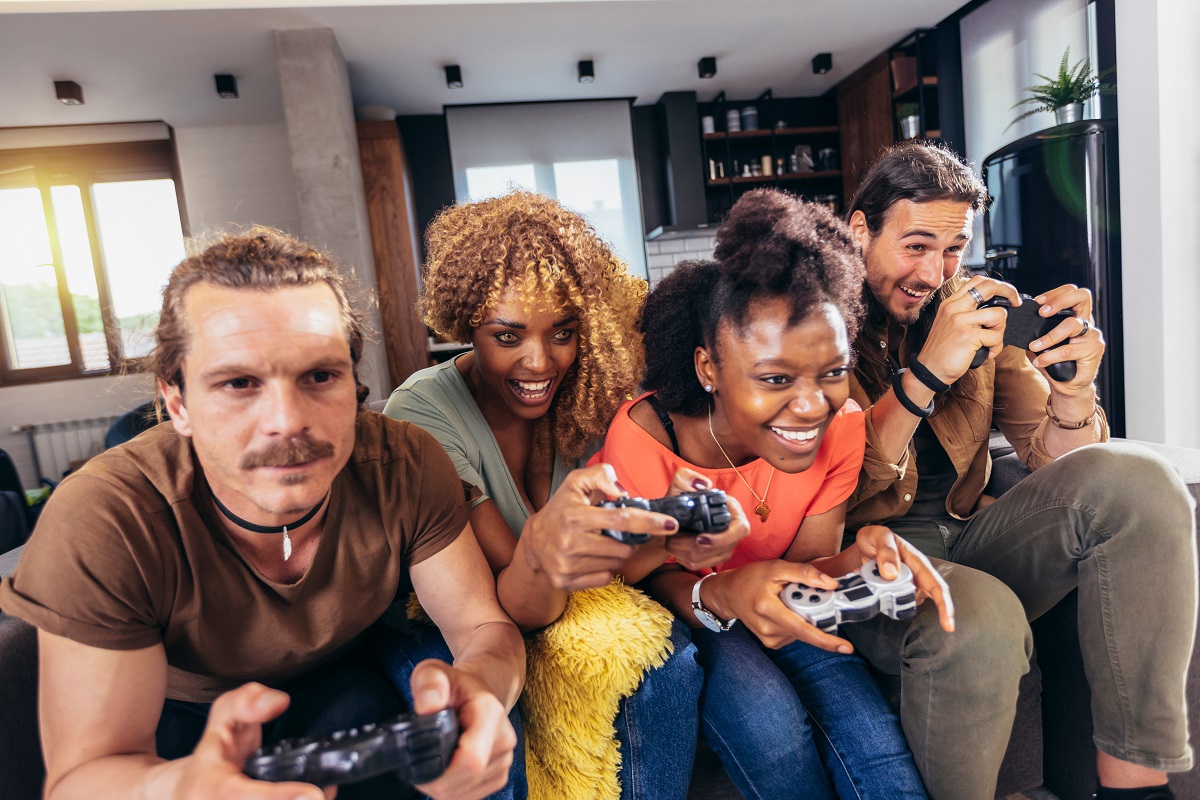 Trivia and karaoke are often a given for decade-themed parties, along with music and dancing. However, don't let that stop you from trying other party-friendly activities! Video games like Super Smash Bros., Mario Kart, and Mario Party were prevalent 2000s party games, or you could try a watch party with some of the movies and TV series mentioned as popular costume ideas. If you're feeling extremely creative, you could find a way to bring one of your favorite reality series to life as a party game, such as Survivor or So You Think You Can Dance.
2000s Party Favors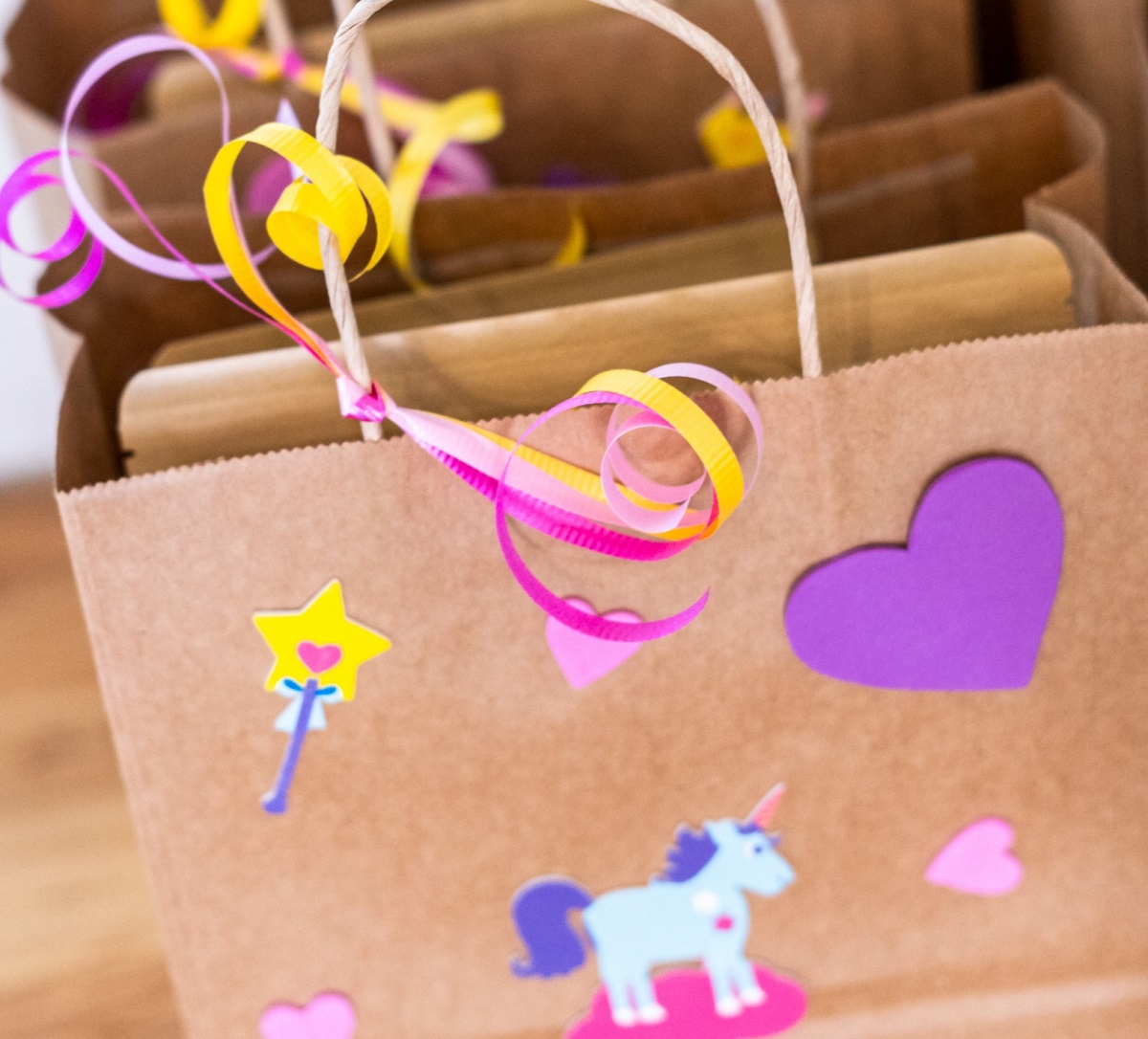 Don't forget to send your guests home with a few gifts to remember! Livestrong-like silicone bracelets were all the rage, and you can find stickers and temporary tattoos with 2000s icons. If you really want to go all-out, find toys like beyblades, hit clips, Bionicles, and more that scream 2000s!
Are you excited to attend or throw your own Y2K party? What other 2000s costumes would you like to see? We'd love to hear your ideas in the comments! You'll be partying like it's Y2K in no time!