Guest post by Julie Anne Eason
Fascinators are beautiful embellishments to add to your hair, especially an updo or bun. They draw the eye to your face and transform an ordinary costume into something spectacular. They're very simple to make and only take about ten minutes and a few dollars worth of materials. You can use silk flowers, strings of beads, buttons, feathers, rhinestones, old broken jewelry, just about anything will work. It helps if the items have a flat back (or can be made flat) because you'll be gluing everything in place. You may even have everything you need in your craft bin or jewelry box right now.
Materials:
Long salon-style hair clips
tiny bit of felt
hot glue gun and glue sticks
a variety of flowers, feathers, beads and other do-dads
Step One: Gather and trim your supplies
You're going to have to modify the fake flowers and other bits to make them flat enough to glue. So, strip the petals and leaves from their wire stems. You can leave them layered the way they came, or mix them up for a more interesting look. Plastic stems can be flattened with heat (an old iron will do) or by simply scraping with a sharp knife. If you are using anything with glitter on it, make sure the flecks are secure. Brush off any loose glitter over a trashcan (or container, if you want to keep it for later.)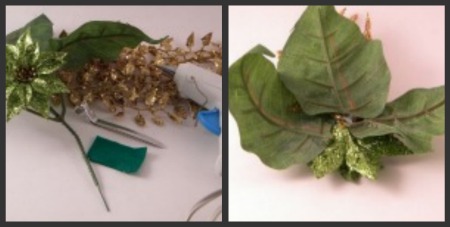 Step Two: Create your fascinator
Try different arrangements of flowers, leaves, beads or feathers. Once you get a pleasing combination, use the hot glue gun to secure them in that formation. Be careful not to burn yourself. The great thing about hot glue is you can gently tack the pieces together and then easily remove them if you change your mind about the arrangement. Once you have all the pieces glued together, it's time to add the clip.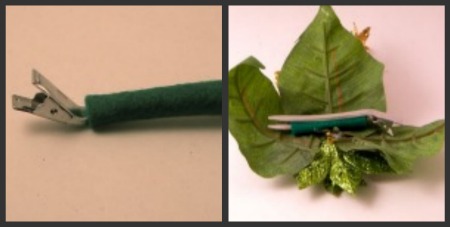 Step Three: Make a felt loop
Measure a piece of felt so it fits snugly around the hair clip, and glue it into a loop or tube that the clip can easily slide in and out of. Then glue the outside of the loop to the center of your arrangement. Depending on how large your piece is, you may need several clips to hold it in place on your head. Once the glue is dry, you're done! You should be able to slide the clip into the felt loop and then pop it into your hair. There are lots of ways to modify the pieces. Some people prefer to sew their ornaments together or string beads by hand instead of gluing. You can choose to use a headband, combs or a large barrette instead of the long clips. You can also use your fascinator in more places than just your hair. They make great corsages and ornaments for hatbands. Be warned, making these can get addictive. The only limit is your imagination.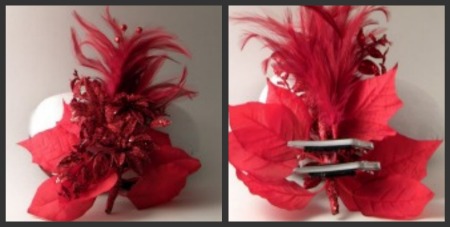 About the author: Julie Anne Eason is a web publisher and writer specializing in craft and costume topics. She writes dress form articles and reviews the best brother sewing machines on her website Serious Sewing.