The celebration of lovers only rolls around once a year. With so much animosity in the world, it is important to take some time and celebrate love; after all, it's what makes the world go 'round! Many also believe that the inherent need to love and be loved is really all you need (more specifically, John, Paul, George and Ringo). Unfortunately, Valentine's Day has snagged a bad reputation throughout the years; a 'holiday' that was strictly invented to swindle consumers by pressuring them to purchase pricey Hallmark cards, expensive hand-dipped chocolate delicacies, and lots of shiny sparkly things which serve as a flashy way to advertise that 'someone must love me because they've adorned me in bling.' Valentine's Day has also caught a lot of flack amongst 'the singletons.' Most single people contrive the holiday's meaning into a metaphoric slap in the face, ultimately reminding them that they are alone on a day that celebrates romantic bliss amongst lovers.
Well, my fellow single ladies, if you haven't found that special someone to hand feed you chocolate mousse truffles before treating you to a toe-curling foot massage, I say celebrate this holiday anyway (this goes for single gents too! However, the phrase 'single gents' doesn't exactly transmit the image of Beyonce twerkin' it in a black bodysuit). It's important to remember that this day is about universal love, especially love of oneself. So forget about fancy imported chocolate bonbons and trashy lingerie and treat yourself to a day of euphoria amongst loved ones. Our sweet Valentine's Day costumes, props, and accessories will actually have you feeling excited for the impending celebration of love.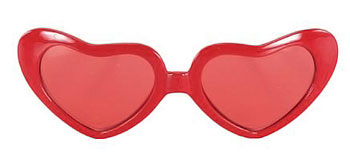 Pick out one of our sexy costumes that will still have your man howling but will not cause your mother to go into cardiac arrest (if by chance she should see you in it). Our Sexy Cupid Costume offers just the right amount of sex appeal. The hot pink fuchsia looks great on any skin color and of course, will make heads turn and jaws drop. The frills on the skirt add a flirty touch while the gold accents create a classy look that still sends hearts racing. The included heart wings add a festive flair. The bow with heart arrow adds excitement to a mundane Valentine's Day too! If by chance you do have a lucky guy to spend this day with, check out our Men's Pink Tuxedo. These costumes make an adorable couples' costume combination.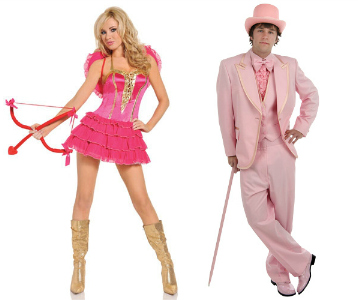 Sexy Cupid Costume | Men's Pink Tuxedo
Don't have that special someone to be with on Valentine's Day? Is your significant other being a grump and doesn't want to dress up for the occasional? Or is he just lame and wants to spend the day with his 'bros' instead? (Writer suggestion: kick 'em to the curb…pronto). No worries, you can still dress up and have a great time. We sell beautiful red flapper costumes that are great for throwing a roaring twenties Valentine's Day party with your besties. These sparkling crimson costumes will have you and your friends feeling fabulous.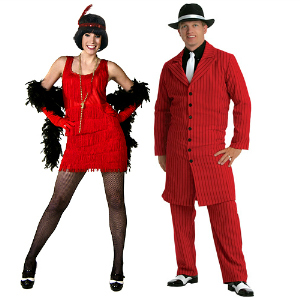 Red Flapper Fashion Dress | Red Gangster Zoot Suit
You can throw a roaring twenties murder mystery themed party and make the killer a jilted lover. Or simply work some magic in the kitchen; add red and pink food coloring to everything and make some sweet treats that your friends will adore. Relive your elementary school days and pass out valentines or use some yummy pastel conversation hearts to tell your crush how you really feel. No one could turn down a candy heart that reads, "URA10."
If reds and pinks just don't compliment your skin tone then forget the V-Day garb and revert to childhood with our silly accessories that will free you from any romantic woes, past or present. You can impersonate the naked chubby-cheeked cherub with our Cupid Accessory Kit. Don the feathered red wings and take flight to set your sights on a fresh crush. The matching red bow and arrow will enable you to aim and fire away at your new love interest. Who could shut down someone disguised as Cupid- the all-encompassing symbol of romance? If they do, simply resort to chasing random townsfolk down the street with a fuzzy bow and arrow until someone accepts your love proposal (just kidding! Chasing anything is often a relationship no-no). Nonetheless, you will have fun possessing the fictitious powers of Cupid for a day while your friends get a kick out of it.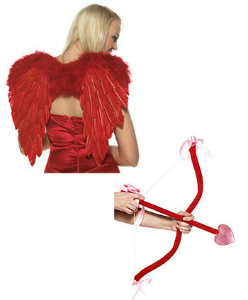 If wielding a fuzzy bow and arrow isn't your forte, just plop on our Short Bob Hot Pink Wig and fake a smile. Besides, hot pink hair is totally in and all the guys will want to know what's up the 'mysterious brooding chick in the hot pink wig.'