It seems like it has been forever since we last saw everyone's favorite super spy James Bond save the world for Queen and country, but on November 9th we get to go on yet another adventure with the release of "Skyfall". To celebrate the release of this new movie, and also of the 50th anniversary of the James Bond series, it is only fitting to throw a classy party. To help you along with your spy themed party, here are some tips on costumes, decorations, music, drinks and games to play.
Costumes
Throwing a James Bond themed party gives you and your guests a chance to dress up. Since the James Bond movies have been around for 50 years, there are many different types of costumes to go with. One option would be to have people dress up as classy as they can with suits and fancy dresses. Another way to go is the retro route and relive the '60s when spies were king. Finally, you could hold a costume contest to see who can make the most faithful costume based on a movie character.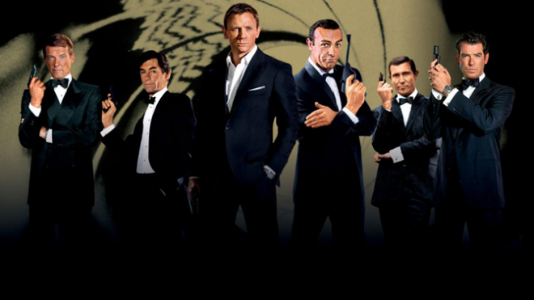 (source)
James Bond COSTUME
James Bond dresses to the nines and has had many looks over the years, both in faces and in outfits, but the most classic image of the world's greatest spy is a simple black suit. This look lets you look stylish for any situation but also blend into a crowd, which is what every secret agent wants to do when he's on a mission.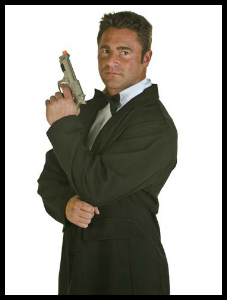 Bond Girl COSTUME
Bond has always had a wide taste when it comes to the ladies, which means there are tons of options if you're looking for a Bond Girl dresses. One way to go is elegant, which can be done easily in a red or black dress. You'll have the look of a femme fatale in just a simple dress. Will you be the girl that helps James out in defeating the bad guy? Or will you turn on him when he least expects it? There are lots of James Bond dresses to choose from depending on which movie look you're interested in.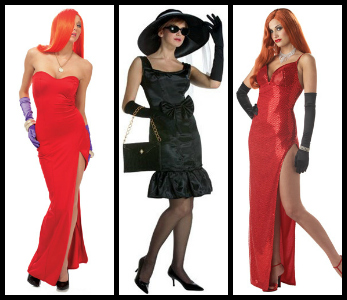 (Sexy Jessica Rabbit Costume | Uptown Girl Costume)
The 1960s spies were all over popular culture such as movies, TV shows, and books. So if you're looking for something more colorful for your Bond girl costume, you can show up in something retro inspired. You'll look just like a girl that would have turned Sean Connery's head when he was working for the British Secret Service.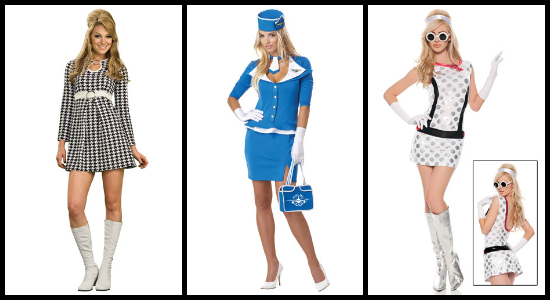 (Womens Mod Girl Costume | Retro Stewardess Costume | 60s GoGo Girl Costume)
Another Bond girl look is the rival spy who gives James a run for his money. With a cat suit you'll look like you can dodge bullets and avoid laser sensors while still keeping it sexy.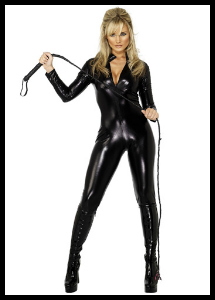 Bond Villain COSTUME
You can even go for a villainous look as one of many men or women who thought they could beat 007 and achieve their goal of world domination. With a gray plain suit you'll look just like Dr. No who was the first bad guy James went up against.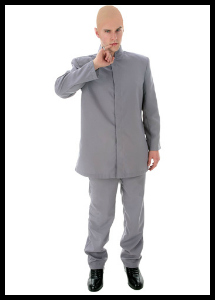 Decorations
Decorate your home in true 007 style with these fun ideas. Since our hero is from the United Kingdom, you can place the British flag around your location. If you want to have a more refined look, keep the decorations black and white. A fun way to display snacks for your guests is to put nuts and candies into martini glasses— just be sure not to get confused about which is your beverage and which has cashews in it. Another fun idea is to find small water pistols for pictures or for a playful squirt gun fight.
Songs
What do you play during a James Bond party? Here is a list of a few great options:
"The James Bond Theme" – John Barry
"Skyfall" – Adele
"I Wish I Was James Bond" – Scouting for Girls
"Espionage" – Green Day
"Goldfinger" – Shirley Bassey
"Man For All Seasons" – Robbie Williams
"You Know My Name" – Chris Cornell
"A View to a Kill" – Duran Duran
"Secret Agent Man" – Johnny Rivers
"Goldeneye" – Tina Turner
Games
As far as games go for your James Bond party, there are a variety of things you can do. One of them is a trivia contest where you can test your guest's knowledge of 007's movies and have the prize be your favorite Bond movie. You can also set up tables for baccarat, poker and blackjack to play all in the name of fun. Finally, if you can find them, there are James Bond versions of Monopoly and Scene It, which are a fun way get everyone excited for watching the newest 007 adventure "Skyfall".