Updated: February 5, 2020
Looking for a super Halloween costume, ladies? Marvel fans able to get their hands on a red wig are probably going to be The Avengers Black Widow. But you're more discerning. You want a character with even cooler hair, like white lightning. (And maybe some actual superpowers.) If you're on board with us, we've got the perfect idea for you— a Storm X-Men costume. To inspire some DIY Storm costume ideas, we're going to give you some inspiration for your Storm costume.
Black Jumpsuits Perfect for Storm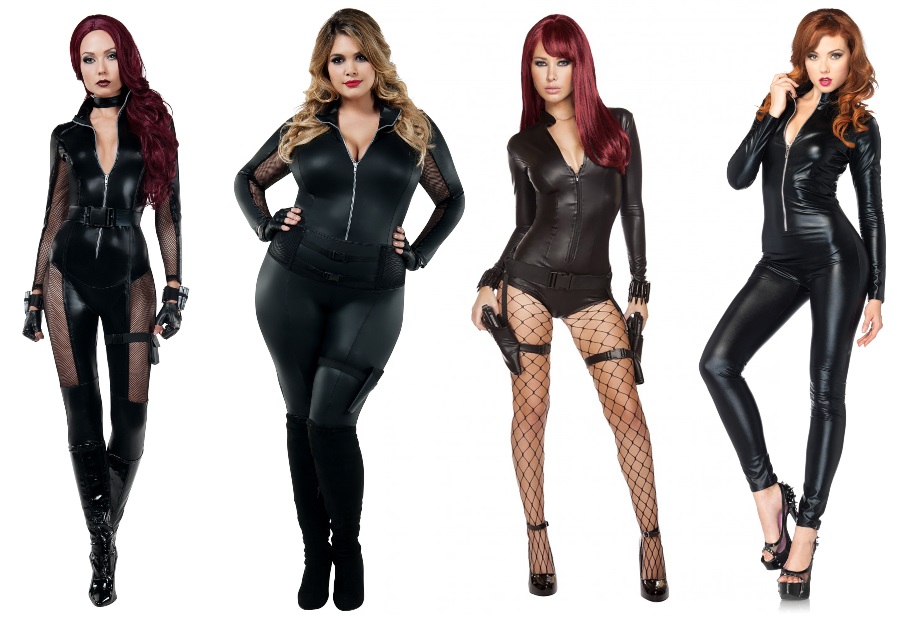 X-Men's Storm has sported many looks over the years, but we can't deny the fact that she looks great in black. (And white!) A girl can never have too many outfits, and you're sure to look the part if you pair a black catsuit costume with a white wig. You can always use some silver or gold fabric paint and belts or patches with the X-Men logo to drive the point home.
Silver and White Wigs for Storm From the X-Men
Storm's high-contrast white hair is essential to her iconic look. She has sported both short and long-haired styles, including the mohawk. (We'd like to see other superheroes try that! Her hair is often depicted as being white, but in some cases, it takes on gray and silver tones. These white and gray wigs are all different, but they can all be used as part of your X-Men Storm cosplay!
Black Boots for Storm Costumes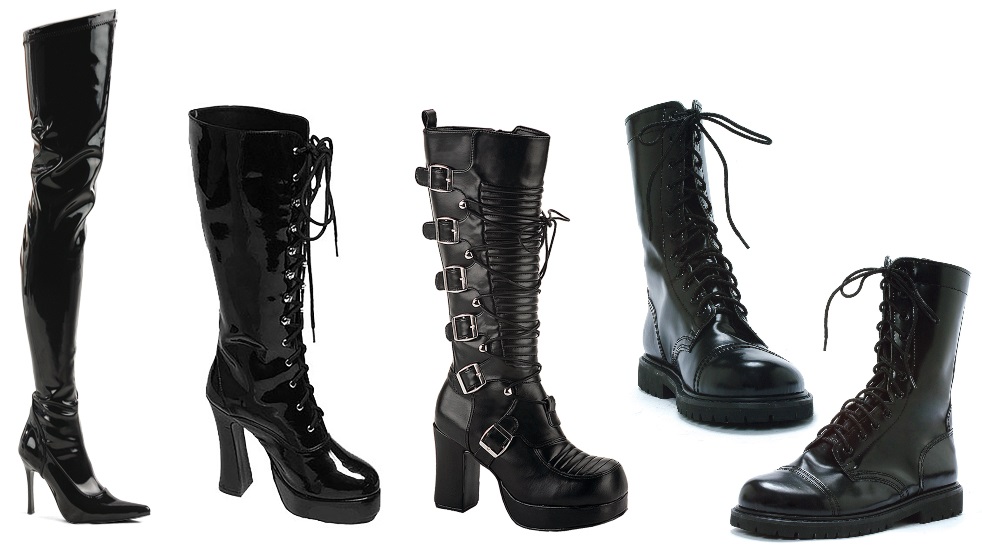 Don't forget shoes. Storm should have some kickass black boots. You're probably wearing some right now, but just in case you don't have any, you could look at these, sexy knee-high boots or some combat boots if those are more your speed. Even some black buckled boots would be great for punk Storm cosplays.
Famous X-Men Storm Looks
Storm has been featured in a number of movies and X-Men tv shows along with plenty of comic books. Whether you prefer live-action Storm or any of her comic book or animated counterparts, you can take inspiration from her various outfits to make a Storm costume that's all your own creation.
Original Trilogy Halle Berry Storm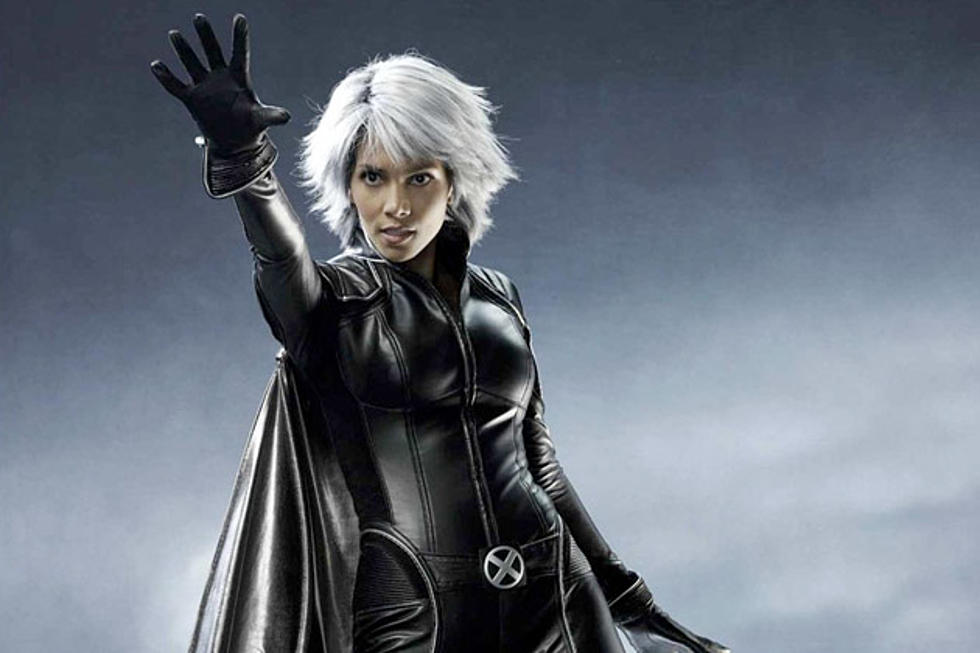 [Source: Twentieth Century Fox/Marvel Enterprises/ScreenCrush.com]
Played by Halle Berry in the "X-Men" trilogy, Storm has gorgeous silver/white hair, a cool superhero costume, and the power to control the weather. You can get the look with either a short silver wig or a long white wig with bangs, depending on which movie from the X-Men trilogy you prefer.
X-Men: Days of Future Past Storm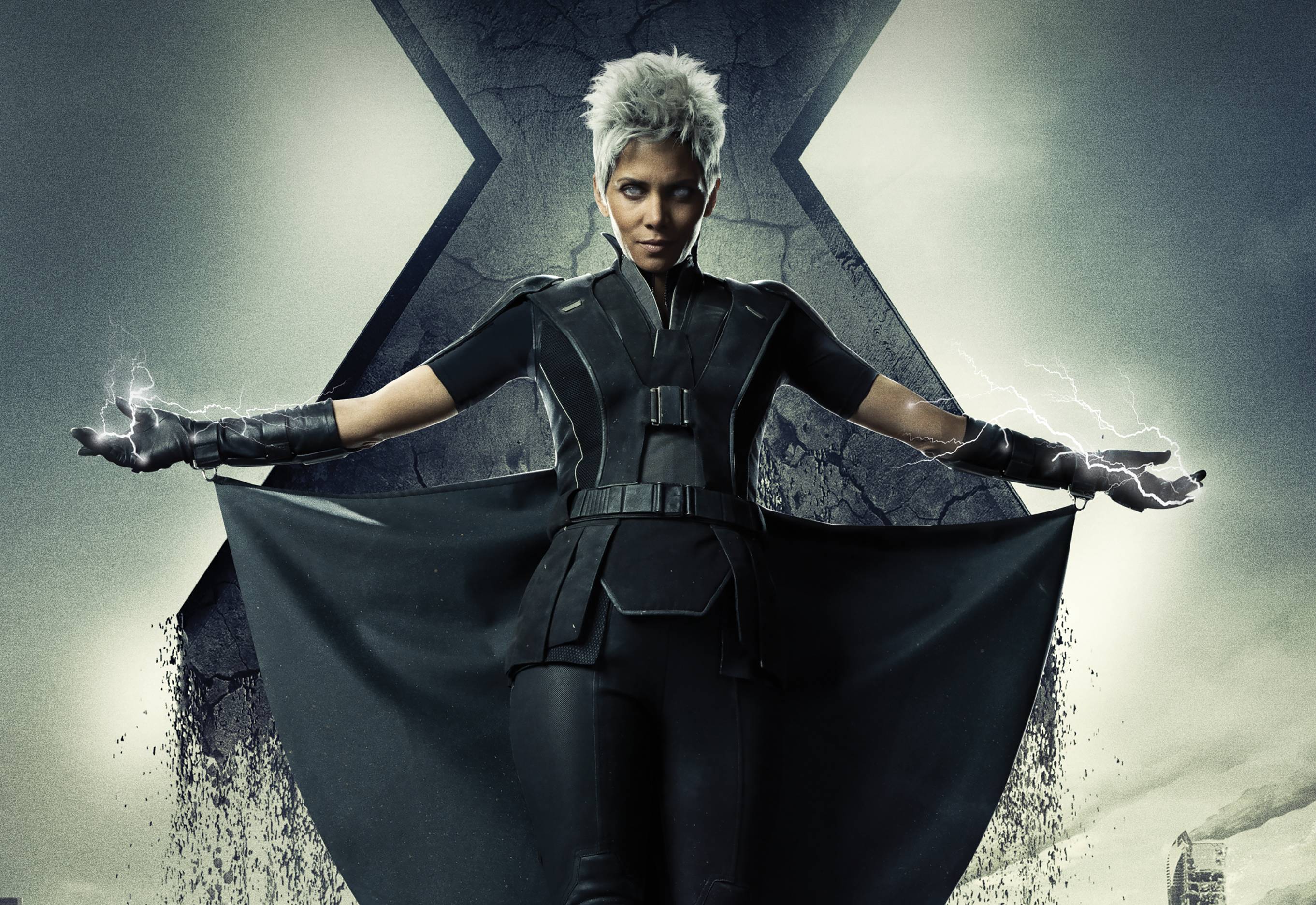 [Source: Twentieth Century Fox/Marvel Enterprises/Gamespot.com]
If you are looking for a short hair wig to match the newer Halle Berry version seen in X-Men: Days of Future Past, you can either use the short silver wig or take a longer-haired wig to cut and style to your liking. And if you don't happen to have a black leather jumpsuit just lying around... well, try this one on for size. It's technically a Black Widow jumpsuit, but you could just paint the buckle black and use a silver paint marker to make an "x", and no one would know the difference. Plus, next year you can get that red wig and recycle the costume for Black Widow.
X-Men: Apocalypse Storm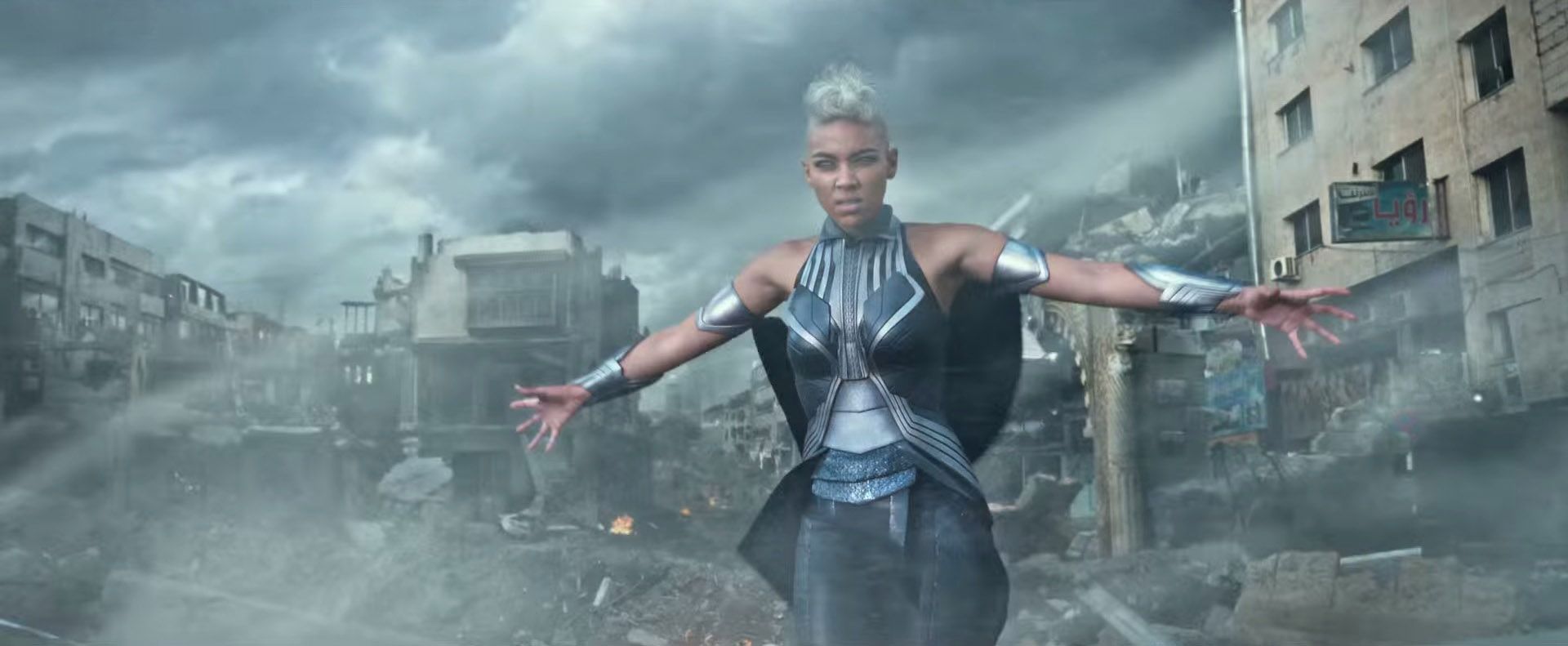 [Source: Twentieth Century Fox/Marvel Entertainment/DigitalSpy.com]
In X-Men: Apocalypse, it appears we meet a younger version of Storm. Played by Alexandra Shipp, young Storm rocks a silver mohawk and a more armored costume than the iconic jumpsuit with cape. Can we say we're digging the silver accents? (Any excuse to paint your fingernails silver is a good excuse!)
Dark Phoenix Movie Storm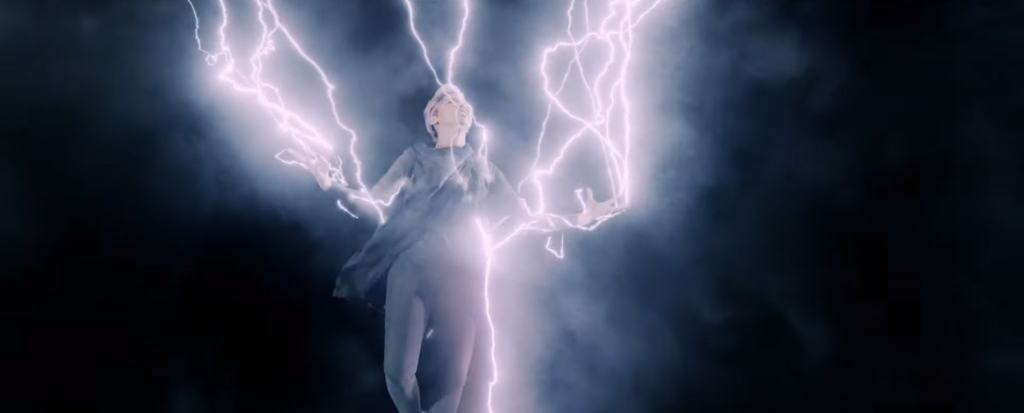 [Source: Twentieth Century Fox/Marvel Entertainment/Nerdist]
Alexandra Shipp's Storm has a couple of new looks in the Dark Phoenix X-Men movie. While one of her costumes is an X-Men uniform similar to what the rest of her comrades wear, she does have another more modern black outfit. (If you ask us, it looks pretty comfortable and functional!) Storm is still rocking a short haircut, so you might have to style a wig for it.
Other DIY Storm Costume Tips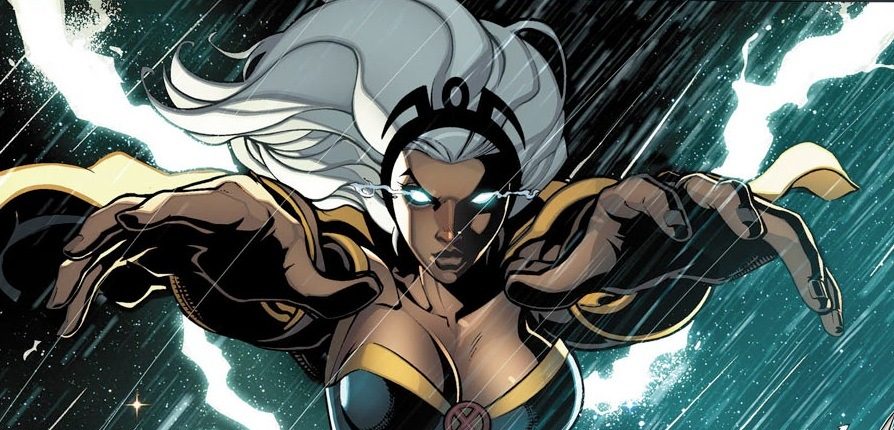 [Source: Marvel Comics/BoundingIntoComics.com]
There are a few other steps you can take if you want your Storm costume to stand out. In the comics, tv shows and movies, when Storm uses her weather powers, her eyes go white, like so. You can easily get this look from some creepy white contact lenses. (Just make sure to do your research when buying colored contact lenses!) Storm has also been known to rock a cape, and you can, too! Check out all of these costume capes and you might find one that's to your liking. Whatever accessories you choose, you'll be sure to rock your costume party like a hurricane.
X-Men Storm Costumes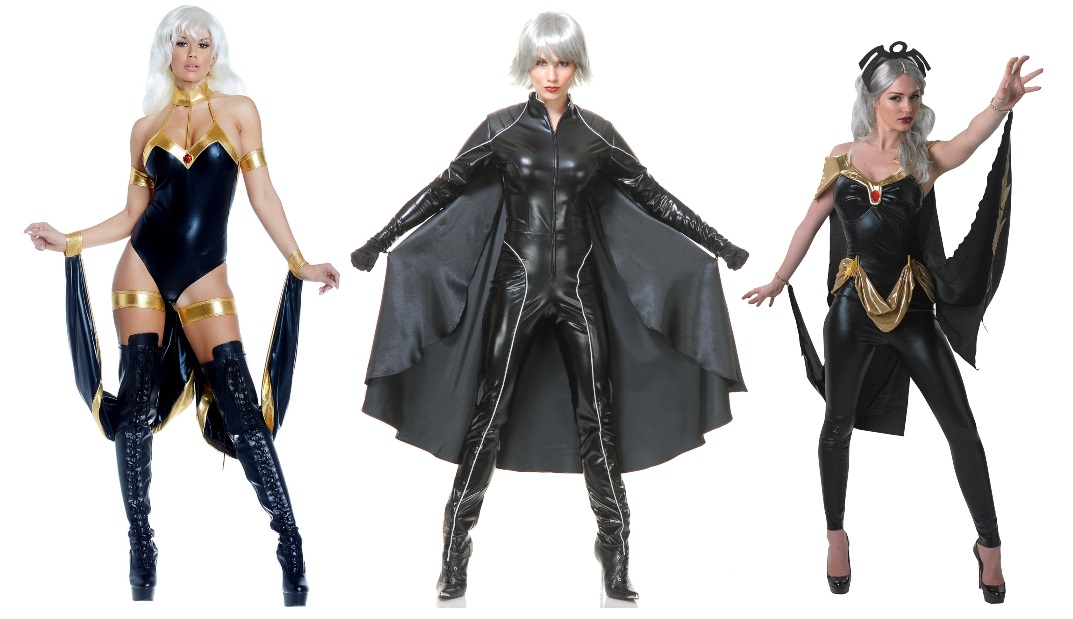 Perhaps DIY costumes aren't for you, and that's okay! Halloweencostumes.com has your back with these Storm cosplay costumes. These Storm outfits are all different, so you can choose whether you want to look like live-action Storm, or you can go with one of her animated looks. Whatever the case may be, we're sure that you'll feel great wearing your favorite superhero costume.
We hope you found exactly what you were looking for! Do you have a favorite X-Men? Are you planning on making a DIY Storm costume? Were you happy to find some other Storm cosplay options? Let us know what you think in the comments. We certainly love our Marvel superheroes, and Storm will always have our admiration.