Pining for the mysterious loner in class, dodging vengeful vamps and getting cozy with werewolves all seem like teenage daydreams, but are actually ordinary activities for the self professed vampire lover, Bella Swan. Bella's unique gothic style has set a number of trends since the "Twilight" franchise started in 2008; earth tone shades, baggy sweaters, and striped thermals all made their way into stores so teens could achieve that effortless, I-rather-be-partying-with-vampires, Bella Swan vibe. Now you can have Bella's Goth inspired look for Halloween by simply using some of our accessories and pairing it with clothes that are hanging in your closets.
"When life offers you a dream so far beyond any of your expectations, it's not reasonable to grieve when it comes to an end." – Bella Swan, "Twilight"
Bella Costume Essentials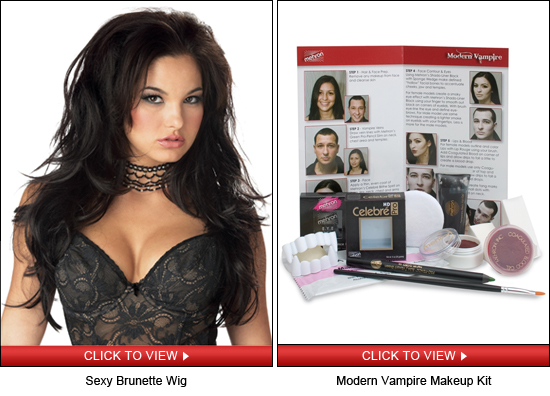 Constructing the "Twilight" Look
Being the 'new kid' at a strange school is rough so Bella chose her wardrobe to blend in, rather than stand out. Start with looking in your closet for a pair of noticeably worn denim jeans, (these jeans can be faded or have small rips in them, the older they look, the better!). Also, rummage for a pair of older sneakers for the ultimate casual look. Plain blank shirts in solid earth tone colors such as heather gray, army green and espresso are all perfect to wear for a Bella Swan costume. Next, put on a Bella Swan essential, the sexy brunette wig. You want to go for a carefree look rather than a seductive vixen, so brush through the wig and scrunch in a minimal amount of mouse for a tousled, distressed look. Finally, use the modern vampire makeup kit and put on a layer of cream makeup to get Bella's pale complexion.
Dressing for a "New Moon" and "Eclipse"
In "New Moon" and "Eclipse", Bella outruns the Volturi and runs with newly acquired love interest, Jacob and his pack of wolves. All this running around leaves no room for Bella to bind herself in tight corset dresses and constricting garments, so again, comfort is key. In this movie, Bella graduates from faded flares to dark skinny jeans and basic tees to plaid button up tops- a more grown up and serious Bella. Pair these new necessary items with the aforementioned Bella Swan essentials for a look that is straight out of "New Moon". Put on an extra layer of cream makeup, as Bella is paler in the "New Moon" and "Eclipse" movies (too many sleepless nights crying over Edward, I guess).
Putting Together the Perfect "Breaking Dawn" Costume
"Twilight" fans know the wedding scene in "Breaking Dawn" was one of the most romantic and anticipated scenes from the whole saga, so to best depict the most fitting "Breaking Dawn" Bella costume, a wedding dress must be involved. Our Renaissance Wedding Gown Costume would be an appropriate 'Bella' wedding dress, also consider our Bride of Frankenstein Costume. Don the essential Bella wig and pale makeup and you're ready to wed the vampire of your dreams. Put your own unique spin on the costume by adding theatrical blood to the neck, lips, chin and of course inserting our blood tip vampire fangs over your teeth to transform into Edward's brooding vampire bride. Pick up some white roses or white oleanders for your bouquet and meet your very own bloodsucking lover boy down the aisle on All Hallow's Eve in your new Twilight costumes!