Nostalgia is hard to kick. While in retrospect we hate the way that we dressed in the 80s, those parachute pants are secretly missed. The 80s are easy to make fun of with its big bold colors and even bigger perms, but guess what: another decade of sad, depressing fashions ended over ten years ago. So, instead of yet another 80s party, prepare to rock with your favorite boy bands.
As far as your outfit goes, it shouldn't be too hard to get it right. When things go out of fashion, we tend to hold onto them – just in case they come back, you know? So, you probably have a few outfits worthy of conveying the best of the 90s (and the worst of your wardrobe). Get ready to bust out those flannels, don on some Umbros, and put sparkly butterfly clips in your hair (actually, if you're trying to be authentic, just put sparkles all over your body), you're going to a 90s party.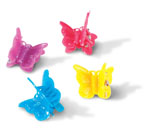 That Hair
Unlike the hair of the 80s, there's no need for big, poufy dos a decade later. Instead, you're going to want to do just the opposite. Make it sleek. Did Rachel have any frizz? No, and neither should you. If you want to make your look stellar, don't forget to add highlights that greatly contrast with your natural hair color. Sure, the side pony was still pretty big, but you can take it further. Try getting your hands on some of those FABULOUS headbands and don't neglect your fringe bangs.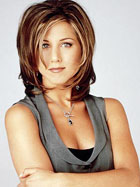 Who were the coolest guys of the 90s? The ones who had their hair bleached and their tips frosted. But maybe you don't want to relive being that cool at this party, so go ahead and curtain your hair or, if you're preppy (and you've got the length), pull it back into a small pony tail. Better yet – go for the rattail.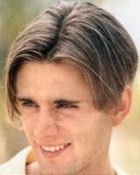 Those Pants
First of all, those jeans really did make everyone's rear end look like a mom's, so don't expect yours to be any different…especially a decade later. If you've got overalls, pull them on (and don't forget to unhook one of the straps and throw it behind you. So cool.) The later part of the decade brought back low rise flare jeans, and if you can, find some with lovely embroidery, lace up fronts, or those that are plaid.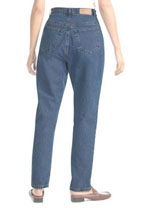 The Shirts
You've got a LOT of options here. Ladies: depending on the look you're going for, an over-sized t-shirt can be perfect. Just make sure that the brand or logo that's on it complies with the decade. Tight muscle tanks were a big deal, as well as tube tops, and anything that shows your midriff. And if you want to be grunge, that's perfectly fine. Just throw a flannel over your super cool tee. You're a total rebel. Guys: those sweaters are ready to come out of your closet – the ones with, like, a billion neon colors. Go ahead and wear a classy matching button up too. Or, just a really big shirt with vertical stripes. In subdued hues. That look like vomit. Have more than one shirt you really want to wear? Uh, you can wear them both! Just tie one around your waist, duh.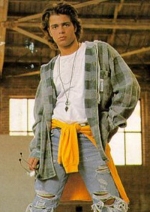 Those Skirts and Dresses
If you thought the dresses were rocking in the 90s, you best take another glance at your yearbook. Ill-fitting baby dolls in bad floral patterns and tartan miniskirts aren't the easiest things to make look chic, but boy, are they comfortable, which is exactly what the 90s were all about.
The Shoes
If you're adhering to the grunge look, go for some cool doc martins or your basic converse sneaks. If you're not planning on spending the evening worshiping Kurt Cobain, wear shoes that are pretty plain and in ugly, boring colors. The women's shoes of the 90s were nothing shy of fabulous. Get ready for chunky, strappy heels, clogs, jellies, and those super cute platform sandals that have one huge strap across the top in a bright solid color. Don't feel like getting all dolled up? Just wear some platform Sketchers with your ensemble.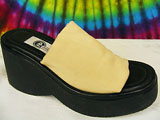 Accessories
Spritz yourself with some CK One and get ready to complete your look. Hats were pretty big back in the day, so see if you can find a totally cool bucket hat, sun hat, or baseball cap (which has to be worn backwards). Finish by slapping on some bracelets, putting in some hoop earrings, grabbing your mini backpack, and getting your Spice Girls CD (or tape) ready to go.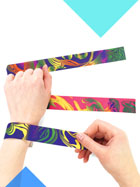 Now that you're all caught up on the 90s outfit ideas, you can coordinate some of these tips with your favorite 90s costumes! What is your favorite part about the 90s? Did you enjoy the Saturday morning cartoons? Were you more of a fan of the 90s boy bands? Feel free to let us know about your 90s expertise and favorites in the comments below.
Katie Straw is the Gourmet Scribe at Gourmetgiftbaskets.com, one of the top suppliers of gift baskets in the nation, and currently resides in Manchester, New Hampshire.