Are you looking for a Halloween costume for a decade-themed costume party? You are in luck with these sweet 90s costumes! (Yes, sorry, go ahead and take a moment to acknowledge how long ago the 90s were.) We have tons of great 90s costume ideas for adults and kids, from popular movie and TV characters to celebrities! There are also 90s outfit tips if you want to try and pull your own look together. get your 90s costume inspiration here!
Pokémon Halloween Costumes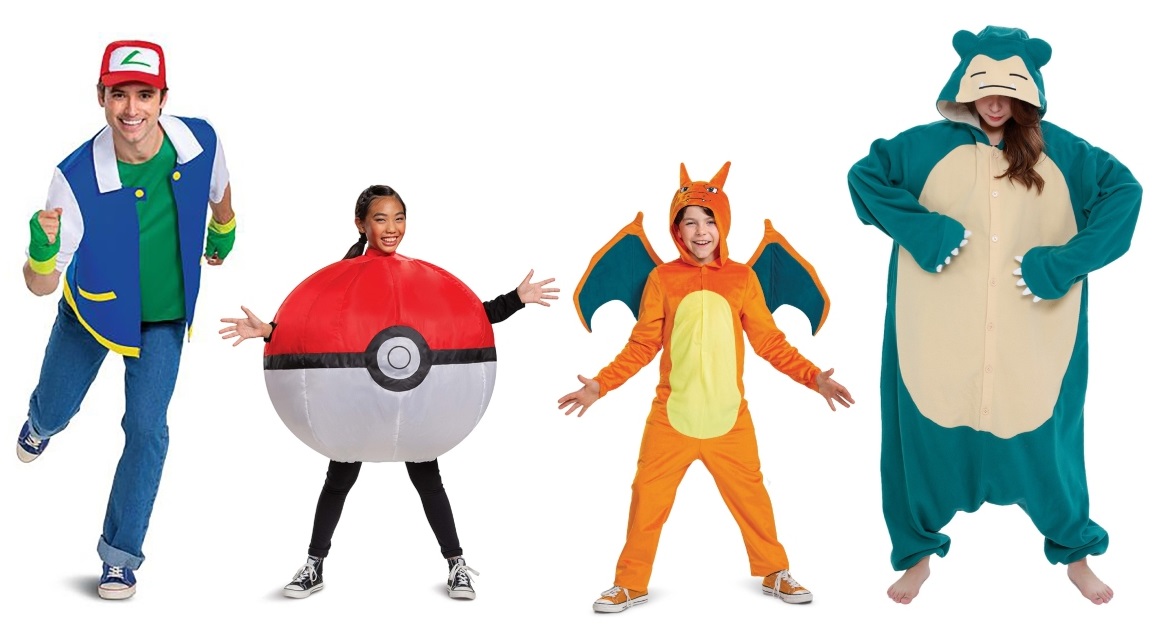 Who could have predicted the rush of Pokémon fever that was to follow after the cartoon aired in 1997? You can wear the very best 90s costume for Halloween with one of several Pokémon costumes! These 90s costume ideas are great for one or more people, from a solo Ash Ketchum costume to having a full entourage of Pokémon. The Pokémon kigurumis are honestly so cute that we want to catch 'em all!
Dumb & Dumber Halloween Costumes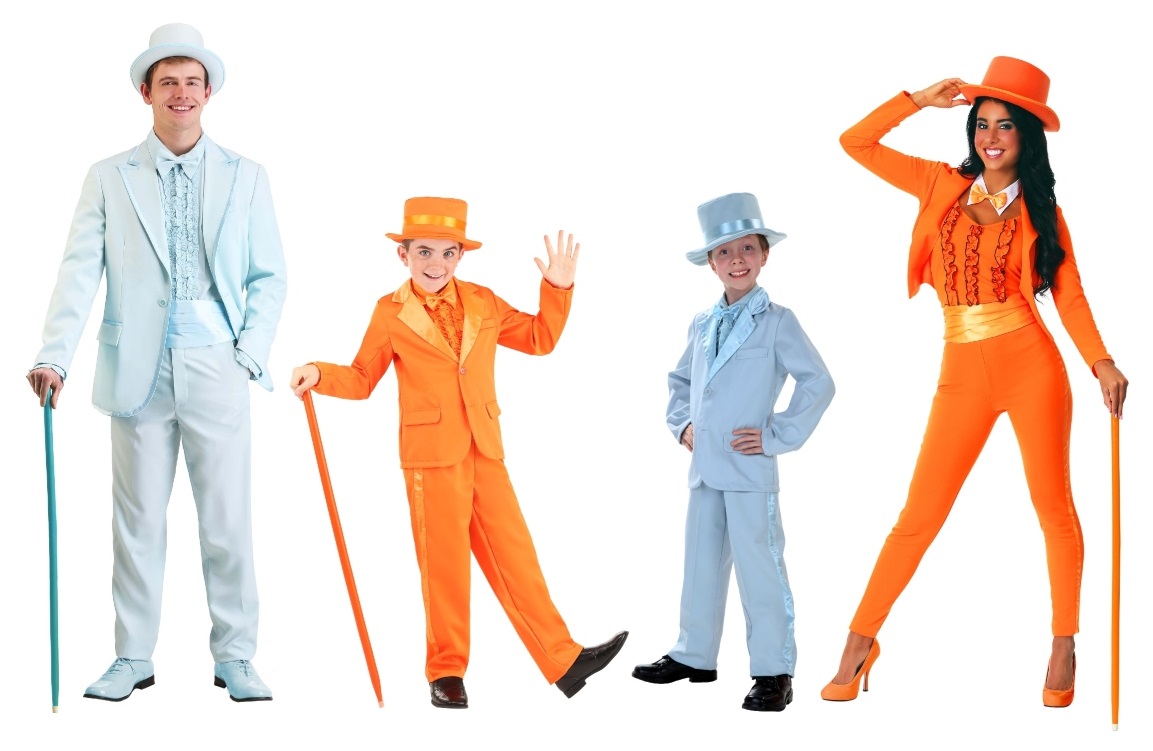 Looking for something classy for this Halloween? but maybe not too classy? How about Harry and Lloyd's sweet blue and orange tuxes from Dumb and Dumber? Complete the look with a headless parakeet and a dog-shaped van (for the extremely committed.)
Spice Girls Halloween Costumes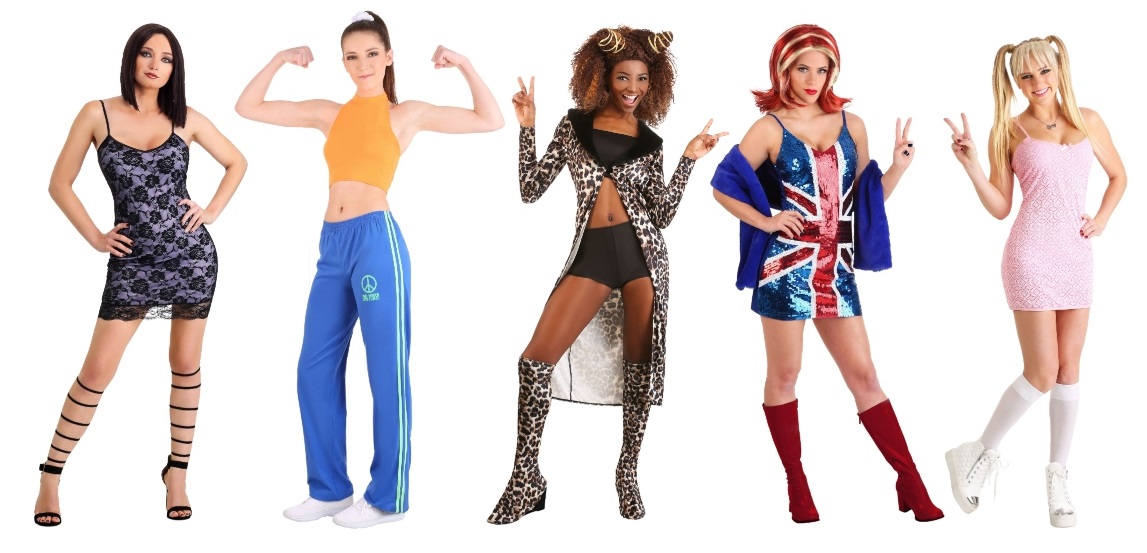 First off, let's talk about the Spice Girls. Between the Olympics and their musical, they have chops! Do you have four friends? Do you all embrace girl power? Then this is the costume set for you. Which of the five will you be? Your choice says a lot about you, so choose wisely! And make sure you bring your best platforms.
Power Rangers Halloween Costumes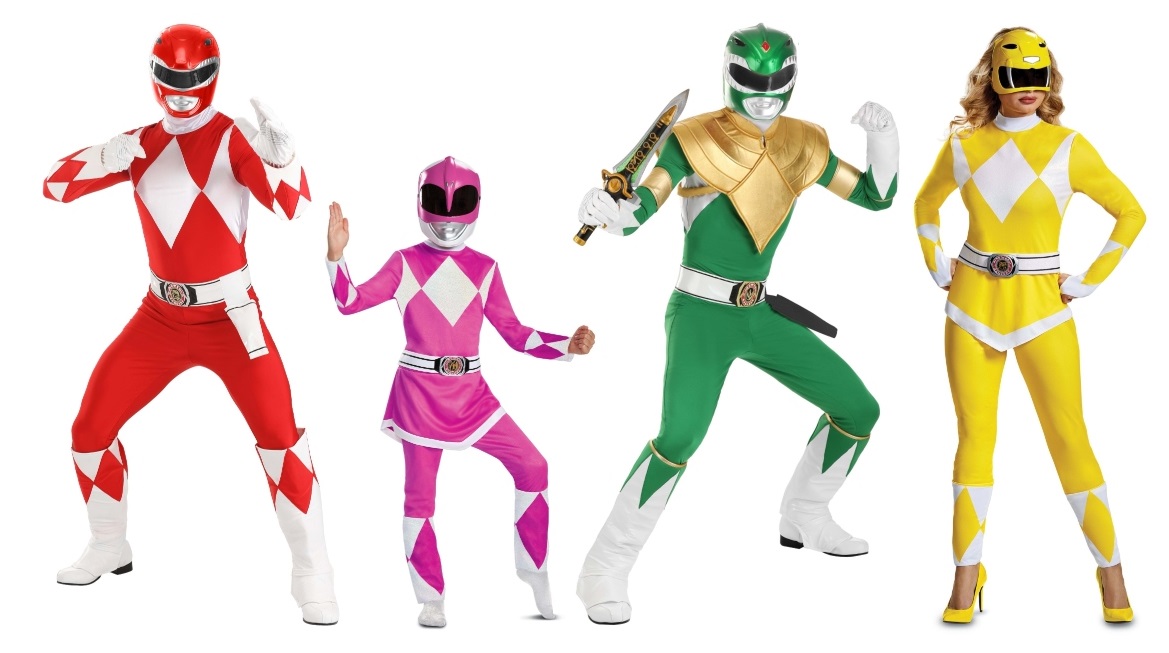 Go go Power Rangers! Do do do do do doooo, yeah, you know that's going to be in your head for a while. If you are the coolest guy in school you should be the Red Ranger for Halloween. If you are the prettiest girl in school you should be the Pink Ranger. End of story. These Power Rangers costumes are also useful in cold climates because they keep you covered from head to toe.
Scream Halloween Costumes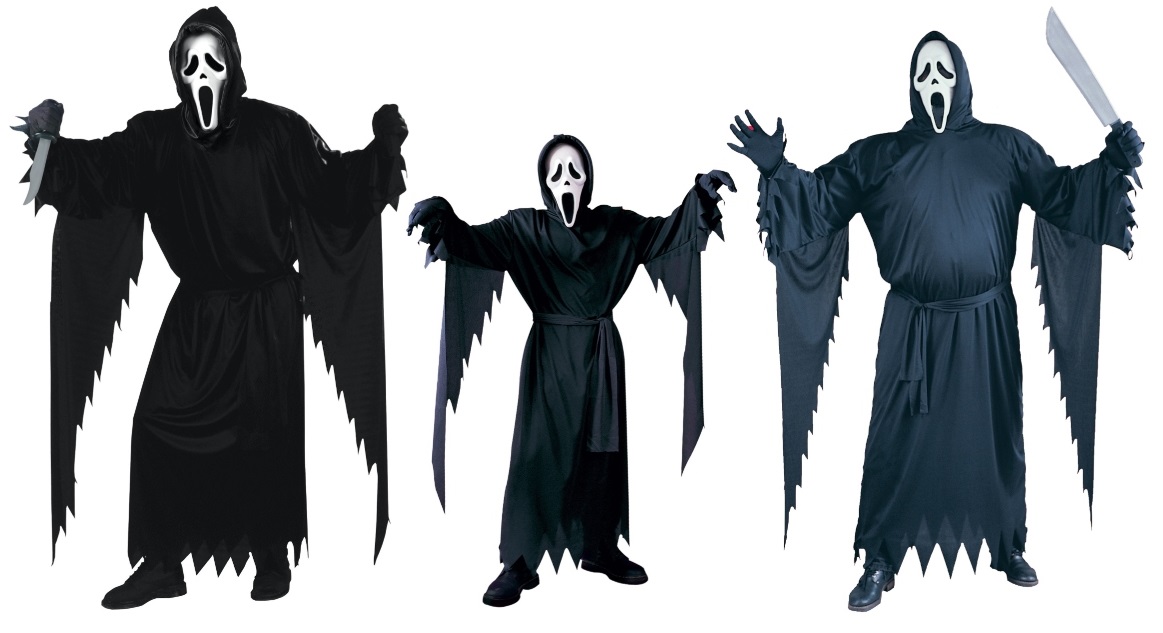 An iconic 90s slasher movie, Scream breathed new life into the horror genre. After getting bombarded by slasher movies and direct-to-video sequels in the 70s and 80s, Scream was just what the slasher genre needed to find new footing. In a fun tidbit of Halloween history, the Ghostface mask was originally sold as a generic mask named the peanut-eyed ghost. We guess you could say that Ghostface's Scream costume was off the rack!
Saved by the Bell Halloween Costumes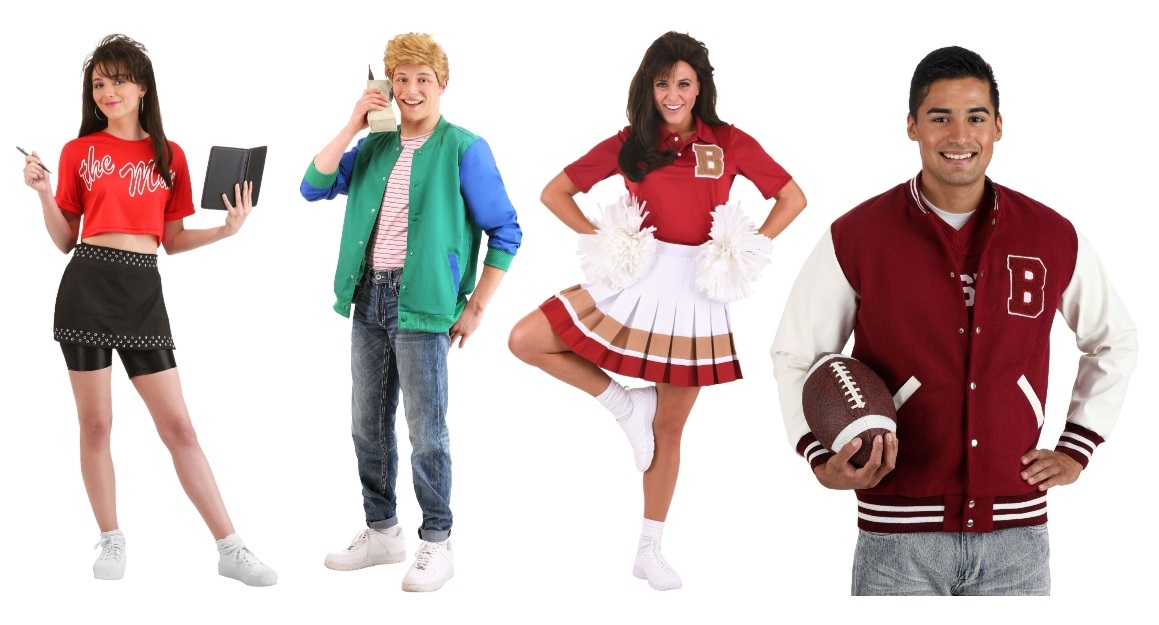 Although Saved by the Bell premiered in 1989, it ran well into the 90s with 4 seasons and 86 episodes. This sitcom series for kids and teens followed a group of normal high school students as they learned the ins and outs of high school life. Adults who love and remember the show will be happy to know that they can dress as some of their favorite Saved by the Bell characters! You can find individual character costumes, or use the Bayside High cheerleader and letterman costumes to be just about anyone.
TMNT Halloween Costumes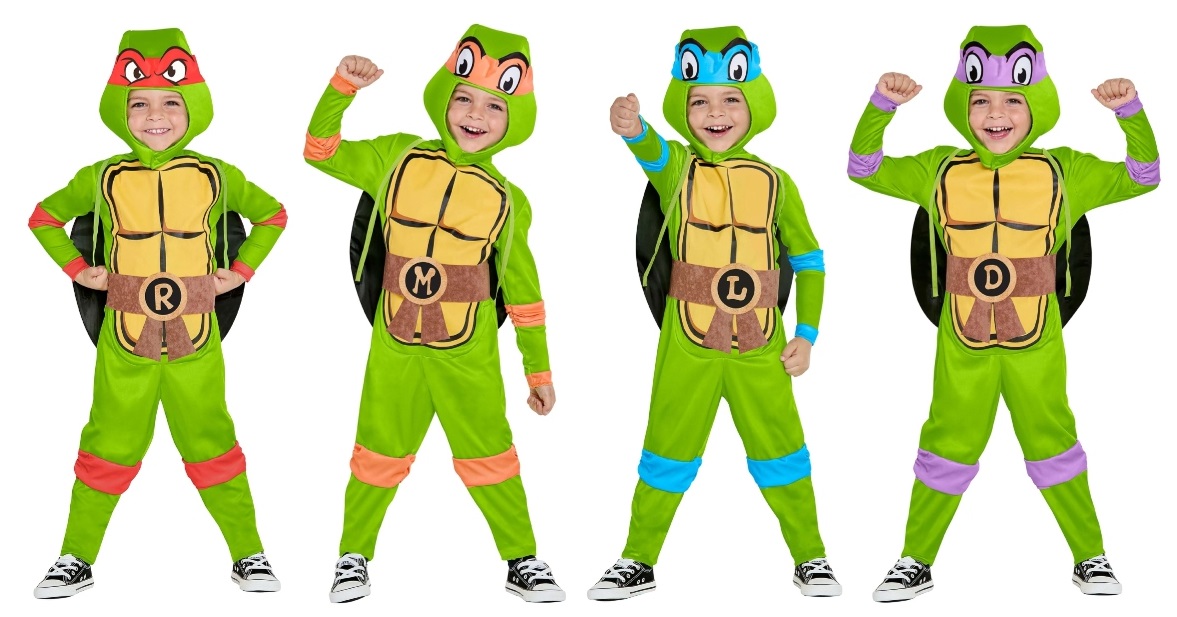 You wanna be a color-colored superhero for Halloween, but not a Power Ranger? How about something more reptilian? Look no further than the Teenage Mutant Ninja Turtles! The TMNT gang had their first movie debut in 1990, so this is a great 90s costume idea. These TMNT costumes can be as involved or as low-key as you'd like. Not really feeling Halloween, but want something vaguely costumey? How about a Ninja Turtle t-shirt? Or, if you are looking for something a little more flashy, why not try a Ninja Turtle dress? Complete those looks with a turtle shell backpack or the ninja accessory kit! If you're not shy about committing to the Teenage Mutant Ninja Turtles, there are also full-on turtle costumes available.
Sailor Moon Halloween Costumes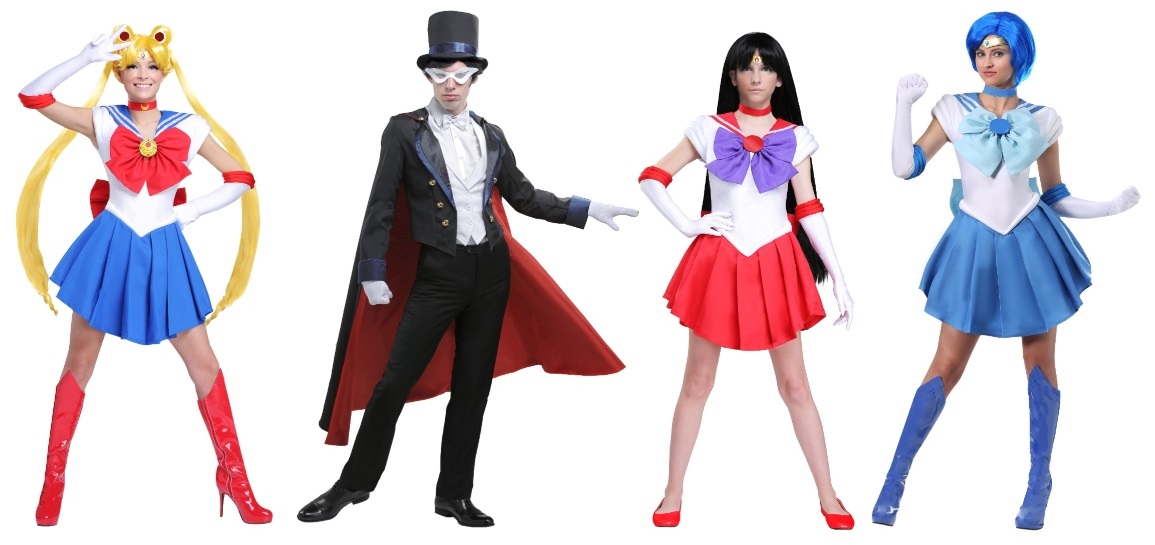 While anime appeared on American television screens as early as 1961, it wasn't until the 1990s that the anime boom began. Anime achieved mainstream success with shows like Sailor Moon and Dragon Ball Z, and we haven't looked back! Sailor Moon continues to be a massively successful franchise decades after it began, so get ready to become your favorite Sailor Guardian with these Sailor Moon costumes.
Simpsons Halloween Costumes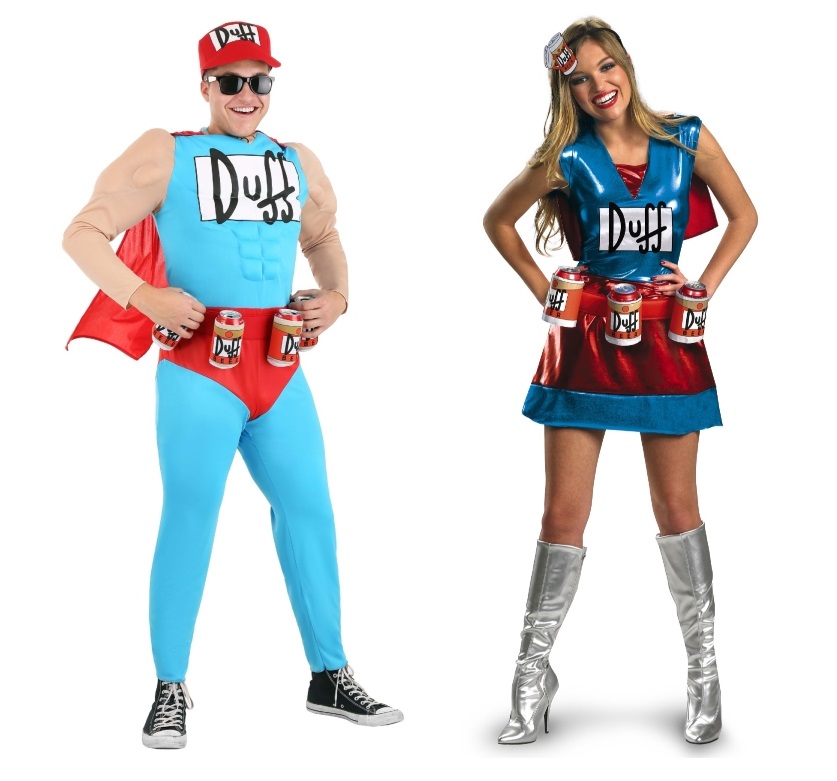 Are Homer and Marge the most famous TV couple? They're definitely the longest-running, and now you can bring a little piece of The Simpsons to your Halloween party. Or perhaps you're bringing the party with you with this sweet Duffman costume or sexy Duffwoman.
Clueless Halloween Costumes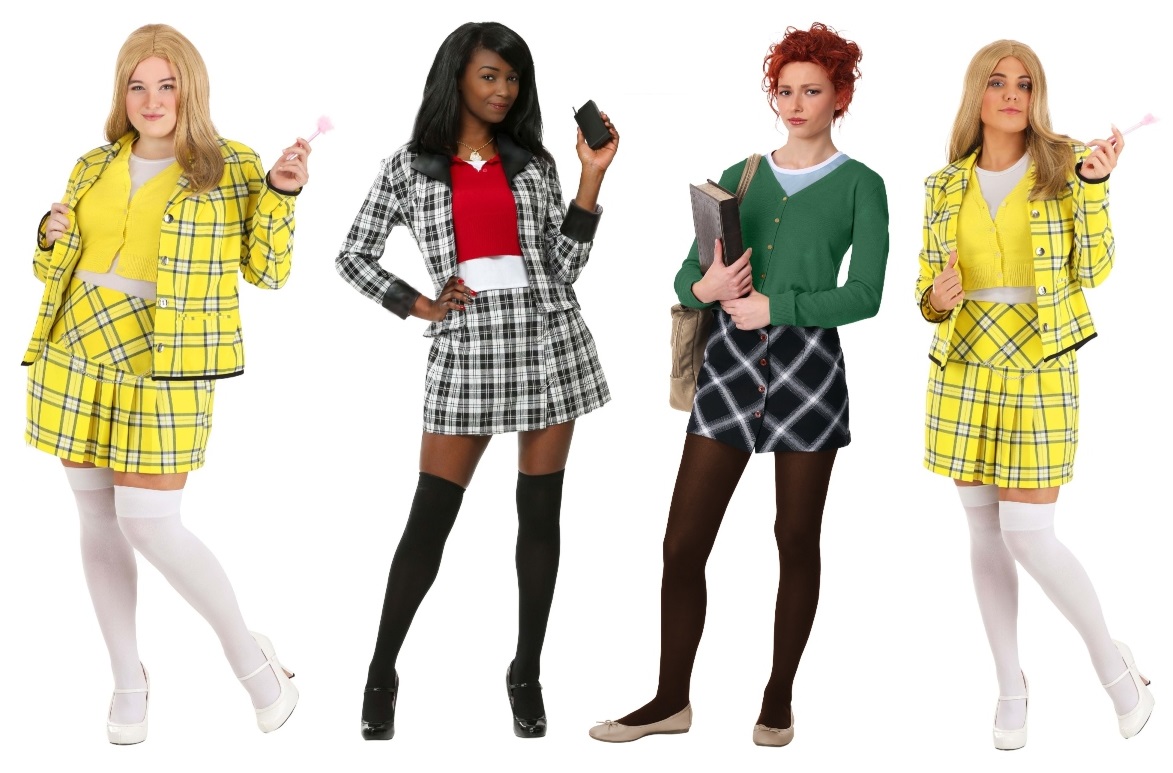 Get in, loser, because we're talking about Clueless Halloween Costumes! We miss the era of flip phones and fuzzy-topped pens. (Snapping those phones shut was always so satisfying!) You'll want to keep a few of Cher's iconic lines in your back pocket, and don't leave your Dee behind. This is a great 90s costume for two people, or go up to three best friends with Tai.
Baywatch Halloween Costumes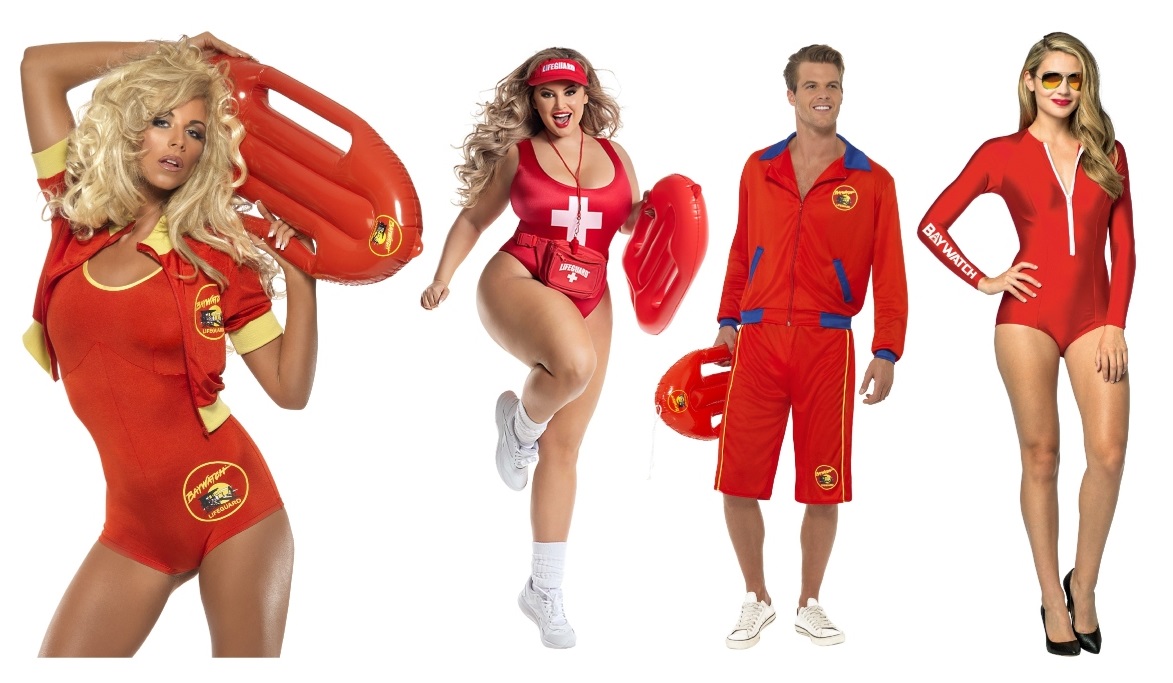 These adult Baywatch costumes are great if you have a lot of self-confidence and plan to spend Halloween in a warm climate. Be careful, though, because they're so realistic you might be called upon if there's a crisis at sea!
Garth and Wayne Halloween Costumes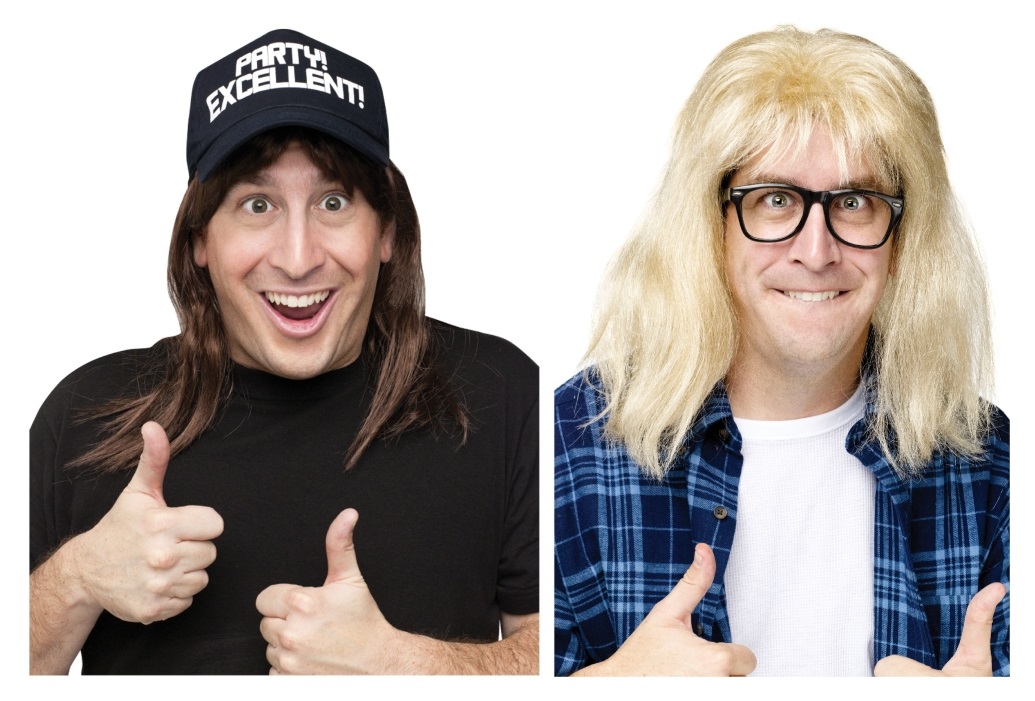 Party on! Just add the t-shirts, flannels, and jeans you've had lying around since the 90s. Don't forget your Wayne's World baseball cap! Find one online, or you can make one with a white paint marker and a plain black cap. Excellent!
Where's Waldo Halloween Costumes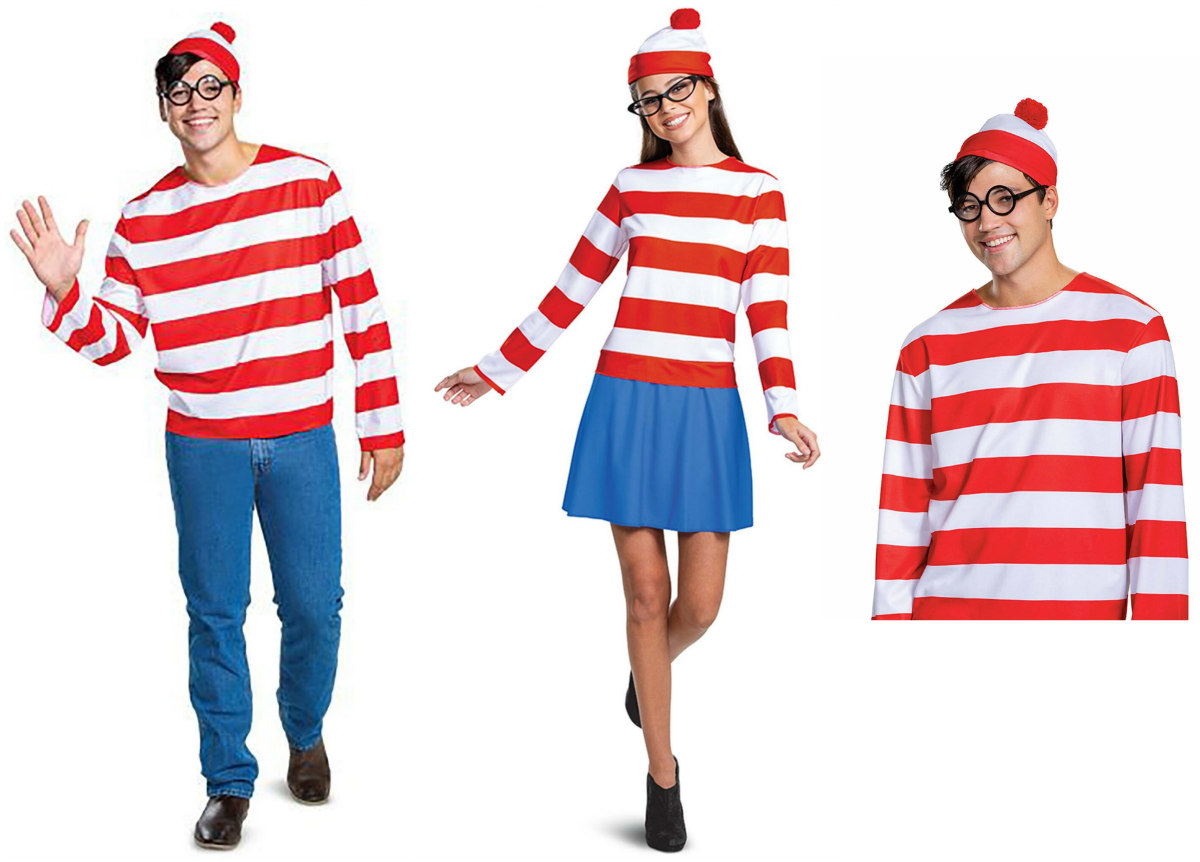 Wait, where did that Waldo costume go? I swear it was just here. Oh well, I imagine it'll turn up sooner or later. If you know a girl with a red trench coat and hat, Carmen San Diego can be your date!
Magic School Bus Halloween Costumes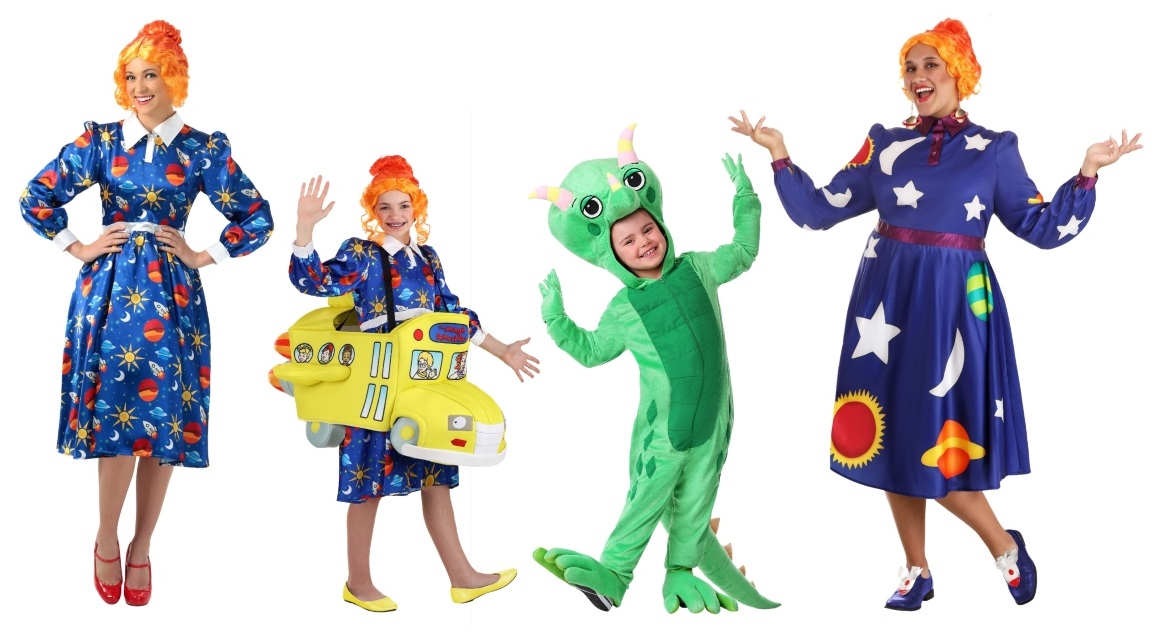 Educational programming for kids was at an all-time high in the 90s. You had shows like Wishbone, Reading Rainbow, Bill Nye the Science Guy, and we can't forget The Magic School Bus! Everyone wished they could go on field trips with The Frizz. She always had the coolest teacher dresses around, and they changed depending on the theme of the episode! One of our favorites has to be Miss Frizzle's outer space dress. (We'll never forget watching Arnold take off his helmet and freezing to a block of ice.)
Spartan Cheerleaders Halloween Costumes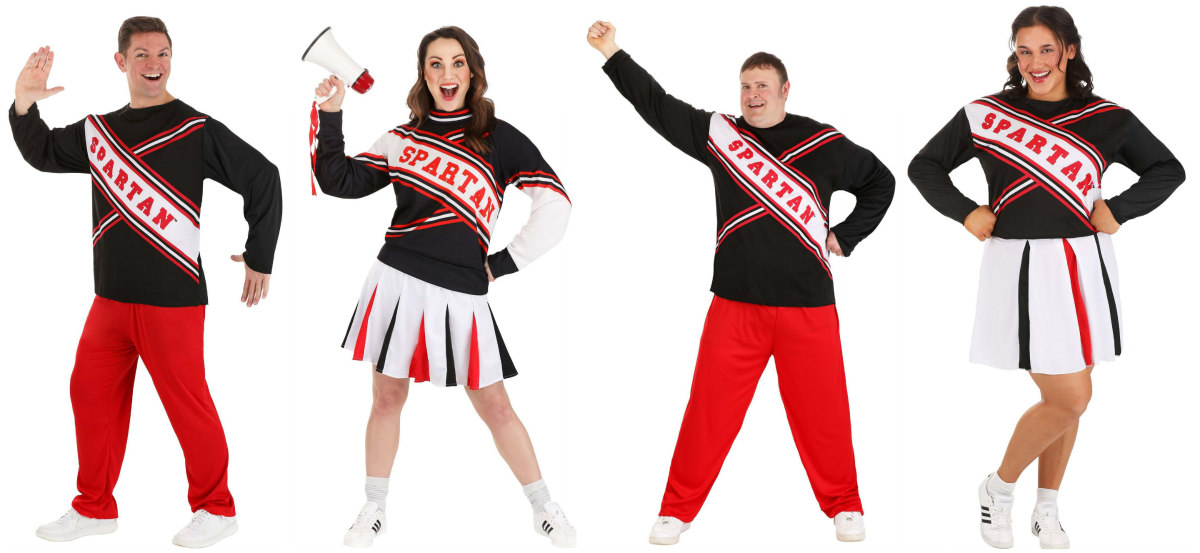 Who's that Spartan in my teepee? It's you! Get ready to bring inappropriate levels of enthusiasm to any Halloween party with these Saturday Night Live Spartans costumes!
The Big Lebowski Halloween Costumes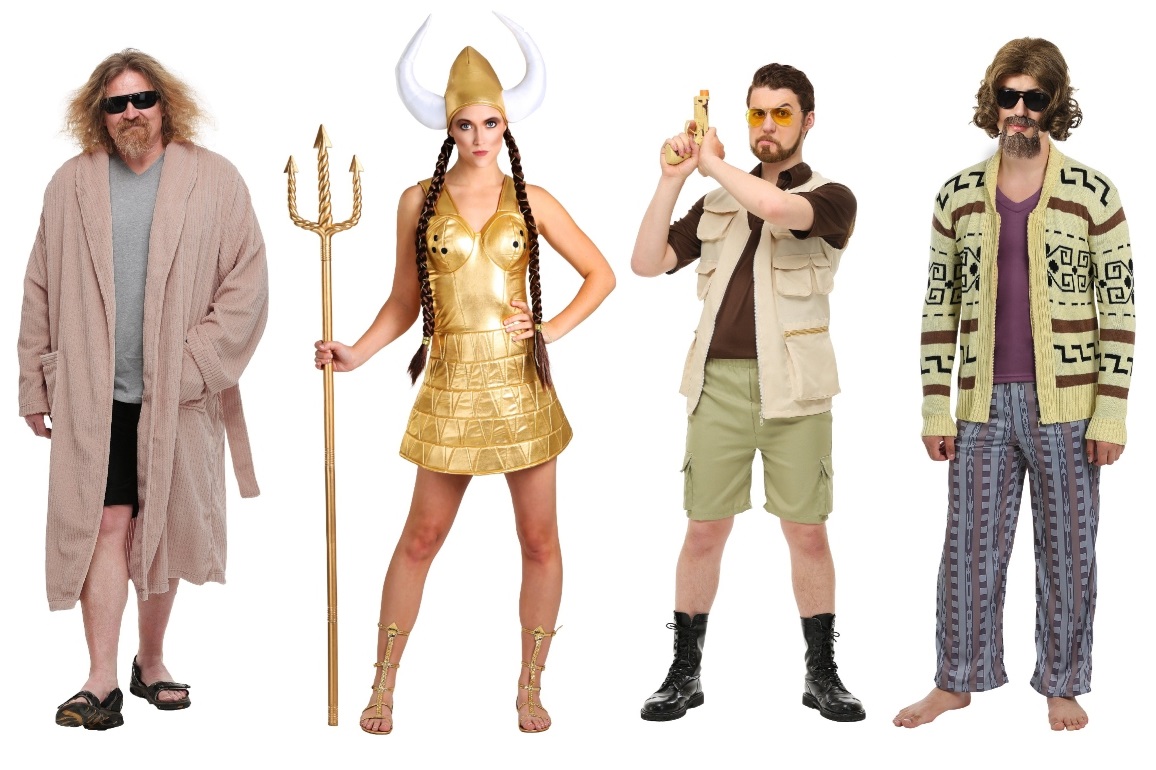 Are you looking for the coziest 90s costume you can wear? Look no further, as The Dude is the essence of comfort. What could be cozier than a bathrobe with shorts, a t-shirt and slides? Even his sweater outfit is the ultimate in loungewear. Great as a costume for a single guy who just wants to sip a white Russian, there are options to turn The Big Lebowski costumes into a small group affair.
90s Singer Costumes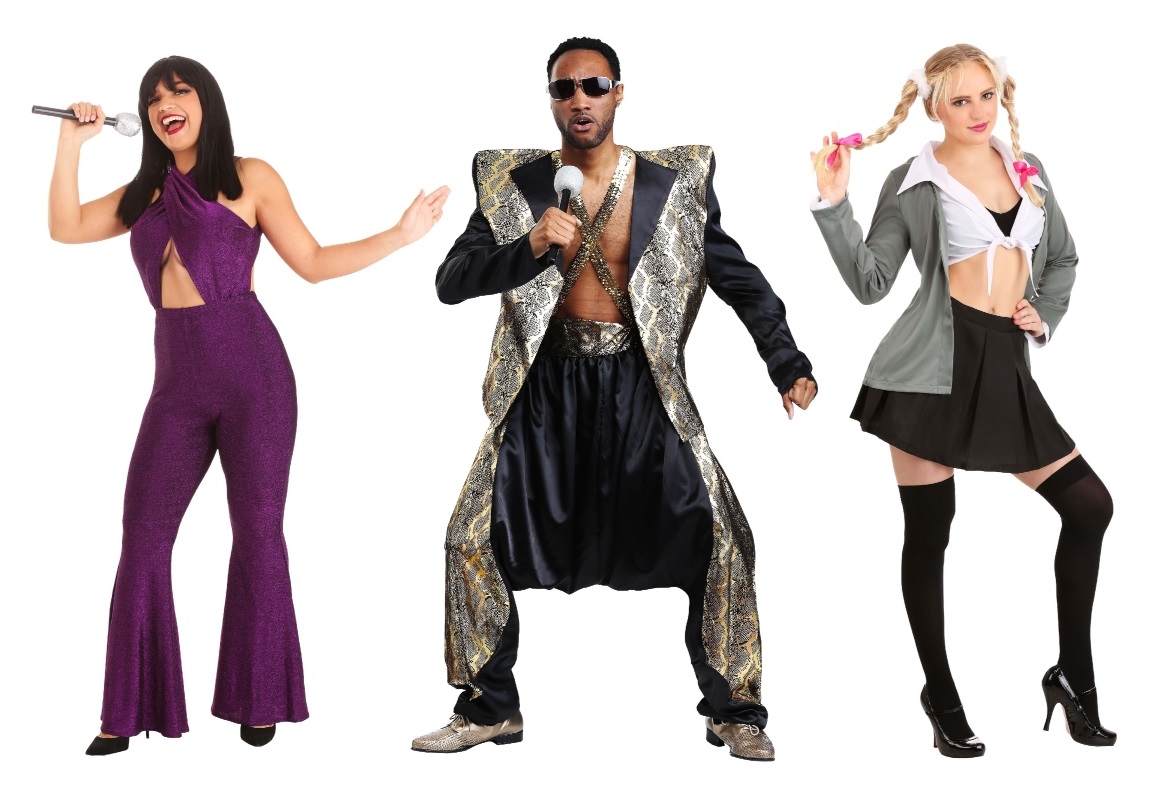 There were a number of successful solo artists in the 90s. You had Selena, the Queen of Tejano music, MC Hammer, the father of hammer pants and Britney Spears, the Princess of Pop. The music scene was stacked! These iconic singer costumes are sure to stand out on Halloween or at any decade-themed party. You may want to keep an eye out for any karaoke machines, as you'll likely be expected to sing in costume!
DIY 90s Outfits
If you're going to a 90s party or another decade-themed bash, you might be looking for ways to replicate the aesthetic without picking a 90s character costume. Here are a few tips and tricks to get your 90s outfit to look hella fly.
90s Hair
Unlike the hair of the 80s, there's no need for big, poufy dos a decade later. Instead, you're going to want to do just the opposite. Make it sleek. Did Rachel have any frizz? No, and neither should you. If you want to make your look stellar, don't forget to add highlights that greatly contrast with your natural hair color. Sure, the side pony was still pretty big, but you can take it further. Try getting your hands on some of those FABULOUS headbands and don't neglect your fringe bangs.
Who were the coolest guys of the 90s? The ones who had their hair bleached and their tips frosted. But maybe you don't want to relive being that cool at this party, so go ahead and curtain your hair or, if you're preppy (and you've got the length), pull it back into a small pony tail. Better yet – go for the rattail.
90s Pants
First of all, those jeans really did make everyone's rear end look like a mom's, so don't expect yours to be any different…especially a decade later. If you've got overalls, pull them on (and don't forget to unhook one of the straps and throw it behind you. So cool.) The later part of the decade brought back low rise flare jeans, and if you can, find some with lovely embroidery, lace up fronts, or those that are plaid.
90s Shirts
You've got a LOT of options here. Ladies: depending on the look you're going for, an over-sized t-shirt can be perfect. Just make sure that the brand or logo that's on it complies with the decade. Tight muscle tanks were a big deal, as well as tube tops, and anything that shows your midriff. And if you want to be grunge, that's perfectly fine. Just throw a flannel over your super cool tee. You're a total rebel. Guys: those sweaters are ready to come out of your closet – the ones with, like, a billion neon colors. Go ahead and wear a classy matching button up too. Or, just a really big shirt with vertical stripes. In subdued hues. That look like vomit. Have more than one shirt you really want to wear? Uh, you can wear them both! Just tie one around your waist, duh.
90s Skirts and Dresses
If you thought the dresses were rocking in the 90s, you best take another glance at your yearbook. Ill-fitting baby dolls in bad floral patterns and tartan miniskirts aren't the easiest things to make look chic, but boy, are they comfortable, which is exactly what the 90s were all about.
90s Shoes
If you're adhering to the grunge look, go for some cool doc martins or your basic converse sneaks. If you're not planning on spending the evening worshiping Kurt Cobain, wear shoes that are pretty plain and in ugly, boring colors. The women's shoes of the 90s were nothing shy of fabulous. Get ready for chunky, strappy heels, clogs, jellies, and those super cute platform sandals that have one huge strap across the top in a bright solid color. Don't feel like getting all dolled up? Just wear some platform Sketchers with your ensemble.
90s Accessories
Spritz yourself with some CK One and get ready to complete your look. Hats were pretty big back in the day, so see if you can find a totally cool bucket hat, sun hat, or baseball cap (which has to be worn backwards). Finish by slapping on some bracelets, putting in some hoop earrings, grabbing your mini backpack, and getting your Spice Girls CD (or tape) ready to go.
Now that you're all caught up on the 90s outfit ideas, you can coordinate some of these tips with your favorite 90s costumes! What is your favorite part about the 90s? Did you enjoy the Saturday morning cartoons? Were you more of a fan of the 90s boy bands? Feel free to let us know about your 90s expertise and favorites in the comments below.