UPDATED: October 1, 2015
Having the perfect hair is the second most important thing to keep in mind while dressing up for Halloween. (Second to, you know, having the perfect costume.) What would a newly transformed Sandy from "Grease" costume be without the amazing blonde curls! Or, can you imagine dressing up as Dorothy from "Wizard of Oz" and leaving out the braided pigtails? The unique hairdos are what make most popular Halloween costumes unforgettable. However, you may not be willing to go through an entire cut-and-dye process just to look great on October 31st. That's where wigs come in. A wig can instantly transform you from just another girl in a 1950s housewife dress to the iconic redhead Lucille Ball. Wigs can also be great options for cosplay events.
Sometimes, though, you might have to modify the wig's look to be spot-on for your costume. Here are some tips on how to style, maintain, and get the most of out of your costume wig:
Care and Maintenance
Keeping your wigs nice and "healthy" is a little different than taking care of your actual hair. Here are some tips on synthetic wig care and maintenance for synthetic wigs:
If you are wondering how to brush a wig, use special brushes and comes made especially for synthetic wigs. Check online, like on Amazon, or in beauty supply stores for the tools. Regular brushes could cause the wig's hair to break, split and become frizzy. If you HAVE to use a regular brush, make sure it has rubber tips on the bristles, which will prevent breakage.

Wigs don't need to be washed after every use. If you are using a lot of product in the wig (which isn't recommended!), you should wash it after eight or so uses. Beauty supply stores should have specialty shampoos and spray conditioners that are meant for synthetic wigs. Let your wig dry on something tall and thin, like a bottle of hairspray and air-dry only! Do not brush your wig until it is fully dried.

If you are looking for how to keep synthetic from frizzing, avoid using products like hairspray and gel meant for human hair; these items can deteriorate your wig's fibers. Instead, use a bottle of water to gently wet the wig and style with a wig brush or, better yet, your fingertips.

Another thing to avoid: heat! Such as curling irons, straightening wands and blow dryers. Excessive heat and synthetic fibers do not mix, and you'll be out of a wig in no time flat.

Can you dye synthetic wigs? If you are wondering how to dye a synthetic wig, check out our tips on this other wig care and maintenance blog.
Tutorials
So you have your wig, but you'd still like to tweak it's appearance a little bit? We'll show you a couple methods to style a wig! Alright! If you are looking for how to style a synthetic wig, here are ten awesome synthetic wig styling tutorials we've found that will definitely help you look your best.
"How to Put On a Wig"
Let's start with the basics. This video shows you how to prepare your actual hair pre-wig, how to put on a wig cap, and, of course, how to put the actual wig on for maximum security. She even shows you how she puts on a cute headband over the top of her wig. Better watch this one first if you are new to wigs.
"How to Cut and Style Bangs"
This video takes you step-by-step on taking a straight, fringe-less wig and cutting some killer bangs. It's really helpful and clear, thanks to the video examples and the written directions in between shots. The tutorial goes on to show how to style the bangs, using hair rollers.
Hot Water Straightening Method
As this clip explains, this is how you straighten a curly synthetic wig "... without melting it." I know I said heat is bad, but this is one method to turn waves into stick-straight hair that is still non-harmful to the wig. The tutorial is pretty simple, with clear enough instructions, and even shows the exact hair care products that they recommend.
"How To Untangle a Wig"
Chances are, when you're done wearing your wig for the first time, you might not be as meticulous and careful about taking it off and storing it as you were before your event. This, of course, leads to nasty tangles. And nasty tangles in fake hair are not the most fun thing to get rid of. This video shows you an easy way to fix this problem, though. Look on to solve this very common wig problem.
Sora from Kingdom Hearts Spiking Tutorial
This video shows you how to create very dramatic spikes, which will help you recreate the look of Sora from the video game Kingdom Hearts. This do could also be used for a 70s punk costume; think liberty spikes! Follow these instructions and you'll soon be the belle of the cosplay convention ball.
Super Fluffy Pigtail Tutorial
Now here's a tutorial that I bookmarked for myself. Perfect for cosplay or any sugary sweet costumes (think fairy, magical princess, Candy Land character..) is this "candy floss pigtail" tutorial. The oh-so-cute instructor shows you how to turn your curly, pastel wig into the fluffball of your dreams. And it looks easy, too. Not so into the candy colors? Try this out on a blonde wig for a great Shirley Temple or Little Bo Beep look.
Curly Afro Wig Turned Mohawk Tutorial
The 1970s super-fro look not your style? If you're more interested in an edgier look, why not flip the curly afro wig into a sweet mohawk. Watch the whole process from mega-curl to punk rock in this video tutorial. (Hint: LOTS OF HAIR PINS.)
How to Curl Your Wig with No Heat
In what I must say is the coolest video I've seen today (the effects are great!), you learn how to curl a synthetic wig without using any heat, which may damage your synthetic wig. Using rollers and a blow dryer, the final result is a wig that has luxurious curls, perfect for any glamourous movie or pop star costume. (Think Beyonce, Lady Gaga, Britney Spears, and even fictional characters, like Glinda the Good Witch.)
And last, but not least:
General Wig Care and Tips
A blast from the past! This video comes at us from 1998, but it feels like even longer ago than that. Enjoy the retro hairdos in this general care and styling video. My favorite is when she shakes that wig! ("Like this?") Classic.
2015 UPDATE: While some people might like the challenge of styling their wig to look exactly how they want, others are MORE than content with pulling one out of a package, giving it a quick brush or two, and going on their costumed way. Here are some of our favorite pre-styled wigs for Halloween!
Women's Halloween Wigs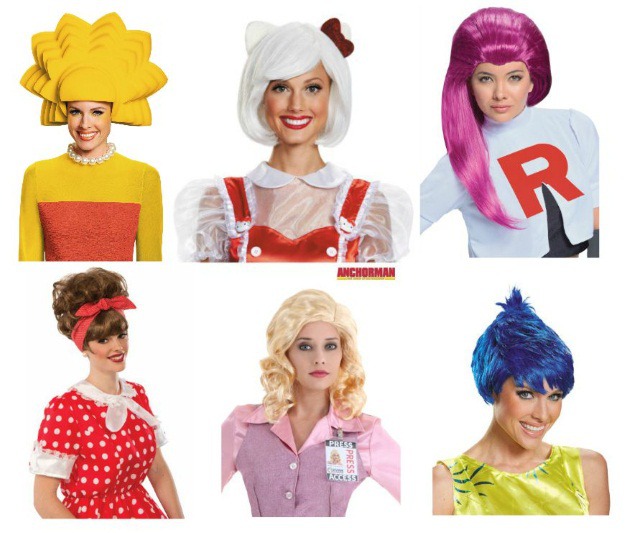 Sometimes, the hair really makes the costume. We mean, Joy from Inside Out would just be a cute girl in a yellow dress if it wasn't for that signature, pointy blue hair at the top of her head! For those ladies who don't want to cut or dye their natural locks, these wigs do the trick. Look at Lisa Simpson! That's just foam, folks! Check out these other wigs for women and have fun!
Men's Halloween Wigs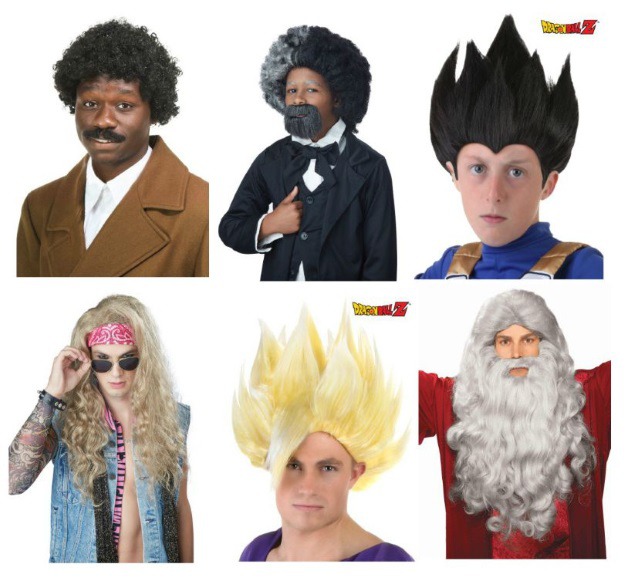 Coming to America Soul Glo Wig Frederick Douglass Wig and Goatee
Dragon Ball Z Vegeta Wig Blonde 80s Rocker Wig
Dragon Ball Z Gohan Wig Moses Wig and Beard
Of course, we have lots and lots of men's wigs to choose from, too, including some incredible and gravity-defying Dragon Ball Z styles. Many of the men's wigs come with facial hair, too, like this child's Frederick Douglass look and Moses. You know, for the moments when you decide you want to be Father Time for Halloween but don't have the (father) time to grow a beard.