Chances are if you're looking for a guide on dressing up as Colonel Sanders, you're either a huge fan of fried chicken or of the Colonel himself. It's easy to see why. Colonel Sanders (who was a real person) was born in 1890 and by the age of 40 began to develop and perfect the fried chicken recipe that would make him rich and famous. Plus, the man sure did have style. Of course, maybe you just want an excuse to talk like Foghorn Leghorn for the entire night. We can understand that too.
Fortunately, the Colonel has one seriously distinct look: one that he donned for every single public appearance for the last 20 or so years of his life. If you're brave enough to wear that white suit, we're here to help you make your Colonel Sanders costume happen!
Step-By-Step Guide:
Hair:
If you happen to come by stark white hair as well as a moustache and goatee, then congratulations: you won't need any help in this area!
For those of you without the natural Colonel coif, a wig is going to be your best bet, like the White Colonel Wig and Moustache, that comes complete with the mustache and goatee. Make sure you are styled like a true gentleman. The Colonel would accept nothing less!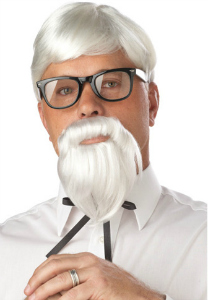 Make-Up:
If you really want to take your Colonel outfit to the next level, you might want to consider picking up a set of stage makeup and learning how to age your face using that. Most good kits will come with a guidebook that will be a huge help in this process. While this step isn't entirely necessary, it can certainly make a big difference.
Clothes and Accessories:
There is only one clothing option when it comes to the Colonel: a crisp, white suit, complete with a black bowtie. The good news is that we have a version of the white suit that comes complete with the black tie. From there, all you will need is a pair of shiny black shoes and, of course, the perfect signature spectacles. You may also want to add a crisp, black pocket square and a plain black walking stick.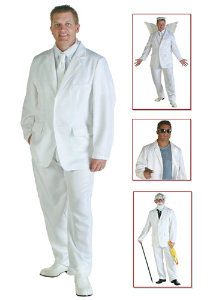 Of course, if you really want to commit, you might want to stop at your local KFC and see if they'll donate an empty bucket to your cause. Then you can grab a chicken stuffed animal to carry around in the bucket. Or, you can buy an entire bucket of fried chicken to carry around with you if you are so inclined. Who knows, it might just make you the hit of the party!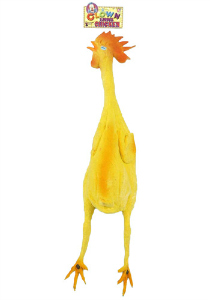 Follow these steps and you will have no problem putting together your perfect southern fried gentlemen costume. You'll be saying "y'all" and whipping up batches of fried chicken in no time.
Now that's finger-lickin' good!