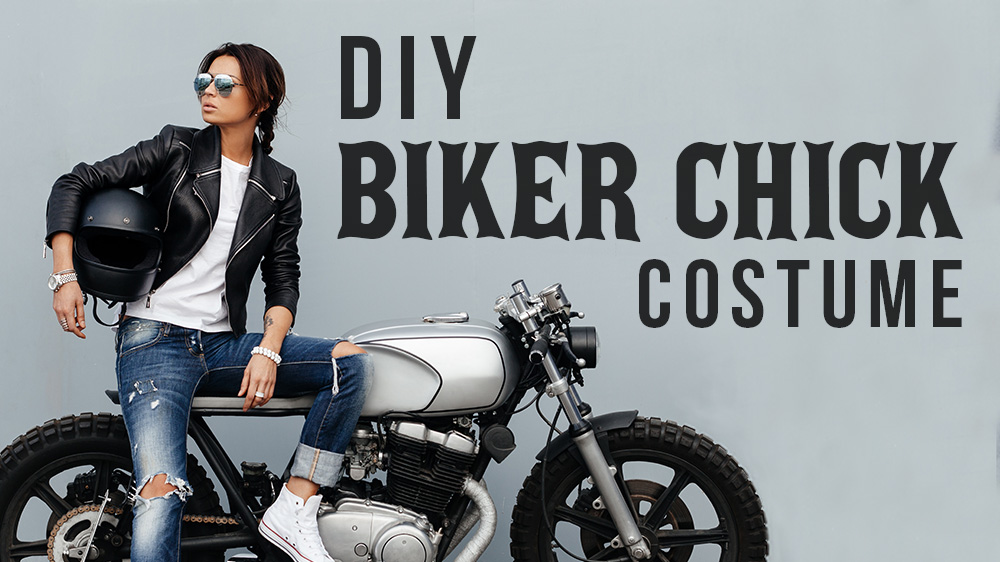 Updated: May 2020
So this year for Halloween, you've decided that you want to sport some serious attitude dressing as if you've spent your life on the back of a Harley. If you are generally on the shy side, this will be the perfect opportunity to see how the other side lives! Get ready to spend your night swearing like a sailor, knocking back a few beers, and rocking more black and (faux) leather than you have ever seen in your life with your own biker chick costume. It's time to ride.
DIY Biker Chick Costume Ideas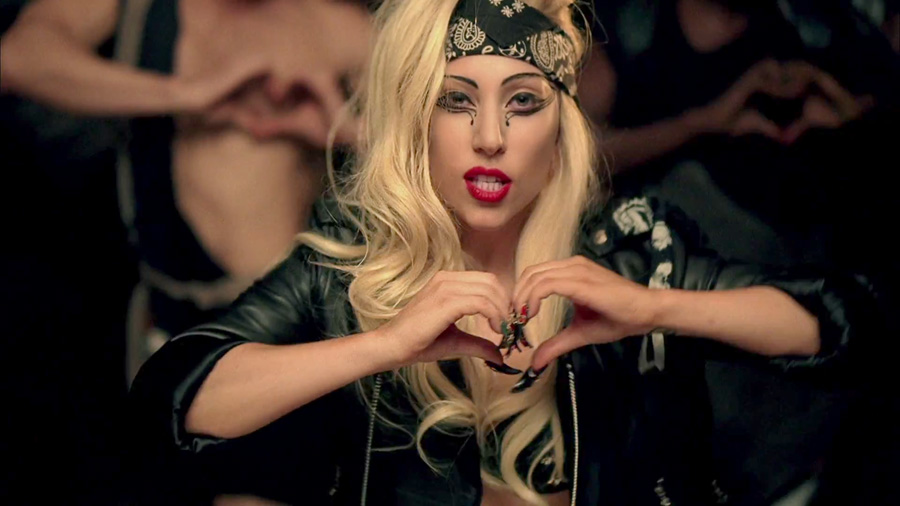 [Source: AustinChronicle.com]
Whether you feel inspired by Lady Gaga's famous biker chick look in her Judas music video or you'd prefer to carve your own path, we'll show you everything you need in order to create your own biker chick Halloween costume.
Step-By-Step Guide:
If you live and breathe the fresh air from the seat of a hog, chances are you already have the get-up, but if you haven't spent much time behind the handlebars, Halloween is the perfect time to pretend. Before you can perfect the DIY biker chick costume, you have to decide what kind you want to be. Would you prefer to be the cute dame riding behind your main squeeze or are you the hardcore biker chick type that likes to crank the throttle?
Bandanas for Biker Costumes

A lot of motorcycle babes out there like to wear bandanas. They come in many colors and you can wear them so many different ways. Sure, they look cool, but helmet hair is a serious problem for many female bikers, so bandanas are often used to prevent that. No matter the reason, it's still a biker babe essential so don't forget it! To learn how to tie your bandana like a biker chick, check out this tutorial video.
Women's Biker Chick Wigs
You have a couple of options when it comes to the biker girl costume hair. The main idea is that you want to look like you've been riding your chopper across the country for weeks and all you've been thinking about is keeping the hair out of your face. You don't care what it looks like so long as there is an open road in front of you. If you've got a short, spiky 'do that you'd like to rock, by all means, go for it. Pick up a bandana, wrap it around your head, and you're good to go on the hair. However, when I think biker chick, I usually think of long, wind-blown locks pushed back from the face, topped with a bandana or a leather-studded hat. If you don't come by the flowing locks naturally, a wig is a good option and a long, wavy blonde wig is the perfect Lady Gaga Judas Wig.
Other Biker Chick Headgear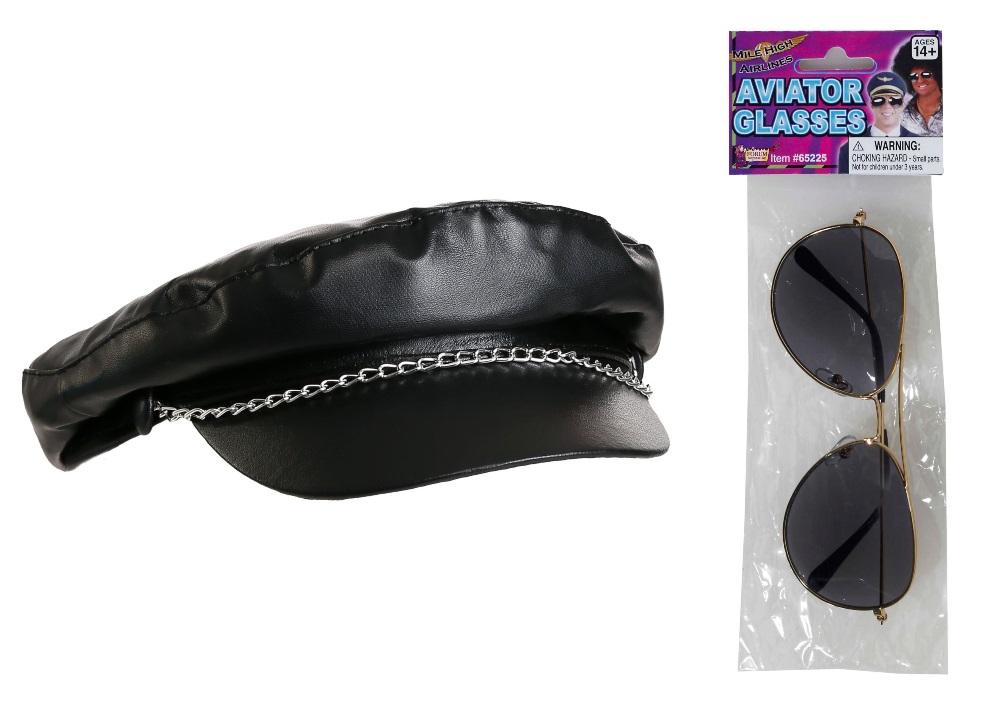 Our biker hat is also a perfect accessory, with or without a wig. Many bikers, women and men alike, sport black leather outfits, often from head to toe. Anyone riding a bike for long hours will also usually wear a pair of sunglasses to protect their eyes from the glare of the road. A classic pair of aviator sunglasses will surely do the trick!
Make-Up for Biker Chicks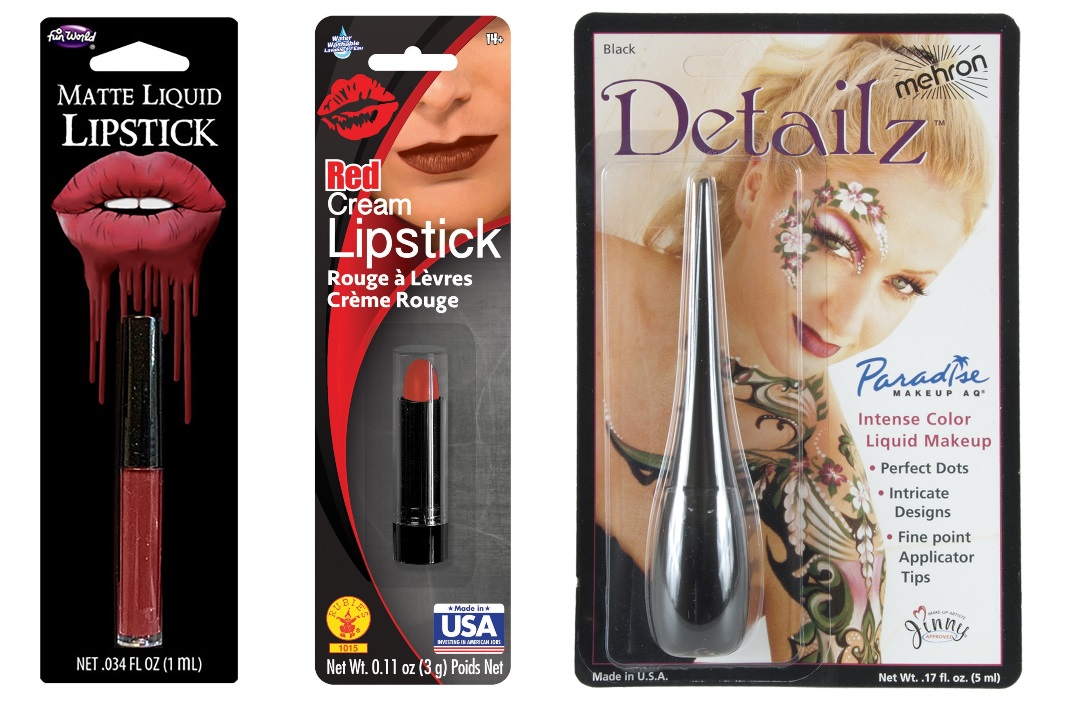 For the authentic biker chick make-up, it's all about the red lips. You've been riding your hog all day, so most of what's on your face is whatever hasn't disappeared on the long ride. Keep eye make-up simple: a pretty neutral shadow, some black liquid liner and a swipe of mascara should do the trick. A little bit of color on your cheeks is good, but you don't want to look too perfect. You might even go for a bit of a dirty look. Try a bit of bronzer on the cheeks and over the t-zone. That leaves you with the lips: when you hop off your bike, you aren't looking for a full makeover before you walk into the bar, but you will pull out your trusty red lipstick and reapply your favorite shade. So make sure it's a good one!
Tattoos and Piercings for Biker Chicks
Tattoos and piercings are a serious commitment. If you want to look like a biker chick but don't want to sport them forever, these temporary tattoo options will leave you looking hardcore for Halloween and won't stick around for an eternity. Whether you would like to write "thug life" across your knuckles or you have a phrase of your own, you can create the look of the tats and piercings you were always too scared to fight a needle for.
Biker Gloves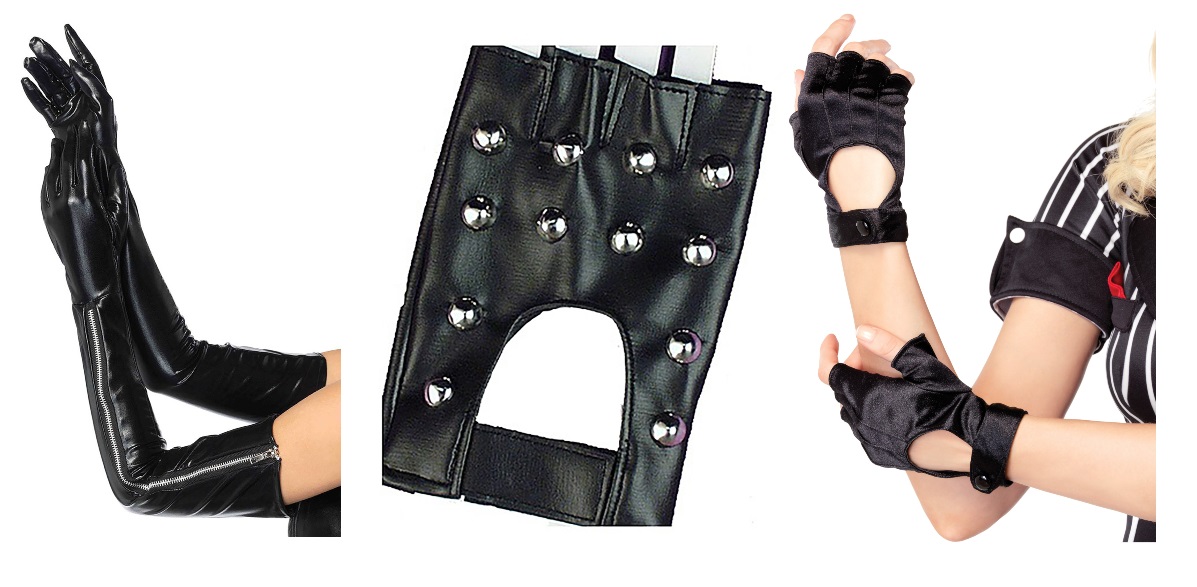 To avoid a chapped hand from constantly turning the throttle during a long cruise, many bikers like to wear gloves. Now the trick for the motorcycle chicas out there is to find a stylish pair that is also going to get the job done. Lucky for you, on Halloween the only points you have to earn are for style!
Additional Biker Clothes and Accessories
Have I mentioned that you're looking for leather and studs yet? Yes? Well, let me remind you: you're looking for leather and studs. Of course, that can be faux leather, but as much of it as you can get on your body. For your rockin' biker chick Halloween costume, an ideal from head to toe might be: the biker hat over a long wig with a bandana, with some awesome dark sunglasses on your face. On your neck, go with a studded choker, some heavy silver chains or even a bandana. For your top, a plain white men's undershirt-style tank is a good place to start. Some arm tattoos will take your costume right to the next level! Over your tank and ink, go with either a studded biker vest or a full-on leather jacket. On the bottom, either leather pants or a good pair of tight, dark jeans will do. If you're feeling extra sassy, leather chaps wouldn't be out of place. Of course, don't forget some serious attitude! Nobody will be messing with you in this outfit.
We hope you found everything you need to make your DIY biker chick costume! Do you feel ready to ride? Are there any other accessories you'd like to find so that your biker outfit feels complete? Check out the rest of our biker costumes and accessories to find everything you need. As always, let us know how you feel in the comments below.
~ Ride Or Die ~