Traci Hines is often likened to a modern day Disney princess, even though she never got the part at any of the actual theme-parks. A singer-songwriter from southern California, you may also know her as the original "Hipster Ariel," from her YouTube channel, or her performance at the Anime Expo 2008 AX Idol singing competition. She is also a professional makeup artist, creating web tutorials for the Hot Topic brand Ware Paint and various others. As a costume designer and real life Disney princess, she often shows up at anime conventions and other cons, non-profit functions, children's benefits and assorted galas. Traci was kind enough to take time out of her busy schedule to answer a few questions for us here on our blog: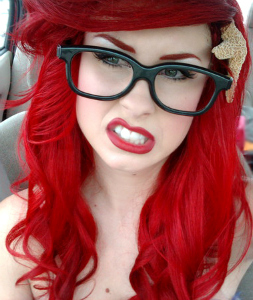 You manage a variety of talents and career paths. What is a typical day like for you?
Because I do so many different things each week, it's hard to say anything is typical! A few days a week I'm working from home filling orders for my online shop, SirensGrotto.com, as well as working on new music for my album, prepping for upcoming projects and things like that, but most other days I'm either working elsewhere (usually in L.A.) doing everything from live performance to modeling and recording. I also occasionally book voice over roles, teach voice lessons, and attend conventions. And of course I'm always carving out time for family, and the rare instances I get to see my friends and be social! It's way too hard to talk about a typical day, because every day is so different! One thing's for sure, I'm never bored! Every week there is a new project that's filling my plate, and endless lists of to-do's floating around my home, car, pockets, and scrawled on the backs of my hands! Music always takes priority though—it's my biggest passion.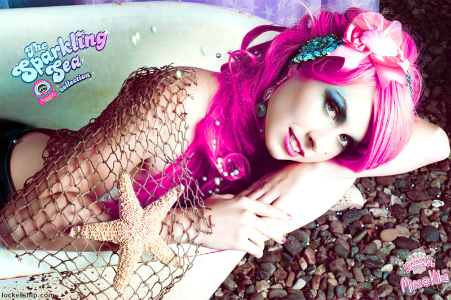 (photoshoot for Locketship.com's Sparkling Sea Collection)
What are you up to when you're not cosplaying or pursuing one of your many other fun jobs?
Sleeping. Lots of sleeping whenever I can get it! Also spending quality time with family and my adorable kitties, ... and dyeing my hair. I love hair dye. Oh, and I also sneak away to Disneyland a couple times a year ... I rarely have time for it now, but I still consider it my home away from home!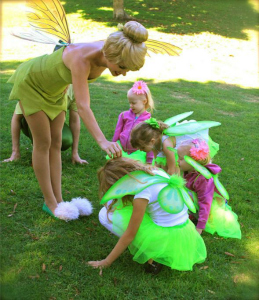 (as Tink for True Enchantment Entertaiment, costume by Lisa Fabio)
Are fans supportive of your singing career?
Definitely! As a singer first and foremost, I always hope that people find me and become a follower because of my music, but I know that many people find me first through my costumed character photos, or modeling. It's not uncommon to get messages from people telling me they've been following my cosplay work for years, and just discovered I was a musician! Often people are only drawn to one aspect of what I do, but it seems like for the most part, the people who follow my work are overwhelmingly supportive of my music and my aspirations towards a more focused career in it. And for those few that would prefer I stuck with modeling or cosplay alone, I don't think there will ever be a shortage of new photos, costumes and content for them. I'm such a visual person, and love to mingle my passions when I can. I don't see stopping the other more visual endeavors anytime soon!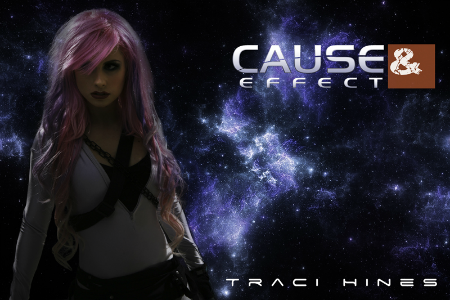 (album art for her single Cause & Effect, inspired by the video game Massive Effect. Album art by Benjamin Hines)
When did you first become interested in costume design and cosplay?
I've been obsessed with costumes since I was a tiny little girl. I started dressing up in my mom's dresses and pretending to be a princess from a very young age, like most little girls, but I guess the difference with me and them is I never stopped. I looked forward to Halloween every year solely because of the excuse to buy or make a new costume, and I was very active in theater from a young age as well. I experimented with makeup and face paint from the time I could hold a pencil, and was one of those kids that paraded around with a full face of makeup, or cat face paint (or dog, or zebra or...) on a daily basis! When I discovered the world of cosplay and conventions in late high school, I was thrilled! Finally an excuse to wear a costume on days other than Halloween! It wasn't long before I was wearing a Sailor Venus costume to Anime Expo, and later, creating my first Ariel costume ... which was the start of my life as I know it today!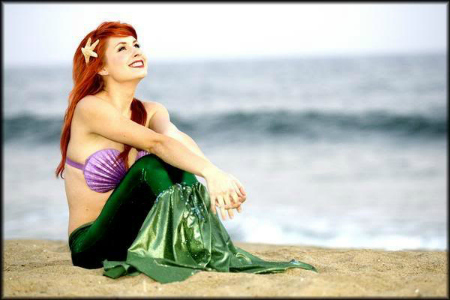 (photo by CamOden.com)
What kind of research do you do when preparing for new characters to portray?
I do everything I can. I watch any movies related to the character, read books, search extensively online for both the character's personality traits, phrases they say frequently, mannerisms and information about them, and of course look for detailed photos of their costume. I practice run on friends for feedback, and learn any songs the character may sing. I try my best to sing and perform like they do. I also do my best to learn their accent (if they have one) and speak like the character.
Where do you look for inspiration?
I am inspired by so many different things...I find inspiration in very different places for the different things that I do. For instance, with music, it could be anything from anywhere. Movies, books, video games ... pop culture stuff, to personal experiences, dreams that come in my sleep, or other songs I love ... sunshine, rain, a word, a phrase, my current nail polish color haha ... anything! With every song I actually finish I always feel like it's a fluke it happened. I have so many unfinished songs, it feels like a miracle whenever I manage to complete one and am remotely happy with it.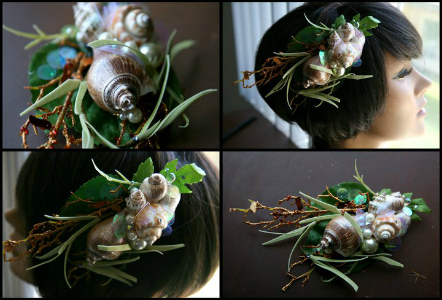 (original hairpieces by Traci Hines available on her Etsy shop, SirensGrotto.com)
With more visual things, like costumes, I take inspiration more directly from the source, and usually work with a more solid concept. Thank God for the Internet—I don't always have time to leave the house for inspiration when I've got a due date on a project! When I need inspiration fast, I go to Google. Don't we all?
What was your favorite cosplay to design and what was your favorite event?
In regards to cosplay, for me, nothing will ever compete with Ariel, the Little Mermaid. She's my favorite character of all time, from my favorite movie of all time, and naturally is my favorite to portray. Out of all the costumes I've worn and characters I've portrayed, when I portray her, I feel most like myself, so it feels natural. It's pure fun! Ariel is my favorite because of her flawless voice and bubbly personality, but I also am a bit mermaid-obsessed, and absolutely love her visual as well. My favorite is her mermaid look, and I am always creating new versions of it for different events and photoshoots—always trying to improve!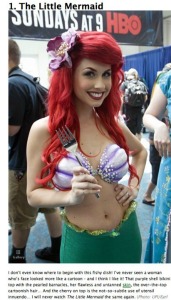 (San Diego Comic-Con 2010, where she was named the #1 Sexiest Chic at Comic-Con by Starcasm.net)
I think one of my most memorable and favorite events to date was Anime Expo 2008, when I wore my first Ariel costume for the first time. Looking at the photos now, I cringe! I've learned so much since then! But I got such an amazing response from it, and the best memory I have from that convention was becoming a finalist in their singing contest, AX Idol, and singing on the Nokia Theater stage for thousands of people. I had changed out of the Ariel costume for the show, but by that night people were recognizing me even out of costume (I suppose my red hair helped!) and the response from the audience was what every singer dreams about ... thousands of cell phone lights waving like a sea of fireflies, and deafening applause. For the first time I felt like a recording artist and performer, instead of a girl who merely dreamed about doing those things. And that was the true start of my career in my opinion. That and my YouTube following, which was still fairly new for me at that time. I'd been performing, even at large venues, for years, but this was different. As much as I'd like to think people would respond to me as a singer in any look or style, I have a feeling that my Ariel portrayal had something to do with the impact that performance made. I heard calls of "mermaid girl!" from the audience as I walked off the stage. Little did I know my mermaid career was about to begin as well!
It was also my first time singing in Japanese! Towards the end the camera turns around and you can see the cell phone lights!
Have you ever found an adequate Prince Eric cosplayer?
I've seen some awesome Prince Eric cosplayers, but I'm still holding out for one of these three dead-ringers to call me up for a photoshoot: Matt Bomer, Darren Criss or Ian Somerhalder. Seeing as how they're all big-time celebs, I'm not counting my chickens, haha, but those are the only faces I've ever seen that I think resemble the cartoon Eric. Costume or no costume, they just work.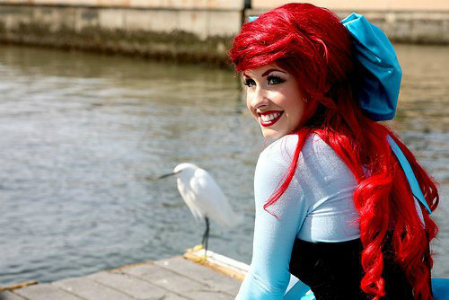 (photo by CamOden.com, costume by Lisa Fabio)
Have you ever considered portraying a villain, such as Maleficent, or do you prefer to remain a more positive role model?
Shhhh! You're going to give away my big reveal! Yes, I love villains, especially Disney ones! Funny that you mention Maleficent—she has been on my cosplay-to-do list for years, but finding time and additional funds to do cosplay solely for fun has been hard lately. I am so busy with work that I usually just focus on costumes that I will be using for live performances, album covers and the like. I have so many *dream* cosplays, many of them villains, but time will tell if I'll be able to make them happen! I sure hope so!
I strive to be a positive person in my daily life; I'm a very 'glass half full' kind of girl. I wouldn't call myself a role model, though I do my best to hold fast to my morals and be honest and public about who I am and who I strive to be, with the help of my Heavenly Father. I have a strong faith, and the Lord is my compass.
I do believe this world needs more positive role models, and I understand that by being in any sort of public light, people may refer to you as such, regardless of whether you want them to or not, so I do my best to hold myself accountable and take very seriously the responsibility that comes with that. However, I don't believe that as an actress, portraying villains or "evil" characters is a reflection on who you actually are on the inside, or makes you into a less positive role model for those that might see you in an authoritative light. Acting is acting, and I love a challenge! I also love the makeup concepts and costuming inspiration that comes from these more sinister characters. I've portrayed original characters in photo shoots that are pretty creepy, like my Dark Fairy for Ghoul-Girls.com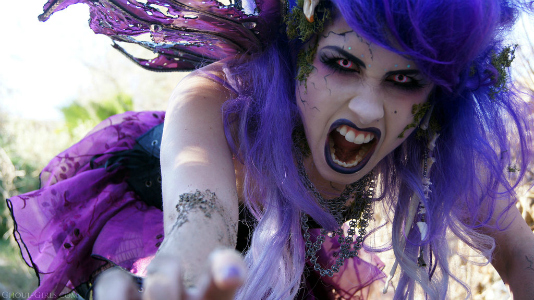 (photo by VampireKitten aka Candace Miller)
If that's not a villain I don't know what is! And my zombie for a glam zombie shoot: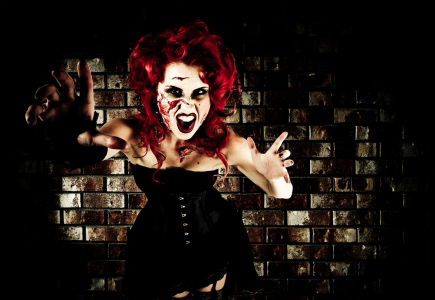 (photo by BenjaminHines.com)
For me, it's all about the transformation, and I get so excited when I get to portray new characters and try out new looks to see how well I can pull them off with styling! As a makeup artist, it's really fun for me to learn how to morph my features with each new challenge, and as a hair and wig stylist, creating the new hairstyle/s is always such a blast! Here are a few of my more dramatic looks, where I am much less recognizable than in my more widely-known princess looks: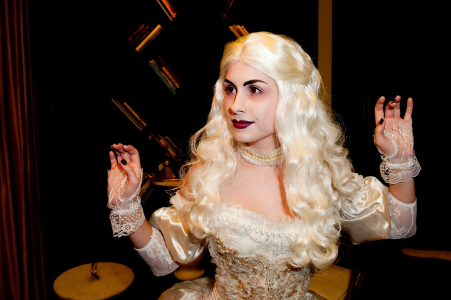 (Tim Burton's White Queen, photo by LisaRosePhoto.com, costume by Lisa Fabio)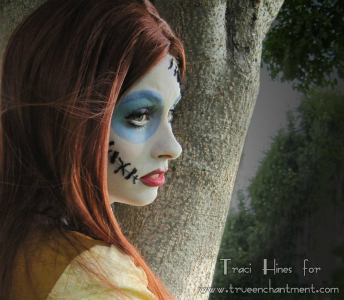 (Sally from Nightmare Before Christmas, photo and costume by Lisa Fabio)
What was your favorite Halloween costume growing up?
Hard to say! I remember my grandmother made me a Snow White dress that I loved when I was really little...and years later I remember proudly wearing my store-bought Princess Jasmine costume to Disneyland wishing I looked just like her, despite my blue eyes and blonde hair! I think my all time favorite though is actually my Alice in Wonderland costume. I made it for myself for Halloween when I was 16. It was the first thing I ever made, and I still wear it to this day!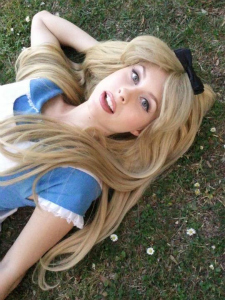 (photo by Lisa Fabio)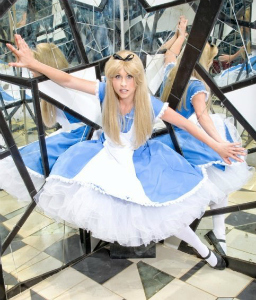 (photo by Jason Holmes, costume by Traci Hines)
Alice is technically the first Disney character I portrayed seriously. Even before Ariel! Alice is very near and dear to my heart. (-;
Thanks so much for the interview! It was so much fun!