by Chris Harder
What does a theater-going geek have to look forward to in 2012? A whole heck of a lot! 2012 is going to be a huge year for blockbusting, geek-pleasing films. The only snag is, well… I hope you like 3D. A whopping eight out of these ten films are being "featured" in 3D. Why is this? Well, there are many reasons, including a premium price on 3D tickets, as well as a premium price on the subsequent Blu-Rays that feature that fourth "super" disc with the film optimized for home theater 3D. However, even if 3D isn't your thing, these films are sure to be great enough that you won't even care. Many of the year's biggest releases are looking to original comic book source material or other cult classics for inspiration. So, here are the top ten films, in chronological order, to look forward to in this New Year, starting with:
Star Wars: The Phantom Menace (3D) - February 10th
| | |
| --- | --- |
| | My guess? About two years ago, in a galaxy nearby, George Lucas patted his back pocket and said, "This doesn't feel as thick as it used too." Thus, the Star Wars films are coming to theaters in spectacular, Skywalker 3D. Unfortunately, this chronological release schedule gives us the weakest of all the Star Wars films first, which is a real shame. Lucas, like many of the major big-budget filmmakers out there, loves to use technology, innovate, and push the limits. Is a re-release in 3D doing any of that? I'm not sure yet, but I have a hard time seeing how post-converted 3D can be that revolutionary, since great 3D isn't really that great, anyway. Now, that's just my opinion and it doesn't mean much, but my fellow consumers are also voting with their wallets, considering the traditional 2D version of Pirates of the Caribbean 4: On Stranger Tides made more than its counterpart last year. That being said, as a ravenous Star Wars fan, will I be seeing The Phantom Menace in theaters this February? You bet I will. |
Ghost Rider: Spirit of Vengeance (3D) - February 17th
| | |
| --- | --- |
| There hasn't been much buzz about this film, but in my opinion, it has one redeeming factor from its otherwise apparent mediocrity: Nicolas Cage. Nic Cage stars once again as the biker from hell, and that's something to be excited about. I've never been a major Ghost Rider fan, always considering him a B- or C-list character of the Marvel universe, so I'm not exactly excited for this film based on the source material alone. Not to mention the post-converted 3D process being applied, attaching the gimmick of flaming chains being whipped in your face, no doubt. I hope this film has a campy feel and Nic Cage just goes wild and turns in an equally campy performance, but my guess is that this film takes itself a little too seriously and ends up being one of the weaker Marvel efforts since, well, the first Ghost Rider. | |
John Carter (3D) - March 9th
| | |
| --- | --- |
| | Disney's John Carter looks interesting, but incredibly strange. I have to say that I'm intrigued, mainly based on my Disney fandom and adoration of Andrew Stanton's Pixar work (WALL-E, Finding Nemo, A Bug's Life). The Edgar Rice Burroughs character dating way back to 1912 is brought into the 21st century with a high-budget, CG-padded film, with the lead role being played by relative newcomer, Taylor Kitsch. He did play Gambit in the disappointing X-Men Origins: Wolverine, so he already has a little bit of geek cred, but we'll see how he handles a major role in this film. In case you're not familiar with the original novels, the story is about an American who ends up being transported to Mars to help save the planet. I wouldn't say this film is on the top of my excitement list, but the trailers have peaked my interest, touting high fantasy and action. This will either be another Prince of Persia for Disney or it will end up being the next Pirate's of the Caribbean franchise. Disney, of course, is hoping for the latter. |
The Avengers (3D) - May 4th
| | |
| --- | --- |
| This might be the biggest, geekiest film to hit this year, and it kicks off the summer season in style. The Avengers is the culmination of all the solo Marvel superhero films from the past few years, bringing them all together for one giant, planet-sized blockbuster. The hype has been on a steady incline ever since Comic-Con last summer, and I see the trend continuing all the way up to May. You probably know everything about this film already, but in case you don't: the film features Iron Man, Hulk, Captain America, Black Widow, Hawkeye, and Thor assembling the Avengers for the first time. What's astonishing about this film is that the villain hasn't officially leaked yet. Personally, I'm kind of hoping for a Skrull story or even bring on Galactus, but I doubt that's going to happen. Like Ghost Rider, this film is also being post-converted to 3D. No doubt Captain America's shield will be thrown right at you at some point, but maybe you'll be in the 2D theater and not have to deal with that. Hopefully. | |
MIB III (3D) - May 25th
| | |
| --- | --- |
| | There's a lot to be said about Men in Black III, but there is one pressing matter that rises above all others upon watching the trailer for the film. Is Will Smith himself, indeed, an alien incapable of aging? Look at Fresh Prince in that new MIB trailer and tell me how he's aged. The man looks the exact same as he has since 1994, with the exception of some minor frown lines. I'm not sure if this is movie magic, or what, but I'm obsessed. Whoever did the makeup for this film should get the Oscar, hands down. Now, onto the actual film, J and K are back together for more MIB goodness. That's it! I absolutely loved the original Men in Black and I'm excited to see more of that universe. The film is in 3D, and I can't believe they haven't altered the title to reflect that with "MIB3D," but there is still time. |
Prometheus (3D) - June 8th
| | |
| --- | --- |
| Originally, Prometheus was said to be the much-anticipated and heavily rumored sequel film to Ridley Scott's Alien. There has always been a lot of mystery and questions surrounding the origins of the aliens seen in that horror franchise, and though Prometheus may have started as an answer to those questions, it ended up being its own project unrelated to any other property. The secrecy around this film is high, and we don't know very much right now, except that the story revolves around a future group of humans discovering ancient links to the origins of humankind. The short trailers that have come out show a very dark, frightening world, and the poster features a monolithic human face bathed in shadow. Ridley Scott is a well known filmmaker of many well-respected movies including the original Alien, as well as a personal favorite of mine, Blade Runner. It will be interesting to see how the 3D looks in this physically dark film, as that is typically an issue. I'm always excited to jump into a new sci-fi world, and this one looks to be top notch! | |
The Amazing Spider-Man (3D) - July 3rd
| | |
| --- | --- |
| | The Sam Raimi Spider-Man trilogy started with a bang, and petered out with a sad, "too many villains" whimper. Thus, Sony reboots the franchise with new actors and director, and surprisingly, it looks amazing! Biggest bone thrown to the geeks in this rendition is that Spider-Man actually has mechanical web shooters. That right there makes me happy. I'm usually against little nerd quibbles with movies infracting on source material, but that was such a major revision, that it always bothered me, even amidst the greatness that is Spider-Man 2. Andrew Garfield (The Social Network) takes on the role of Peter Parker, and Hollywood's current "it" girl, Emma Stone, plays Gwen Stacy, another reassuring nod made in the direction of purists. I'm excited to see Spidey in high school again, and I can't wait to see how the Lizard is portrayed, as he has always been one of the most interesting villains. You probably won't be surprised to hear that this film is in 3D, but this one might actually be worth it, because I'm guessing web swinging in IMAX 3D is nearly theme park-esque in its end result. Excelsior! |
The Dark Knight Rises - July 20th
| | |
| --- | --- |
| A mere few weeks after Spider-Man's appearance, DC throws Batman in the box office ring for an epic, cross-company duel. My prediction? The Dark Knight Rises will be the top earning film of 2012. That might be bold, but if you look at The Dark Knight, you can see why I'd predict such a thing. Of course, that film had the mystique of Heath Ledger, as well as the sadistic charisma of the Joker, but this film is the end of Christopher Nolan's Batman trilogy, and that is going to drive enough of the on-the-fence curious folk out to the theaters to take this in, right along with the dedicated fans. I've been a huge proponent of Nolan's take on the Batman universe, and I even wonder if he will be so bold as to kill off Batman to end his dark trilogy. There have been so many interesting rumors swirling around this film that I'm just not sure what to expect as far as cameos or story. Is the Riddler in it? Nightwing? Batgirl? Will Bane break Batman's back? I don't know, but all of those have been rumored or foreshadowed. This is definitely my most anticipated film of the summer, more so than the Marvel offerings. I'll be sad to see it end, but there is no way I will miss the send off. (And if you are one of those fans, don't forget to pick up a sexy Catwoman costume for the midnight premiere.) | |
The Hobbit: An Unexpected Journey (3D) - December 14th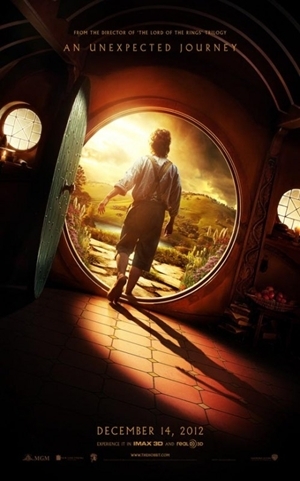 While The Dark Knight Rises is my most anticipated movie of the summer, The Hobbit is my most anticipated film of the entire year. There was a long time there where Peter Jackson wasn't getting along with New Line, so other directors were being mentioned to take the Hobbit helm, which was dismaying to say the least. Peter Jackson owns the cinematic representation of Middle Earth and, to be honest, I don't really want anyone else touching it. So, I am elated to know that he is back in Bag End, filming dwarves, wizards, and Hobbits. I love the original book, and I know that Jackson will knock this one out of the park, balancing source material with the needs of the film medium. That's a lot of assumptions (and you might even call it faith), but look at his track record, and you'll see why I'm right there with him. December 2012 can't come soon enough, because I'm all packed and ready to head out with Bilbo into the Misty Mountains. Oh god, I hope this year goes by fast.
Django Unchained - December 25th
| | |
| --- | --- |
| I'm not sure if Christmas Day screams "slave vengeance spaghetti western" to me, but hey, Quentin Tarantino probably knows what he's doing at this point. I would never pick this film for my annual family outing on that day, but you can bet that I will be in the theater checking this film out on December 26th. I've been a huge fan of almost everything Tarantino has done; he is one of those pop directors that seems to brood the feeling of an actual theatrical event, something to look forward to and savor as a genuine move-going experience. That is quite rare these days, even amongst commercial blockbusters. There's just something unique about a Tarantino film, maybe because he is always pushing the envelope in his material, and you never know what to expect from him. While not sci-fi, I knew I had to include this movie in my list. In case you didn't know, this film is in the spiritual vein of the cult Django spaghetti western films from the 1960s, and features Jamie Foxx as an ex-slave who sets out to free his wife from a plantation owner played by Leonardo DiCaprio. Fantastic cast, intriguing story and setting, and a brilliant director makes Django Unchaineda glorious—and likely brutal—way to end the year at the movies. | |