As the regular season comes to an end and the playoffs begin, the big names of the NFL stand out more than ever. You would think this would make the decision a little easier for those kids who'd like to dress up as their football idols. However, for every Aaron Rodgers, there's a Tony Romo. For every Peyton Manning, there's a Drew Brees. How could anyone choose? To help you pick just which jersey to buy in time for the Super Bowl, we've run down the best of the best kid's NFL costumes:
Green Bay Packers Costume
Where would the Green Bay Packers be without the man who fills out his Aaron Rodgers costume the best? America's team from the heartland has been very good for #12 during his illustrious young career. From his moves to his spiral, he makes everything look easy in green and yellow, which is why everybody's scrambling to get the shirt off his back. If he's not on the field, enjoying the fruits of Clay Matthews' labor, he's just on the sideline planning his next attack on unsuspecting defenses. (Or defending his championship belt dance in a State Farm commercial.) Now, you can look just like Aaron with this kid's Halloween costume for the record books.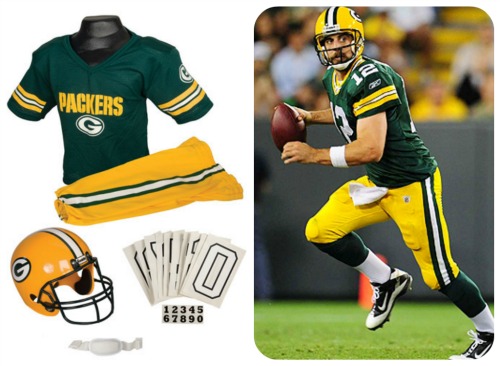 Kids Aaron Rodgers Halloween Costume
Denver Broncos Costume
The Denver Broncos sure were quite the surprise in 2011, thanks to players like Willis McGahee and Eric Decker. But when it comes to dressing up as an NFL player, your son or daughter's childhood hero will only be one name. And you'll find yourself in need of a kids Tim Tebow costume before you can take a knee. His team's narrow wins and often miraculous performances are drawing skeptics and fans alike from coast to coast. The question is: will he be able to carry on this winning tradition? Only the playoffs and coming season can tell. Meanwhile, we'll be watching in wait to see if we have another star emerging right before our very eyes.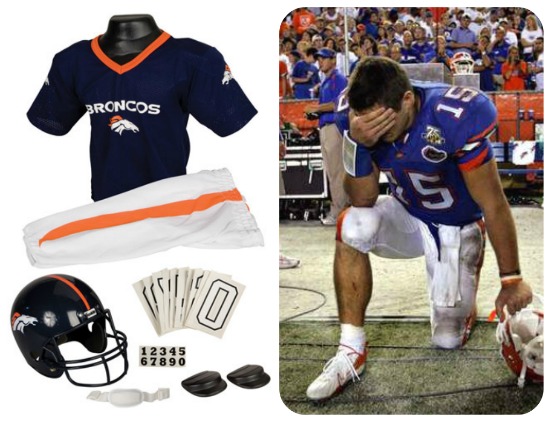 Kids Denver Broncos Uniforms
Dallas Cowboys Costume
Just like one of the NFL's most solid of quarterbacks, this kids Tony Romo costume will your child feel invincible. With a variety of playmakers (and a jumbo-tron screen that dwarfs many modern movie theaters), this dynamic group of Dallas Cowboys, affectionately nicknamed "The Boys," puts a lot of faith in their strong leader, who just so happens to have a cannon for an arm. The blue and silver No. 9 looks great as a costume. And we do mean great, as in Romo-to-Dez-Bryant-for-a-touchdown kind of great. It's the kind of greatness that'll stick with your child for all time.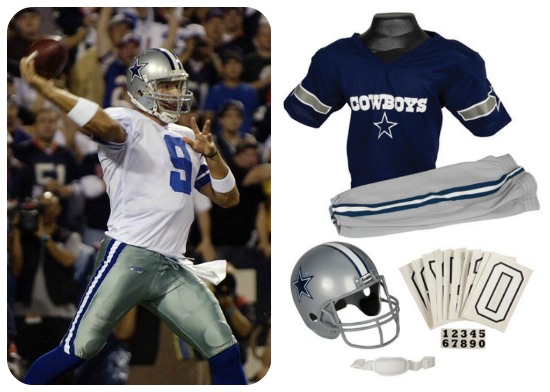 Kids Dallas Cowboys Halloween Costumes
Pittsburgh Steelers Costume
With their classically tight defense, the Pittsburgh Steelers have always been a force to be reckoned with in the NFL. But with your kids' Ben Roethlisberger costumes, they can feel confident putting on an aerial offensive like their favorite black and yellow bomber. Big Ben leads one of the league's most potent teams, combining a sound passing and running game with veteran leaders like Rashard Mendenhall and Troy Polamalu, who are poised to go all the way. And with costumes like this, everyone can feel like they are part of the action as they cheer on their favorite team to victory in the playoffs and beyond. (Wig not included in Troy Polamalu costume.)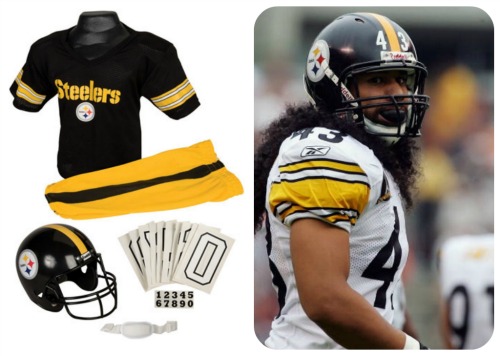 Kids NFL Steelers Halloween Costume
Minnesota Vikings Costume
Regardless of their misfortunes in recent years, there have been plenty of standouts amongst the Purple People Eaters, otherwise known as the Minnesota Vikings. That's why a kids Percy Harvin costume or Adrian Peterson costume makes for the perfect surprise to your youngsters. Plus, there's no better way to perfect your hog-tie move than a #69 Jared Allen costume. (Mullet not included.) Having come within tasting distance of the Super Bowl about half a dozen times in their history (and never winning a single one), the Vikes are hungrier than ever for that elusive final win. It means it will be even sweeter when that day comes for anybody holding on to purple and yellow gear. In the meantime, the costumes can be used to sop up any tears of joy or otherwise.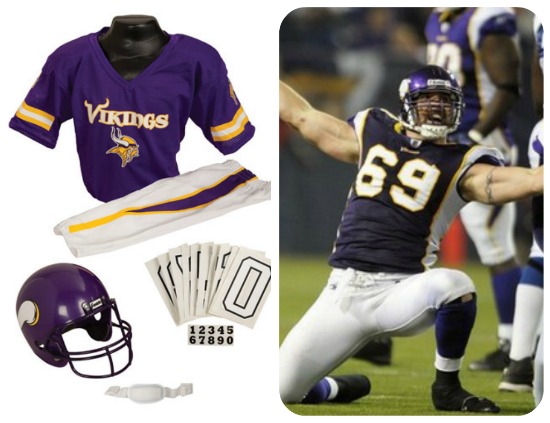 Kids NFL Vikings Uniform Costume
Indianapolis Colts Costume
One of the most recognizable current NFL players is Peyton Manning of the Colts. Peyton holds, oh, about a thousand records, including four NFL MVP awards, and he has appeared on SNL and TV commercials with heartthrob Justin Timberlake. So, of course, a kids Peyton Manning costume would be perfect for the upcoming playoffs. Dress as the QB in blue and white and you'll look like a pro, all the way to the Super Bowl.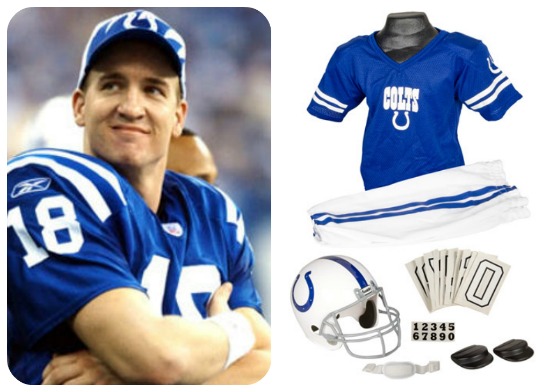 Kids Indianapolis Colts Costume
Atlanta Falcons Costume
Looking for Atlanta Falcons memorabilia, such as Michael Turner jersey costumes? Why shouldn't you be? The Falcons are consistently a contending force in the NFC South. On one hand, you can recreate the dazzling receiving duo of Julio Jones and Roddy White with some sweet kids NFL costumes. On the other, well, what looks cooler than a flash mob of the baddest red and black uniforms around? The Falcons are a team that never apologizes for the magic they often spontaneously create every Sunday. The easiest way to celebrate this besides potato chips and soda pop? Don the full regalia yourself to make it feel like you are right there with them.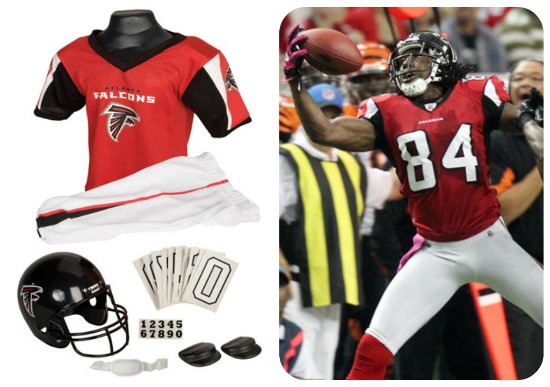 Atlanta Falcon Uniform Costumes
Washington Redskins Costume
The Washington Redskins, the other football pride of Maryland, are known for rich, longstanding traditions, as well as very supportive fans. Out there, you are either with the Ravens or you're in the stands at FedEx Field wearing a Rex Grossman costume. Heck, even the young ones can take part in the fun of dressing up with a kids Jabar Gaffney costume. The important part is you stand as one as you take on the fierce foes of the NFC East. Watching the big game dressed just like your favorite maroon and gold players will remind the whole family that their heads are in the game. (Whether or not the referee has his in there, too, is a different story.)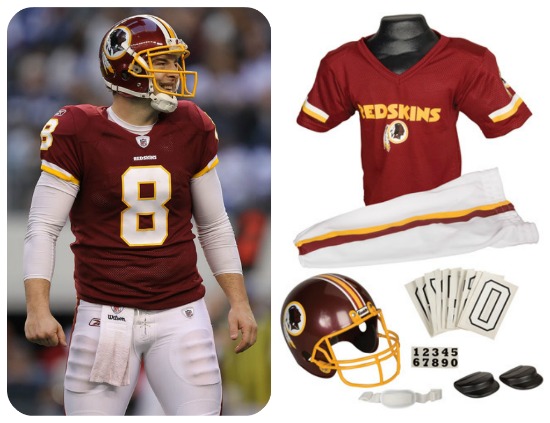 Philadelphia Eagles Costume
With one of the hottest and most controversial names in football leading their charge, the Philadelphia Eagles simply look great with #7 commanding the troops. Indeed, Michael Vick costumes are flying off the shelves everywhere in support of one of the flashiest players the NFL has ever seen. It is tough to argue against the sheer amount of ground he covers, the long passes, as well as the short ones, and even his penchant for breaking away on big runs. No matter his history; the name alone strikes fear in opponents from division to division, making the Michael Vick kids uniform costume the one to get this year.
Kids NFL Philadelphia Eagles Costume
New England Patriots Costume
Just mentioning the New England Patriots brings to mind a healthy selection of Pro Bowlers and a myriad of other phenomenal players. It always proves to be a popular initiative every Halloween to suit up in a Wes Welker costume or, of course, a kids Tom Brady Halloween costume. The Pats always seem to be atop the standings, proudly running over opposing teams with a head of red, white, and blue steam (did we mention they are loaded with talent?). Wearing a Patriots uniform costume will help you exude confidence and become the super fan everybody knows you have inside you, just waiting to bust out.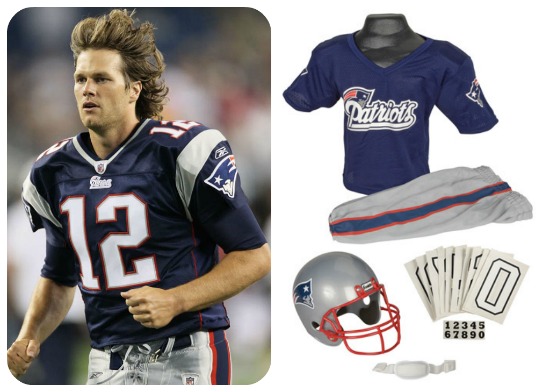 Kids Tom Brady Costume
New Orleans Saints Costume
Arguably the best quarterback to come out of the lower 48 in the past decade is Drew Brees, and nobody's quite enjoyed the accolades in a #9 uniform like he has. He moves like a gazelle, has an unbelievable rocket for an arm, and can visibly steer his team to a win in the face of a tough challenge. He is the poster boy for generations of honorable athletes and fans, and now you can own a piece of him with kids New Orleans Saints costumes made specifically for the true die-hard in your little one. After all, nothing quite says 'Who Dat?' like a Drew Brees costume in black and gold.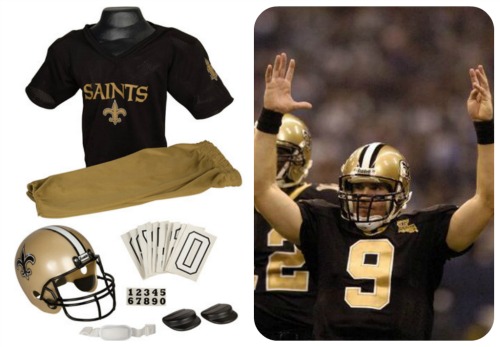 NFL New Orleans Saints Uniform Costume
This article was put together by Drew Nelson. Drew didn't have any football jerseys when he was a kid, but if he did, he "woulda bounced to school with a big smile" on his face.