What should you wear to fit your body type? It's a question we all ask! There are many different articles of clothing that can either help show off our wonderful assets or slightly cover up something we don't necessarily want showing. Dressing for your shape comes into play while shopping for your day-to-day wardrobe, but it's just as important during Halloween. The costume experts at HalloweenCostumes.com have created a guide to help you make the perfect choice this October!
HOURGLASS
WHAT IS IT? If you have an hourglass shape, you have a balanced figure. Your hips and shoulders are the same width and your waist is well-defined. When people call a woman curvy, this is the body type they are talking about!
STYLE GOAL: To play up your sexy curves without adding any extra bulk to your chest or hips.
LOOK FOR:
Fitted clothes. You have one of the few body types that can pull off skin-tight outfits. Take advantage of it! Classic pencil skirts will show off your voluptuous hips without adding any bulk.
Defined waistlines. Try a wrap dress; this will bring attention to your slender waist. V-neck tops also can flatter your shape. Another item to draw eyes to your middle is a fashion belt, cinched around your waist.
STEER CLEAR OF:
Too baggy! Why cover up your awesome figure? Work those curves, don't hide them! Outfits that include an empire waist will complement your defined middle. Be sure to avoid dresses that won't bring the eye to your midsection.
Too bulky! Balance is important to an hourglass figure. Adding a large belt on your hips will off-set the curves and can make you look bottom-heavy.
Too busty! Women with an hourglass shape should avoid a high neckline, which accentuates your chest and will make your top look disproportionate to your bottom half.
TRY THESE HALLOWEEN COSTUMES:
Sexy Catsuit. There's no better way to accentuate your hourglass shape than with a skin-tight, non-bulky body suit. This costume is all one-piece and will help keep you looking sleek, while hugging your curves.
Cinderella. Thanks to the puffed sleeves and the embellished waist, this Cinderella dress will definitely complement your hourglass shape.
Mob Boss Gangster. This costume is a perfect example of how a pencil skirt can help show off what your mama gave you. The form-fitting garment helps flaunt your womanly curves, all while keeping your figure slender. The slightly-capped sleeves also help to accentuate your top half, keeping both parts of your body in balance.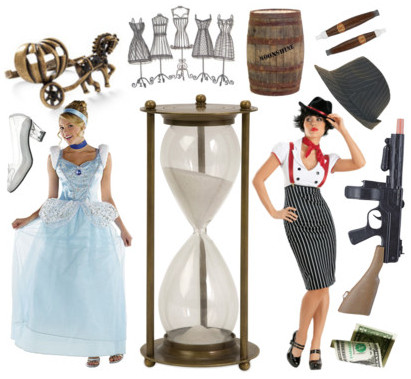 APPLE
WHAT IS IT? The apple shaped body type is also referred to as the inverted triangle. If you have this figure, you have broad shoulders, a large chest, and small hips. If you gain weight, the bulk will most likely go to your tummy.
STYLE GOAL: Too add curves to the bottom half of your body, creating a balance to your figure.
LOOK FOR:
Full Skirts. A full circle skirt will add volume to your hips and below, as well as an a-line skirt with details on the hips. Keep the skirt at least knee-length! Otherwise, anything shorter will make your body look blocky and top-heavy.
Embellished Tops. A deep v-neck will help carry the eye down to your midsection, which will create a balance between your larger top and narrower bottom.
STEER CLEAR OF:
Super 80s! Your shoulders are already broad, so try not to emphasize them with killer shoulder pads. In fact, stay away from big collars, too.
Super skinny! Tapered pants and skirts will create the illusion of a pin-like body and will only highlight and elongate an inverted triangle.
TRY THESE HALLOWEEN COSTUMES:
Marilyn Monroe. The halter top in this dress definitely will complement your apple shape, thanks to the v-neck cut and lack of sleeves.
Fortune Teller. Check out that hip scarf! The bright colors and bold patterns of the skirt will create the look of a sexy, full lower body.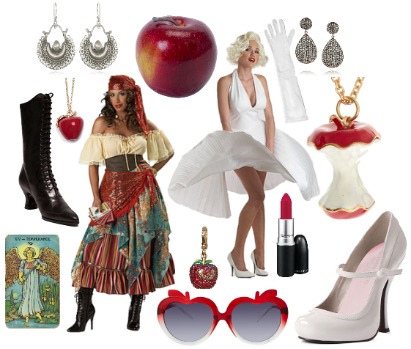 PEAR
WHAT IS IT? A pear shaped body type can also be called a tear drop, but that sounds a little unhappy, doesn't it? Pear bodies are smaller on top, with narrow shoulders and chest, with a bigger bottom half, including full thighs, hips, and booty.
STYLE GOAL: To balance the top half by creating the appearing of a wider upper body, as well as add structure and shape to the waist.
LOOK FOR:
Fun accessories! Go crazy on top. Pick out some chunky necklaces or dangly earrings to bring attention to the upper half of your body. An embellished neckline on your top can also do the trick, as well as some shoulder pads (if you're feeling extra brave!) Fur collars and wild sleeves are your friends.
Waist definers. A-line dresses will create a look to your figure that will emphasize your waist. Pick dresses with decorations on the bodice, such as beads or sequins, and focus will be drawn to the upper-middle section of your body.
STEER CLEAR OF:
Attention to hips! Don't choose pants or skirts with a bright design on the hip – this adds bulk and is not what you want. Cargo pants, or bottoms with buttons or pockets around the hips, won't do you any favors.
Attention to your behind! Tight, stretchy dresses or tube-shaped skirts are a no-go; that fabric and fit won't be forgiving.
TRY THESE HALLOWEEN COSTUMES:
Cruella Devil. Cruella's awesome, animal-print fur collar (so faux!) definitely gets the job done. All the exciting stuff of this costume is on the top half; besides the collar, there's the bright makeup and the wig.
Sexy Devil. The detail on the top of this dress really draws the eyes up. Bright sequins, cute peak-a-boo cut out, and gold chains – these accents will steal the show! The empire waist will help define your midsection while covering up the hips.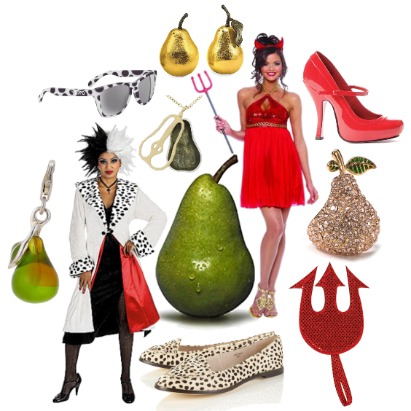 ATHLETIC
WHAT IS IT? Athletic bodies can be compared to a rectangle and women who have this body type are slim, with a small bust and hips, and are usually tall.
STYLE GOAL: To add curves to the body by defining the shoulders and waist.
LOOK FOR:
Fitted clothes. To add curves to the body by defYou've got a nice body, so you should show it off! You're one of the few types who can pull off skinny jeans, so do it for the rest of us! Wrap dresses can create the effect of curves by defining the waist. Don't be afraid to throw a fun belt around your hips, either!ining the shoulders and waist.
Show off your shoulders! To give yourself a more voluptuous look, you should emphasize what is smaller than normal. Buy tops with capped sleeves or pick a top that has no sleeves at all. An exposed shoulder will show off what's on top in a way that doesn't include stuffing your bra.
STEER CLEAR OF:
No shape! If you pick clothes that are too baggy, it'll be hard to create curves. For example, a tunic or peasant top will completely cover you up!
No length! Many women who are athletic shaped are also tall. Watch out for maxi skirts and full length dresses that might not hang as long as you'd like. You will have to be careful while shopping for pants, too.
TRY THESE HALLOWEEN COSTUMES:
Wonder Woman. Exposed shoulders, details at hips, corset top that defines waist – this costume has everything! This outfit brings attention to all the right places.
Judy Jetson. Like the Wonder Woman outfit, this costume shows off your shoulders, but in a different way! The exaggerated collar is a little out there for day-to-day wear, but for Halloween it's perfect.
Flapper. Even though this classic look can work on anyone from petite to plus-size, your athletic body type looks perfect in it! So, go ahead and take advantage of it. The classic, fringe dress worn by flappers in the 20s will hang beautifully off your slender figure.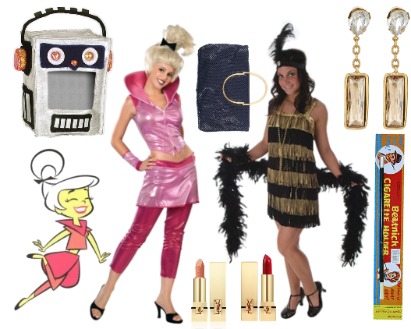 OVAL
WHAT IS IT? Women with an oval shaped body usually have narrow shoulders and hips, with the bulk of their weight in their waist and stomach.
STYLE GOAL: To create the illusion of a longer, inverted triangle shape, while bringing attention to the shoulders and face.
LOOK FOR:
Loose and flowing. While choosing a look, make sure to pick something that flows through the waistline and over your middle. Loose clothing will look and feel good! Un-tucked shirts, straight pants with forgiving fabric, and slightly flared skirts will all look great on you!
Exciting jewelry. Drawing attention to your face and shoulders will help to create an inverted triangle look. Try out an exciting new makeup look or throw on a beautiful scarf around your neck.
STEER CLEAR OF:
So clingy! Avoid tight and fitted fabrics that will cling too close. It won't be comfortable.
So tapered!Stay away from pencil skirts or skinny jeans. The narrowing look will make your body seem pointed, and will draw more attention to a wider middle.
TRY THESE HALLOWEEN COSTUMES:
Snow White. This sexy princess outfit will help emphasize your assets to give you a great look. The puffy sleeves will draw attention upwards, and the flowing skirt will hang loose over your hips for a comfortable and flattering effect.
Queen of Hearts. The eye goes straight to the face while looking at this outfit, thanks to the sleeves, crown, and collar. This costume looks exciting and cute, all while working to make your body look its best!
Glinda the Good Witch. Like the above outfits, this look focuses on the shoulder and face. The puffy sleeves do their job at shifting the focus up, but they also pull double-duty by covering the arms. The crown adds an element of fun, and the long, princess skirt flows right over the waist and hips.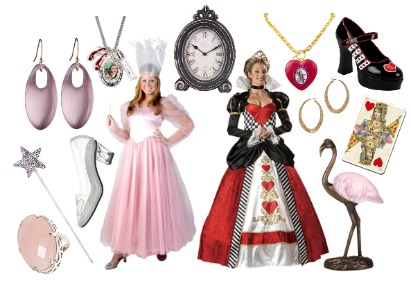 As always, when it comes right down to it, you should wear what you want! Halloween is a night to have a blast and look great, while feeling great, so it's important to love what you have on. Our women's costumes come in a wide variety of sizes, from standard to plus-size, so give them a peek. Have fun!