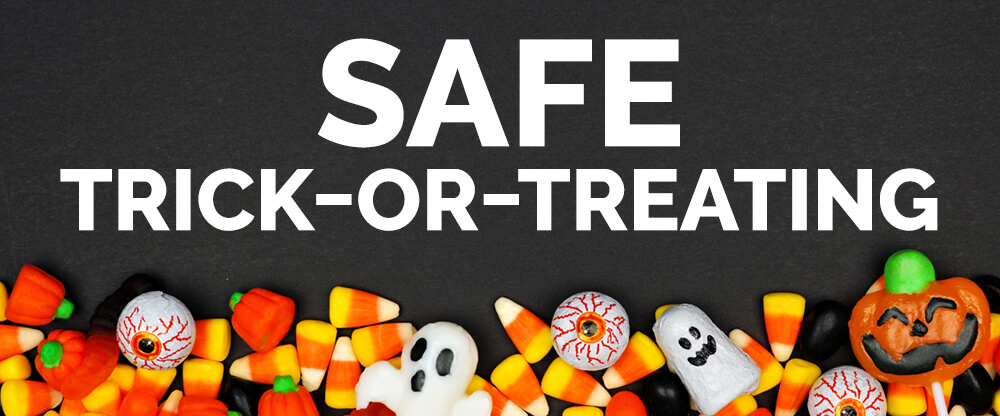 We understand that trick-or-treating will likely be very different in 2020. Sure, you may live in an area where families will be going door-to-door. But in many places, we'll have to practice social distancing or even remain indoors entirely. But that doesn't mean trick-or-treating (or Halloween) is canceled, only that we might have to make some changes. The upside is that we get to create new Halloween traditions, too! So let's talk about some ways that we can still celebrate Halloween with modified, safe trick-or-treating and other celebration tips.
But first, we wanted to show this great video on contactless trick-or-treating from our friends at Seeing Red. We'll cover some ideas mentioned in the video below, but we think it's a great introduction to the topic!
[Source: Seeing Red]
And now, on to our safe trick-or-treating ideas!
Grab Bags for Candy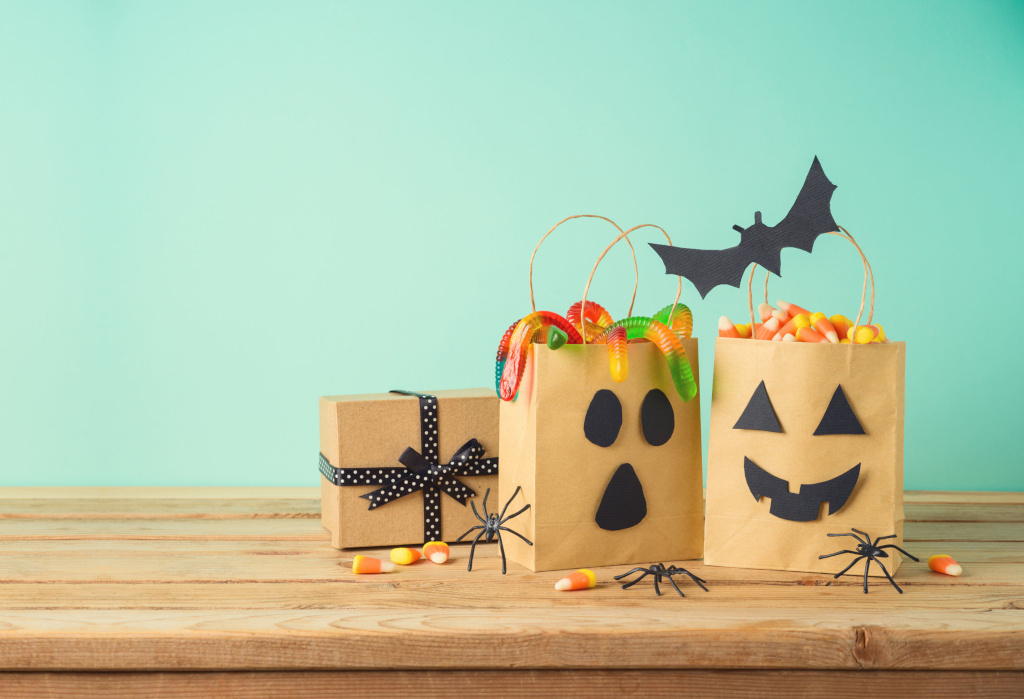 If you won't be handing out candy at your door this Halloween, you can always set up a self-serve "take a treat" station with grab bags of candy. Make them fun by drawing some Halloween-themed images on the bags. Be sure to illuminate the candy station and put out plenty of signs asking trick-or-treaters to maintain social distancing. A row of lights leading trick-or-treaters to the grab bags would be helpful, too. Also consider including toy bags for kids with allergies!
You could also turn those fun candy bags into boo bags for your neighbors! Just leave some candy bags at your neighbors' homes, but be sure to include a note so they know what's inside.
Safe Trick-or-Treating Printable Signs
Remember when we mentioned putting out signs for guiding trick-or-treaters to your candy grab bags? Because we totally made some free signs for you! Our signs have four sayings: "Safe Trick or Treating Here", "This Way to Treats", "Take a Treat", and "Please Wait Your Turn". Each sign is available in a dark or light version, and as a JPG (a normal image file) or a PDF (a file made for printing). Take your pick, they're all completely free to download and print for your own use!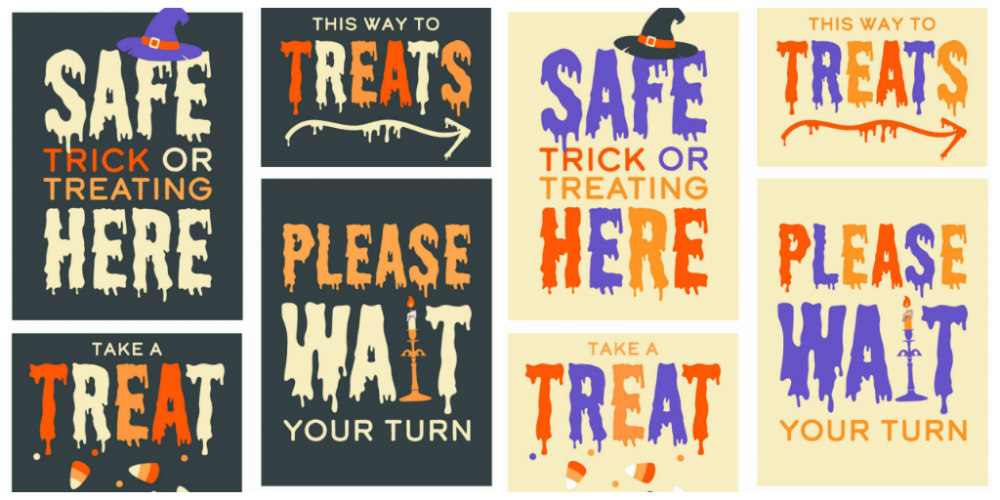 "Safe Trick or Treating Here"
JPG or PDF
"This Way to Treats"
JPG or PDF
"Safe Trick or Treating Here"
JPG or PDF
"This Way to Treats"
JPG or PDF
"Take a Treat"
JPG or PDF
"Please Wait Your Turn"
JPG or PDF
"Take a Treat"
JPG or PDF
"Please Wait Your Turn"
JPG or PDF
Colorful Pumpkins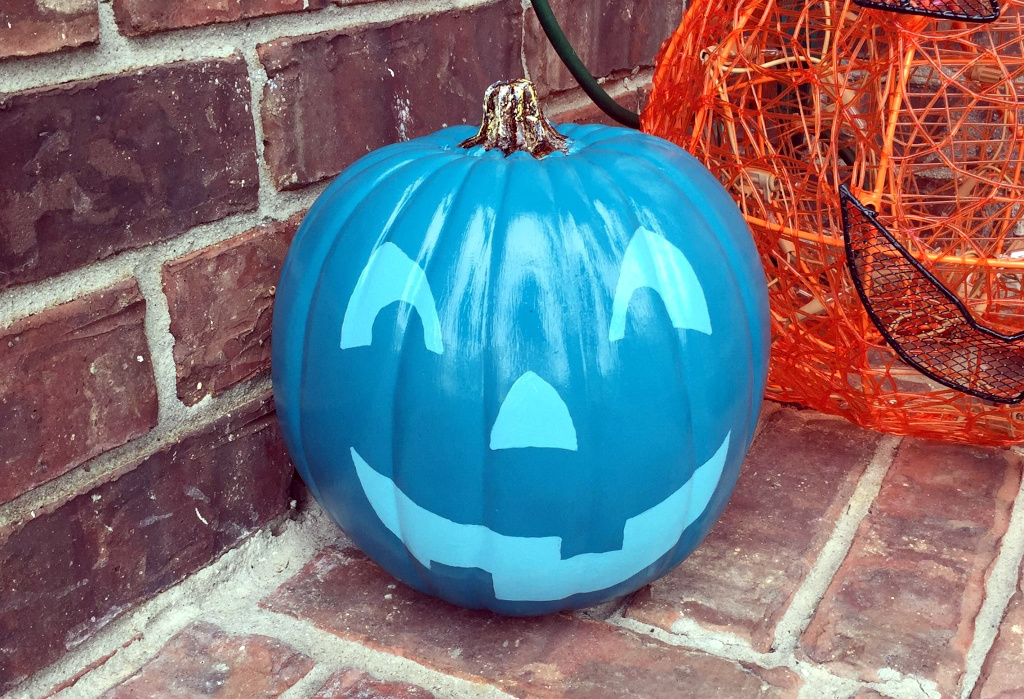 [Source: Teal Pumpkin Project]
You may have seen stories on the news about pumpkins that are painted teal, purple, and other colors. They're all about raising awareness and keeping kids safe, so let's talk about some ways you can help with that!
The Teal Pumpkin Project was started by Food Allergy Research & Education (FARE) to spread awareness about kids with food allergies. Many candies can be dangerous or deadly to children with allergies, so FARE suggests having non-food options like toys available for kids who want them. You can read more about participating at foodallergy.org.
The Purple Pumpkin project exists to raise awareness about epilepsy. If you'd like to help give out information and raise funds, you can get more information at epilepsy.com.
You may also see children with blue pumpkin buckets this Halloween! This is a recent trend started by the parent of a boy who is autistic and non-verbal. So if a kiddo with a blue bucket doesn't say "trick-or-treat!" on Halloween, please don't give them a hard time. In fact, consider being nice to every kid, as Katie Cloyd suggested at Scary Mommy. It's Halloween, give that candy away!
Halloween Candy Hunt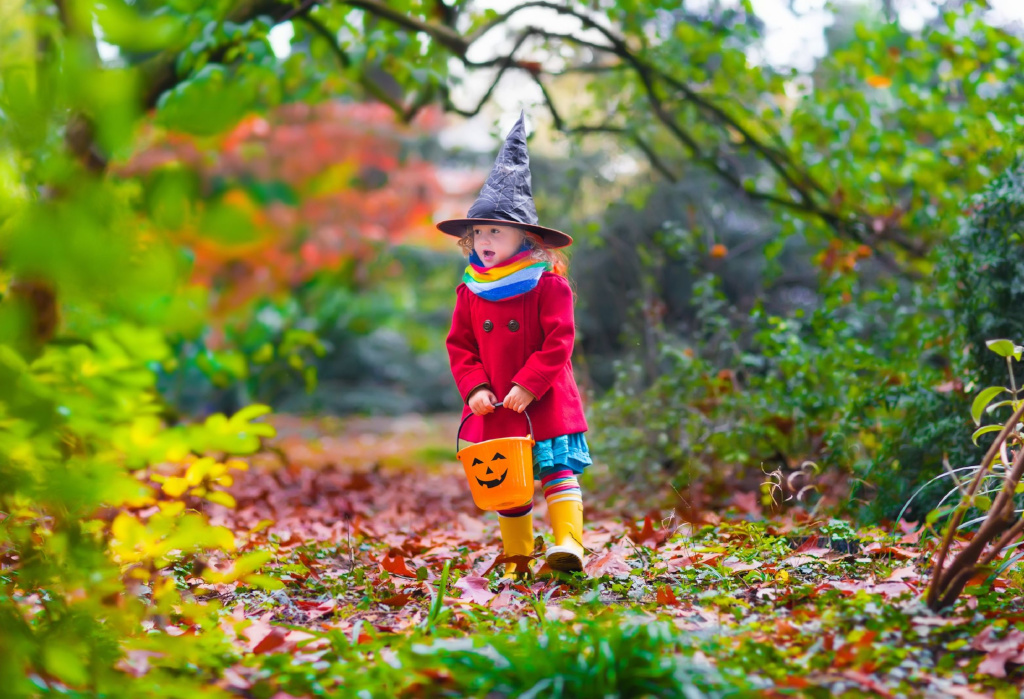 If your own kiddos won't be trick-or-treating this year, you might want to start a new Halloween tradition: the Candy Hunt! That's right, just hide Halloween-themed treats all over your home, backyard, or anywhere else it's safe to let the kids run free. You can also hide clues to bigger supplies of candy or make a map for them to follow. The Candy Hunt is a grand Halloween adventure for your children but also an easy way for them to burn off some energy. And remember, even if your kids are trick-or-treating this year, you can still add the Halloween Candy Hunt as an extra fun activity!
Neighborhood Halloween Parade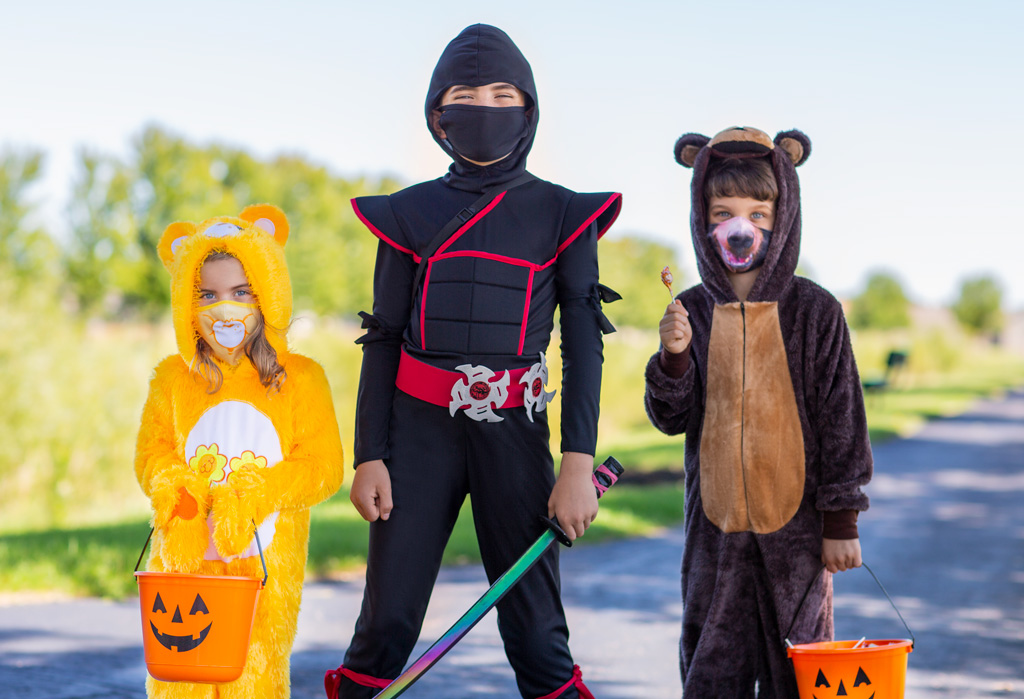 Even if they've got all the candy they can eat, we understand that kids will still want to show off their Halloween costumes. We get it, that's all we want to do, too! But if they're not able to go door-to-door, how about a socially distanced parade on the sidewalk? Talk with your neighbors—email, Facebook, Nextdoor, however!—and organize a Halloween Parade. The kids can walk through the neighborhood and all the parents can throw candy or leave grab bags to pick up. You could also follow this tutorial from Wicked Makers and build your own candy tube to deliver the treats:
[Source: Wicked Makers]
Make sure to take plenty of photos, and consider setting up a group photo album for your neighbors to post their own photos. It's a great way to show off those fun costumes while getting together as a community!
Will you be changing your trick-or-treating traditions this year? Or making new Halloween traditions? Tell us in the comments below. We'd love to expand this articles with new ideas from our readers! And if you're still looking for tips and tricks for celebrating Halloween this year, be sure to visit our "How to Halloween 2020" guide.