For many kids, the number 100 is a big milestone. Whether it's counting to 100 for the first time or realizing you just hit your 100th day of school, it's a huge deal! The actual day depends on the school district, but many schools will celebrate 100 days of school in January or February. If your child is taking part in these school festivities, they may want to wear a 100 days of school outfit. Check out our selection of centenarian costumes for kids below!
100-Year-Old Lady Costumes for Girls
Many kids who dress up for the 100th day of school wear centenarian costumes, also known as 100-year-old person costumes. Little girls will look cute dressed in floral print dresses paired with comfy cardigan sweaters and spectacles. These grandma costumes already have most of the items included, but you can always add some extra-chunky jewelry and a DIY walker made from PVC pipe and tennis balls.
100-Year-Old Man Costumes for Boys
Old man costumes for kids have a few essential ingredients: bow ties, plaid and sometimes a pair of suspenders. These grandpa costumes for boys already include everything minus a cane. But if you'd like to customize your boy's look or he had a plaid shirt that you want to use already, you can always use the old man costume kit for kids that comes complete with suspenders, a wig and a bow tie. Other fun items to add to your boy's 100-year-old man costume would be some wire-framed glasses and a sweater vest.
100 Days of School Accessories
If you plan DIYing any ideas for 100 days of school costumes, you're probably still going to need to pick up a few costume accessories. Whether you need some costume suspenders or grandma glasses, you can buy all of the accessories you need online at HalloweenCostumes.com! You can also find items like walking canes and costume jewelry, so take a peek to see what you can add to make your child's 100 days of school outfit picture-perfect.
Other School Costumes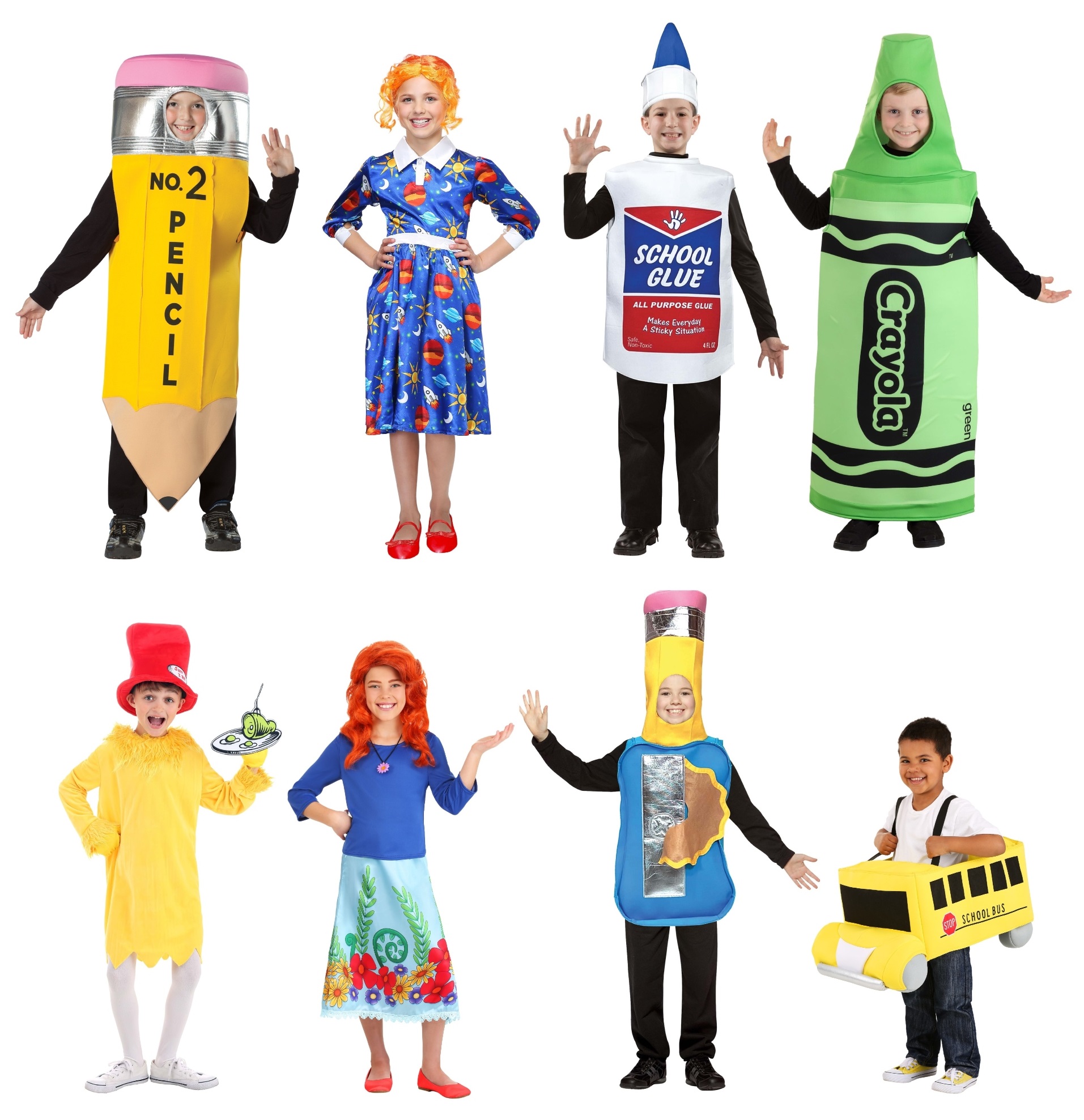 Maybe your child wants to dress up for the 100th day of school and they don't want to wear an old person costume, or they just want to wear a funny costume for spirit week. Whatever the case may be, we have some silly school outfits that are perfect for a classroom setting. Your child can dress like the coolest teacher of all time in a Miss Frizzle costume, or be their favorite school utensil. They can even be that gold star that they always want to see at the top of their school assignment. Also, who could forget that silly hand turkey art project? (Seriously, everyone makes one of those at some point in school!)
We hope you have plenty of 100th day of school dress-up ideas for your child. Whether your child is dressing like a 100-year-old or handing out 100 pieces of candy to the class, it should be a ton of fun! If your kid needs other costumes for school—whether they're doing a presentation on a historical figure, dressing for spirit week or doing a project as their favorite book character—check out our selection of kids' costumes online for the perfect outfit!