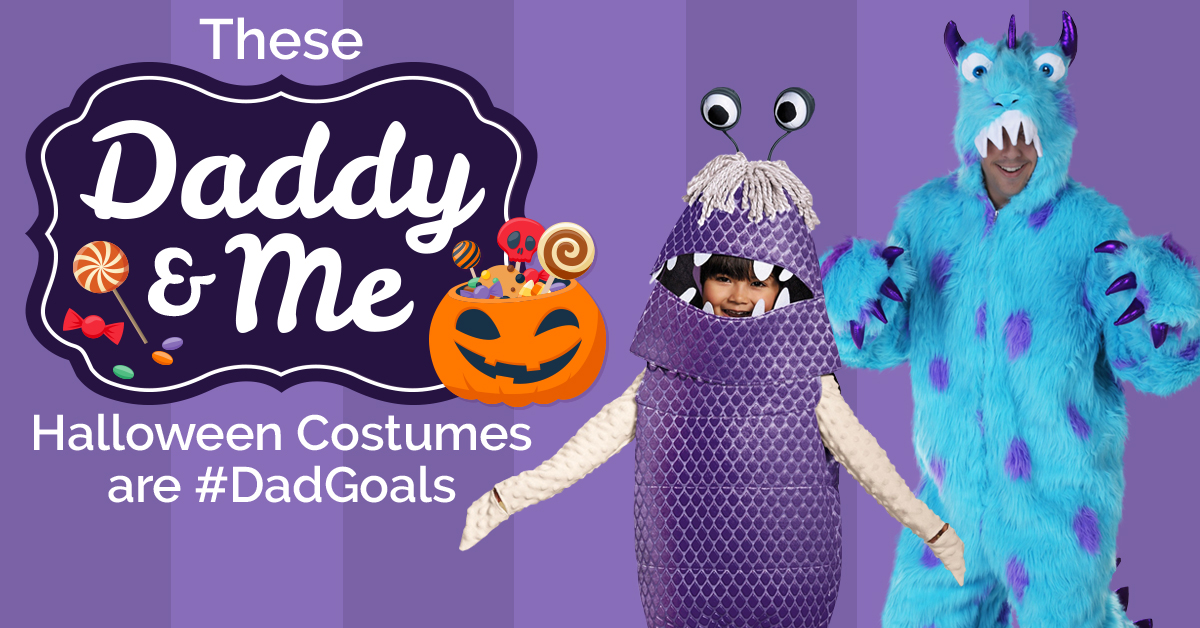 Fatherhood is a very important task in life, but more importantly, it should be filled with fun! If you are a dad looking forward to taking the kids out trick or treating, these daddy and me costumes will make everyone on the block smile (and perhaps give your child a few extra candy pieces because your coordinating costumes are so stinking cute)! These costumes are all paired together, but should you have more than one child in tow, a little creative thinking will easily change these daddy and me Halloween costume ideas into family costumes for the entire squad!
Dad and Baby Costumes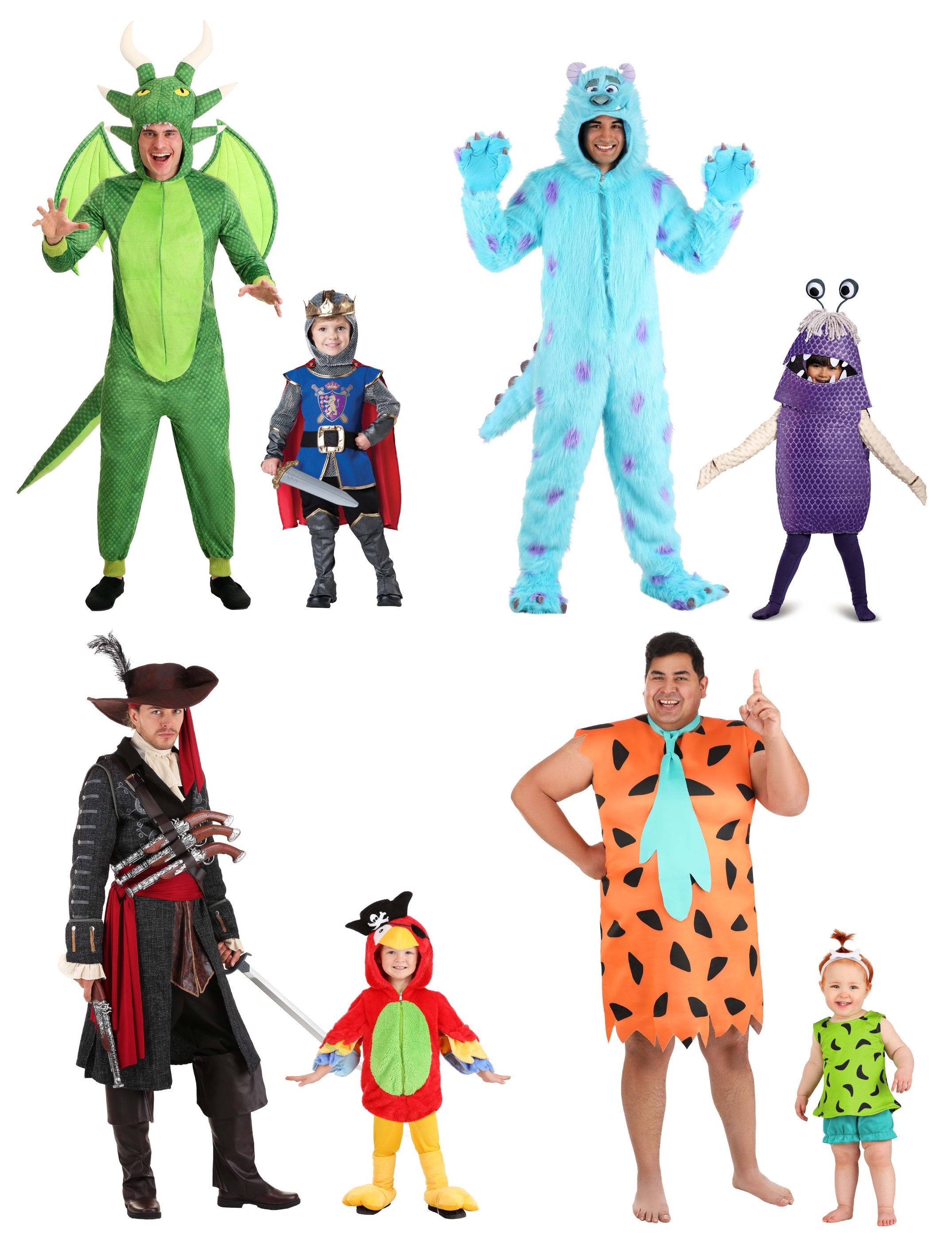 Having an infant or a toddler can be taxing at times, but there are plenty of wonderful memories to be made before your little one grows up. (They grow up so fast, if you blink you can miss it!) One of the best parts about daddy and toddler costumes is the fact that you can use their small stature in a way that makes sense for your character costumes. Great daddy and girl costumes include Sulley and Boo from Monsters, Inc., firemen and dalmatians and pirates and parrots. Some of these costumes also cross over into daddy and boy costumes too, as the dragon and knight costume isn't just for the boys! You can also dress like your child's favorite storybook characters like the Man in the Yellow Hat and Curious George. However, if dad is a big superhero geek and he's looking to introduce his favorite fandoms with the kiddos, a Starlord and Rocket costume is a perfect match! (Groot and Rocket would be cute too, but if you say "I am Groot" too much, for once you might be the one annoying your kid.)
Father and Son Costumes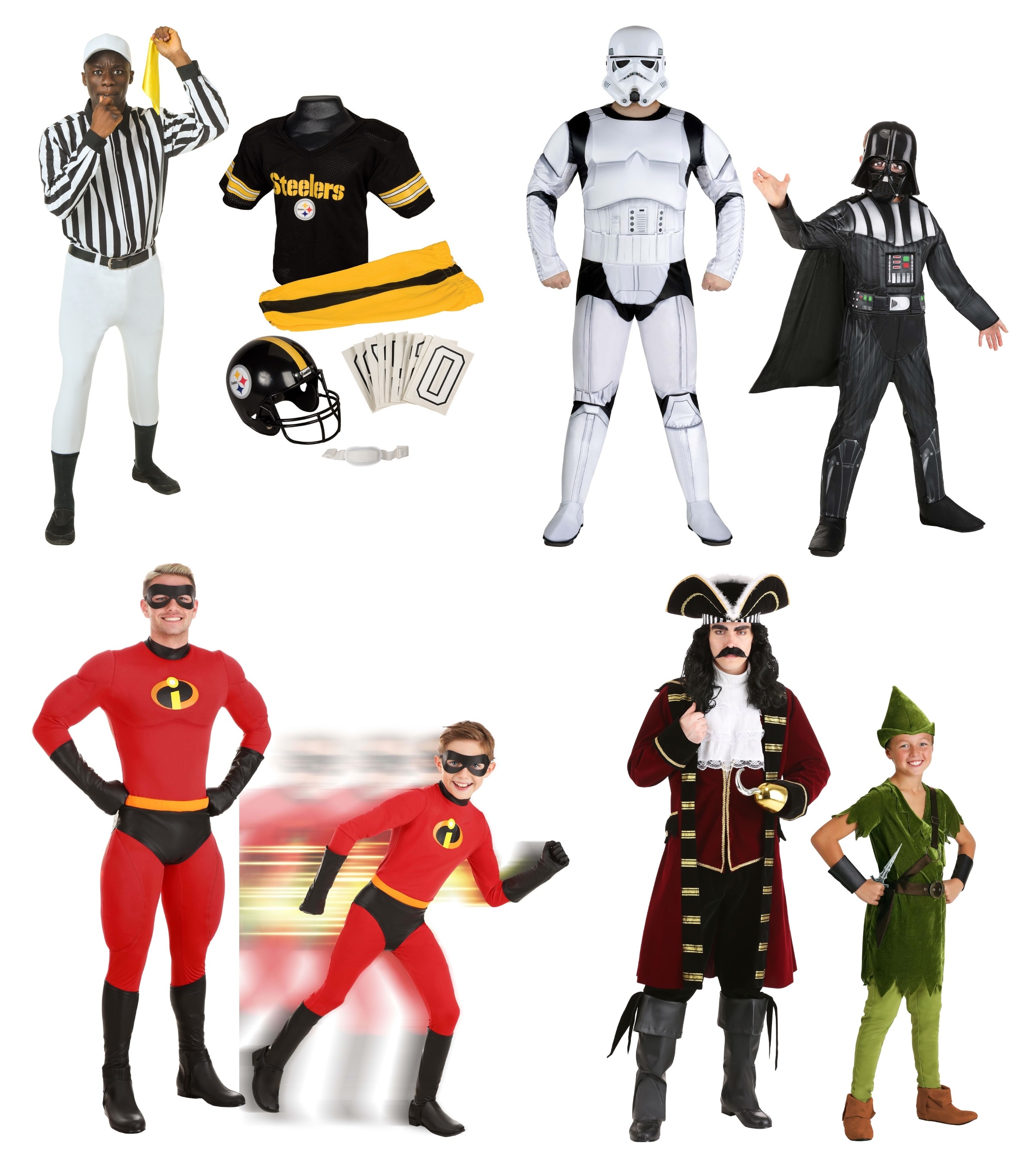 Now that your little sprout has grown, your son will have more input on what Halloween costume he will want to wear. Many boys will want to wear superhero costumes, sports costumes, Star Wars costumes and the like, and honestly, your daddy and me costumes for boys can match with almost any theme. There are so many superhero pairs that the costume options are unreal! Marvel fans will love pairs like Iron Man and Spider-Man (considering Tony Stark made the Iron Spider costume). The Incredibles are also a great choice not only for a daddy and me costume, but also for entire family costumes. Star Wars is also full of mentors and pupils, such as Obi Wan and Luke Skywalker. There are also enough characters in the franchise for additional family members. If you enjoy other Disney movies as well, Peter Pan is the symbol of boyhood and Captain Hook is constantly trying to catch up. (Peter Pan's shadow would also be a fun Halloween costume option for dad!) For your little sports fan, they would love to dress in their favorite sports uniform costume and suit up with dad in a referee costume!
Father and Daughter Costumes
Your little girl has grown up enough to make up her mind about her Halloween costume, but that doesn't mean that dad can't take part in the costume fun! Costumes for girls like witch costumes and mermaid costumes are very popular, but a black cat costume and a Poseidon costume are a perfect match. If your little girl has followed in her daddy's love of comics and comic book movies, Mr. Incredible and Violet and Batman and Batgirl are great daddy and me Halloween costumes for girls! Disney lovers will also like to dress in a Wreck-it-Ralph costume and Vanellope costume. However, if your little girl is more interested in enrolling in Hogwarts, a Hermione costume and Dumbledore costume will fulfill your wizarding needs. Get ready to be the best-dressed father and daughter costumes on the block!
Father and Teen Son Costumes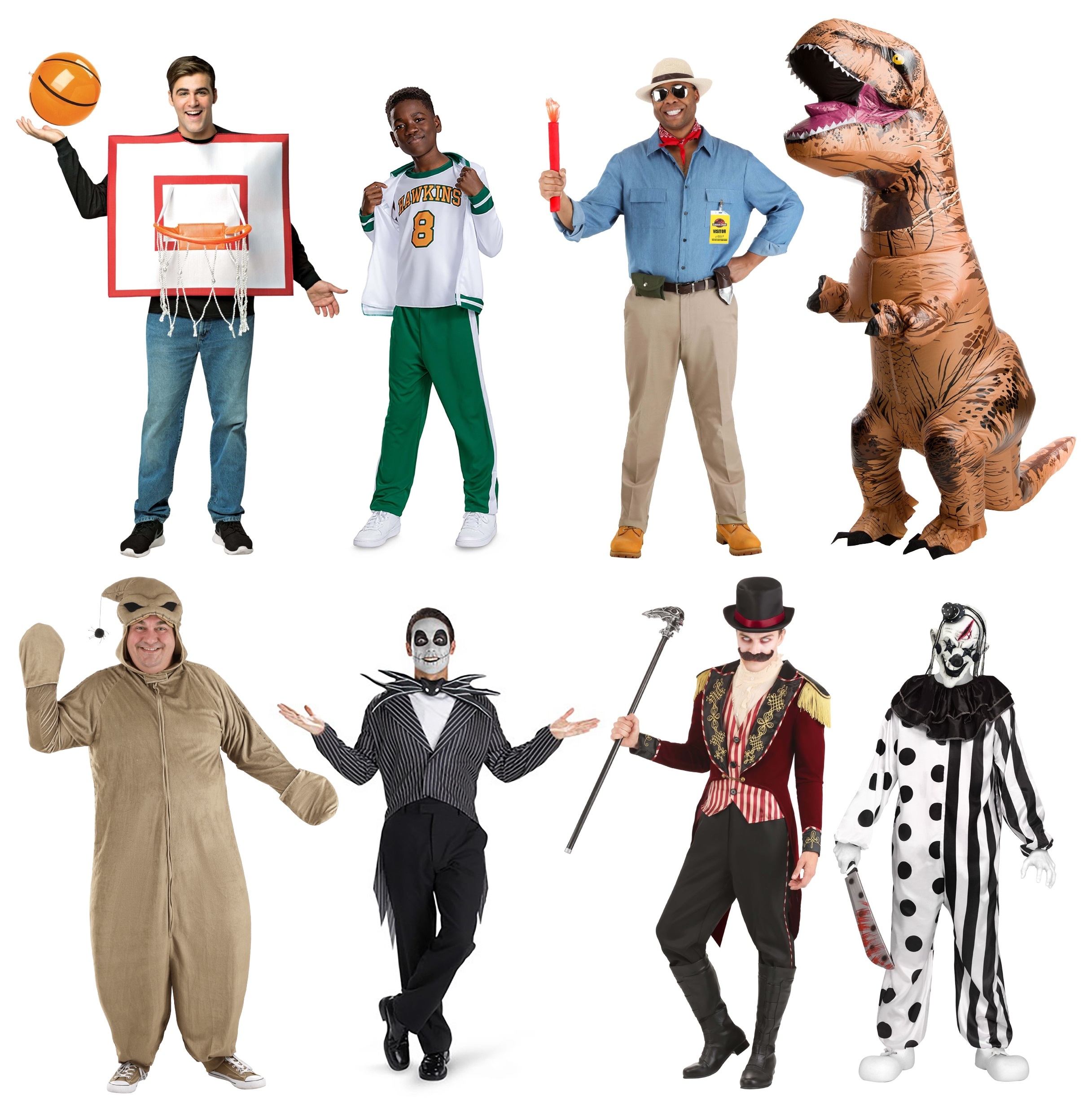 Your teenage son may not be entirely enthusiastic about dressing up with you for Halloween, but maybe you're lucky enough to have a son that would still dress up. (And probably take pics to share!) If your son is really into sports, what about a goody costume where he's the sports star and you're a hoop or a ball? Maybe he's really hoping to do something scary, like this dark circus ringmaster and killer clown combo. You can even appease your gamer son with Bendy and the Ink Machine costumes, or perhaps something from Minecraft or Assassin's Creed. Don't forget to have fun and make memories, as your teen son is well on his way to growing up!
Father and Teen Daughter Costumes
Maybe she rolls her eyes at your dad jokes now, and she's not your little princess anymore, but that doesn't mean that She'll say no to a father-daughter costume idea. You can't have Cruella without at least one dalmatian, and the Queen of Hearts needs her card soldiers so they can paint the roses red. (Or better yet, just plant the red ones like she wanted!) If your girl is a fan of superhero movies, costumes like Wonder Woman and Superman or Black Widow and the Hulk go great together. There are so many cool father-daughter costume ideas that she'll want to take all the pictures to share with her friends.
We hope you have plenty of costume ideas for dad and me Halloween costumes. Also, remember to stay safe while you have fun trick or treating. We suggest using these clip-on safety lights if your costumes aren't brightly colored. What are some of your favorite matching costume ideas? Have you ever done a daddy and me costume? Feel free to share your comments and photos with us or tag us because we'd love to see your costumes! Be the envy of everyone's #DadGoals this Halloween. However, if mom is on trick-or-treat duty this year, we have plenty of great mommy and me costume ideas too!