We're all mad here! We're all mad about Alice in Wonderland costumes! There are so many costumes to choose from whether you're looking to buy costumes for Alice, the Mad Hatter, the Queen of Hearts or any of the other minor characters from the movies and books. These easy Alice in Wonderland costumes include most of the accessories you will need to look the part so there's no hunting for single items and accessories to assemble into a costume! (We'll still include a couple that are worthy of note.) Hop on down the rabbit hole with us as we show you some of the best Alice in Wonderland costumes!
Timeless Alice Costumes
Alice is such a classic and iconic character that she's instantly recognizable with her blue dress, white apron and hair bow. There are plenty of Alice costumes for adults as well as Alice costumes for kids, so if you're looking for even more variety, check out these other Alice costumes! There are even alternative Alice styles if you're looking for something a little different, such as a dark Alice costume or a checkered, psychedelic Alice.
Ever-Popular Mad Hatter Costumes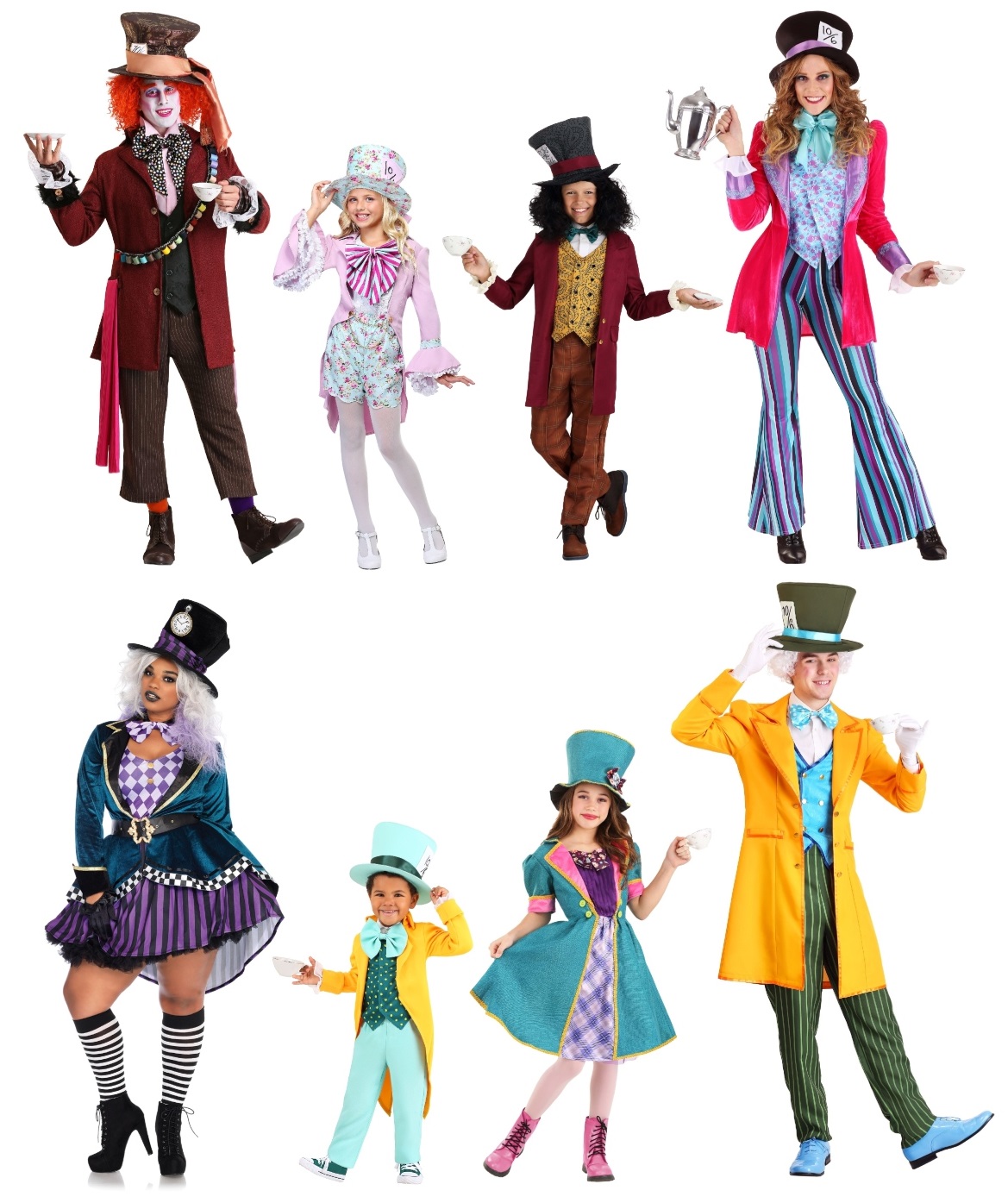 Mad Hatter costumes are popular picks for everyone—adults and children, men and women alike. The essential for any Mad Hatter costume is a ridiculous hat with a 10/6 card tucked into the hat band, and layered apparel with wild colors and textures. The only other thing you need (which is ultimately free) is a grin!
Whimsical White Rabbit Costumes
Oh, my fur and whiskers! We couldn't forget about the White Rabbit in our round-up of Alice in Wonderland costume ideas! These easy White Rabbit costumes come with the bunny fur parts, vests and bow ties. If you're looking to step it up, add a clock to your outfit, whether it's a clock purse, a clock necklace or a clock you borrowed from the wall at your house. (Just don't be late to the party!)
Regal Queen of Hearts Costumes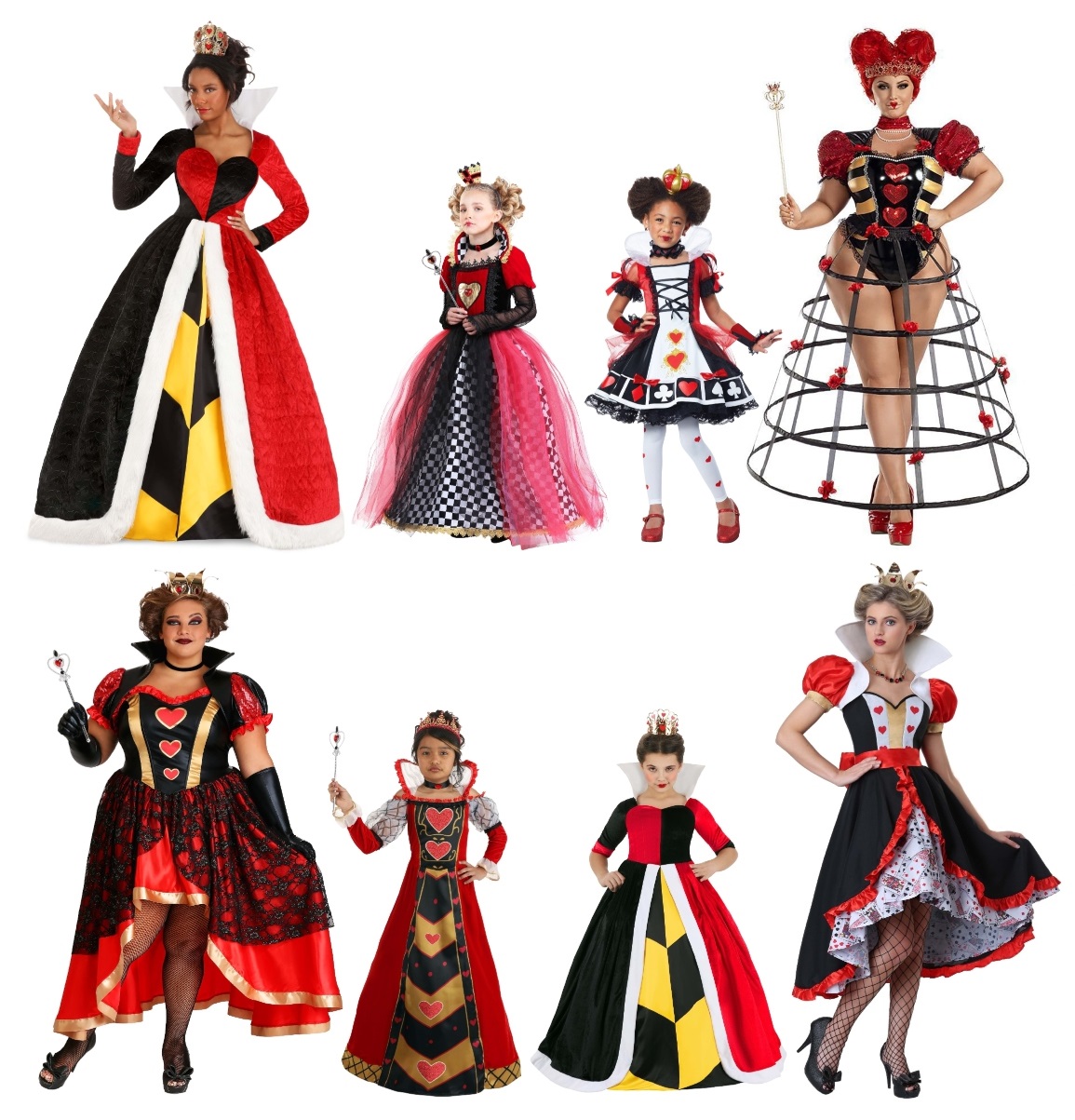 What's red and white and black all over? No, this is not a trick question—it's the Queen of Hearts! The Queen of Hearts is another popular character from Alice in Wonderland, so it should come as no surprise that there is an abundance of Queen of Hearts costumes! Regal, sexy, cute and iconic, there's a Red Queen cosplay for everyone!
Mischievous Cheshire Cat Costumes
Cat Halloween costumes have been popular costume choices for what feels like the beginning of time, but dressing as the Cheshire Cat will set you apart from the crowd of black cats. There are so many Cheshire Cat costumes that you might be surprised to know there are styles for men and women, adults, children and infants! Most Cheshire Cat outfits are in the iconic pink and purple stripes, but you can also find some gray versions from the Tim Burton Alice in Wonderland movie.
Ready for Tea Time March Hare Costumes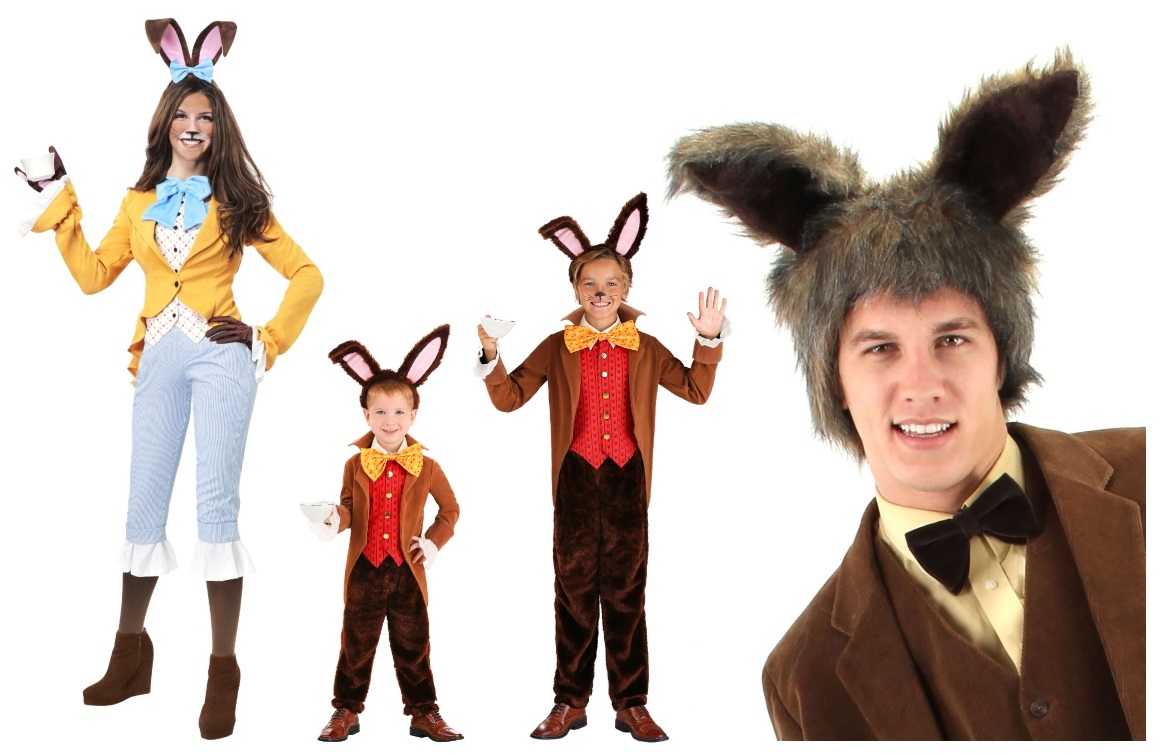 The March Hare is one of the minor characters from Alice in Wonderland, but it is still famous for appearing in the popular tea party scene. While there are a few March Hare costumes for adults, adding a vest and bow tie to a bunny costume is an easy way to assemble a March Hare costume for kids. (Make sure your base bunny isn't white!)
Other Notable Alice in Wonderland Costumes
If you're still browsing online to add some more characters to your large Alice in Wonderland squad, you might want to consider characters like Tweedle Dee and Tweedle Dum, the Caterpillar or add a few Card Guards. Your entourage will be the envy of everyone's #squadgoals when you have most of the cast in costume!
Alice in Wonderland Accessories
If you're looking to ramp up your Alice in Wonderland costumes, there are plenty of accessories to purchase if it didn't come included with the costume. (Or, you might be looking to make upgrades to items that were included. We won't blame you if you want to swap your fabric Mad Hatter hat for an ultra-deluxe version!) There are plenty of purses to match your costume as well, which is always a bonus. One of our favorites is the flamingolf golf club set, because it works great as an accessory or you could even use the entire game set for an Alice in Wonderland party!
We hope this blog gets you curiouser and curiouser about all the Alice in Wonderland costume options! Check out these other storybook and fairytale related costumes on Halloweencostumes.com if Alice and Wonderland isn't your cup of tea. What's your favorite story? Which Alice in Wonderland character is your favorite? Feel free to share your favorites with us in the comments below!