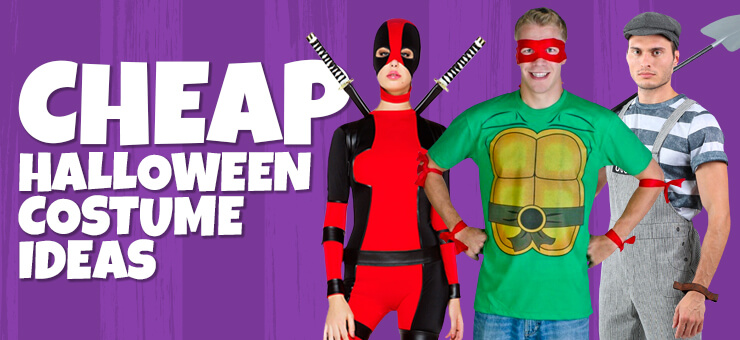 If you're a baller on a budget who still wants to take part in all the frightening fun that Halloween has to offer, then you have definitely come to the right place, our frugal friend! We know the best ways to celebrate without having to break open your precious piggy bank. So, put down the hammer and start perusing our site because you can find a costume that will make you look like a million bucks. And the best part is no one will have to know that you literally spent a few dollars on it. That's right; some of these costumes are less expensive than the fast-food value meal you gobbled down for lunch. Plus, even if you don't like dressing up, we'll fill you in on easy ways you can take part in the celebration without wearing a traditional head-to-toe costume. You'll be able to really cut loose this year at the monster mash knowing that your wallet hasn't paid the ultimate price!
Sale Costumes for Men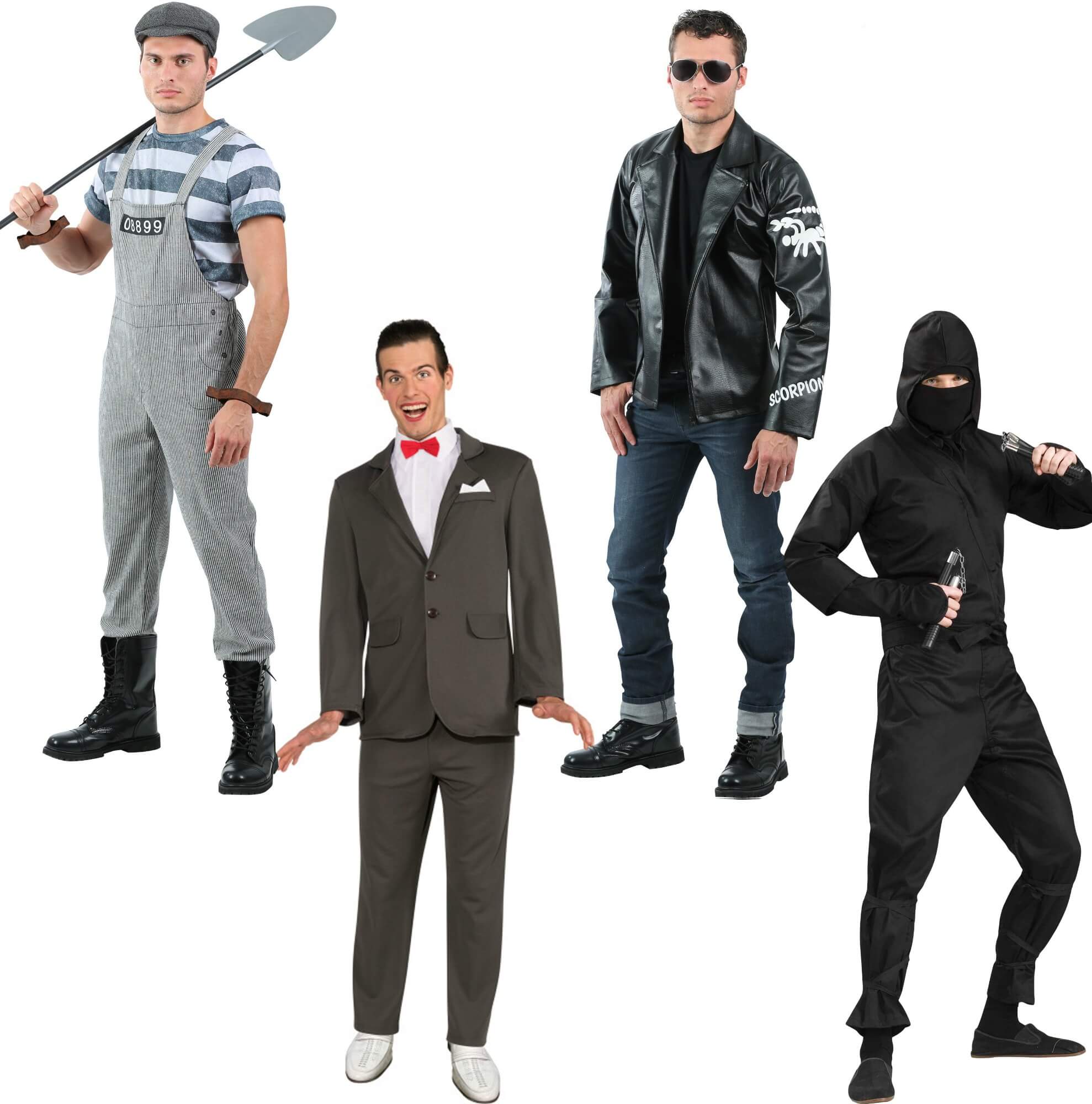 Prisoner Costumes Pee Wee Herman Costume Scorpions Jacket Ninja Costumes
We truly commend you on your penny-pinching ways! Be proud of your thrifty qualities and show off a costume that lets people know they don't have to fork over a ton of cash in order to get a five-star costume that people will recognize and admire. We'll hook you up with a garment that is cheap in price, but definitely not cheap in value. In fact, you can get more than one use out of any of these sale costumes. Just stash them away in your closet for next year! All of the costumes below are at least 40% off, so you'll be saving a ton of money by choosing to wear one of these. From ninjas to convicts, we have tons of costumes on sale for every kind of guy. Plus, can you really ever go wrong with a Pee Wee Herman costume? C'mon, Pee Wee never goes out of style!
Sale Costumes for Women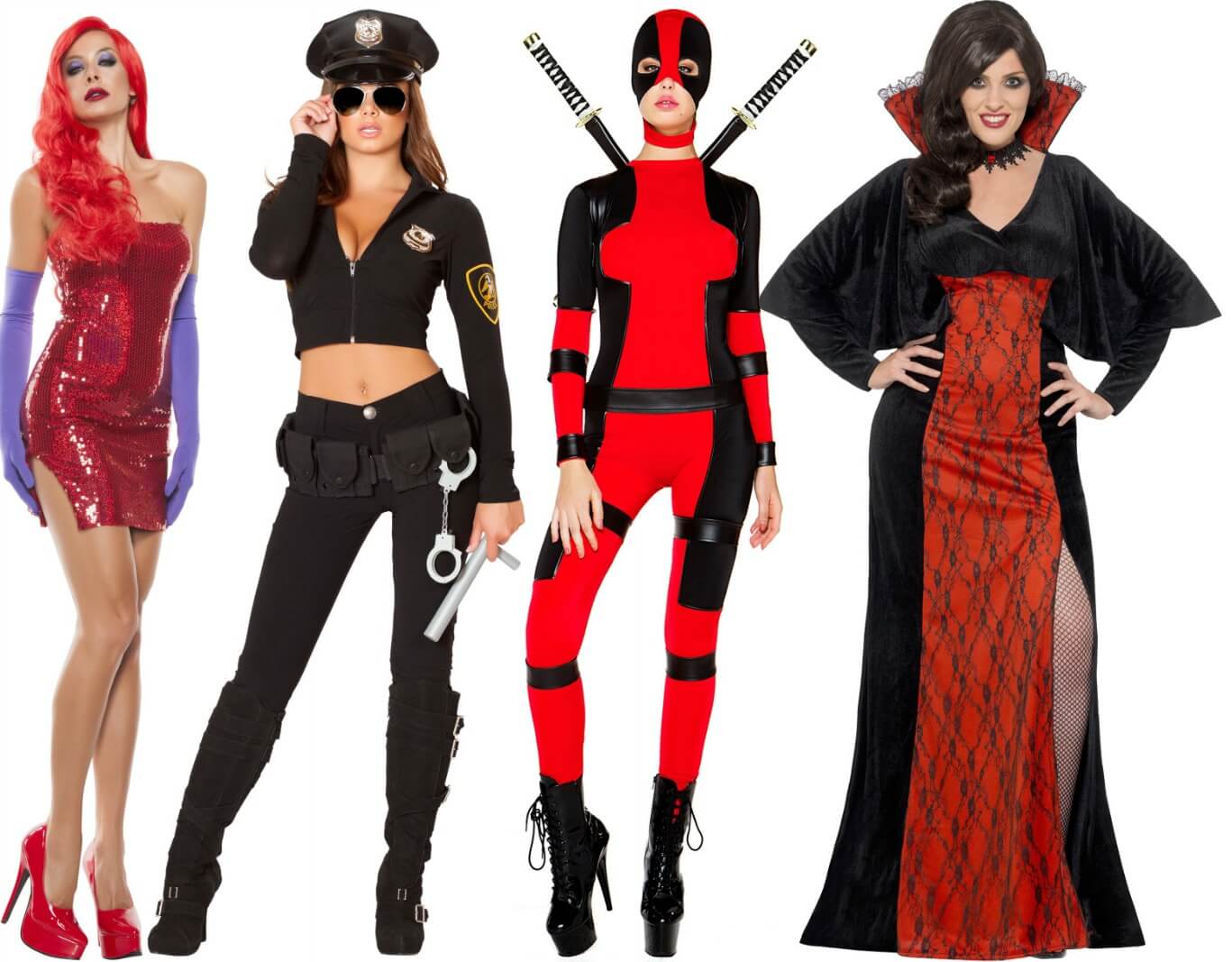 Jessica Rabbit Costumes Law and Order Costume Ms Rebellious Costume Vamp Costume
Psst, come closer! We want to fill you in on a little secret: it's SO crazy expensive being a lady in this day and age! Wow, it's unbelievable the prices of some of our most loved items: purses, heels, dresses, just name it and we'll be the first to tell you that it costs a boat-load of moolah! It's such a tragedy that we have to spend an arm and a leg on a costume that's fun to wear while also making us feel our most confident, but guess what? You don't have to! We've compiled some of our most stylish and money-savvy costumes that we have to offer. Take a peek and pick out the one that you find the most alluring. Also, did we mention that all of these women's costumes are more than 40% off their original price? So you CAN be a sexy Hollywood starlet with a glittery red dress and satin purple gloves for a fraction of the price. Finally, some sweet satisfaction! Alright, now give us a high-five!
Sale Costumes for Children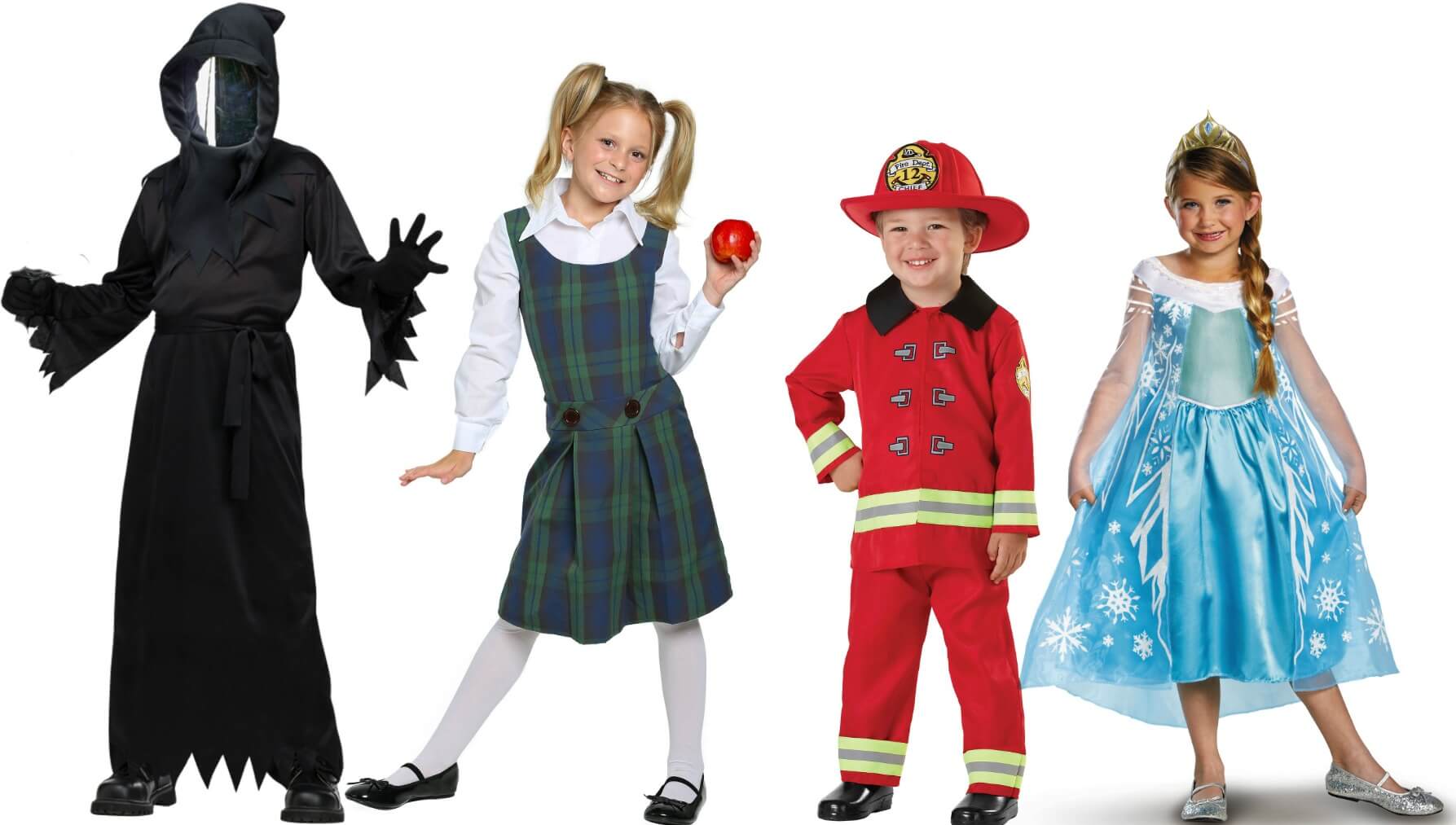 Mirror Ghoul Costume School Girl Costume Fireman Costume Deluxe Elsa Costume
Even though your child is small, the amount of money you spend on him is probably very large. Of course, there are tons of trips to the ice cream shop for yummy treats and even treks to the toy store for the new plaything they've been eyeing. But you know what? Your kid deserves it and they definitely deserve a quality costume that they want to wear. They can still have a blast collecting candy in a costume that won't run you dry, plus it will look way cooler than the bedsheet ghost you were trying to bribe them with! Whether your little girl has her heart set on a beautiful Elsa costume or your little boy wants nothing more than to save people in his firefighter costume, don't worry because we got all the hookups! All of these kid's costumes on sale are contemporary, recognizable, yet totally affordable, and by affordable we mean that they are less than 20 bucks. Yup, you read that correctly! All of these bargain costumes are $19.99 or less so you'll have plenty of dinero left over to buy a Halloween treat for yourself too. Go ahead…indulge!
Create Your Own Costume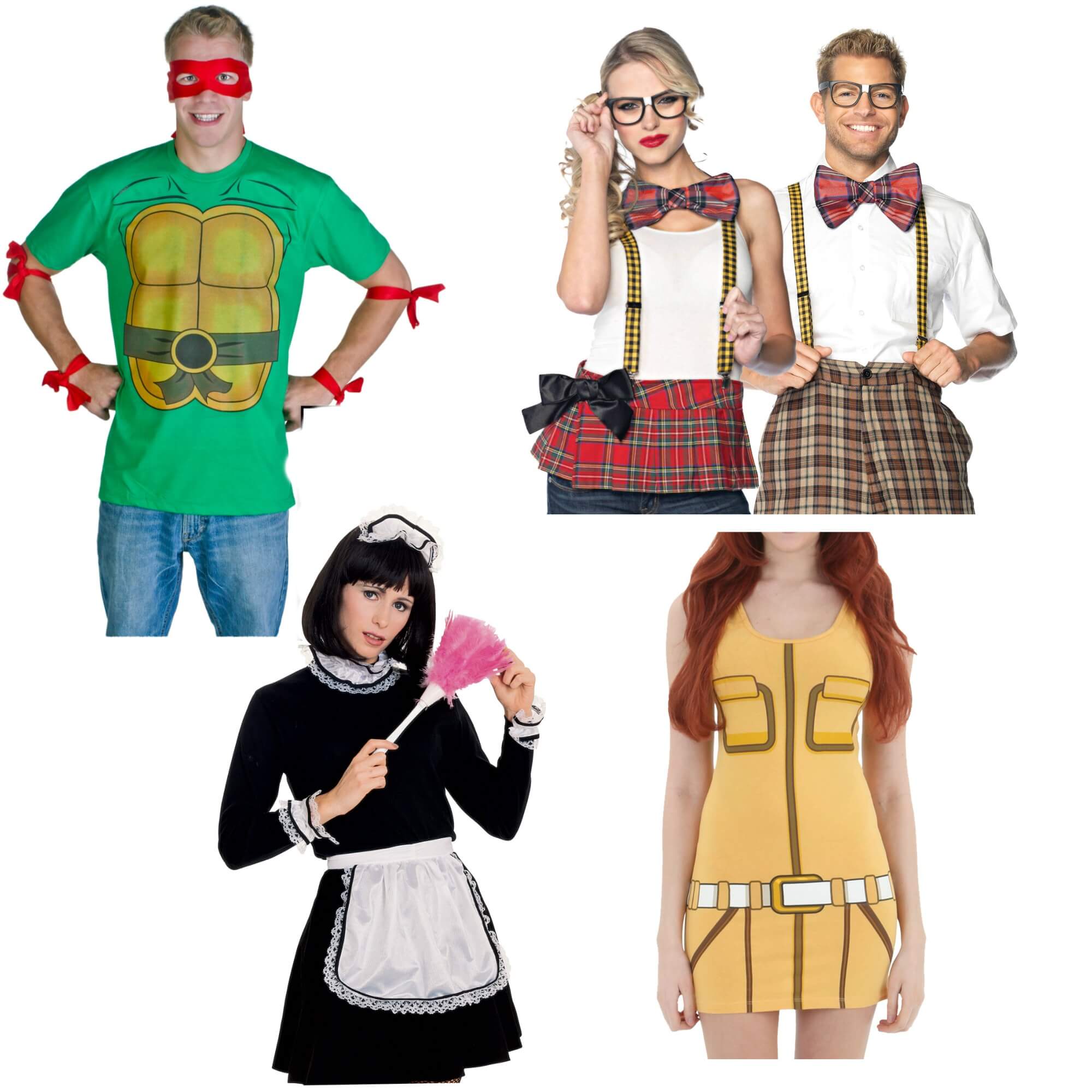 Ninja Turtle T-Shirt Nerd Costumes French Maid Kit April O'Neil Jumpsuit
Is dressing up in a complete head-to-toe costume just really not your style? But are you also sick of being roasted by your buddies for not dressing up on perhaps the most fun holiday of the year? Well, we have a quick, convenient, and completely low-cost alternative that you will feel comfortable in. You can still get in on the Halloween fun by creating your own costume using costume tees and accessory kits. You won't feel awkward in your get-up and you won't have to spend a pretty penny either. All of these items are either $14.99 or less so you will still have plenty of money left over for happy hour with your friends. Let these pieces inspire your unique look and your wallet will thank you for it, too!
Well, we hope that we've helped you find a low-cost costume that didn't make you dig into your emergency fund for extra cash. Remember, all of these clearance costumes are cheap but not at all cheaply made. Be sure to check out our clearance section and all of our sale costumes for men, women, and children then pick out the one that best suits you and your budget!