Cosplay Costumes
"What's your favorite anime?" Some have a pretty clear answer to that question. Most might have an answer today...but it is likely to change in a week or two. And some just love everything! Between mysterious witches and whole clans of competing ninjas, what's not to love? Whether you have that one character that you'll always appreciate or if you're an anime connoisseur, we have anime Halloween costumes that are perfect for your every need. Help your kids gather up all the treats, or rock the anime and comic convention scene with our anime cosplay costumes. Wield the right weapons and perfect your anime outfit! Of course, the first step is finding your favorite fandom. Take a look at our anime Halloween costume ideas to start your ultimate transformation.
Sailor Moon Costumes
You can't even think of anime without looking to the stars and dreaming of the Sailor Scouts of Sailor Moon. These gals are the superpowered anime girls that defend the realm from the forces of darkness, all in the name of truth and love. The best part is that we have an entire line of Made by Us costumes that will help you shout out a magic phrase and transform with our anime girl costumes! The only thing you'll have to do is perfect your victory pose.
Sailor Moon Costume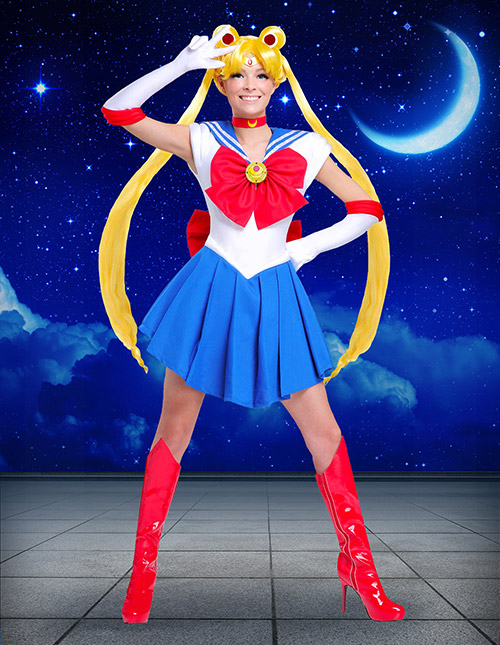 The hero of Sailor Moon is Serena Tsukino (originally known as Usagi). She's got a big heart and means well, but she's a bit awkward at times and a little selfish now and then. (But who doesn't want love and cake!?) Still, she's ready to call on her Moon Prism Magic to defeat the darkness when it is time. If she's the hero in your heart, transform with this Sailor Moon cosplay!
Tuxedo Mask Costume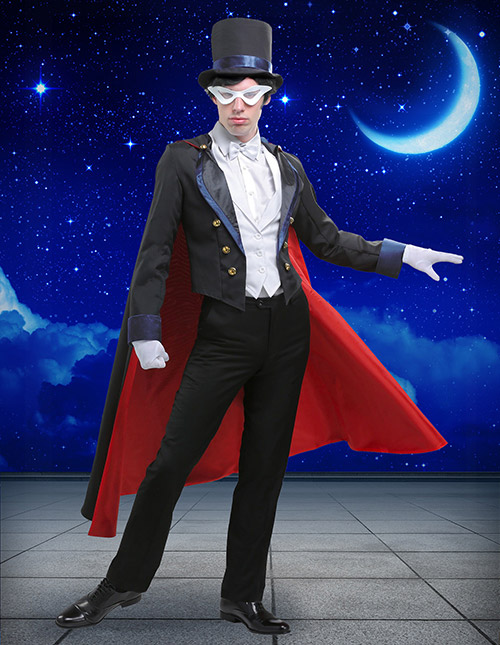 Just because the Sailor Scouts are the ultimate warriors in Sailor Moon doesn't mean there isn't room for the guys. If you're looking for some easy anime cosplay ideas for guys, you can't go wrong with Tuxedo Mask. He's always there to help Sailor Moon and the others out...and he's secretly a prince, too! Be your own hero or make the perfect anime couples costume today!
Sailor Mercury Costume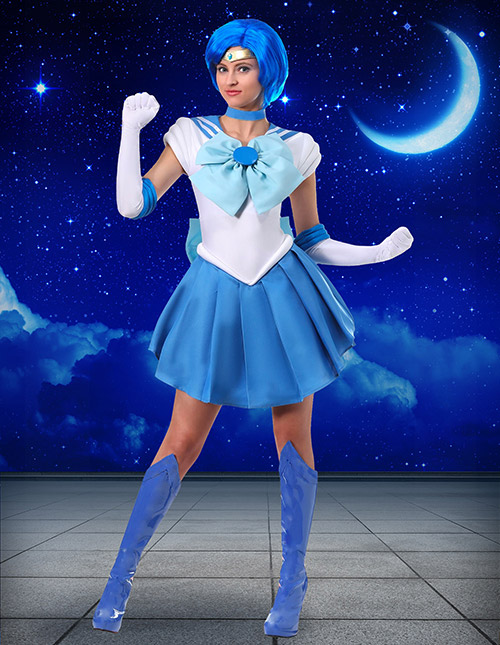 Every team of heroes needs the braniac who is ready to solve all the problems. That role is played by Ami Mizuno. Her bright blue hair and fluid approach at solving puzzles are a crucial part of the team. (Plus, her transformation to Sailor Mercury is probably the cutest out of the whole group!) If you're smart—and we know you are—this Sailor Mercury look is for you!
Sailor Mars Costume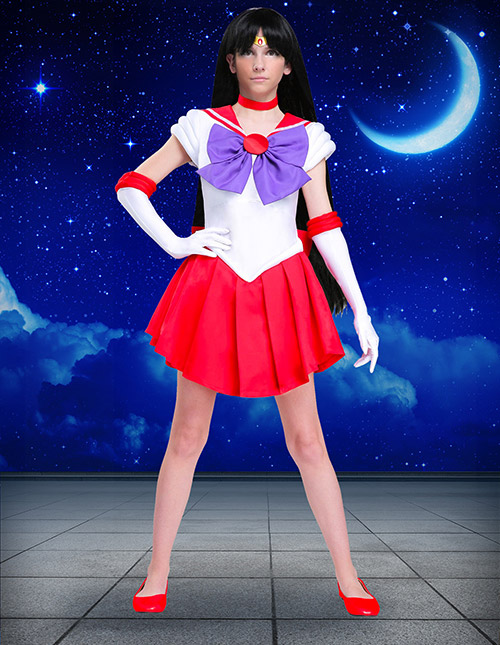 Are you tough on evil? (Are you even tougher on your teammates?) Can you take down the forces of darkness even without a transformation? If the sound of that is firing you up, then you are destined for a life as Sailor Mars. This quick-acting hero puts the fire under allies and villains alike, and she even has psychic powers to boot! (Plus, who doesn't like a fiery red dress!?)
Pokémon Halloween Costumes
From the "Gotta Catch 'Em All" slogan to a Pokédex now bursting with practically 1000 of the adorable Pocket Monsters, nobody can get enough of Pokémon. Manga, video games, collectible cards, movies, and a long-running anime featuring a near-ageless Ash Ketchum has Pokémon at the forefront of daily life for many...and that's not even counting the keep-fit-as-you-catch-'em might of Pokémon Go! So, when it is time to jump into your favorite anime universe, there's no need to look further than our Pokémon outfits for your anime Halloween costume ideas!
Pikachu Costumes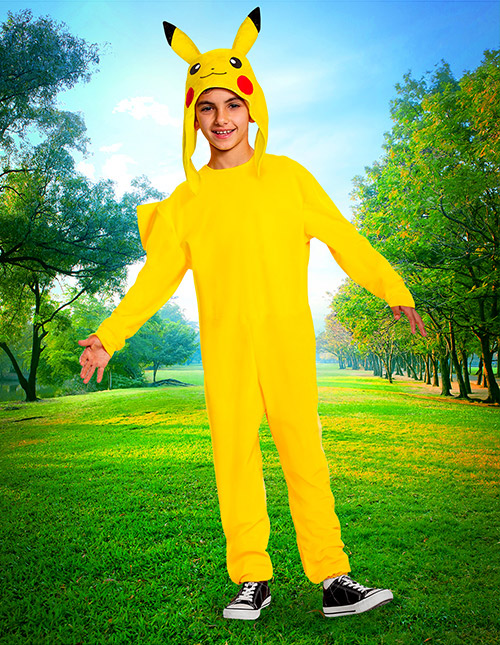 Pikachu is the electric mouse that has taken the world by storm. Not only is this little guy cute, quick, and powerful, but Pikachu is a lover of costumes, too! Add a cap, scarf, or pair of glasses to one of our Pikachu costumes to make a custom take on the iconic Pokémon mascot.
Original Pokémon Costumes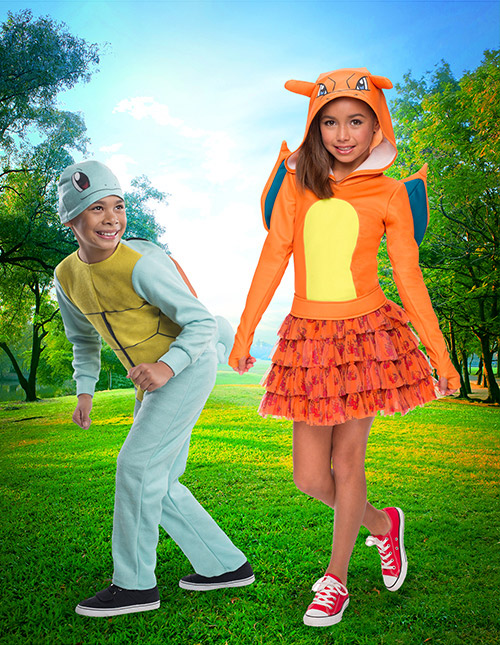 There may be about 1000 Pokémon, but some say only the original 151 matter. Among those are the Starter Pokémon from the very first generation. Squirtle, Charmander, and Bulbasaur will always have a place in our hearts. (Though Charizard is perfect for a fiery, dragon-like flight!)
Team Rocket Costumes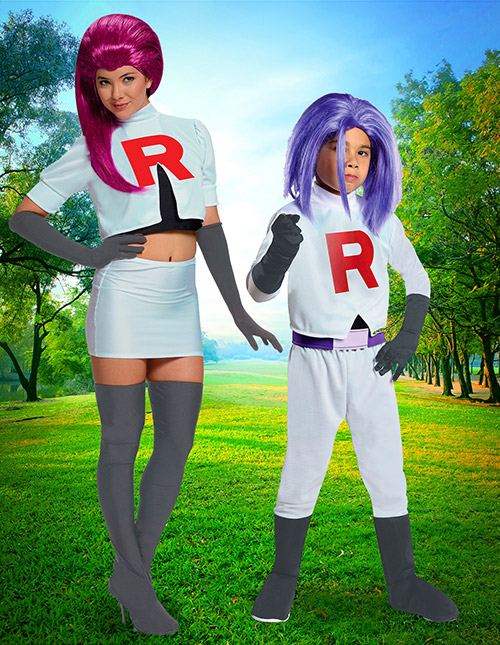 What's some anime cosplay fun without a few villains to get in the way? Of course, of all the possible antagonists in the Pokémon universe, Team Rocket are the ones who are the most infamous. Join Jessie and James (and maybe Meowth) so you can blast off again!
Pokémon Trainer Costume: Ash Ketchum Costume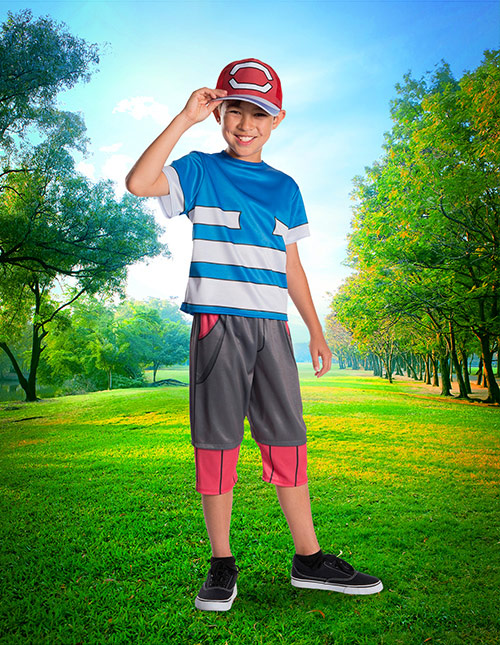 While Ash Ketchum is obviously the most iconic Pokémon trainer, you and your kids have a lot of variety in putting together your own Pokémon anime cosplay costumes for girls and boys (and even the adults). The key is getting the hat spin and ambition for Pokémon collecting down!
Cosplay Wigs
The only thing bigger than anime eyes is the anime hair. Rather than working to grow out your spikes or trying to master some of those impossible angles, check out some of our wild wigs to bring your cosplay look together. We have anime wigs of all different colors and some that are already styled after your favorites!
Dragon Ball Z Wigs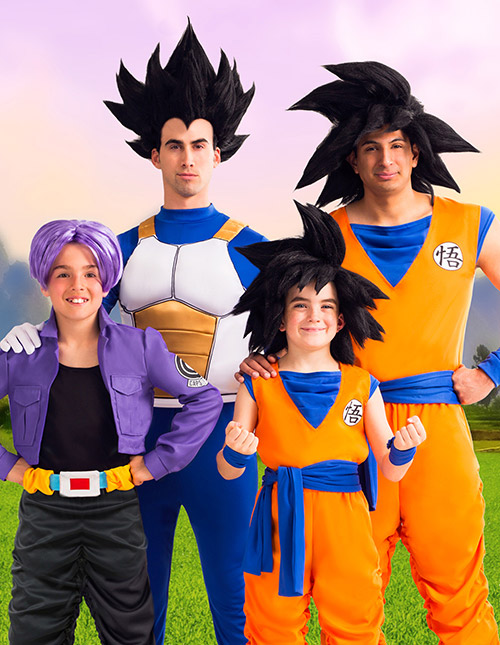 Going from your standard fighter form into the ultimate Super Saiyan takes a lot of training and a ton of energy. Of course, the only outward look is an aura of light and brilliant gold hair. With our Dragon Ball Z character wigs, you can transform in a flash with your wig!
Sailor Moon Wigs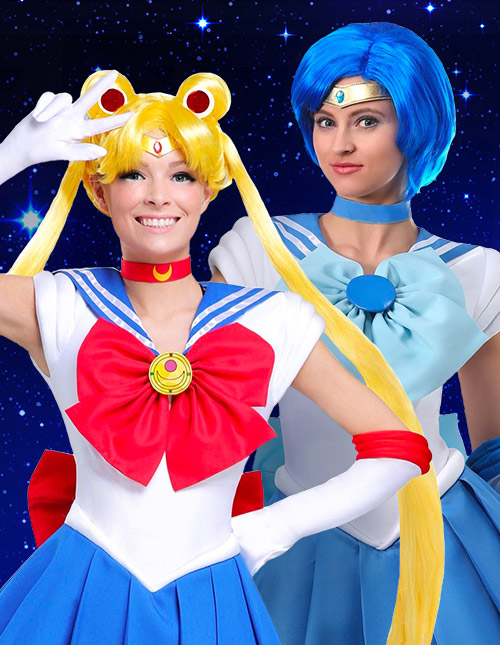 You can recognize a Sailor Moon character from far away, even when they aren't in their magical girl costumes! Those long pigtails are certain to be Serena in any form. And who else has brilliant sapphire hair like Sailor Mercury!? Try out our Sailor Moon wigs to complete your favorite anime outfit!
Easy Anime Cosplay Ideas
Don't be intimidated by how difficult cosplay looks! Everyone starts somewhere and, sometimes, the very best cosplay begins with a little creativity on an existing costume. If you'd like to transform into one of your favorite characters in a snap, try out these easy solutions to jumpstart your way into the wonderful world of cosplaying your favorite anime characters!
Anime Kigurumi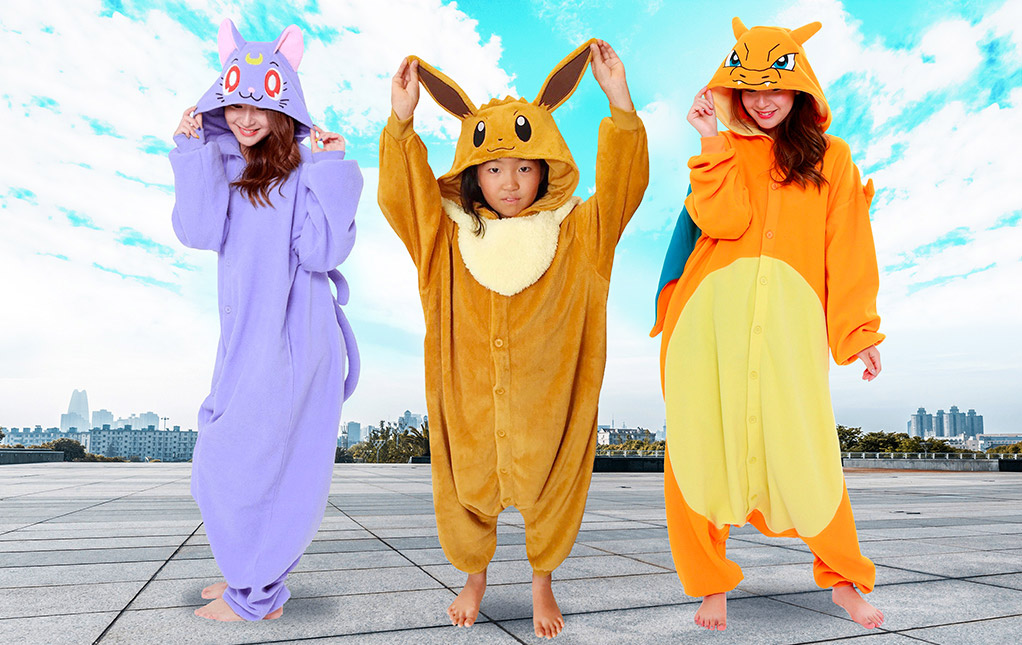 The Kigurumi is the natural way to go when you want to become a character but still enjoy some comfort. "Wait, you mean I can be in pajama comfort while doing cosplay!?" You bet you can! With our selection of anime character kigurumi, you can cosplay all day and at night!
Japanese Anime Costume Accessories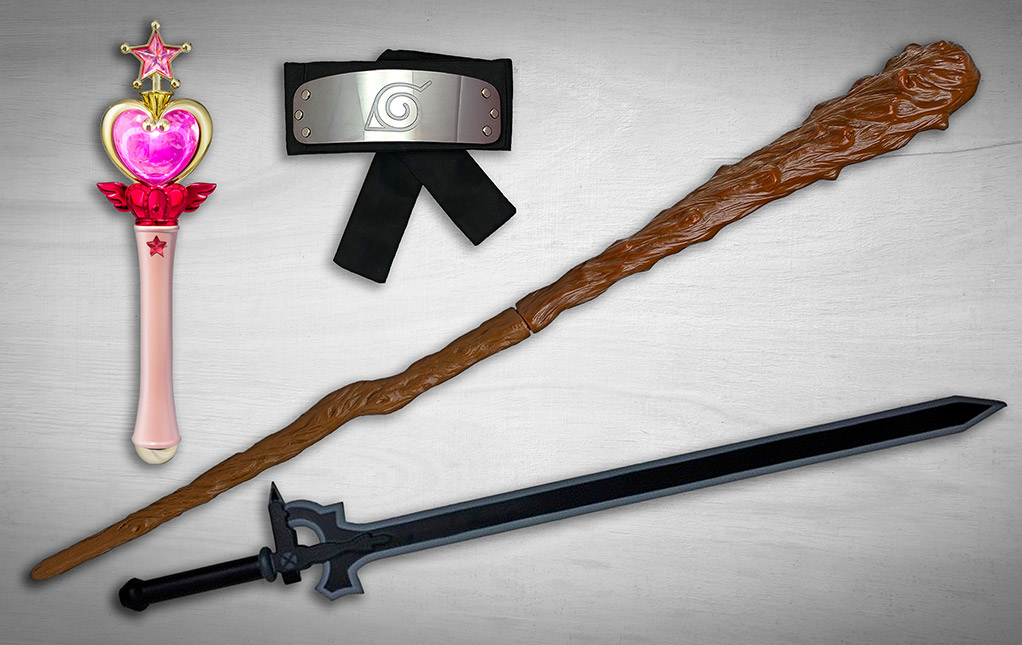 Once you have your anime costume in mind, pick out a few accessories to give your character purpose. Try your hand at some of our foam weapons so you can live out your samurai wishes. Don't leave your transformation tokens behind, either! With these anime props, you'll be styling in no time!