Adult Star Wars Costumes
1 - 2 of 2
---
The Star Wars universe is full of epic scenes and ever since 1977, everyone has wanted to transform into the legendary George Lucas characters. That's why our selection of adult Star Wars costumes includes everything you could possibly want from a galaxy far, far away. We have plenty of costumes for men, along with iconic Star Wars costumes for women. We even have some sexy Star Wars costumes!
read more
read less
Main Content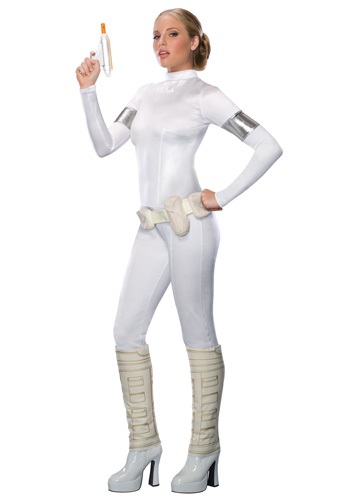 Out of Stock
---
Star Wars has become a cultural icon. From its humble beginnings in the hands of a little known director, George Lucas, all the way back in 1977 to an epic universe filled with endless stories to tell, the Star Wars mythos is something that will carry of for generations! Just think about it. Maybe you watched the original trilogy when you were young. Then, the prequel movies came around for the next generation to pull them into the universe. Now, we have the sequel trilogy which comes to an end with The Rise of Skywalker, awesome shows like The Mandalorian, and even some animated series. So, why are we talking about all this? Well, we just want to drive home the fact that EVERYONE loves Star Wars, so when you head out in one of our adult Star Wars costumes, it's something that can get anyone excited about the galaxy far, far away.
So, where do you even begin? There are a ton of great options for men and women who want to cosplay as their favorite characters from Star Wars. Of course, we have classics, like adult Han Solo costumes, Chewbacca costumes, and Luke Skywalker costumes for all of the guys out there who want a classic look from the original movie. We also carry some men's costumes that include characters from The Force Awakens and The Last Jedi. If you've ever wanted to march imposingly into your next costume party, then just give one of our adult Kylo Ren costumes a try. Looking for a Mandalorian costume? Well, you can grab one of our Boba Fett costumes to help craft your own set of Star Wars Mandalorian armor!
We also have plenty of Star Wars costumes for women. We started with the basics, like the classic Princess Leia costume, along with Padme costumes, but we also made sure to bring the new generation of women's Star Wars costumes into the fold. We have some high-quality Rey costumes. If you're looking for a sexy Star Wars cosplay, we also have options for that! Our Slave Leia costume, which takes its inspiration from The Return of the Jedi, has been a popular choice for many years. We also have a great selection of gender-bent versions of classic characters, so you can cosplay as the one and only... Darth Vader! Just imagine commanding a legion of Stormtroopers and reigning the entire galaxy under your control!
If you have that itch to dress up like your favorite Star Wars character, then don't be shy! Go ahead and grab one of our Star Wars costumes for adults and you'll be ready to head out as Luke Skywalker, Finn, or even maybe even Kylo Ren!