Princess Leia Costumes
1 - 25 of 25
---
1 - 25 of 25
Princess Leia was only 19 when we meet her in Star Wars: A New Hope, which is surprising because she already carried herself with the poise and determination of a much more experienced individual. Her brash demeanor, bravery and style made her a beloved character to all Star Wars fans.
Leia Organa had grew up as the adopted daughter of Bail Organa, Senator and patriarch of the Organa house, one of most noble ancient houses of the galaxy. Her admission into this family granted her nobility as a Princess, and while her life was fraught with privilege, the young Leia strived to find her place in the galaxy and secretly became one of the key figures of the rebellion. All of this happened without Leia knowing her secret roots as daughter of Darth Vader!
Her role in recovering the plans to the Death Star set in motion an unforgettable chain of events which came to fruition in the Star Wars original trilogy saga. If you have a convention to go to (or perhaps are trying to get out of jury duty) we have the collection of Princess Leia costumes for you!
We've got her iconic dress from A New Hope available for everyone from adults to infants. There is even a dog version! And if you're going to an adults-only party, you can definitely go in the iconic slave costume that scintillated the male fan base after her appearance in Return of the Jedi. Whatever your inclination, just don't forget to wear her signature bun wig. You'll be instantly recognizable!

Princess Leia Costumes
How to Be Princess Leia
Ideas, Tips & Tricks
Girls that wield lightsabers are awesome. Girls that wield lightsabers while rocking an all-white dress and an unconventional hair-do are simply out of this world. You have to hand it to Princess Leia for not only being a fearless chick, but also looking amazing while taking on some of the galaxy's shadiest characters. To become Leia, a trip to the planet Tattooine isn't even necessary because you can get your iconic movie character costume from us. Oh yeah, we'll also suggest complimenting couples' costumes and recommend appropriate poses for all the pictures you'll take throughout the night. So grab your lightsaber and hop on your Tauntaun, you're about to become Princess Leia Organa of Alderaan!
How to Pose for Pictures In Your Princess Leia Costume
Princess Leia Poses
Space Royalty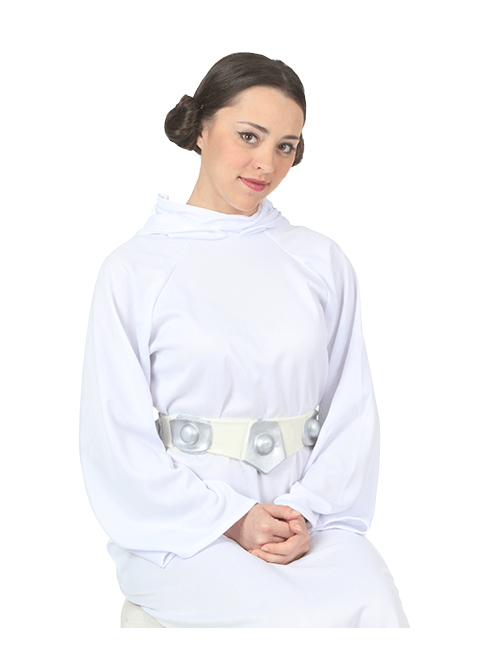 Pistol Packing Princess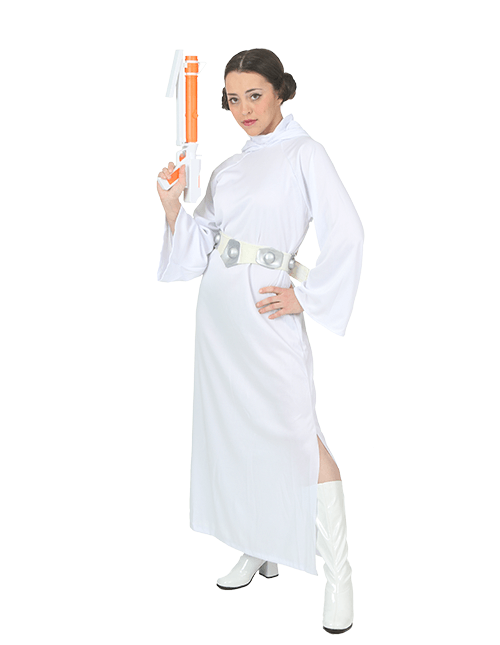 Cultural Icon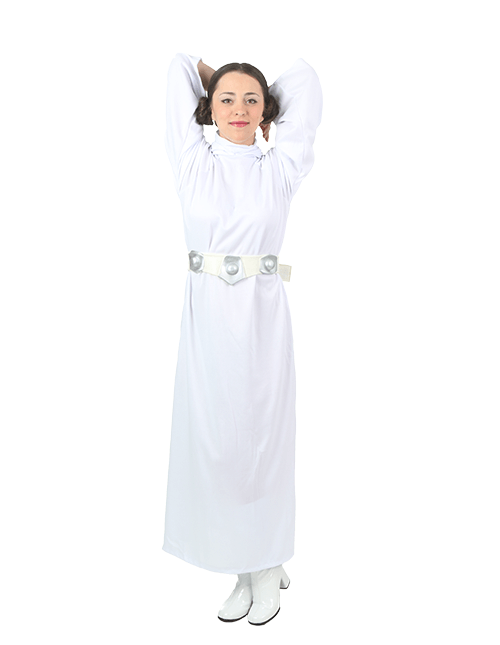 Intense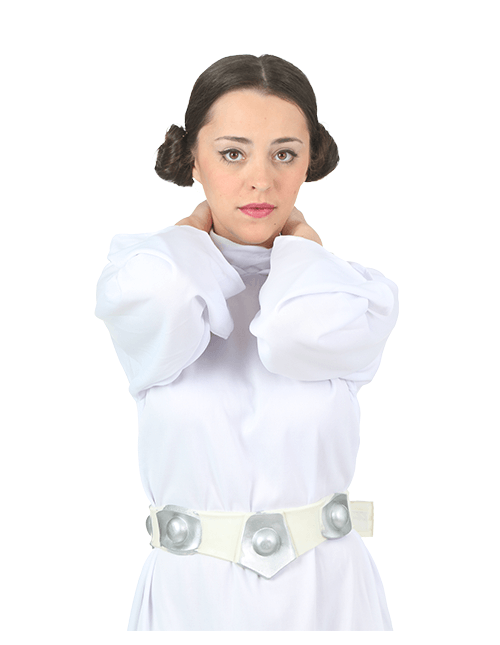 She's the Princess of Alderaan and a member of the Imperial Senate so it's safe to say that Princess Leia is a pretty big deal. So you know what that means, YOU have to pose like you're a big deal too. Kneel with your hands folded on your lap. Then look at the camera, tilt your head, and give a little smirk that says, 'yeaaaa that's right, I'm a princess!"
If you want to look a little fiercer in your pictures, try holding a weapon for a pose that will show off your strength. Or effortlessly throw your hands behind your head and let the camera snap away for a classic stance that only a cultural icon such as yourself could achieve. Finally, for an especially captivating image, look directly into the camera with intense eyes as if you were staring into the depths of Darth Vader's mask. The result will be intriguing and charming all at once!
Couples Costume Ideas to Pair With Princess Leia
Princess Leia Couples Costumes
Princess Leia and Han Solo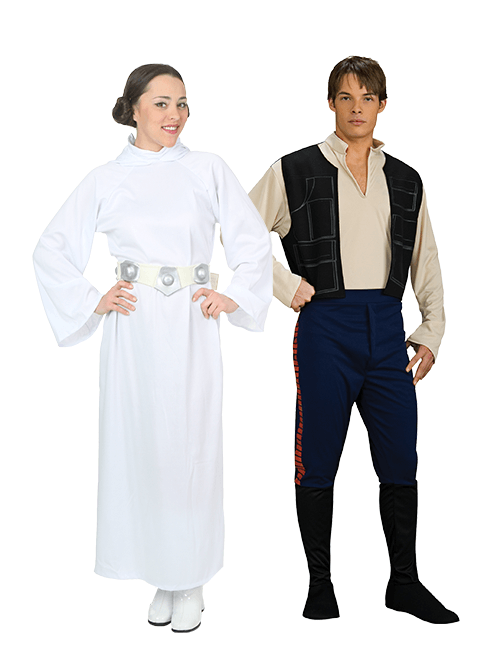 Princess Leia and Darth Vader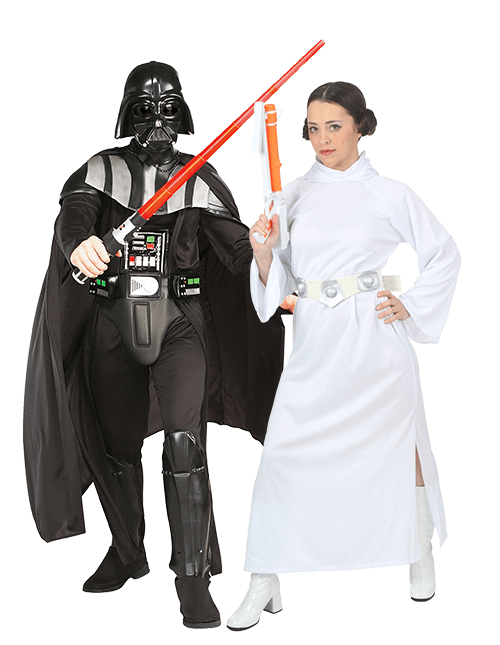 Oh, Han Solo and Princess Leia! We saw the sparks fly between them as soon as the pair met on the Death Star. Their love slowly unfurled and soon Princess Leia was head over heels for the galactic pilot. Can you really blame the girl? Ladies always fall for the bad boy. Plus, she would have never fallen for the Wookie anyway.
Does your date prefer the dark side? Hey, to each their own! Your guy may feel the dark side of the force pulling him in. If that's the case, he'll have a blast wielding a sinister red lightsaber and doing his best Vader impersonation. You may get a little perturbed by all his heavy breathing, but at least he's trying to get into character (and thank goodness he didn't want to dress as Emperor Palpatine...yikes!). This is an unexpected Star Wars themed couple costume that will turn heads. Make sure to take a ton of pictures throughout the night because your crisp white costume will look great next to Darth's signature all black suit and cape.