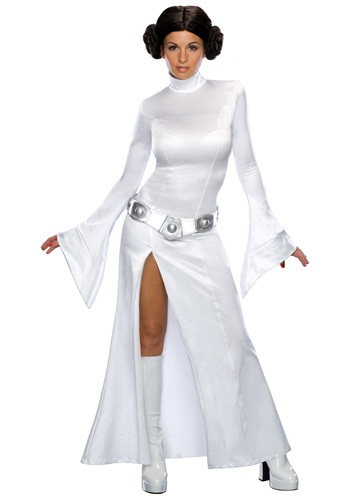 Dress

Belt

Wig

Dress may vary from image (see description)
Some leading ladies just sit around and wait for their knight in shining armor to come, playing the perfect damsel in distress role. Princess Leia would rather grab a weapon and plant a blaster bolt right between the eyes of any Stormtrooper who looks at her funny. With looks like those and an attitude to match, it's no wonder Han Solo can't keep himself away from her.
88% polyester, 12% spandex

Officially licensed

White turtleneck dress w/ slit along bottom hem

Zipper along back for fitting

Long sleeves end in bell sleeves

Silver molded belt

Synthetic wig styled into Leia's classic buns

(Note: some dresses have a two-slit design previously used by manufacturer)

Tames the heart of wild outlaws like Han Solo
Princess Leia Adult White Dress
Product # RU888610
Size
Chest
Waist
Dress Length
X-Small
30" - 36"
26" - 37"
51"
Small
31" - 38"
28" - 39"
53"
Medium
35" - 40"
30" - 42"
54"
Large
36" - 48"
31" - 46"
56"
How to take your measurements
There are no reviews for this item.Be the first to write a review!