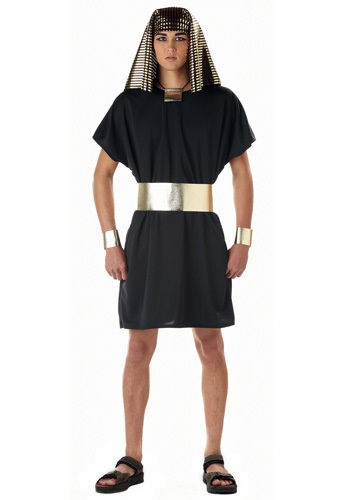 Tunic

Headpiece

Belt

Cuffs

Pendant
Dress in this historical Egyptian Pharaoh Costume for your next Halloween or theme party! Add sandals to complete your look. If you want to defend your kingdom, add a shield and a spear or bow & arrow set and mount your chariot. (If you're interested in historical accuracy, the ancient Egyptians didn't use swords.) Or, pair up with a Cleopatra costume for your date!
100% polyester interlock knit fabric

Black pullover knee-length tunic has cap sleeves

Headpiece is a 24'' square of woven black-striped gold lamé

Tie headpiece around crown of head w/ black cords, then drape

Belt and wrist cuffs are gilded faux leather and fasten with Velcro

Pendant is a rectangle of gilded faux leather with an Egyptian hieroglyphic design painted on it, sewn to a black cord
Adult Egyptian Pharaoh Costume
Product # CA00935
There are no reviews for this item.Be the first to write a review!