SWAT Costumes for Kids
It's no wonder that some kids dig the cool outfits of the SWAT team. After all, the SWAT uniform really does project the image of someone who can solve any situation, even if that situation is just bartering for some extra cookies during negotiation or just keeping an eye on the family dog. Well, you can properly outfit your little one for the next mission with one of our SWAT costumes for kids, which have all of the detail of our adult-sized costumes, just in a smaller size for your young agent-to-be! You can choose from plenty of different styles, so let's take a closer look at some of the versions that your child can wear to get into character.
Boy's SWAT Costume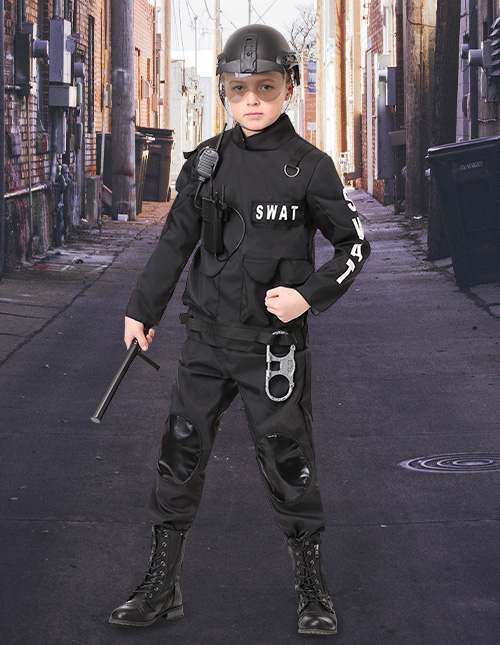 First up, we have some classic boys' SWAT costumes. A good SWAT costume for kids will come with everything they need to feel like the team's commander. Many of our Made By Us boy's costumes are designed to be a top-notch experience right out of the package, which means they come with a shirt, pants, helmet, and more. This will save you some time trying to put together all of the necessary SWAT accessories your child will need to get their SWAT costume rolling for Halloween. This sort of look is great for any child who's ready to lead!
SWAT Girl Costume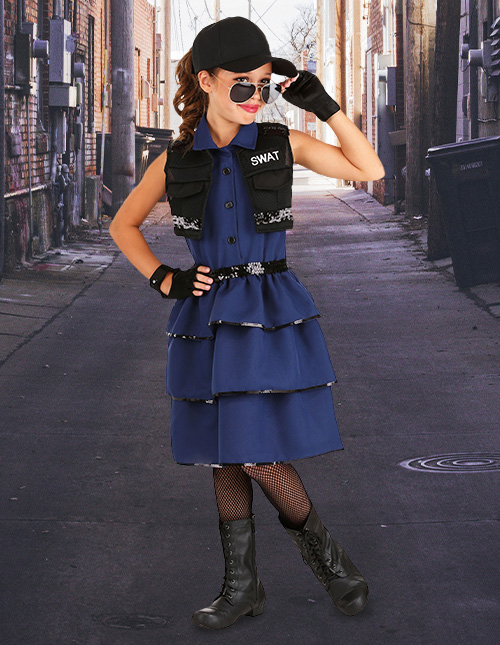 Not every girl will want to wear the standard shirt and pants costume. Well, the great news is that we're all about providing options here at HalloweenCostumes.com. If your girl wants something that combines a dress style with a SWAT uniform, then she's going to love one of our SWAT girl costumes. These costumes feature a classic top, which looks like a classic SWAT top. Instead of pants, it comes with a skirt, which helps your young team member keep cool on missions during the summer months!
SWAT Uniform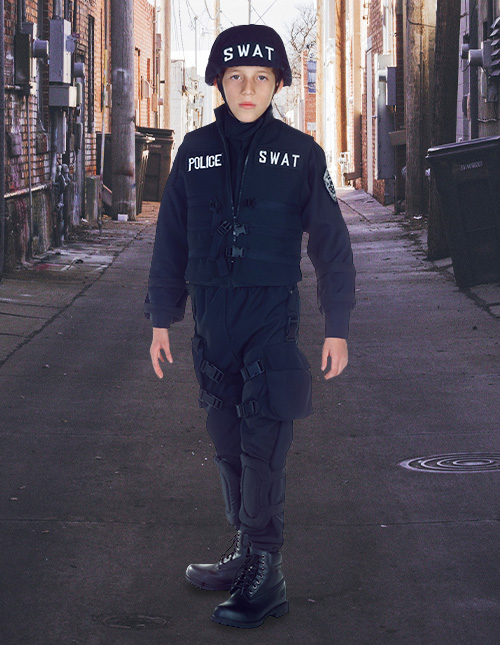 If your child is looking for a full uniform outfit, then you're going to want one of our full SWAT uniform costumes. This costume is one of our most popular versions of a SWAT uniform. It takes its inspiration from tactical gear worn by characters in movies and video games, and it even brings a touch of real-life SWAT gear into the mix. The great thing about this costume is that you can dress up alongside your child in the matching adult version of this one!
SWAT Vest Costume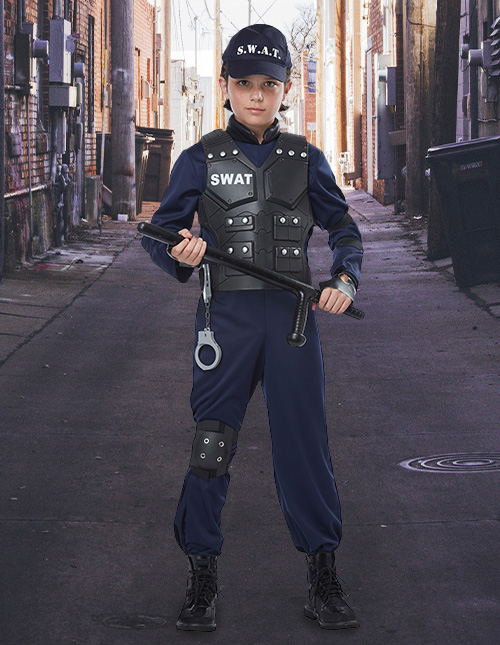 Sometimes, it's all in the vest. We love vests because each type of vest has a job to do! Life vests help keep you safe when you head to the beach (unless there are sharks out there). Sweater vests help you keep warm during chilly weather. And a SWAT vest costume? Well, that helps your child get an extremely authentic look for the next big mission! Of course, the mission is usually trick or treating, but if you ask any kid, that's the most important mission there is! Just remember that vest costumes are just that… costumes! They won't offer any additional protection and are just for visual appearance.