Elvis Presley Costumes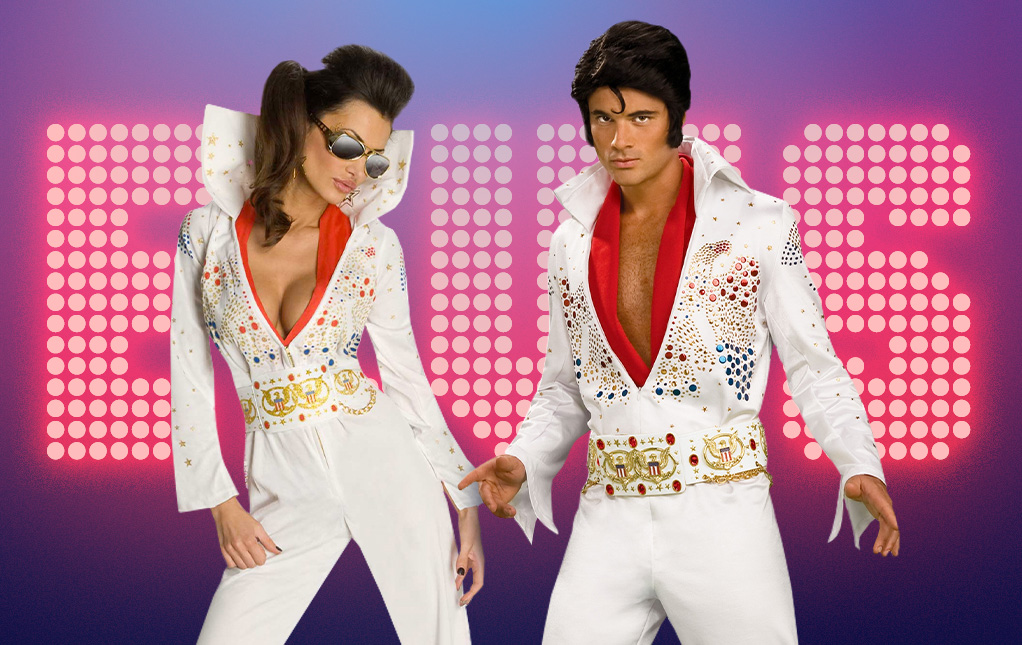 Rock star. The King of Rock and Roll. Legend. What can we say about Elvis Presley that hasn't already been said? The guy had a crazy life. He became a star in the 50s, served in the Army, then returned to become an even more prominent name. Elvis Presley is an iconic figure in music history. If you need a celebrity costume of the greatest ever to do it, check out our Elvis Presley Costumes.
Elvis Halloween Costumes
Many people associate Elvis Presley with his sultry voice, unorthodox singing style, and fancy moves. One thing he is arguably known for more than anything is his impeccable fashion sense. As he transitioned in his career, his outfits were more akin to superhero costumes. Check out an Elvis Halloween Costume if you want to be known for your good tastes.
Women's Elvis Costumes
Are you looking for a woman's costume but stumped for ideas? Remember that Elvis impression you have been mastering your whole life? We think it's time to take that Elvis impersonation on that road. If you agree, you must check out a Women's Elvis Costume. It's an excellent alternative for those who need a celebrity costume with a little Presley twist.
Child Elvis Costumes
Most children don't know a lot about Elvis. It's a shame. They really should teach kids about him in school. You could learn a lot from his life. We guess that is asking a lot, as teachers need time to teach math or whatever. If you need a kid's costume and are ready to give your kid a break from the books to show them the essential things in life, pick up a Child Elvis Costume.
Toddler Elvis Costumes
Looking for a toddler costume? We know toddlers can be all over the place. Sometimes, just getting them to put on clothes can be a hassle. That's why you need an infant Elvis costume. You can confuse their little minds with shiny surfaces and bright colors. If your kid wants to switch things up from their PJ Mask attire, distract them with a Toddler Elvis Costume.
Elvis Baby Costumes
Aren't babies amazing? You can throw them in all sorts of Halloween infant costumes, which they look great in. My Little Pony costumes? They look adorable in 'em. Spider-Man costumes? They look better than Peter does. If you are a fan of the legendary Elvis and want to start your kid off on the right foot, pop on their wing-tipped booties and check out an Elvis Baby Costume.
Sexy Elvis Costumes
There was a time when you couldn't mention the word sexy without saying, Elvis. There was something about his deep voice, slick moves, and of course, that hair that had all his fans going wild. A sexy costume is a great way to channel the King's electric energy without all the hassle of becoming a pop star. Be the sultry star you always wanted with a Sexy Elvis Costume.