Treat Bowls / Containers
1 - 2 of 2
---
The trick to treats is having somewhere to keep them! Ensure all your Halloween sweets are ready for the party with candy storage containers and treat bowls! Our selection offers everything from Halloween cookie jars to snack dishes perfect for fall and Halloween celebrations! Find the candy bowl, dessert bowls set, or candy jar ideas that are right for you when shopping with us!
read more
read less
Main Content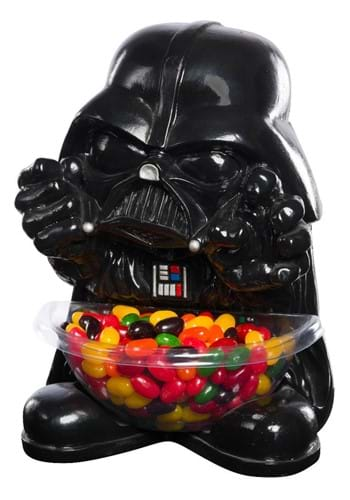 Out of Stock
---
How many Halloweens have come and gone where the day of you're looking around the house for a suitable candy bowl? If you're using the honor system for handing out sweets so you can take your kiddos trick-or-treating or attend a costume party, you can't just leave the bag of individually wrapped treats on the front step. You want a Halloween candy bowl for porch offerings that looks nice next to the jack-o-lanterns and skeleton props. And if you're staying in to answer each trick-or-treater's knock with a piece of chocolate or lollipop, it'd be more fun if the Halloween candy bowl matched your costume.
But the need for a candy storage container doesn't end there! Perhaps you're throwing the costume party. Your snack tray ideas come screaming to life better with seasonally styled dessert bowls and animated surprises than your everyday flatware. Luckily, our selection is here to help with everything from honor system setups to perfectly curated holiday decorating for your interior design blog.
Get in the holiday spirit as soon as the breeze changes, when you shop for Halloween storage containers with lids! These unique cookie jars and treat containers are perfect for year-round display and seasonal decorating. Feel the cozy autumn coffee shop vibes whenever you'd like with a Central Perk cookie jar on your counter. Keep holiday décor switches easy with a Nightmare Before Christmas jar. Or add classic Halloween charm to your kitchen, living room, or office with spooky-cute Johanna Parker candy jars!
Keep one of our favorite Halloween traditions alive with an animated Halloween candy bowl! Remember that Halloween candy bowl with a hand that had you scream-laughing as a kid? Add that beloved Halloween decoration to your display when you shop our selection! Or put a spin on the classic jump scare when you choose an animated candy bowl that's protected by a reaper or scarecrow!
Ensure you have a Halloween candy bowl for porch decorating with help from our selection as well! From large plastic witch cauldrons to sculpted candy bowl holders that are sure to add polish to your heroic Halloween décor, we've got you covered! Pop a mist-maker behind the cauldron, an animated hag in a chair next to that, and let trick-or-treaters experience the sweet chills and thrills of Halloween! Or recruit Wolverine, Captain America, and Iron Man to the party to ensure the neighborhood has a marvelous time stopping at your front door!
For desktop decorations for sharing a few candy pieces with co-workers to themed bowls that help you transform humble homes into haunting houses, our selection of Halloween treats containers is the right place to be! Find your sweet-as-honey Winnie the Pooh cookie jar, retro resin treat stand, or Freddy Krueger candy holder here! Not seeing the perfect piece today? Be sure to visit again! We're continually updating stock to best suit all our customers!