Adult Oscar the Grouch Costume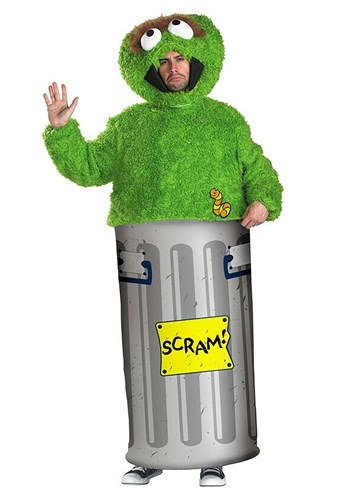 Oversized item. Surcharges may apply. Details

Surcharge for Oversized Products

Due to the size and weight of some products, an additional surcharge is applied when these products are shipped.

The additional handling fee is added to your shipping charges upon checkout.

This product has restrictions that limit the countries that we can ship to. Details

Shipping Destination Restrictions

This product has restrictions that limit the countries that we can ship to. This product cannot be shipped to Austria, Belgium, Bulgaria, Croatia, Cyprus, Czech Republic, Denmark, Estonia, Finland, France, Germany, Greece, Hungary, Ireland, Italy, Latvia, Lithuania, Luxembourg, Malta, Netherlands, Poland, Portugal, Romania, Slovak Republic, Slovenia, Spain, Sweden or United Kingdom.
Product Description
You are seriously never in a bad mood. Never. Besides being freakishly inspiring, your personality is also fodder for the perfect Halloween costume!
Your good nature is precisely why this look will be so hysterical to your friends and coworkers. Don this classic curmudgeonly look and thrash about a big bash in the trash. In this licensed Adult Oscar the Grouch Costume, you will get to play at being grumpy all night long! The look is so realistic, even you may not recognize yourself in the mirror, all dressed up as the furry, irritable but also somehow lovable character of Oscar from everyone's favorite, Sesame Street! You can band together with a bunch of pals for a great group costume, or "grouch out" solo and sulk in a corner, alone.
Of course, your pals may not stick around long when they read the "SCRAM!" sign on the outside of this costume's trash bin. And then who will you have to complain to? Oh well. It's tough being a grouch, huh? We guess it's good that you're not on in life, then! So just enjoy a night dressed as your alter ego in this fuzzy green jumpsuit and headpiece. You may want to practice your rendition of "I Love Trash," as nostalgic pals everywhere will ask you for a performance (and let's be honest, even dressed as a grouch you still can't help but want to make your friends happy).
55% polyester/45% acrylic long-pile faux fur & 100% polyester windbreaker fabric

Bright green faux fur top fastens w/ Velcro at back of neck

''Trash can'' of gray windbreaker fabric has two 24'' wire hoops for shape

Trash can has printed handles and ''SCRAM!'' sign

Faux fur headpiece has inner hood that fastens w/ Velcro

Face opening in character mouth
Headpiece

Tunic w/attached printed trash can
Size
Measurement
Standard
Metric
X-Large
Chest
72"
183cm
X-Large
Length
57"
145cm
There are no reviews for this item yet. Be the first to write a review!
---