Baby Halloween Costumes
1 - 60 of 562
---
Perhaps you're a new parent, and you're looking for the first costume your new addition has ever worn. Or maybe you've been a parent for awhile now and you like to dress up your baby up for a good laugh while visiting the grandparents. No matter why you want a costume, we think our Baby Halloween Costumes 2015 selection will help you find exactly what you're looking for. We have the cutest animal costumes, character looks, and other adorable and comfortable things that will keep baby feeling snug while the parents can relax and enjoy life's little moments of joy. These Baby Halloween Costumes 2016 are going to create wonderful memories and plenty of laughter.

Baby Costumes
Baby Costume Ideas
Ideas, Tips and Tricks
Congratulations on your new bundle of joy! Now all the fun can begin for you and the latest addition to the family. We're not talking about the diaper changes, the bottle feeding, and the late night rocking chair sessions, we're talking about all the adorable pictures that you'll inevitably take. There will be pictures you'll post on Facebook, there will be pictures you'll frame and hang all over the house, and there's always those silly pictures you'll put into scrapbooks and treasure forever. Taking lots of baby photos is a rite of passage for a parent and we're hoping that we can make these memories extra special for you. You'll create memorable photos when you wrap your tiny one in a costume onesie or a crocheted diaper cover. Send us some pics so we can experience the cuteness overload too!
Newborn Picture Ideas
Newborn Costumes
Newborn Kit the Fox Bunting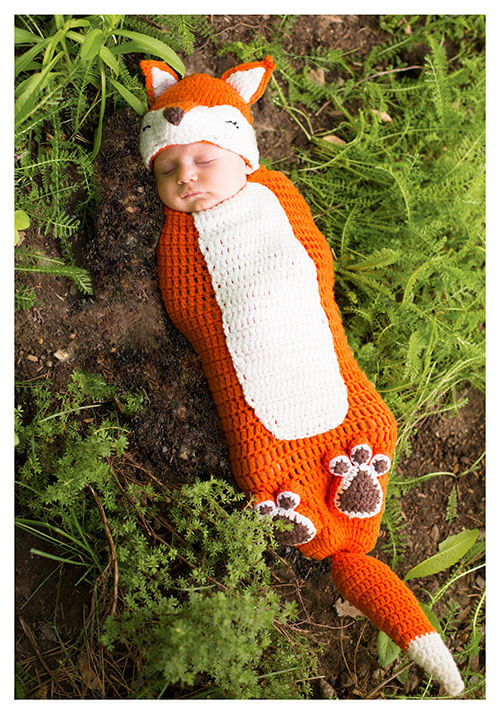 Newborn Cowboy Hat and Diaper Cover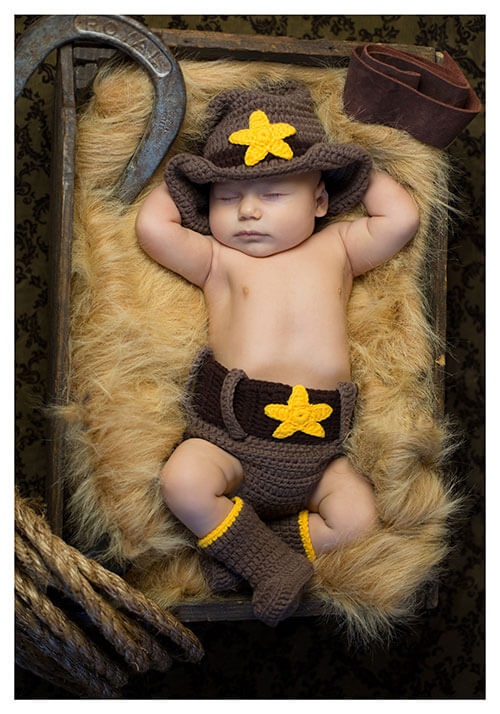 Newborn Mr. Police Officer Hat and Diaper Cover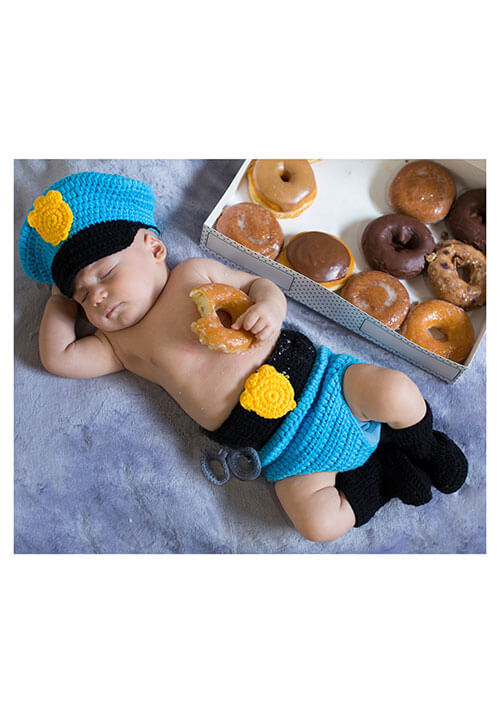 Newborn Casey the Caterpillar Bunting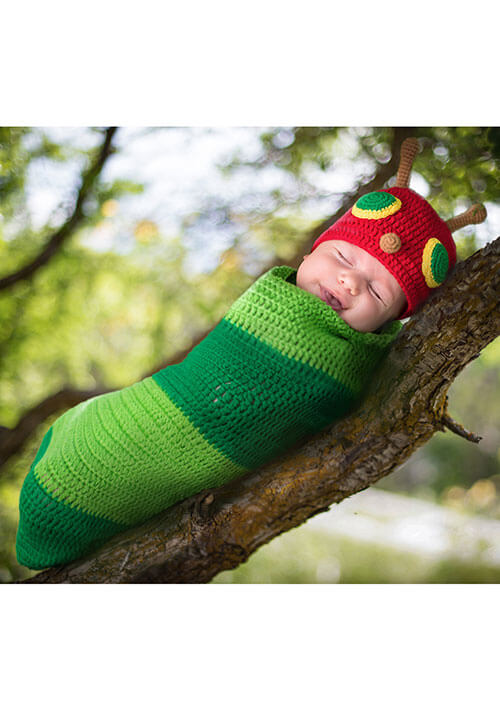 Okay you've dressed your chubby 'wittle' baby up in costume, now it's time to set the scene! Your picture will be extra charming with the right props and setting. For instance, wiggle the adorable police officer diaper cover around your newborn's chubby belly. Position him next to a dozen fresh donuts. Nibble on a donut and place the half-eaten pastry in your baby's hand. Give yourself a pat on the back because you've just transformed into a professional photographer! Proudly display this delightful photo on social media so everyone can see your new family member and notice your hip photography skills. You'll love setting up an outdoor scene while dressing your wee one in a fox or caterpillar bunting. Everyone will exclaim, 'aw, how precious!'
Little Animals
Little Animal Costumes
Infant Lion and Elephant Costumes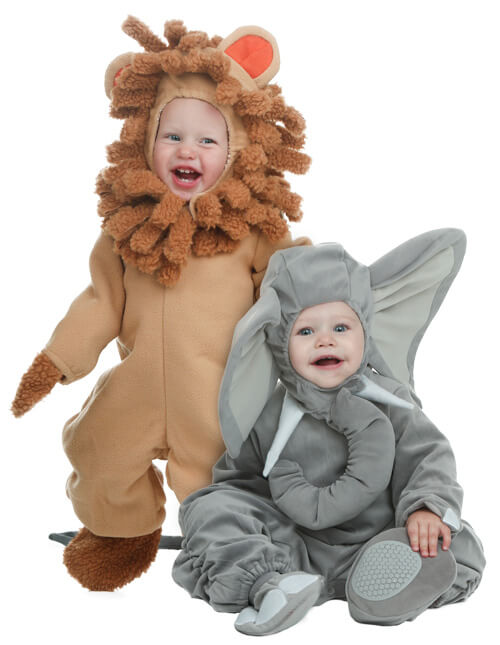 Infant Cow and Pig Costumes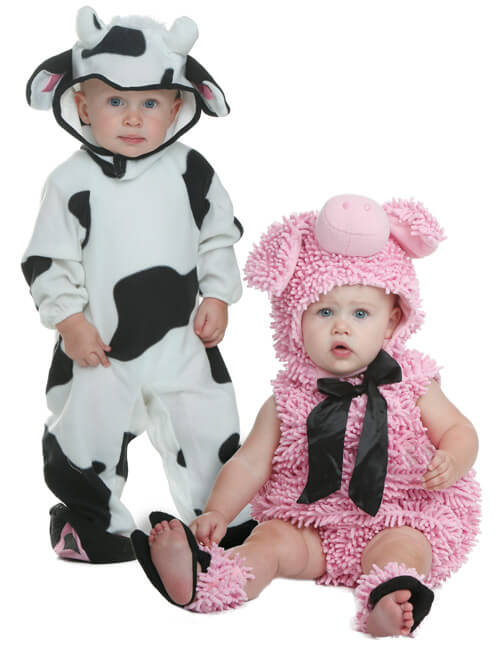 Infant Monkey Costume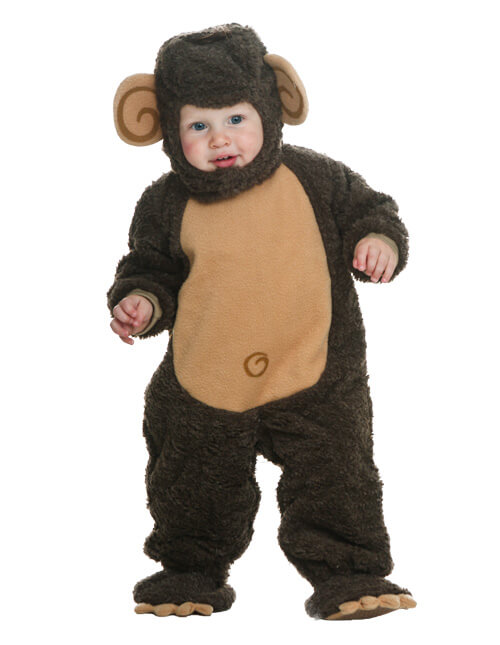 Infant Owl Costume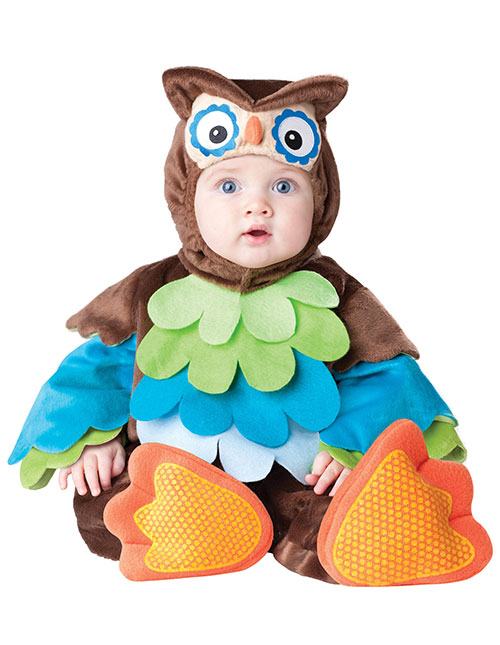 Before you know it, your darling newborn will be pointing at dogs and cats and saying 'woof' and 'meow.' Yup, he or she will be making animal noises and even saying complete sentences in a blink of an eye. Before your babe starts talking and objecting to your outfit choices, you need to take advantage ASAP! Dress him or her as every cute safari, forest, and farm animal that you can think of! Tote your precious one around the zoo in an elephant or lion costume. Spend a day at the farm while he or she is in a cow or pig costume. Be sure to take as many pictures as possible, turn them into post cards, and mail them to all your family and friends!
Babies on the Move
Costumes for Babies on the Move
Infant Prisoner Costume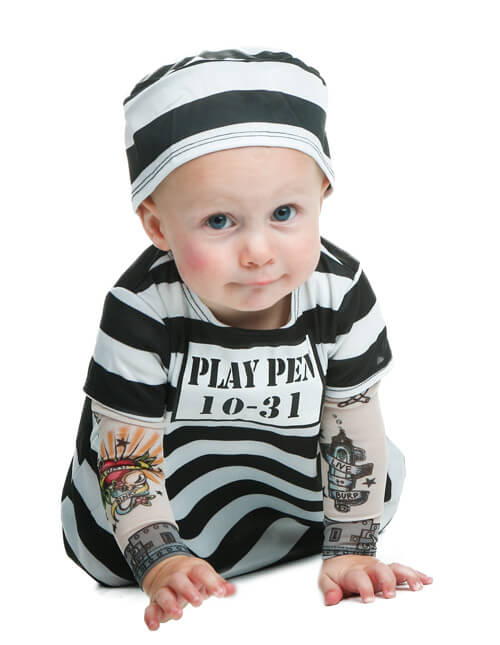 Infant Minion Costume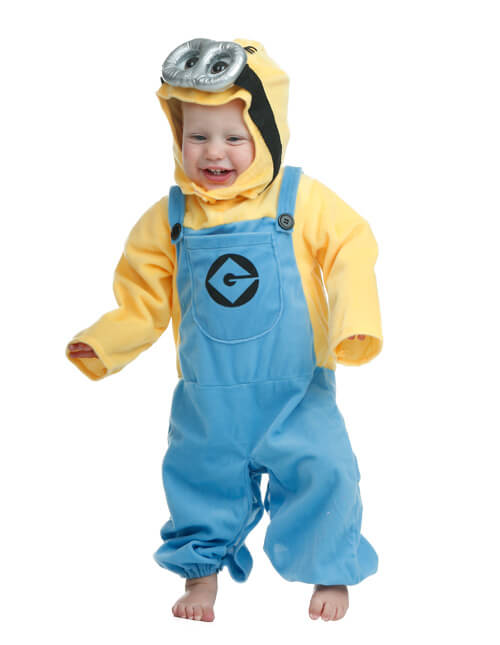 Infant Superman and Supergirl Costumes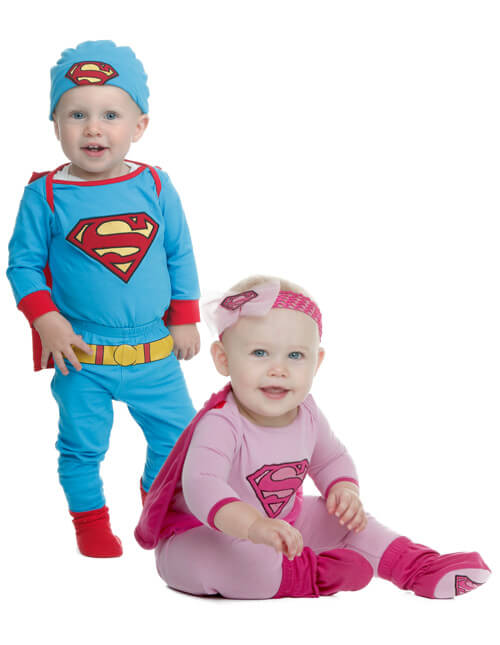 Infant Minnie Mouse Costume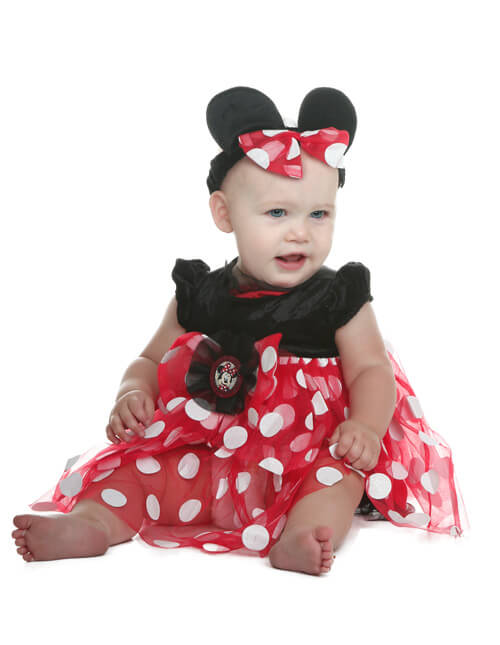 Pretty soon you'll be putting up baby gates in every doorway cause... baby is on the go! It seems just like yesterday you were cradling him in your arms, now he's crawling out of his room before you can say, 'bah-bah!' So how do you dress your motoring toddler? In a comfortable costume that is perfect for movement of course! Your little speed racer will be comfortable in a Superman or Supergirl costume because of the comfy elastic waistband pants. Tiny hellions will be content in a Minion or a prisoner costume. That little rascal is scooting into the kitchen...you better go grab him!
Babies Who Refuse To Wear A Hat
Costumes for Babies Who Refuse To Wear A Hat
Infant T-Bird and Pink Lady Costumes (Front)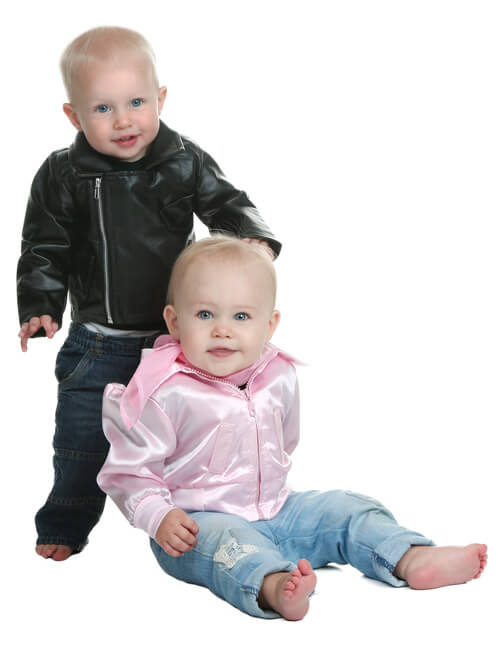 Infant T-Bird and Pink Lady Costumes (Back)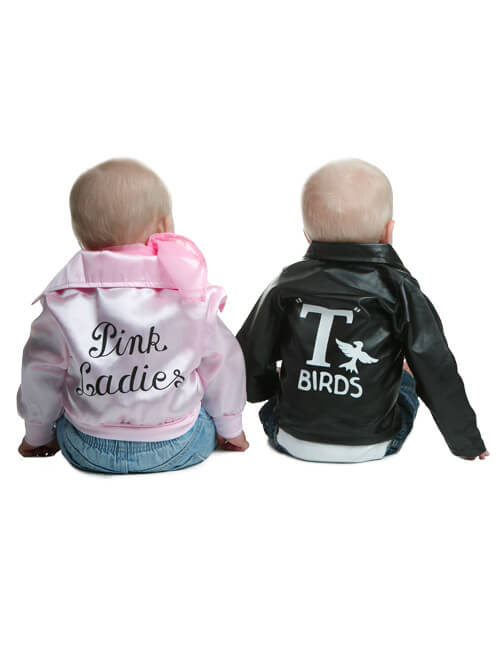 Infant Astronaut Costume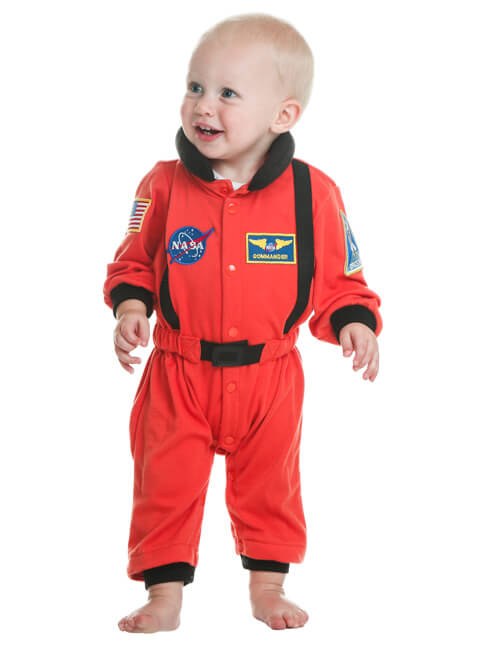 Infant Firefighter Costume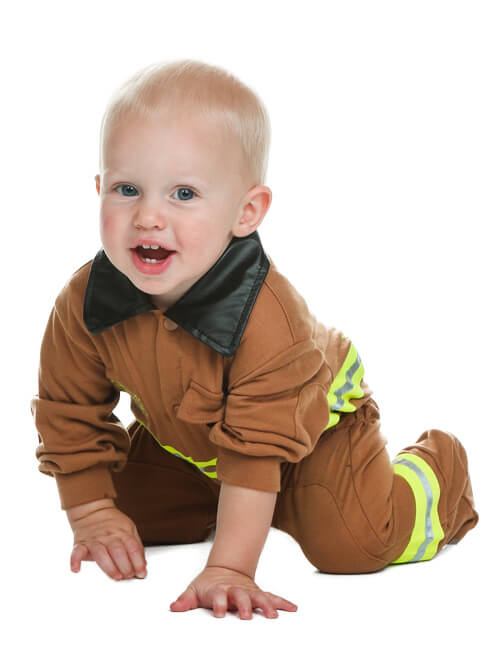 Dorothy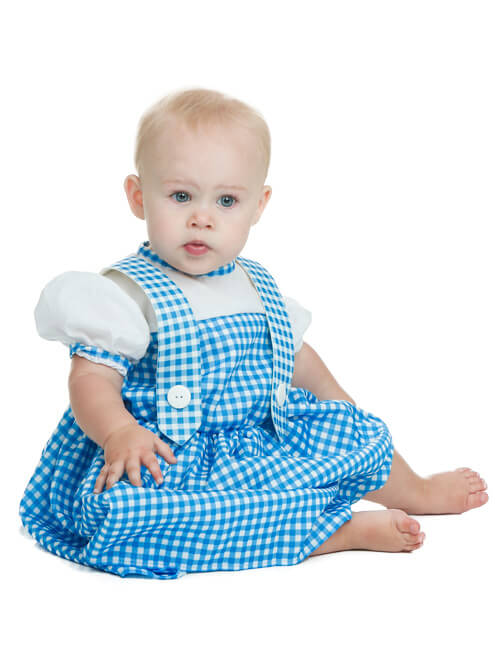 We're guessing that hats and hair bows aren't your babies' favorite accessories. If he or she whips a hat off their head as soon as you place it there, then you should consider dressing them in hat-less costume. They're just as darling as costumes that come with hats, plus your baby will actually enjoy wearing them. A Pink Ladies or T-Bird jacket is a great infant costume and no hats are involved. Our astronaut and firefighter costumes are other great options for baby boys, while little princesses look Oz bound in a Dorothy dress.
Holiday Babies
Baby Costumes for Holidays
Infant Reindeer and Santa Costumes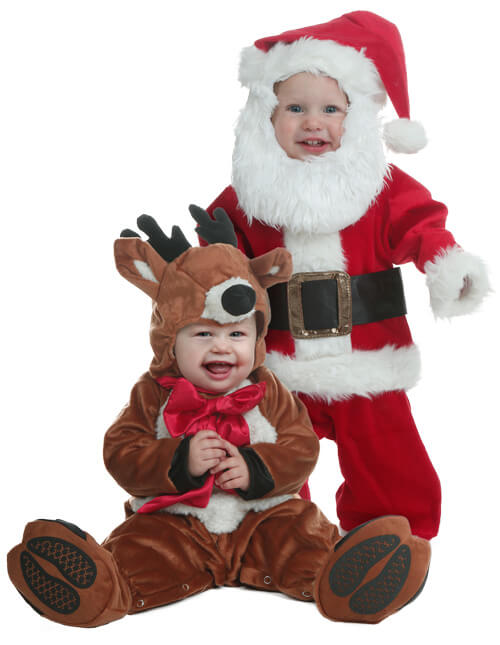 Infant Turkey Costume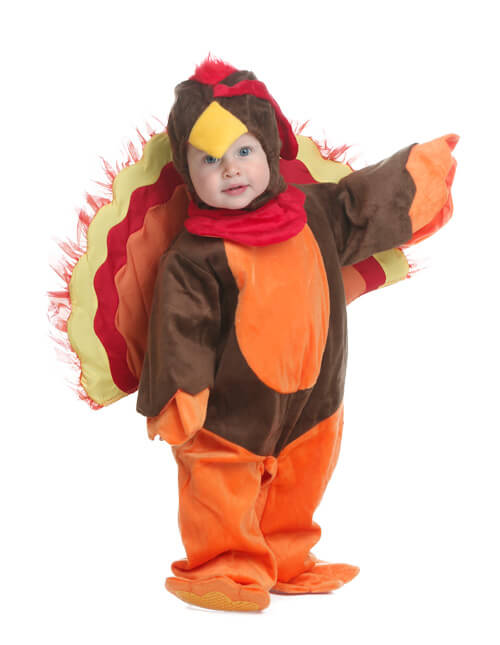 Infant Bunny Costume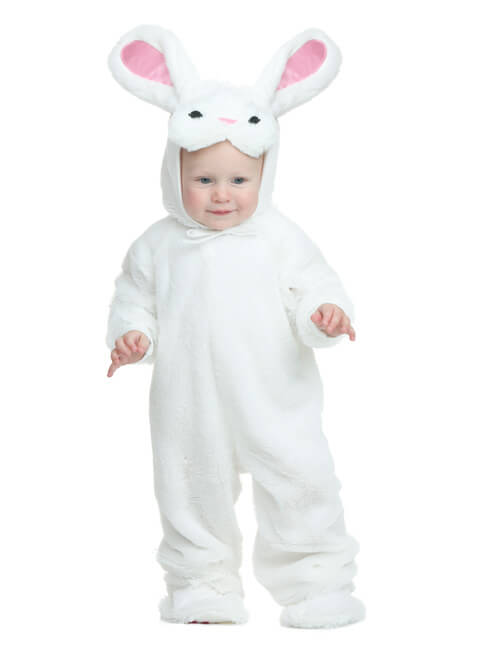 Infant Leprechaun Costume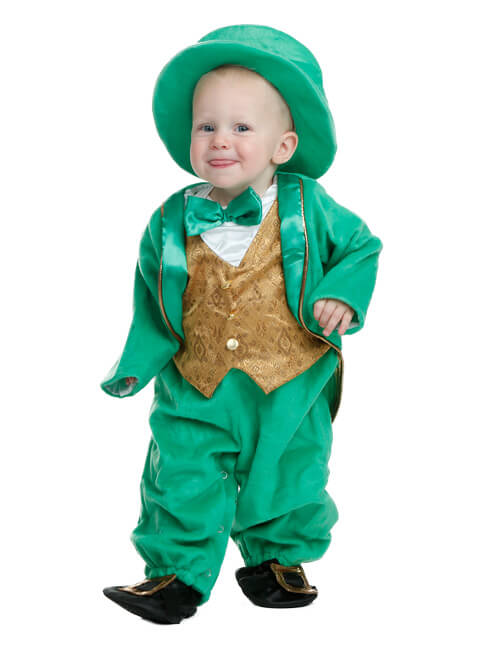 Oh, the joy of Christmas pictures! You'll take tons and use them as Christmas cards in the years that follow. Make sure your baby is dressed cute while they are crying on Santa's lap because you know you'll be sharing that picture with house guests for years to come. A reindeer onesie would be a festive and fun way to dress your infant. Consider our leprechaun costume for St. Patrick's Day, our bunny costume for Easter, and our turkey costume for Thanksgiving. You'll be very thankful that you did!