Baby Halloween Costumes
1 - 60 of 565
---
Perhaps you're a new parent, and you're looking for the first costume your new addition has ever worn. Or maybe you've been a parent for awhile now and you like to dress up your baby up for a good laugh while visiting the grandparents. No matter why you want a costume, we think our Baby Halloween Costumes 2015 selection will help you find exactly what you're looking for. We have the cutest animal costumes, character looks, and other adorable and comfortable things that will keep baby feeling snug while the parents can relax and enjoy life's little moments of joy. These Baby Halloween Costumes 2016 are going to create wonderful memories and plenty of laughter.

Baby Costumes
Baby Costume Ideas
Ideas, Tips and Tricks
Congratulations on your new bundle of joy! Now all the fun can begin for you and the latest addition to the family. We're not talking about the diaper changes, the bottle feeding, and the late night rocking chair sessions, we're talking about all the adorable pictures that you'll inevitably take. There will be pictures you'll post on Facebook, there will be pictures you'll frame and hang all over the house, and there's always those silly pictures you'll put into scrapbooks and treasure forever. Taking lots of baby photos is a rite of passage for a parent and we're hoping that we can make these memories extra special for you. You'll create memorable photos when you wrap your tiny one in a costume onesie or a crocheted diaper cover. Send us some pics so we can experience the cuteness overload too!
Newborn Picture Ideas
Newborn Costumes
If your little one just entered the world, there are plenty of ways to help get your baby ready for any costume event! From cute animal costumes, to adorable professional looks, they're the perfect way to make your baby cozy and comfortable while you create some new memories for your photo album.
Newborn Kit the Fox Bunting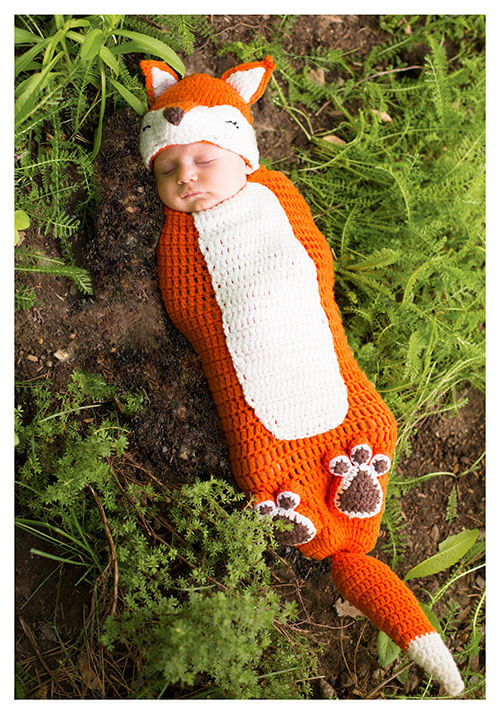 If your baby has a little bit of a wild side, then you need a look that will help your infant in touch with nature! With this cute Newborn Fox Bunting, you can set your child up in the backyard for a great pic based on the outdoors.
Newborn Cowboy Hat and Diaper Cover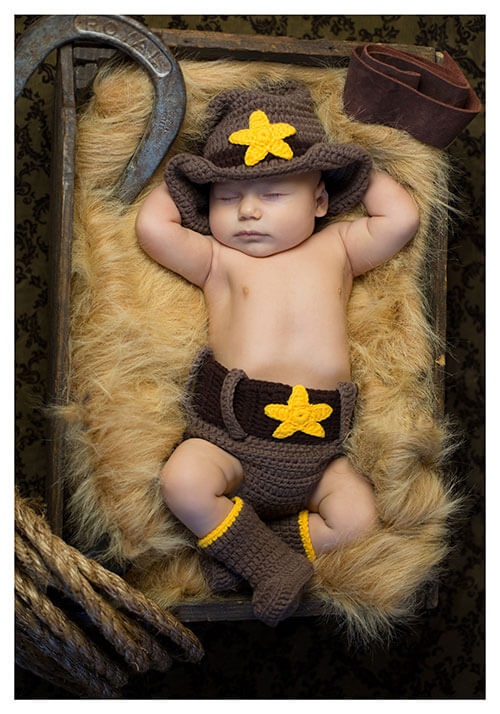 Do you have one wily little wrangler in the making? Then it's about high time you made him sheriff of the family! Not only is this outfit cozy for your cowpoke, but it also makes for adorable photos that can melt any outlaw's heart in a second. To create a scene like this, all you need are a few horseshoes, some rope and a soft place for your baby to lay.
Newborn Mr. Police Officer Hat and Diaper Cover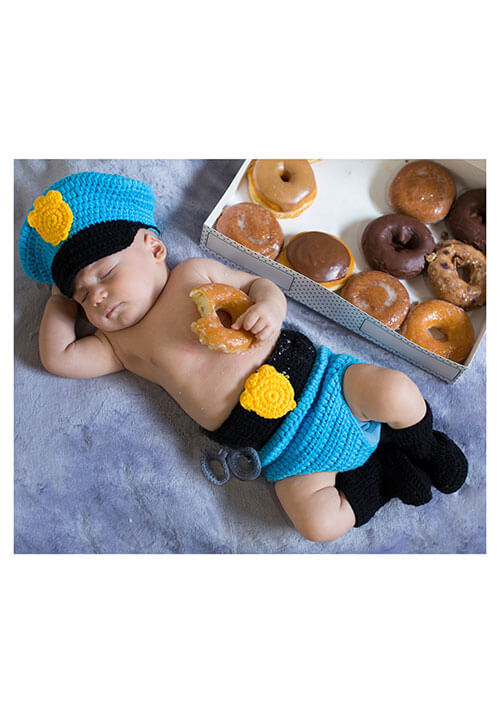 Being the keeper of the peace looks like a job for your little one! To make this cute photo opportunity, all you need to do is nibble on a few donuts and craftily lay them by your sleeping baby in this police officer costume. It's okay to indulge in a pastry or two if it means getting the most adorable photo of your little one!
Newborn Casey the Caterpillar Bunting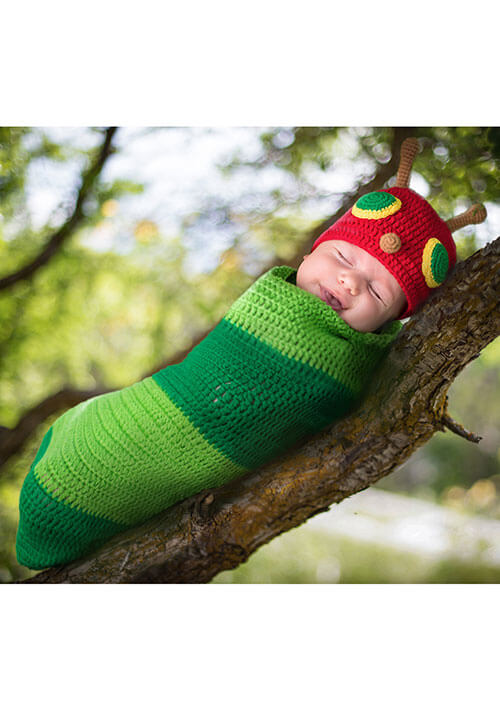 It's the return of the hungry caterpillar! The pics you can set up while your baby is wearing this caterpillar costume are endless. Outdoor scenes are a dream, since you can set your infant up in a soft bed of grass, or next to some trees to make your baby look one with nature!
Animal Costumes
Little Animals
Animals are adorable and infants are adorable, so what happens when you put an infant in an animal costume? Super-cuteness ensues! With plenty of different options, we've brought together some of the cutest looks for pic opportunities for you to share with your friends and family.
Infant Lion and Elephant Costumes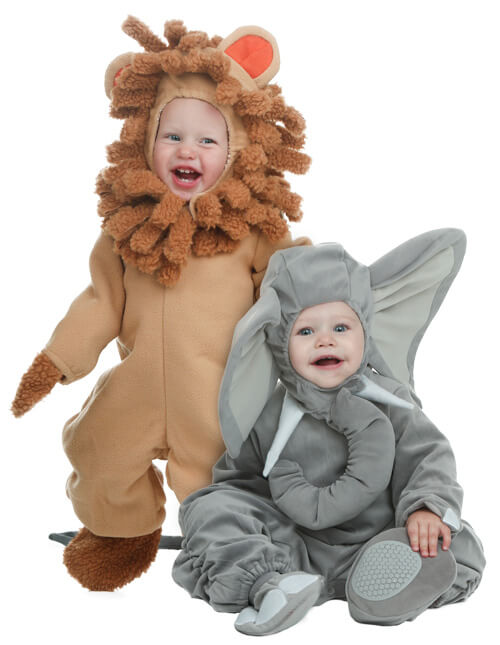 Of course, the best way to get some adorable safari pics is to dress your baby up in animal costumes are inspired by the wild realm of the Serengeti! Your biggest decision will be whether your baby looks cuter in an elephant costume, or if your little one is more of a ferocious lion. Rawr!
Infant Cow and Pig Costumes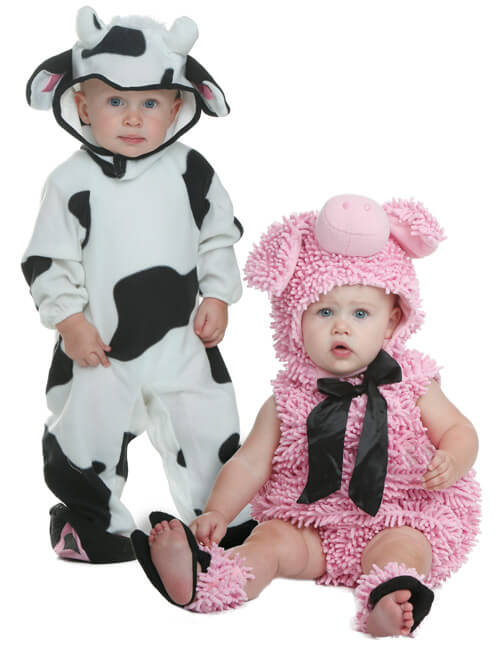 Old MacDonald won't be the only one with a farm! With these cow and pig costumes, you can turn any party into a barnyard bash, with an oink, oink here and a moo, moo there, of course. If you want to add an authentic look to any pic with these costumes, just add some hay and the good old outdoors for the best results.
Infant Monkey Costume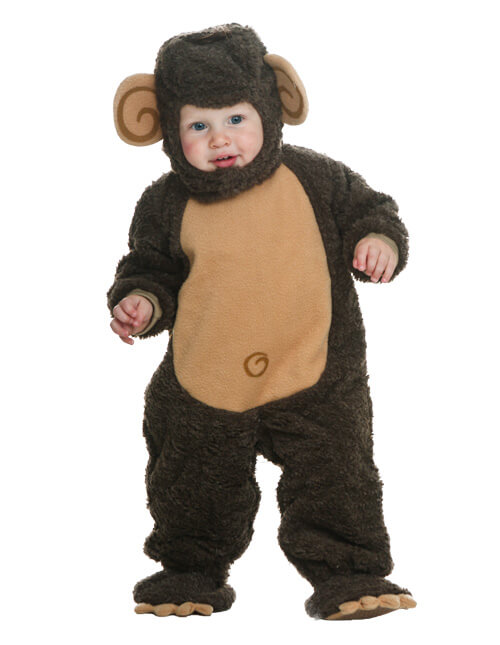 Monkey business isn't just for mischievous little simians anymore! Dress your child up in a monkey costume to turn your little one into a character from their favorite nursery rhyme. Bananas are a complete must if you plan on creating a cute photo for social media with this cute look.
Infant Owl Costume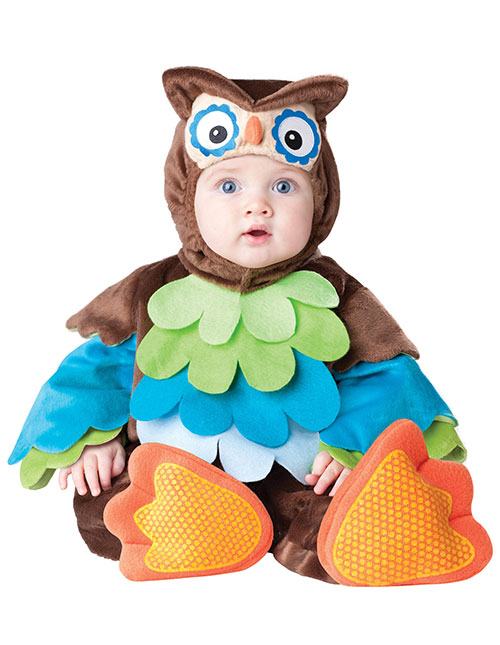 Have you become a bit of a night owl because of your little one? Maybe it's about time that you dress your baby up in a more fitting look! With an owl costume, your baby gets to look a little more like how she feels. It's a great look for late night photos, or just any time where you need your infant to be the star of the night.
Costumes for Crawlers
Babies on the Move
Once they start 'a crawling, you'd better look out! It seems like yesterday that you were cradling the little one in your arms, but now you just can't keep them still. Don't worry, because you can still get some great pics of your infant with the right costume. In fact, some of these outfits look better when your baby is cruising!
Infant Prisoner Costume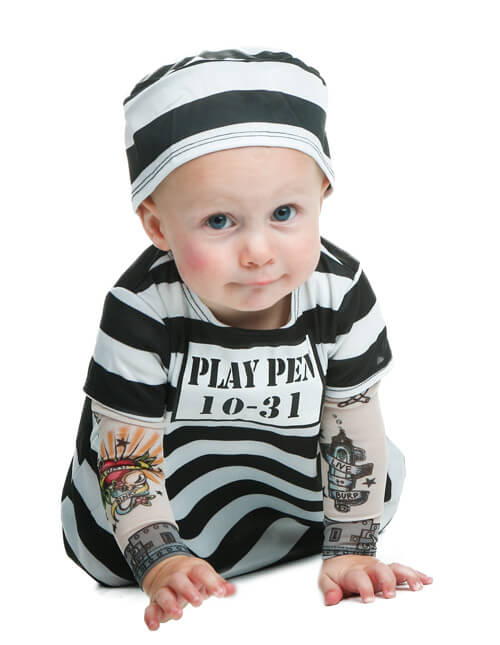 Some babies have a wild streak in them and just can't keep themselves away from the pen, the play pen that is! If your infant is a bit of a troublemaker, then getting a few pics of him wearing this prisoner costume while he breaks the rules is an easy way to get the perfect shots.
Infant Minion Costume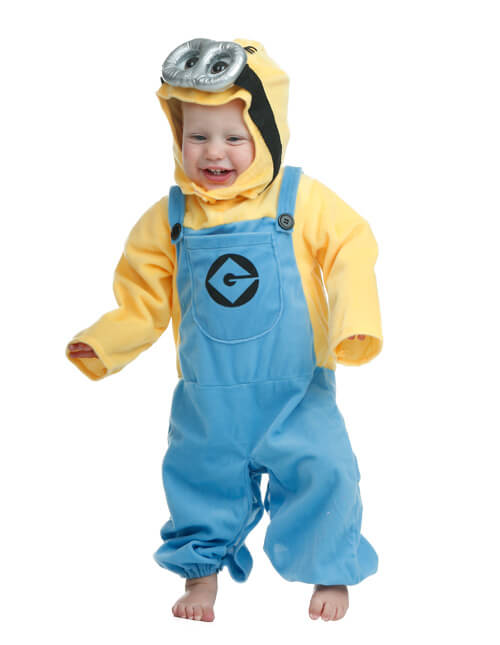 How about the look for the perfect little helper? That's easy! This Minion costume transforms your baby's constant need to help out into an adorable plot for evil schemes. This cute little look makes for a great shot with or without and evil super genius at his side.
Infant Superman and Supergirl Costumes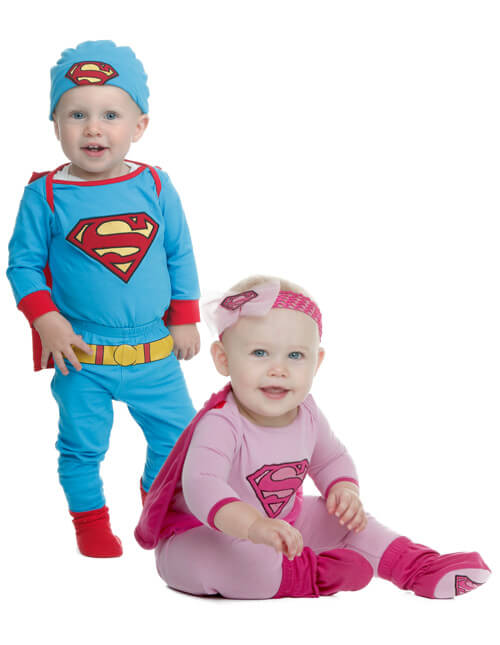 It's no surprise that superheroes are always on the go! They need to be save the world from an evil scheme one minute and the next, the need to be stopping a bank robbery halfway across the world. Of course, if your baby is the heroic type, then these Superman and Supergirl costumes can make for an adorable pic for any infant who needs to be on the go.
Infant Minnie Mouse Costume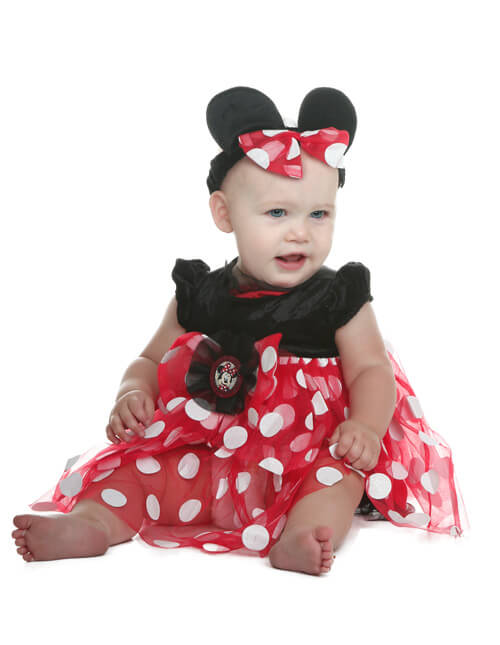 Disney is known for their vibrant characters and Minnie Mouse is one character who's always on the move! If your little girl always needs to be on the go, then try a bouncing character like her! With a cute tutu style, it's made for the kind of girl who can't stand still and it makes for great look in any photo album.
Costumes Without Hats
Babies Who Refuse To Wear A Hat
Some little ones just don't want to put a hat on, no matter how much you try. That's okay, since you can find plenty of baby-friendly costumes that won't require you to wriggle your little one into a hat. From Danny Zuko and Sandy, to astronauts and Dorothy, there are plenty of options for you to get some cute hat-less pics.
Infant T-Bird and Pink Lady Costumes (Front)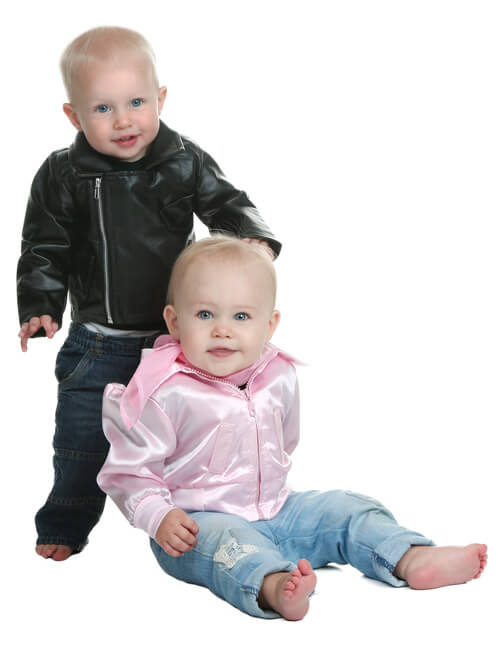 What do Danny Zuko and Sandy Olsson have in common with your little one? Why, some beautiful hair that shouldn't be covered up by a hat! Right? With these outfits based on the classic movie, you can create some classic photos based on the 1978 movie, Grease. How cute would your little one look sitting in a classic car?
Infant T-Bird and Pink Lady Costumes (Back)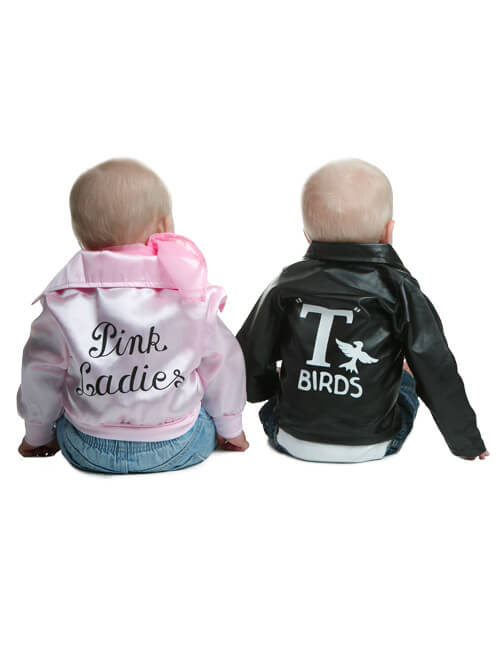 And since these costumes are fully licensed from the movie, they transform your kid into one of the Pink Ladies or one of the T-Birds. Mom and dad can even get in on the mix for a full family photo with matching outfits. Can you say, "most adorable greeting card idea ever!"
Infant Astronaut Costume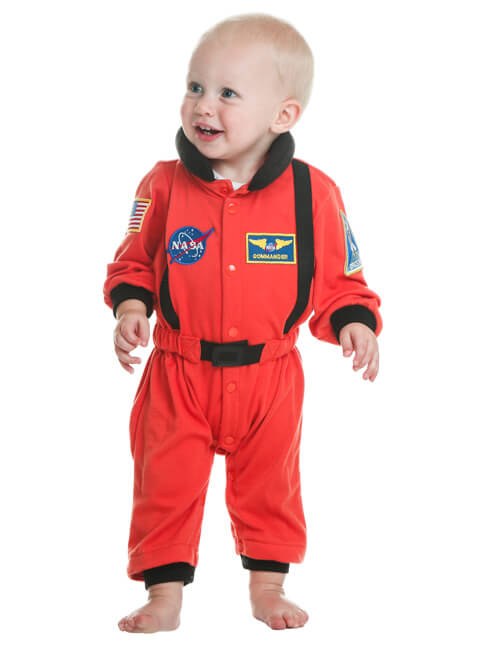 3, 2, 1, blast off! If your baby seems to run on rocket fuel, then maybe it's time you turned your little one int a space explorer. Since the costume recreates a classic spacesuit, there's no hat required with this look and that means you can take pics without any awkward hat malfunctions.
Infant Firefighter Costume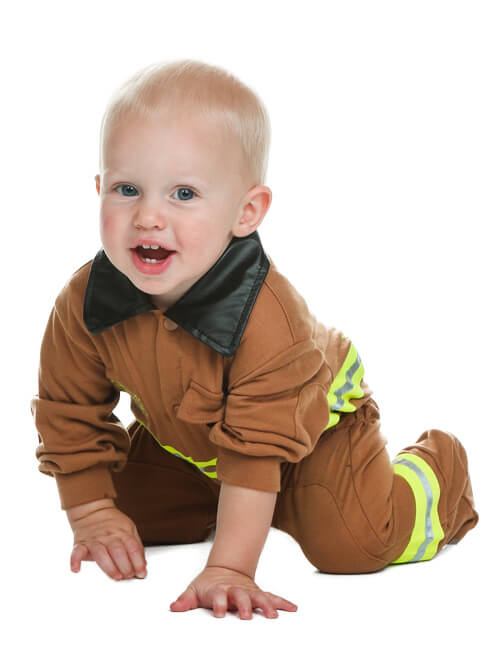 If your little one is already raring to go as a firefighter, then give this cute costume a try. Since it looks just like the ones that the big boys wear, your little one will have a look straight from the fire station in no time.
Dorothy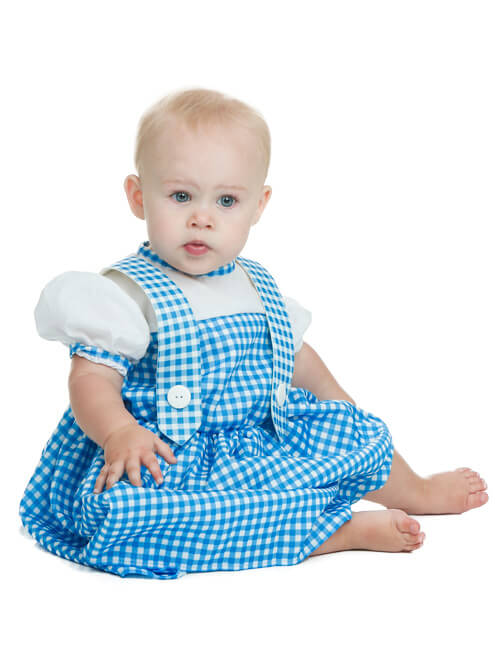 You've tried, time and again, to get your little one to wear bows, but she's just not having it! Well, no worries, because this cute Dorothy dress slips on easily and you'll never have to worry about putting anything in her hair that she doesn't want there!
Baby Holiday Costumes
Holiday Babies
Holidays are the best time of the year for you and your family! Why? Because you get to dress up your little one in some adorable holiday costumes! From Easter in the Spring, all the way to Thanksgiving and Christmas, there's a cute picture waiting for each holiday.
Infant Reindeer and Santa Costumes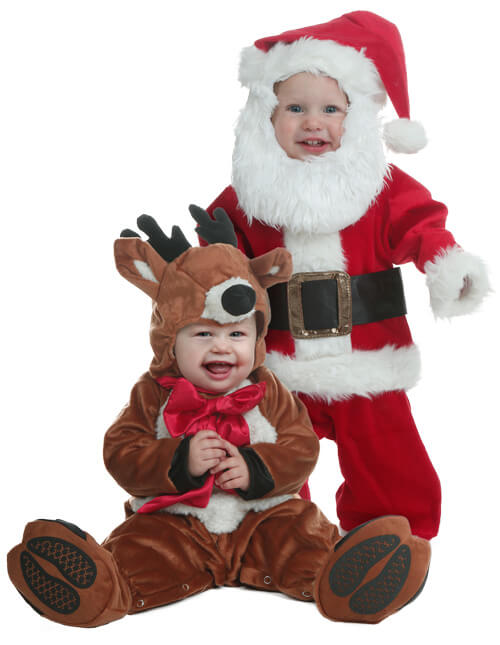 Santa Claus is coming to your home, so you'd better be nice! With these Christmas costumes, you can make sure that jolly old St. Nick comes to your home with one of his reindeer. For the best photo, all you need to do is get your child to work their magic near the tree.
Infant Turkey Costume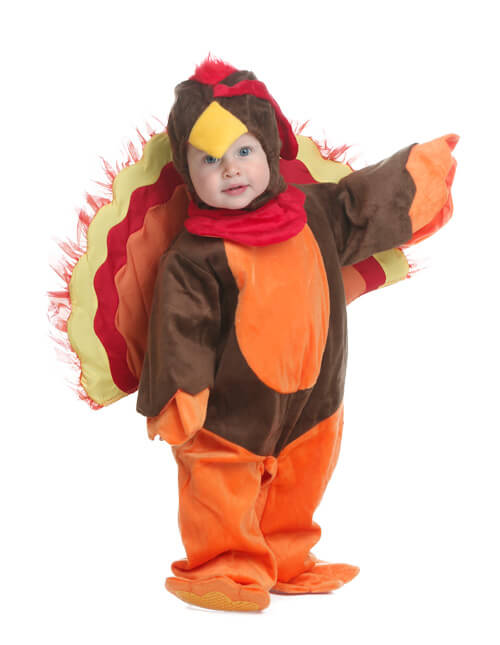 What are you thankful for? Perfect picture opportunities, of course! With an adorable turkey costume, your baby can be the star of Thanksgiving. Just make sure to get your little Tom Turkey ready for the big dinner, so you can get some great shots of him celebrating with the rest of the family.
Infant Bunny Costume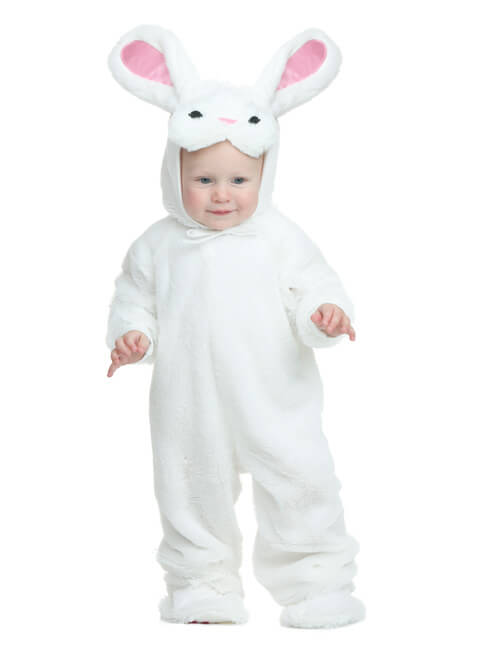 Nothing quite brings in Spring like the Easter Bunny and now your little one can be the holiday bunny rabbit! For the best picture, make sure to give you little one plenty of Easter eggs and a basket! It's the kind of pic that's a hit with the whole family.
Infant Leprechaun Costume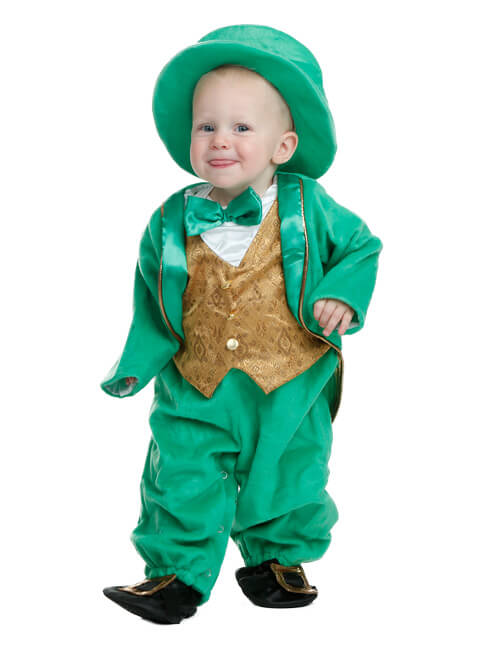 Does your baby have a little bit of Irish in him? Then it's only right that you get him geared up for St. Patrick's Day (and snap a few pics of him in the process)! When you're baby is wearing an adorable leprechaun costume, it's an easy way to get turn your child into the star of the holiday.