---
Some assume that if you see a Rainbow Wig, you're certainly looking at a clown. And, certainly, there are many rainbow clown wigs out there. But there's a ton of additional options, too! With a pastel rainbow wig, you can bring your 80s cartoon characters to life or add a splash of color to any other Halloween costume. Sort through this collection of rainbow-colored wigs to find all sorts of styles that will have you looking bright!
read more
read less
Main Content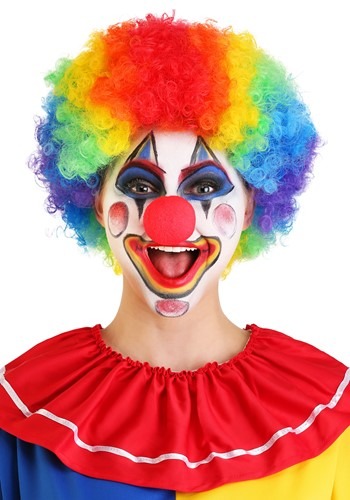 Out of Stock
---
Ever look at your costume or outfit and sigh trying to figure out how to make your hair match to perfection? Which color scheme will go flawlessly with that '80s cartoon theme? What quirky style will bring out the perfect kind of glitz to go with your mermaid sequins? How can you truly take center stage when unveiling your glorious starlet costume if you don't have a head of hair that reaches to the heavens, too!? Look no further… for your wishes have been granted thanks to our collection of rainbow wigs!
The first thing you need to know about rainbow hair is that there are a ton of different styles. You've got the gradual ombre rainbow wigs that slowly fade from a bright red to deep violet. Those are perfect for your mysterious mermaids or enigmatic enchanters. When you're looking to make folks think you've got a secret, a dark wig with a surprising splash of color on the underside is a sure way to inspire a few wide eyes! And when you're looking for a brighter look that speaks of fairies, pixies, and the sweeter side of the magical realms, a pastel rainbow wig brings just the bright tones that you need.
You may have some favorite characters that you'd love to bring to life, too. Whether from video games, TV, cartoons, or classic films, several characters sport bright and colorful hair. Show the Rainbow Kingdom that you're here to save everyone when you wish for a True character wig. And don't forget to bring the magic of color to the world below when you sport a style from Rainbow Brite! The next stop on your world tour of bright fashion is with your favorite characters from Trolls.
If you're looking to startle folks rather than make them smile, don't think that rainbows are too bright for the task. Give your killer clown costume some killer color when you combine it with a rainbow clown wig. In a snap, these bright colors become something sinister and will have your friends and family running for the hills! There's no limit to the options you have at your disposal when your choice of colorful wigs includes every hue from the rainbow. All you need to decide is which hairstyle fits your look! Scroll through our selection of rainbow wigs, including everything from rainbow bobs to rainbow afros and you're sure to find the perfect way to top off your costume!