Mortal Kombat Halloween Costumes
Mortal Kombat! The world changed in a big way in 1992. The release of Mortal Kombat not only changed the landscape of the video game scene. It also left a huge impression on gamers of the era! That legacy continued through the 90s and is just as strong as ever today thanks to 10 game sequels and counting, lots of spin-offs, and a huge media empire. The 2021 release of Mortal Kombat as a reboot movie reinvigorated interest in the franchise among gamers and casual movie-goers alike. All of which means something very important to those of us in the costume game. Mortal Kombat costumes are a big deal!
Mortal Kombat Halloween costumes have been a popular choice for the holiday for years. Kids who grew up with the franchise and are now adults love roleplaying as the iconic fighting characters. And kids who play the newer games love dressing up in a Sub-Zero costume or Scorpion costume for trick-or-treating! If you've got a Mortal Kombat costume in mind for your Halloween fun, you'll find that we have the top costumes from the franchise for sale right here. We feature those iconic palette-swapped ninja costumes with our Scorpion and Sub-Zero costumes for adults. We also have a Raiden costume to roleplay as the powerful thunder god and a Sonya Blade costume so females can get into the fun. We even have Kitana and Mileena costumes for women to cosplay as the sexy fighters of the Mortal Kombat universe!
Sub-Zero Costume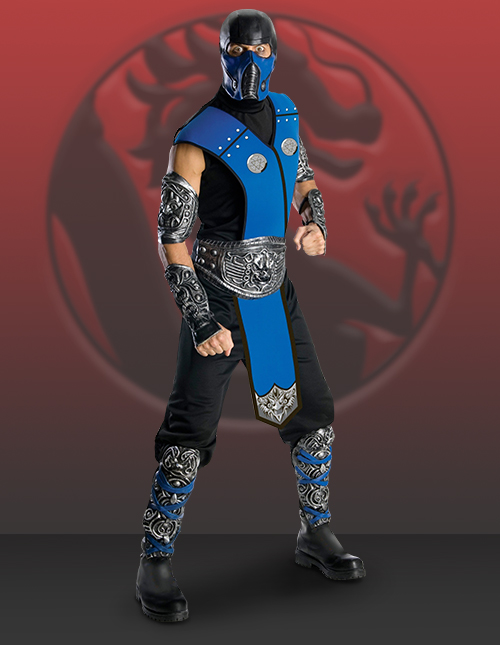 True Mortal Kombat fans are going to love our Deluxe Adult Sub-Zero Costume! Sub-Zero, along with Scorpion, are widely considered to be the most iconic characters from the game. Appearing in the first game as identical sprites with color-swapped tunics, each has developed more of a distinctive character look as the franchise has evolved. They're both cool, but Sub-Zero is decidedly icier!
Our Deluxe Sub-Zero Costume is designed based on the character's outfit from Mortal Kombat 9, which featured a metallic armor costume emblematic of ancient battle armor. But, thanks to the bright blue tabard, it works great to portray any version of Sub-Zero! It might be a good idea to do your research before suiting up in a Mortal Kombat Sub-Zero costume, though, since there have been two different fighters to use the mantle in the series. That means you'll want to know which version you're portraying to know whether Scorpion is your friend or foe if you run into him at the party!
Scorpion Costume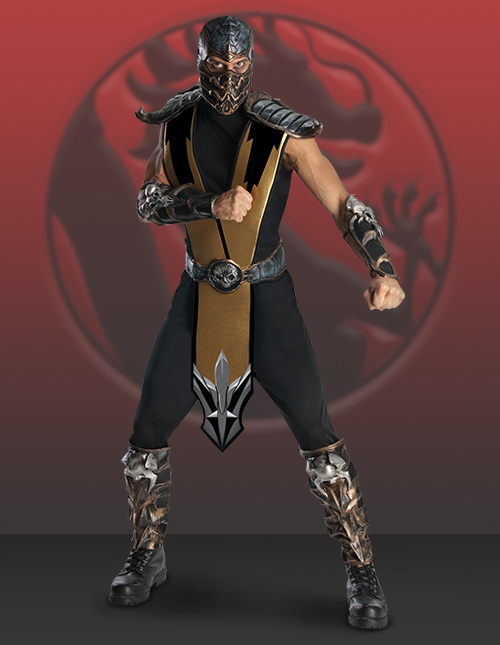 Scorpion is famous for wearing the yellow ninja outfit in the game, his fiery fatality moves, and his lethal kunai harpoon. And, of course, for being an undead warrior hellbent on revenge! The first game's ending reveals this important fact; while his storyline has become more complex over time, fans don't worry too much about the details. They just want to see that wicked harpoon spear his opponent so they can hear him yell "Get over here!"
Our deluxe Mortal Kombat Scorpion Costume is great for any fan of the ghostly ninja. The latex Scorpion mask has an intimidating look that matches armor pieces with molded skull details. Along with the gold tabard, it's an iconic Scorpion style that's ready for any video game-themed throwdown. You can use it to portray any version of the character you like, too. It would even work to portray the latest Scorpion seen in the 2021 movie!
Kitana Mortal Kombat Costume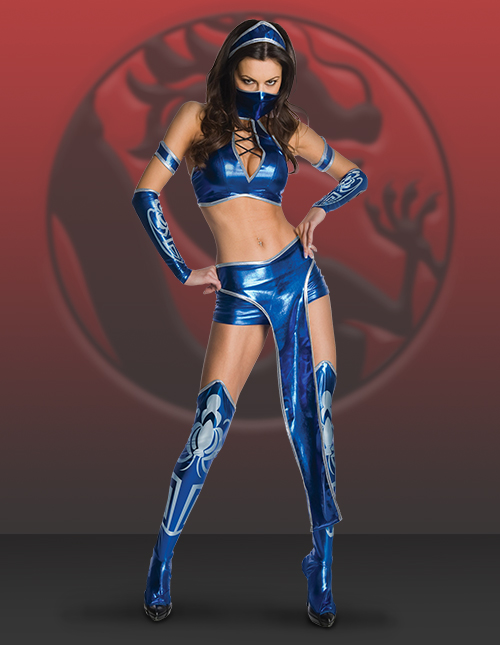 Women shopping for Mortal Kombat female costumes know that there are not quite as many characters to choose from. But, as any player knows, the women in Mortal Kombat are no less lethal than the males! Kitana debuted in Mortal Kombat II and immediately became a fan favorite. One of the quickest fighters in the game, Kitana's storyline revolves around her being a royal assassin with more than enough reason to want revenge on Shao Kahn. Famous for the kiss-of-death fatality move and lethal-bladed fans, it shouldn't be as surprising that Kitana costumes are always a top-seller.
Our Mortal Kombat Kitana Costume is based on the character's outfit in Mortal Kombat 9 and is instantly iconic for its sexy styling derived from the game. The costume features a halter-style top and shorts with an apron drape. And it includes a face mask, headpiece, cuffs, gauntlets, and boot tops for everything you need to look like the legendary female fighter!
Mileena Mortal Kombat Costume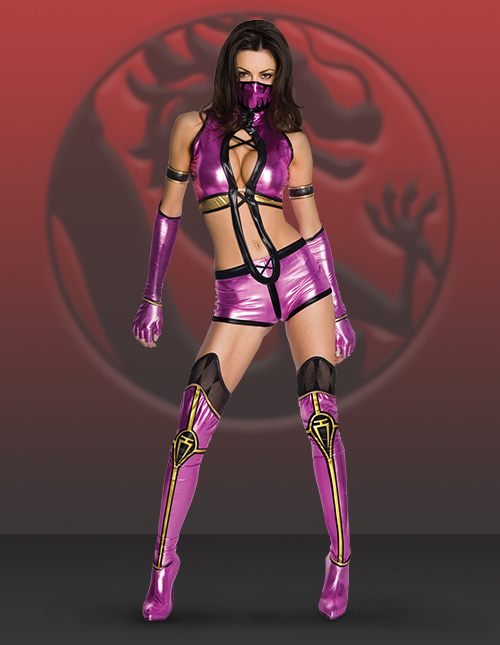 Mileena is also a character that started as a palette-swap of another fighter. She debuted as the purple-colored version of Kitana, with both characters first appearing in MKII. The story, of course, is that Mileena is an evil clone of Kitana. Which became obvious when she unmasked herself during her fatality movie to reveal a vicious fang-filled face! Despite being a baddie, she's among the greatest baddies ever featured in Mortal Kombat and is celebrated by fans as one of the top video game villains of all time.
Our Mileena Halloween Costume is a popular choice among female fans. It features a neon purple color scheme with shorts that connect to a top with hook and loop fasteners to look like a sexy one-piece. It also comes with cuffs, glovelettes, and boot tops. Many choose to apply makeup effects to recreate Mileena's fanged face, but the outfit includes a mask, too, so you can make it work with or without face paint.