Costume Hoodies
There are all kinds of things to think about when you're dressing up for Halloween. Are you going to be outside? Do you need to stay warm? Will your kids complain that they look lame in their Halloween costume with that big winter coat? Don't feel like going in an elaborate costume while your kid can't get enough candy? We have a solution for you… costume hoodies. They really give you the best of both worlds. You can wear a Halloween costume AND be comfortable all at the same time. Another fantastic plus to costume hoodies is that you can wear them all year long because they look fantastic, they're fun, and you stay warm in that chilly fall and winter weather. If you're planning a group look or just want some ideas where you can wear your character hoodie, we have a just few ideas for all kinds of situations this Halloween and beyond!
Simple Costume Ideas For Parents
Yep, kids love Halloween. They can't get enough of trick or treating, dressing up, and pretending they are their favorite character. But you? You just want to be comfortable, so there's a happy medium when you wear one of our costume hoodies. Your theme won't be broken when you use any of these easy costume ideas. They might be simple, but you'll all look great wherever you go.
Frozen Costume Ideas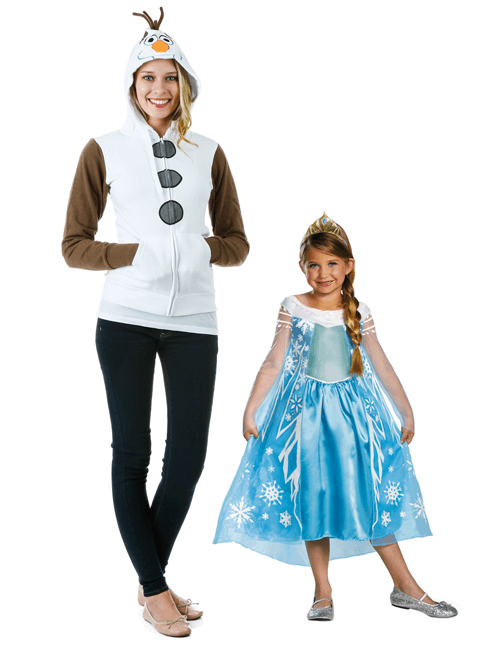 It's no secret that many kids out there still have Frozen fever. If your child is dressing up as Elsa or Anna this year, an Olaf hoodie is exactly what you need to round out the crew. As if Olaf wasn't already the cutest snowman you had ever seen, this Halloween character sweatshirt is sure to score you a few compliments each time you wear it.
Monsters Inc. Costume Ideas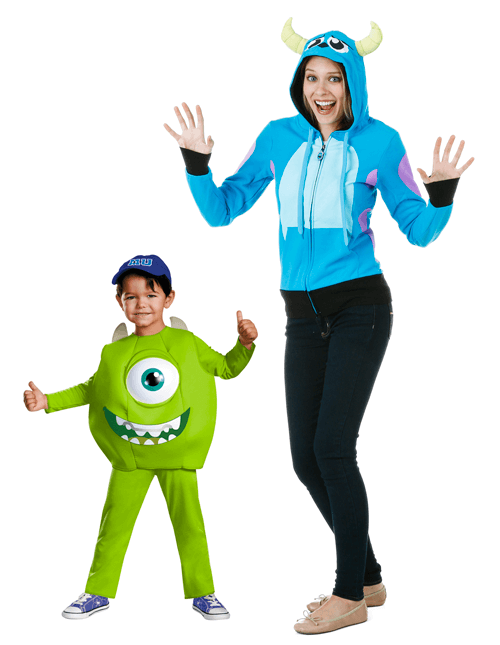 Mike and Sulley will be back and in action again for Halloween with this costume and hoodie duo. If your child has his heart set on being Mike Wazowski and wants you to dress up too, you can avoid wearing the overly furry costume by choosing to sport this comfortable Sulley costume hoodie instead. Boo!
Monkey Costume Ideas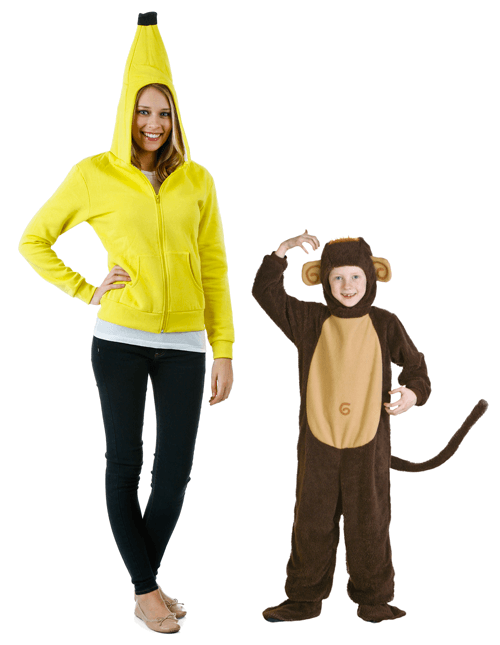 There are so many costumes that look great alongside an adorable little monkey. If the Man in the Yellow Hat costume isn't your style, you can go with a simple banana hoodie instead. If your goal this year is to be a bit discreet, this hoodie outfit is for you! Without the hood up it looks like a traditional yellow hoodie, but as soon as your child turns around you can flip the banana hood up to prove you're still playing along!
Batman Villain Costume Ideas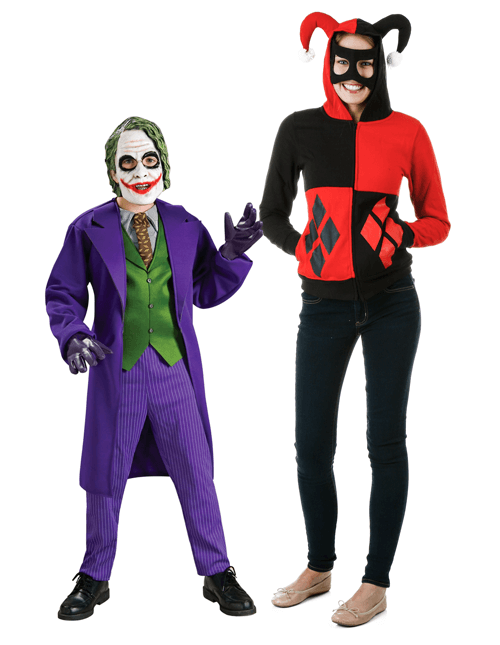 Why so serious? If your child is ready to hit the streets as the Joker this Halloween, you can follow in tow as the classic Harley Quinn. Sure, you might seem like you are out looking for trouble, but a Joker costume paired with a Harley Quinn hoodie can make for a crazy Halloween outing!
Where To Wear Your Hoodie Costume
Once you have your costume hoodie and Halloween is long gone, then what do you do? You wear it whenever you want! Some places make more thematic sense than others, some provide an incredible sense of irony, and others just help you show off your inner geek. Even with tons of ideas at the ready, we still think the best time to wear a costume hoodie is… all the time!
Pizza Time with TMNT Hoodies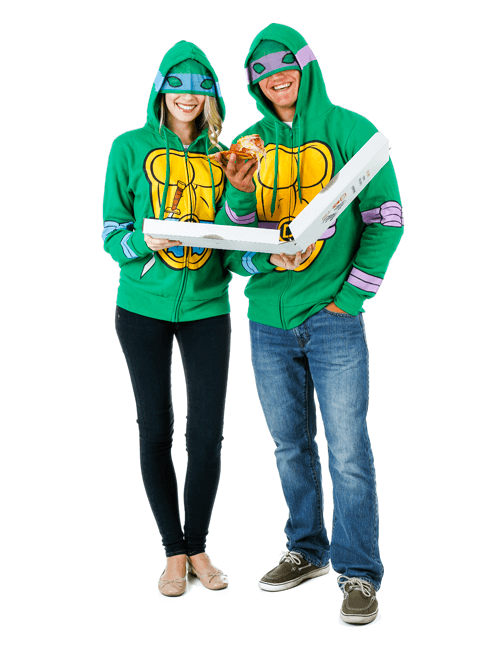 Chances are you aren't hanging out in any sewers, but that doesn't mean you can't hang out at your favorite pizza place while wearing your Teenage Mutant Ninja Turtles hoodie. Grab three of your friends, four hoodies, and head to your local pizza parlor to devour a pizza (or two) slice by slice.
Mario Hoodies for Mario Kart Breaks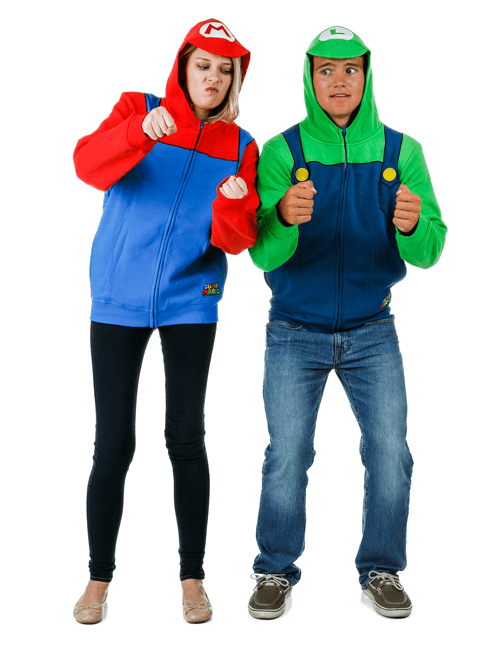 If you're headed to the go kart track for an afternoon of friendly competition, don't forget your Nintendo hoodie. You can turn an ordinary go kart race into a real-life Mario Kart race sans the flying koopa shells, bombs, and speed-boosting mushrooms. Sorry, these character hoodies can't perform miracles or give you the coveted blue shell, but they are sure to make you a serious competitor at the track.
Creeper Hoodies for Minecraft Fun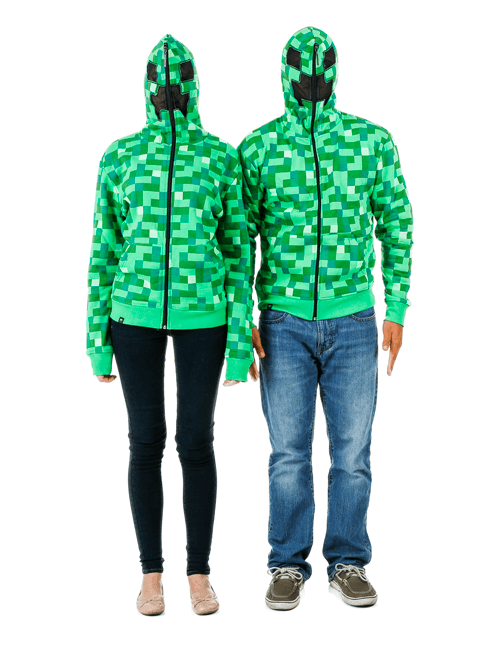 Planning to build something? Grab your Creeper hoodie and pretend like you are playing Minecraft in real life. You may not look quite like an 8-bit computer game, but this simple hoodie costume zips completely over your face and gives you the pixelated appearance that is sure to make any Minecraft aficionado giggle at the irony.
Stormtrooper Hoodies for Star Wars Fans
Let's face it, Stormtroopers aren't known for their aim. Playing laser tag or heading to the shooting range dressed in your Stormtrooper hoodie is a surefire way to turn a few heads and get some laughs. Hopefully your skills are a little better than the ones we have become accustomed to seeing in all the Star Wars films!