Care Bear Costumes
Not many Cartoon Network characters have generated as many smiles as the bright and cheery Care Bears. They bounced onto the scene in 1981 and have since spawned tons of TV shows and movies on all different channels and the Internet and, of course, adorable merchandise that can be collected by all ages. In fact, Netflix debuted a new Care Bears show in 2015 called, Care Bears and Cousins so now younger generations can fall in love with the friendly little bears (and their other-animal cousins). If your household is filled with Care Bears fans—yourself included—then you're in luck because we have Care Bear costume ideas for the whole family. Whether your teen wants to wear a Cheer Bear costume or your husband wants to transform into the brave Tenderheart Bear, don't worry because these Care Bear costumes will make you feel all warm and fuzzy inside!
Care Bear Costumes for Adult
Whether your favorite thing is curling up under the covers and getting some well-needed shut-eye or playing outside in the sun and telling jokes to your besties, it doesn't matter because we have a Care Bears costume that is perfect for you. First of all, do you know how many Care Bears characters there are? Currently, if you count the Care Bears Cousins, there are 62 bright and friendly characters to love. Our Care Bears costume ideas give you the ability to transform into your favorite one, but think long and hard because it's so difficult picking just one. Would you go with your favorite character from the series, Care Bears Adventures in Care-a-Lot? Or would you rather embody one of the cutest characters from the 1985 classic, The Care Bears Movie? There were a few nuanced changes between some of the bears over the years, and we're sure that the adult fans might be able to spot some differences! But you won't have to jump in your Cloudmobile and head all the way up to Care-a-Lot or even go through all the episodes again to decide. Just take a look at our ideas and pick out your favorite adult Care Bears costume.
Care Bear Costume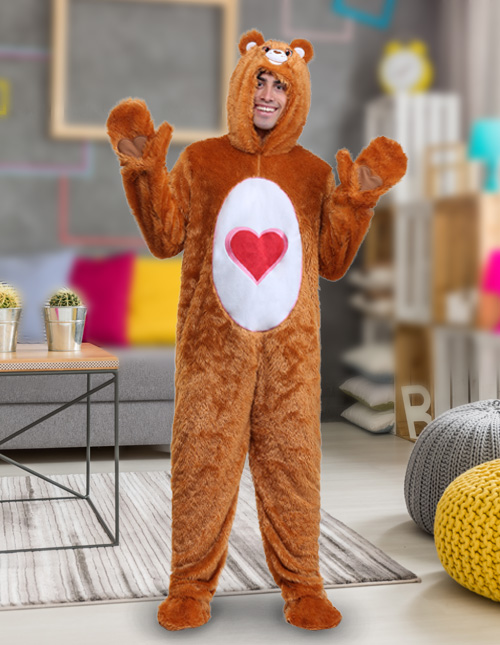 It doesn't surprise us that a lot of men gravitate toward the one and only Tenderheart Bear! Because of Tenderheart's natural ability to lead and take control of the colorful group, guys tend to admire his powerful influence. One really cool thing to realize is that Tenderheart is the one that helps to bring all the other Care Bears into the fold. We haven't seen him use the power in a while, but he's the one that gives the other Care Bears their belly badges after they're ready. Everyone knows the Care Bears can't ignore any cry for help no matter where it is coming from. That's why a Tenderheart Bear look is perfect for a women's or a men's Care Bear costume. Start up the Care Bear Stare!
Care Bear Costume for Women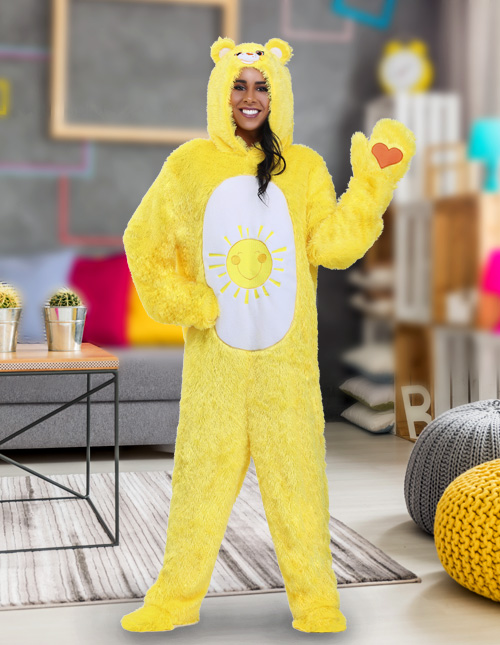 Some of the bears have changed over the years. They've developed some new powers or their old ones shifted in one way or another. Funshine Bear is one of them! When Funshine first showed up, that sunny disposition and bright heart helped this Care Bear unleash some serious light in even the darkest of times and places. That power not only eventually turned into more of fascination with sports, but she also was a boy bear in the later series. If you are missing that feminine energy of the smiling sun from the original series, we think it is time to bring the top tier gal as the best in our Care Bear Halloween costumes. Just aim that belly badge and get ready to shine!
Grumpy Bear Costume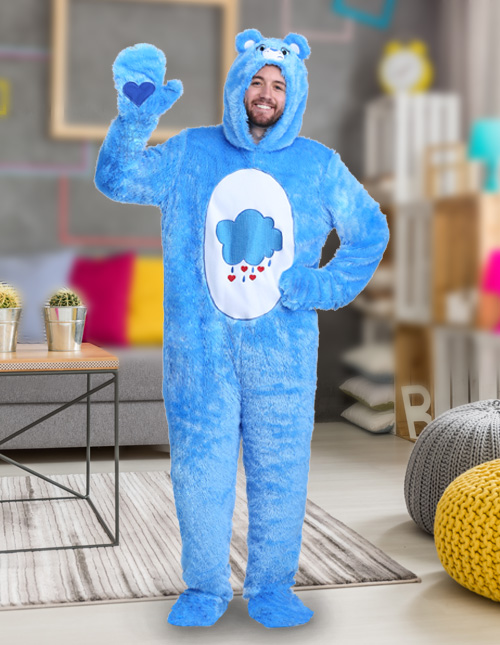 Not every moment is bound to be full of bright lights and easy cheer. There are some serious times that can really grind our gears when it isn't easy to just look at a problem with a smile and beam it all away. We've got to scrunch our face and maybe even get a little dark! Doesn't quite seem like the Care Bears' M.O., but it is exactly the way that Grumpy Bear prefers to get things done. With his silver lining on the storm cloud mentality, he can tackle issues of both gloomy days and even some engineering know-how. (It takes a serious mind to deal with those kinds of things, after all!) That's why one of our Grumpy Care Bear costumes just may be the flash of lightning to get your Care Bear storm going.
Plus Size Care Bear Costume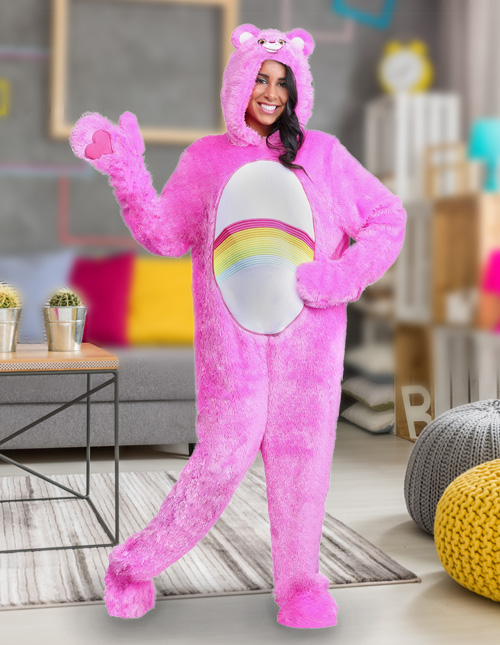 Tenderheart might be the technical leader and Grumpy might keep things moving forward in Care-a-Lot, but even the Care Bears run into those moments where they've got some low energy and lack the drive to get things done. Who is there to get the energy up when the crew that cares is lacking their drive!? Well, that's the realm of Cheer Bear, of course! She's the natural source of the Cloud Community's constant upbeat attitude, making Cheer Bear the perfect Care Bear Halloween costume for anyone that wants to be both a cheerleader and a cuddly teddy bear at once! Plus, she has the incredible special ability to create physical rainbows that can become anything she wants. Who wouldn't want that!?
Care Bears Costumes for Kids
Sometimes, the things that we loved as an adult just kind of vanished. We get those dreadful pangs in our hearts when we mention a classic cartoon character from our past and see only blank stares of confusion from the younger generation. Fortunately, the eternal Care Bears have had enough of a revival that they can be enjoyed by every generation. These newly computer-animated bears are a force that old Coldheart could have never predicted! Heck, even the original Mr. Beastly has become a King just to try to deal with these impressive Care Bear Kiddos. Just for that, we know that your tyke is going to love a Care Bear costume—toddler, teen, and in between!
Girls' Care Bear Costume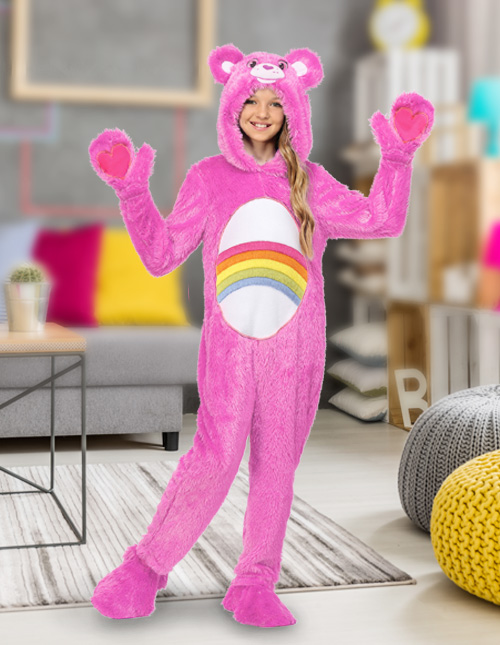 We find that most gals have a lot in common with Cheer Bear. They are both exuberant, spunky, and lively. Not to mention—who doesn't love pink and rainbows? Girls who can't get enough of the nurturing bear with the rainbow Belly badge will enjoy dressing in this pink Care Bear costume. It's time to show Bluster and the Bad Crowd that a bright and cheery attitude will always win the day.
Care Bear Costume for Toddler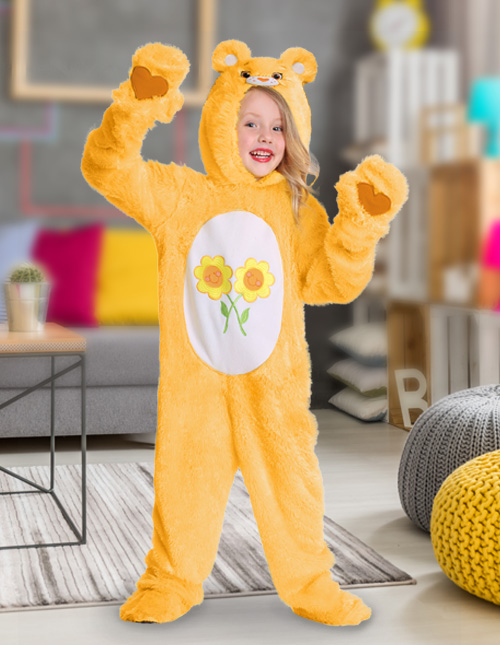 Is your kiddo a bit of a chatterbox? Maybe even gets a little awkward sometimes because they've got so much to say and so little time to say it? Does this make your tyke the center of attention and a friend to everyone? Well, your wordy wonder isn't alone! Friend Bear loves to talk and make sure everyone has a place at the table in Care-a-Lot. We're pretty sure this toddler Care Bear costume will be a perfect fit!
Care Bears Teen Costume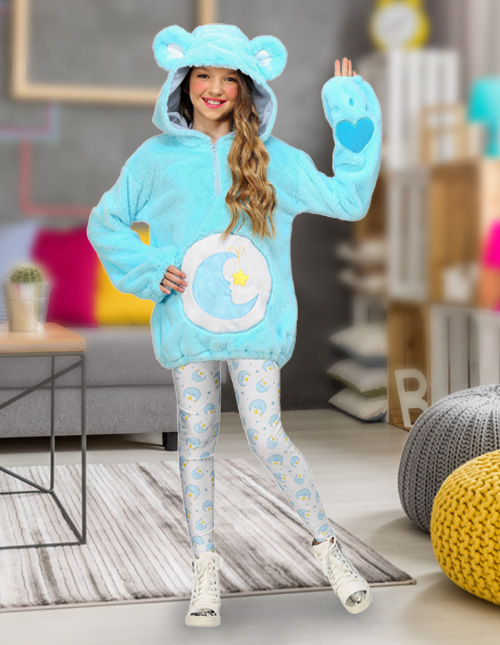 Perhaps your kiddo claims they are just a little too sophisticated for a full jumpsuit. They gave you one of those looks that seemed to ask aren't Care Bear costumes for babies? Well, we can't deny that jumpsuits aren't always perfect for every day. (As much as we wish they could be.) That's where a tween hoodie might be more your kiddo's style. Plus, Bedtime Bear's cozy Belly Badge means comfort day or night!
Kids' Care Bear Costume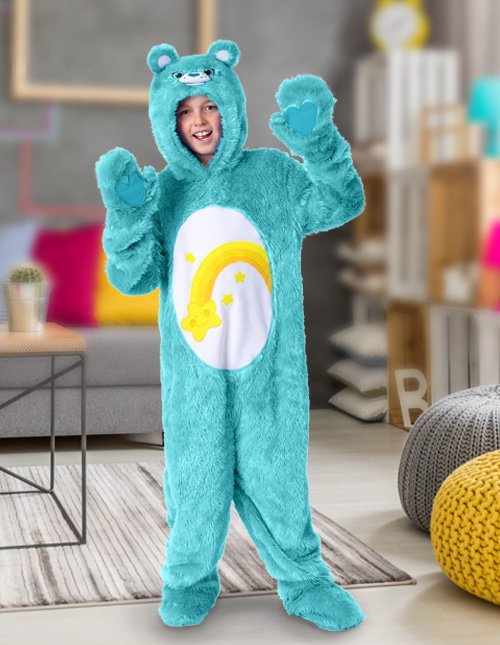 The real marker of a successful costume is how much it seems to have granted the wish of your kiddo. Is the smile truly beaming? Is the twinkle in their eye as bright as you could have hoped for? Once you've given your tyke a Care Bear Halloween costume featuring Wish Bear, your child can be the one to call on the shooting stars! Wish Bear's unique ability is to grant the bright wishes of all. That's our wish for you!
Care Bears Group Costumes
There aren't too many series out there that can give you a chance to team up with a ton of folks all dressed up in the same theme. That is another reason the Care Bears are so perfect. They've got a character for every kind of personality you have in your group. We recommend gathering up your family or even just a couple of your best buds and posing for a colorful picture. Make sure that every person dresses up as a different character and it'll make for one bright photo. Remember that Funshine Bear can create the light and a Grumpy Care Bear costume might be ideal for whoever has to get the camera going. When everyone is in a Care Bear Onesie costume, it's time to snap that picture!
Family Care Bear Costumes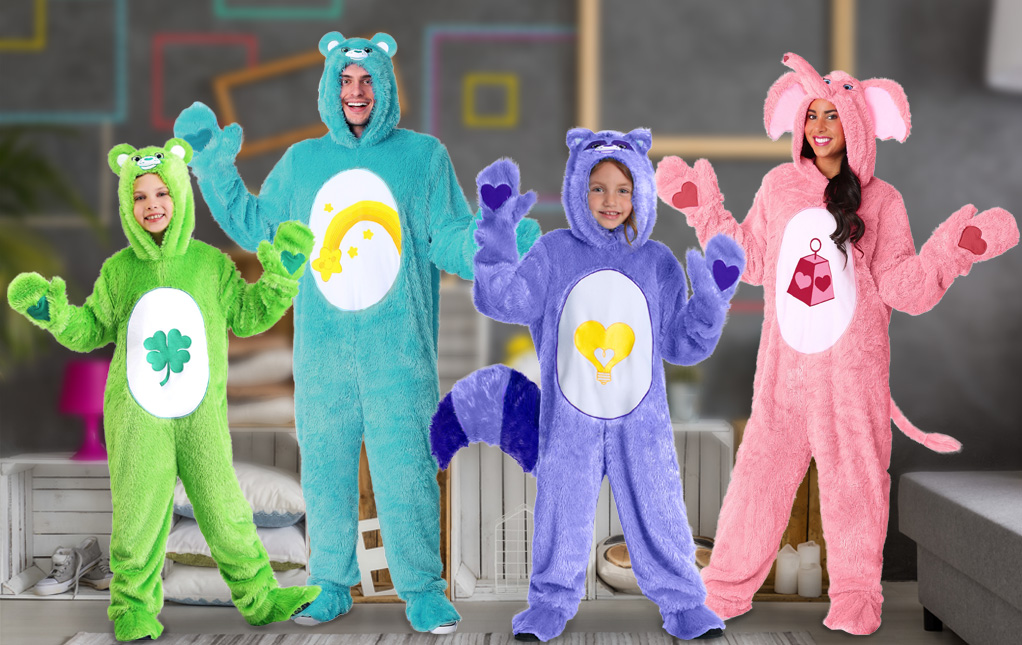 Here's one of our favorite gatherings of an extended Care Bear family. You don't think that it is all just bears up there in Care-a-Lot, do you? Remember the Care Cousins, too! Make a mighty wish and with a little luck (and a few clicks on our site) you'll find dozens of Care Bear looks to make the perfect set of family costumes. Remember to bring Brave Heart Lion, Lotsa Heart Elephant, Bright Heart Raccoon, and the rest of the Cousins along for the ride, because this Care Bear family can get as big as you like!
Care Bears Slippers
Don't think for one second that the only way to be a Care Bear is with a head-to-toe costume. While the tykes are in their Care Bear Halloween costume, adults can kick their heels up and just enjoy the super comfort of a pair of our Care Bear Slippers! Of course, we've got them for the kiddos, too. Soft and plushy, these bright accessories are fun to wear instead of the foot covers or any night that you feel you need your heart to be just a bit lighter. After all, when you look down and see these caring faces looking back up, how can you do anything but wear a smile?
Grumpy Bear Slippers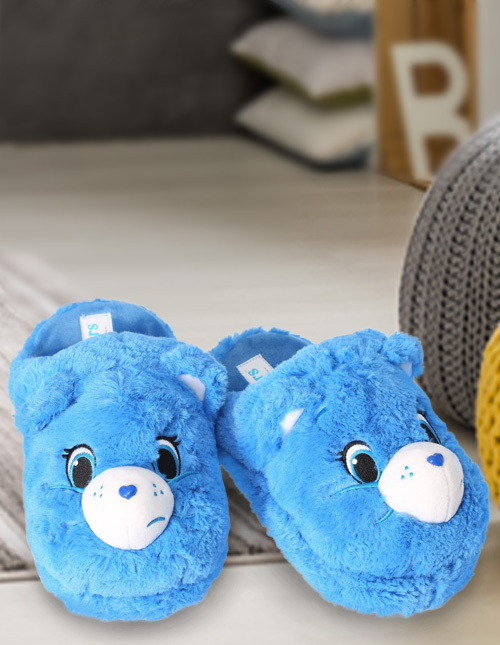 Folks sometimes give Grumpy Bear a frowny face. It's a little understandable. He's not like your average Care Bear, after all. But we try to recommend people try to take a walk around the cloud block in his shoes so they can see that Grumpy knows all about the silver lining! Then again, since Grumpy doesn't wear any shoes, you'll probably have to just enjoy the blue mile in a pair of Grumpy's slippers instead.
Cheer Bear Slippers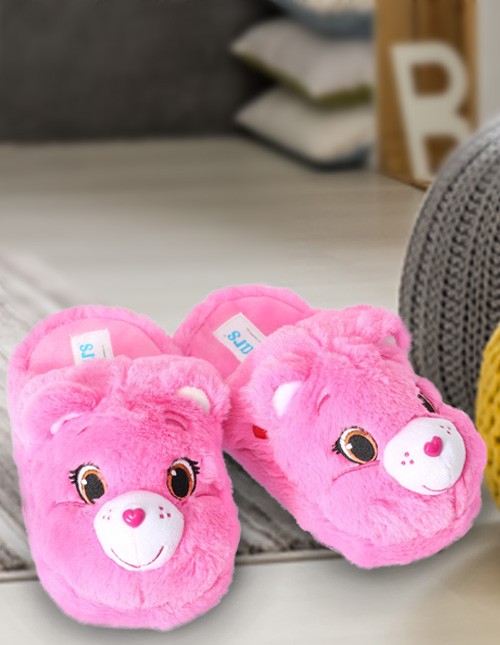 If there is any Care Bear that knows what it is like to be light on her feet, it is Cheer Bear. Always ready to jump up and shout out a yell of encouragement, it's a lucky thing that Care-a-Lot's grounds are just as fluffy and soft as Cheer Bear is! If your kiddo is looking to enjoy the same kind of exuberance, it might be a good idea to have something soft on their feet. We think some Cheer Bear Slippers will do the trick!
Care Bears Bags
Sometimes, we're not sure how the Care Bears manage it. Every day, they are up in the clouds, looking down on the world and doing their best to keep us all in the brightest cheer they can. They've got our backs when it seems nobody else can! Almost like they're little guardian angels…but furry and exceptionally cuddly versions. Well, if there is anyone we can trust to help us carry our burdens, it's them. So, it makes perfect sense that we'd have backpacks that are based on their image!
Tenderheart Bear Backpack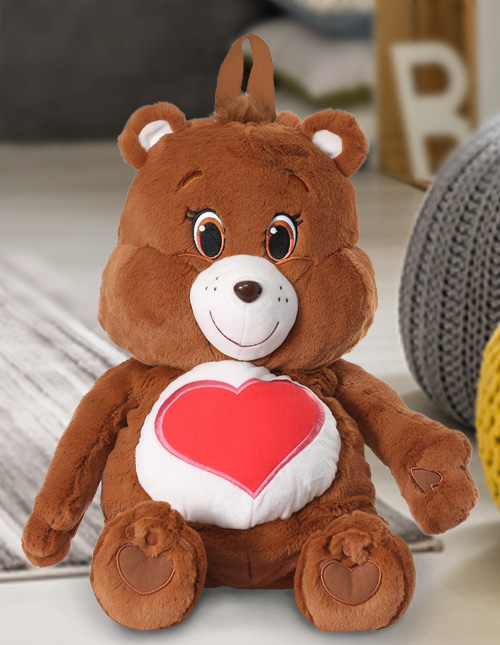 The de facto leader of the Care Bears is recognized by the single giant heart on his Belly Badge as well as the guarantee that he's always there to help carry us through the day. Keeping Tenderheart Bear at your back with this backpack is the surest way to know that you and yours will make it through with a smile.
Grumpy Bear Backpack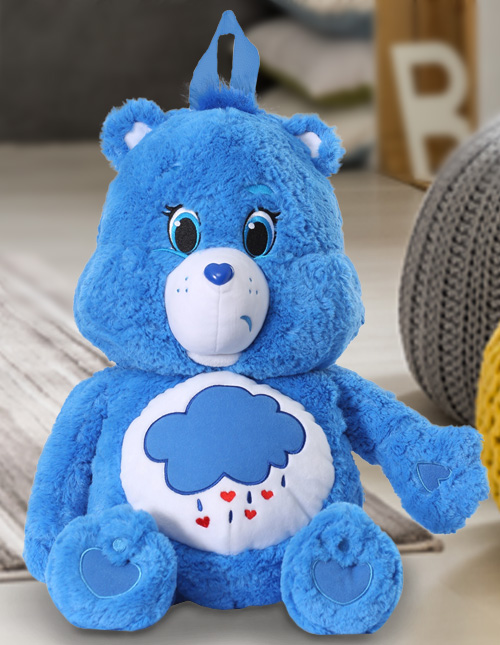 Of course, some days are just going to feel a touch gloomy. But, something about that smirk-frown expression on Grumpy Bear's face just makes us all smile. We know that he's always right behind us, pushing us forward, despite the stormy weather. (Of course, a backpack helps keep our stuff dry, too!)
Care Bears Sweaters
Did someone ask for warm and snuggly? No doubt, one look at the Care Bears makes us all think of exactly that, but there are those out there that note that not every day is ideal for a full Care Bear costume. That thought would give us a ton of grumpy thoughts, but our favorite blue bear reminds us that there is always the sun after the storm. Fortunately, any day can be full of the very best of adorable comfort thanks to our collection of Care Bear Sweaters. They're soft and cute and feature the designs and faces of our favorite caring friends—sure to bring a smile to every season or holiday.
Girls' Cheer Bear Sweater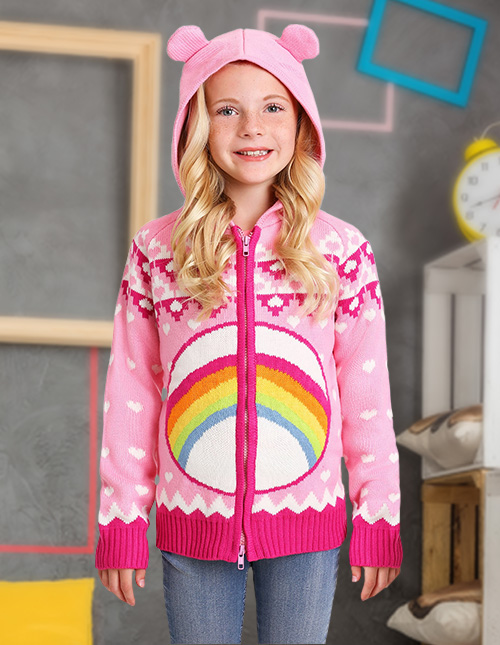 Make sure that your tyke is feeling a grin as wide as they can spread their arms. With the comfy hug of a Cheer Bear sweater (especially one with her cute features on the hood), how can this day get better?
Boys' Grumpy Bear Sweater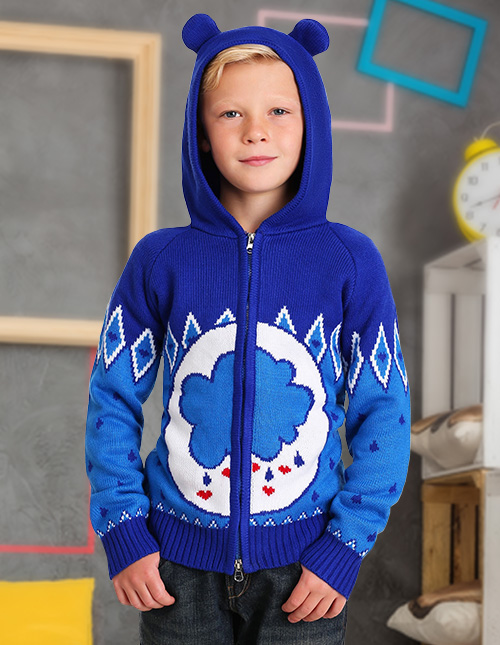 We might not have the powers of the Care Bears that we love the most, but if we have a Grumpy Bear sweater, we can still feel like we're ready to give a Care Bear Stare and chase away the storms.
Grumpy Bear Sweater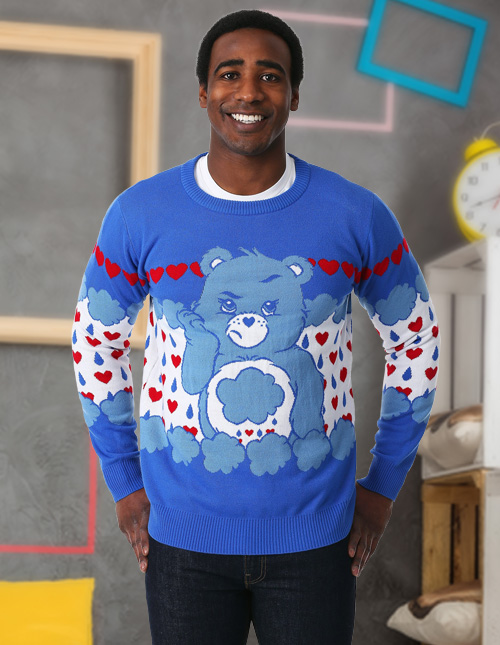 Sometimes, we forget the really important things during the holidays. Of course, there is always someone there to give us the look and remind us. In this case, a Grumpy Bear sweater can give everyone that "really?" look for you and you can just focus on the treats at the table—the important stuff!
Tenderheart Bear Sweater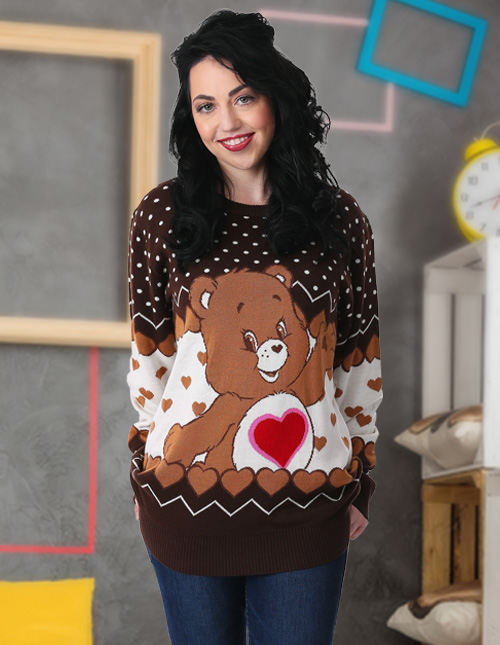 While everyone else is getting frustrated by the obligations of the holiday, someone else needs to stand up and give a smile that reminds everyone why they are there. Tenderheart is the leader of the Care Bears, so we're sure that this Tenderheart Bear sweater will give you the heart to do it, too!
Care Bear Costumes DIY Printables
The Care Bears would be just very loving and multicolored anthropomorphic bears if it weren't for their magical Belly badges! The image depicted on each Care Bear's belly represents the power the cartoon bear possesses, so you're going to need one if you want to transform yourself into one of these little bears. The following printable Care Bears belly badges allow you to assemble your own unique Care Bears costume. Just print out the correct badge, cut it out, and attach it to your clothing. The most popular Belly badges with descriptions are listed below.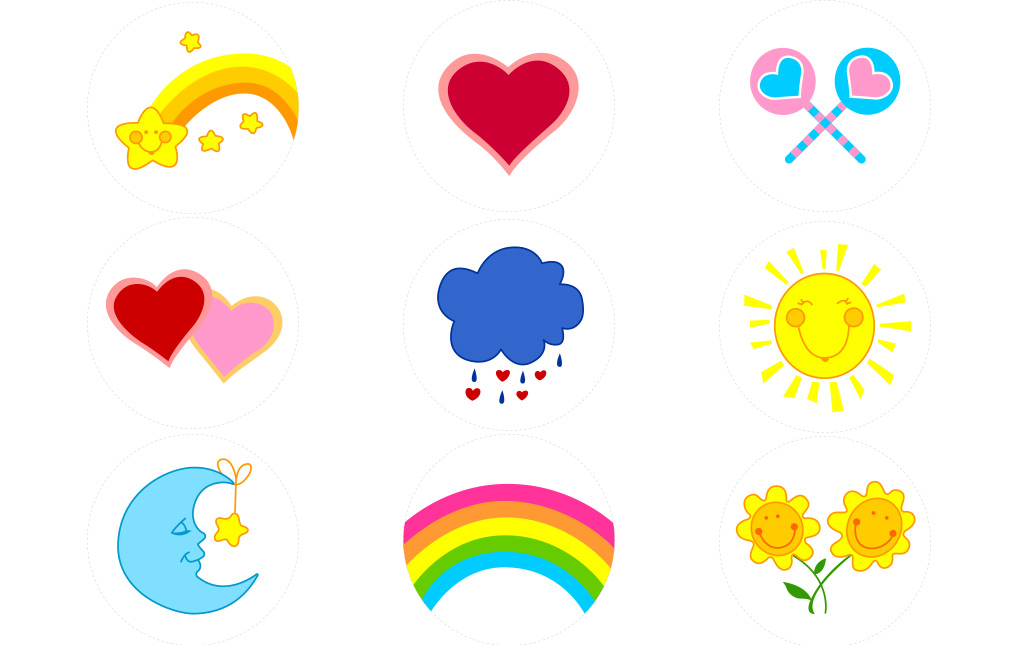 Bedtime Bear: the sleeping crescent moon and hanging star give Bedtime the ability to ward off nightmares and give sweet dreams to everyone.
Friend Bear: the two yellow and orange smiling flowers represents the ability to interpret all languages and make friends everywhere she goes.
Wish Bear: the smiling shooting star on gold rainbow shows that Wish Bear is friends with the Wishing Star so she can make wishes come true.
Tenderheart Bear: the red heart with pink outline gives the Care Bear leader the responsibility for initiating new members into the Care Bear Family.
Share Bear: the heart-shaped crossed lollipops aren't just delicious-looking. They give this sweet and kind bear the ability to communicate with animals.
Funshine Bear: the yellow smiling sun both gives this high-energy Care Bear the get-up-and-go for athletic skill and the ability to produce light!
Grumpy Bear: the storm cloud with hearts distinguishes Grumpy as a bear bent on tough love with the ability to build and fix machines quick as lightning.
Cheer Bear: the arched rainbow takes some lessons from another Rainbow-wielder, letting Cheer Bear make rainbow gifts to bring joy
Love-a-Lot Bear: the two hearts on this crucial Bear gives her the same ability as Cupid. She unlocks feelings and unites hearts to spread love.