Pirate Costumes

HalloweenCostumes.com offers one of the most comprehensive collections of pirate Halloween costumes on the web. We carry adult, child, and plus size pirate costumes, as well as sexy pirate costumes. Whether you are looking for a kid's pirate costume or an adult pirate costume, we have what you want for your next Halloween or theme party. We also carry Pirates of the Caribbean movie costumes so you can dress like your favorite swashbuckling characters. Find many of our costumes in sizes x-small to plus size at a great price!

"Ye be in search of salty old pirates, eh?" Then you've come to the right place! You've probably heard of all these infamous pirates because of their exploits during the golden age of piracy. But not all pirate stories and characters are part of true history, but instead have become legends in their own right. Our culture has, in turn, idolized these legends, and proof of that is in celebrations like "Talk like a Pirate Day," and giant movie franchises like "Pirates of the Carribbean." This guide will help you assemble a unique pirate costume, so you too can create your own legendary acts as a pirate for Halloween and beyond!

Captain Kidd was a pirate from Scotland who was eventually hanged for his supposed piratical activities. We used some of our Renaissance Costume accessories like our Red Sash and Renaisasnce shoes and even a Wild West Sheriff Hat to pull this look off. It's based on the famous illustration by Howard Pyle!

Okay, we all know about the Rum, but did you know that Henry Morgan, AKA Captain Morgan was an actual person? He's one of the most infamous pirates of all time, though some say he acted strictly as a privateer. We used our authentic Henry Morgan costume, and we recommend putting your knee up for the best pose (a stiff breeze doesn't hurt either!)

You can't have a list of famous pirates without Blackbeard! Also known as Edward Teach, he was one of the most ruthless and dangerous pirates on the high seas. Legends say he actually had lit flint in his beard during battles to appear even more like a demon. We used our Caveman beard and wig to get that wild, unkempt effect!

We know that Jack Sparrow isn't a historical pirate, but we feel like he's done alot for pirate awareness and popularity and it would be absolutely criminal to leave him off this list. Savvy? Whether for Halloween or a trip to Tortuga, not only is Jack fun to portray, he's a crowd pleaser as well... especially with the ladies!

Have you ever been caught in a photo while wearing a pirate costume out at the tavern, or wherever, and you don't really look menacing? Or suave? Or particularly dashing? That's because you didn't strike an appropriate pirate pose, lad! Ye be needin' our patented (not actually patented) guide of pirate stances! This guide will help you look your best out there on Talk Like a Pirate Day or Halloween, but beware, you might look so incredibly smashing you'll be fighting off tavern wenches all night long! Not that that's such a bad thing... Anyway, brace yourselves, there be stances ahead, avast!

One of the core skills any pirate should have it's being a good gunslinger! Although pistols back then would give you only one shot before having to be reloaded, which is why they used their swords more often in close combat. Show your teeth, and show everyone you mean business! Pirate business, that is!

Being a charmer is one of the most valuable assets in the pirate's arsenal. If you can charm someone, you can get that treasure without taking it by force! Which means you won't be on the wrong end of a hangman's noose later. Look extra charming with a toothy smile, and a holstered weapon.

Raise your sword and get ready to swashbuckle! We're not sure what swashbuckling is, but it's one of our favorite pirate words. This pose is our definition: raised sword, angry snarl, and two pistols ready to fire!

Protecting your booty is a must when you're a pirate. Because there will invariably be other pirates out to steal what is yours! Raise your leg and plant your foot on what is yours and don't let anyone near it! Crossing your pistols isn't a bad gesture, either!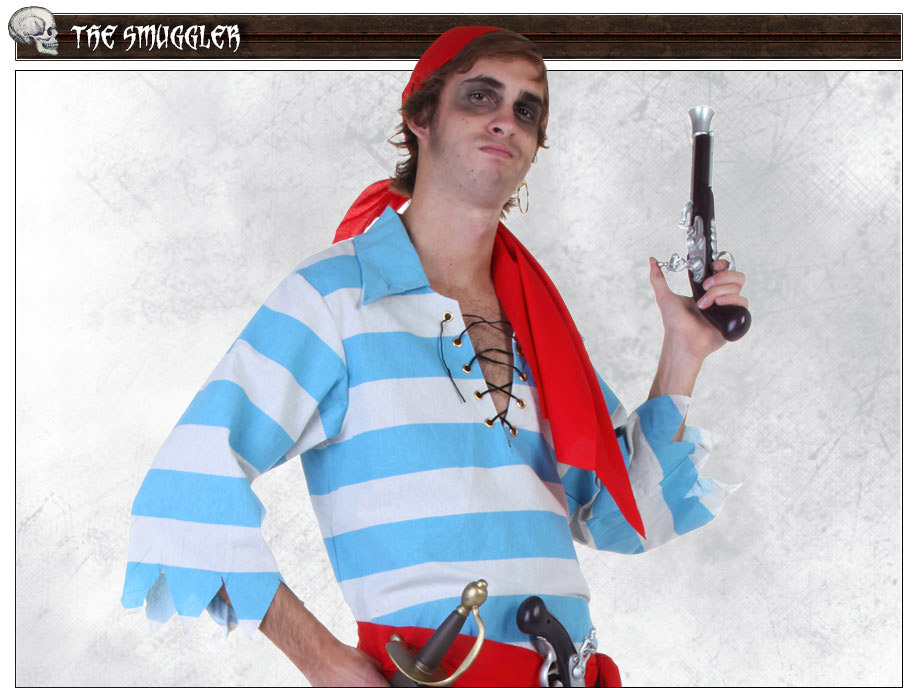 A scruvy curr if there ever was one! The Smuggler pose is for the most confident of pirates. Thumb on the hammer, and pistol raised in the air. Nobody messes with him, not even Long John Silver himself!

Talking like a pirate is a big deal, so much so that there is even a day dedicated to it! We love Pirates around here, and part of the fun is sounding like one. Really there's just a lot of "Yo Ho" "Avast" and "Savvy" but it can get more complicated than that. If you're going as a pirate for Halloween, you can't just walk up to the bar and say, "Yo, gimme a beer." You've got to sell your character! In that instance you might say something like, "Avast, Barkeep! I bee needin' a smidge 'O grog for me and me hearties!" See how much better that is? These are just a few things you can say while dressedi n your pirate costume. Be creative, have fun, and most importantly, don't be a landlubber!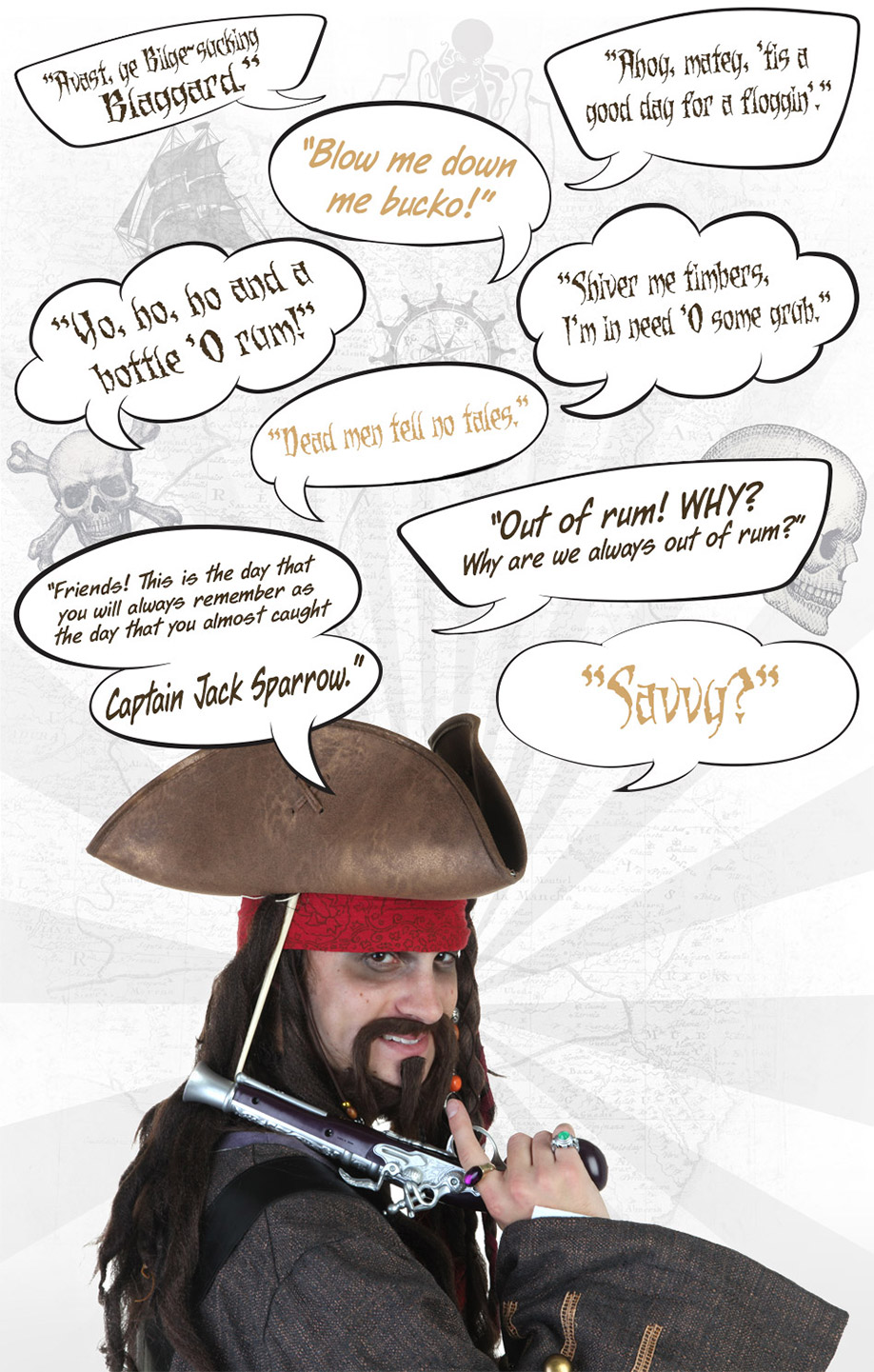 Women's Pirate Costume Makeup Application
Ahoy ye land-lovers! If you plan to dress as a pirate this Halloween, we encourage you to use this tutorial to complete the look and enrich your costume experience. To start, the tutorial will use brown eye shadows for a smoky eye look with thick black eyeliner. Next use a good amount of bronzer for a natural tan look (pirates spend a lot of time in the sun). Follow up with a burnt red lip color to complete the makeup look. This tutorial works with any of our women's pirate costume and adding one of our pirate wigs will enhance the look even further.