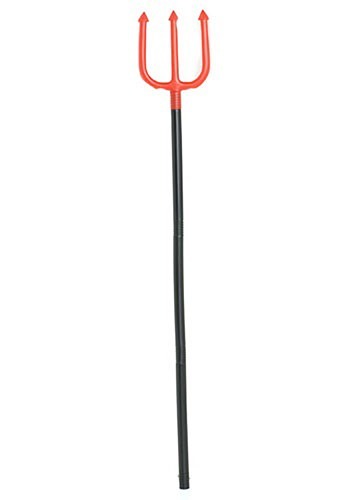 Product Description
It's time to get a little devilish! If you're going to go out this Halloween as the devil this year you can not be seen with out a pitchfork. Because if you're a devil without a pitchfork you'll be the laughing stock of the underworld. The demons will laugh, the goblins will talk, and the reapers will mock you forever. So prepare yourself this year by adding this great pitchfork to your costume.
44" tall plastic pitchfork

Red fork end with black staff

Separates into four pieces for easy storage

It's time to let out your inner devil!
Canarrie
/
September 22, 2014
By
The red part of the fork is just fine, totally standard. The black part is in 3 parts which I expected for shipping, and you can see the joints in the image. The three parts screw together. The black handle is just too fat. The proportions don't look good.
 Write Review