Thanksgiving is one of the most universally celebrated holidays in the United States. It has religious roots, but also secular traditions.
The settlers of the Massachusetts Bay Colony in the early 1600's are often credited with initiating the feast. These Puritans and Pilgrims thought that celebrations of Christmas and Easter were frivolous. In fact they thought that ANY celebration was frivolous. But it was entirely appropriate to give thanks to God for protection and guidance. In 1621 Governor William Bradford proclaimed a "Day of Thanksgiving" for having survived the first winter and bringing in a harvest. But it bore little resemblance to modern feasts. Yes, turkey and cranberries were on the menu. So was squash. But so were venison and beans, too. Those were what was available.
Other early feasts have laid claim to be the "first Thanksgiving." Spanish explorers held a Mass of thanksgiving in 1565 near what is now Saint Augustine, Florida. Other Spanish explorers held a thanksgiving service in San Elizario, Texas, in 1598. And the founding charter of Berkeley Hundred in the Virginia Colony, dated 1619, codified a day of thanksgiving.
President George Washington proclaimed the first nationwide thanksgiving holiday on November 26, 1789. But that was a one-shot deal. Thanksgiving didn't become an official annual federal holiday in the United States until 1863. President Abraham Lincoln decreed that the final Thursday of November, each year, should be a day of Thanksgiving. President Franklin D. Roosevelt, in 1941, changed the date from the final Thursday of November to the fourth Thursday.
So now people everywhere have pageants re-enacting the feast at Plymouth Colony in 1621. That's where the pilgrim costumes come in. Then there are the turkeys. And the pumpkins (they're a type of squash, so may have been part of the Plymouth feast). And don't forget the Indian costumes, either. Legend has it that Indians were part of that feast, and that they in fact helped the colonists to survive long enough to have it.
Go ahead. Celebrate Thanksgiving any way you want. You could even wear a jersey or fan T-shirt for your favorite football team. No modern Thanksgiving is complete without watching at least one football game.
Whatever you wear, and however you choose to celebrate, enjoy the holiday with your family and friends!
Thanksgiving Costumes

Thanksgiving is time to enjoy the company of family, savor the feast that's been prepared and reflect on what we are most thankful for. It is also a time to talk about traditions and history, to remember the stories of those who helped inspire the holiday we enjoy today. Wearing festive pilgrim costumes can be a great way to bring the family together, look great for some seasonal photos and learn a little about the settlers that came before us!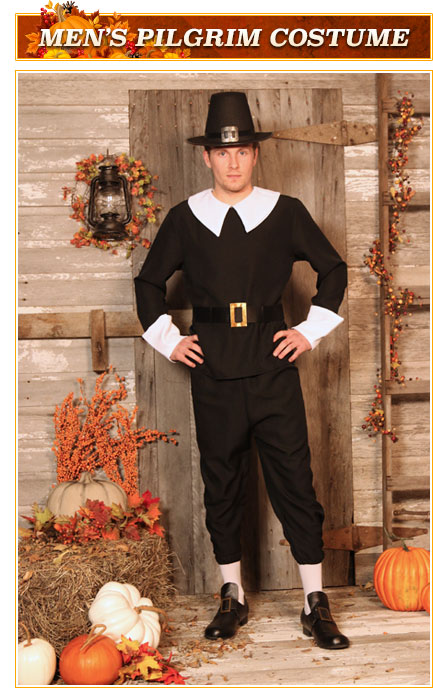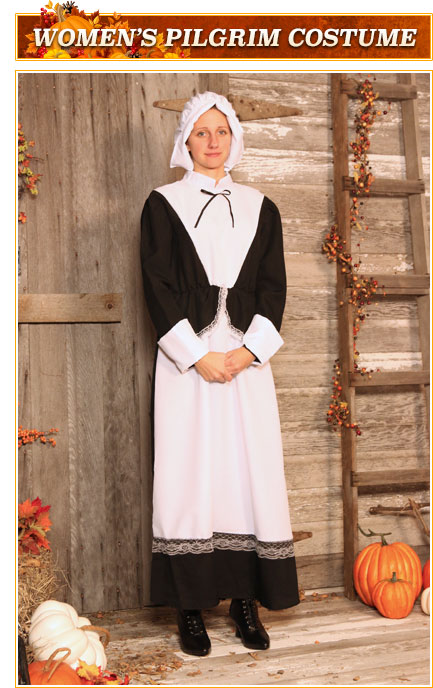 | | |
| --- | --- |
| Gold buckles and pilgrims go together like turkey and stuffing! Look like a classic pilgrim lad in your large collared long sleeves and gold buckles. It's the perfect outfit to wear to the big feast! | Black and white dress? Check! Bonnet? Check! Apron? Check! It looks like you have the proper pilgrim attire and you may now step aboard the Mayflower! |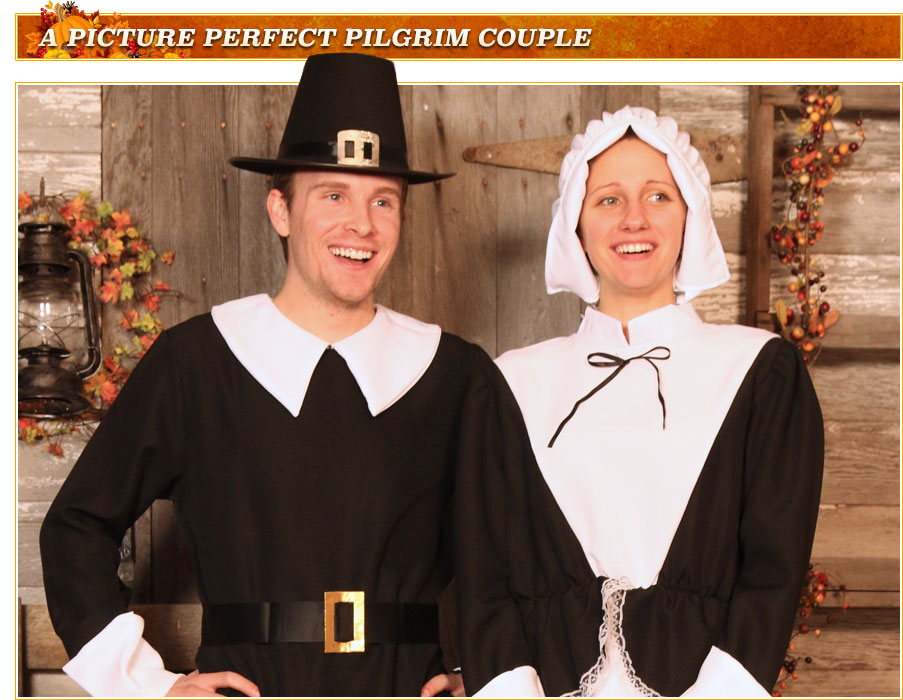 Introducing Plymouth Rock's best dressed couple! You simply can't deny that this pilgrim pair looks anything less than dashing- and they should! They are about to break bread with some new friends. The bonnet and the gold buckle top hat complement each other perfectly.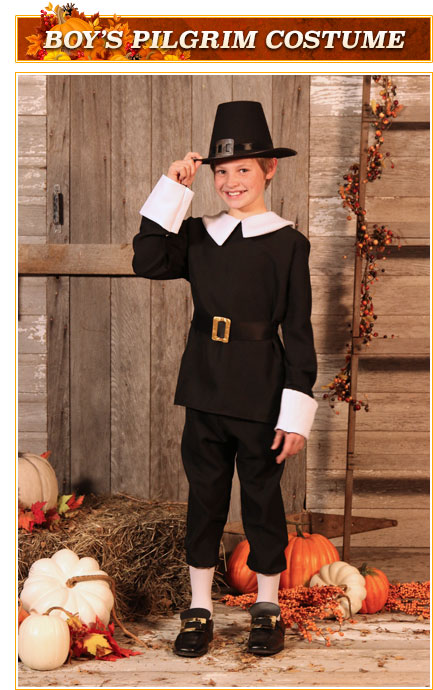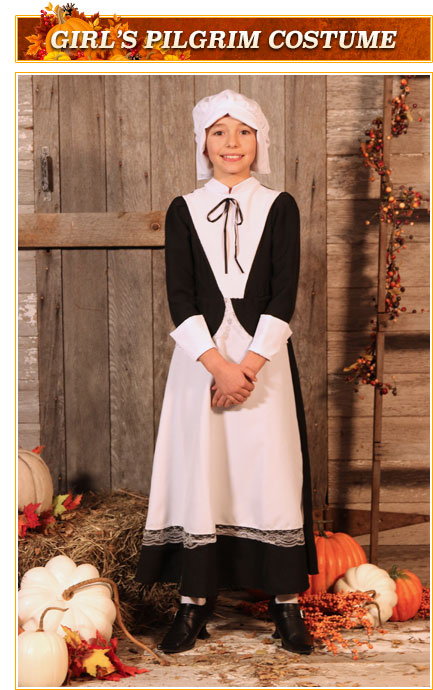 | | |
| --- | --- |
| Young pilgrim boys had to help their fathers harvest crops, fetch wood and water, and herd chickens. Lucky you, you only have to worry about cleaning your room! You can just dress up in the traditional pilgrim attire and enjoy plentiful amounts of corn on the cob and turkey smothered in gravy. | Pretend like you've time travelled back to the first Thanksgiving by wearing a girls pilgrim costume to dinner. Break bread by looking like one of the first settlers and make this Thanksgiving a holiday you'll always remember. |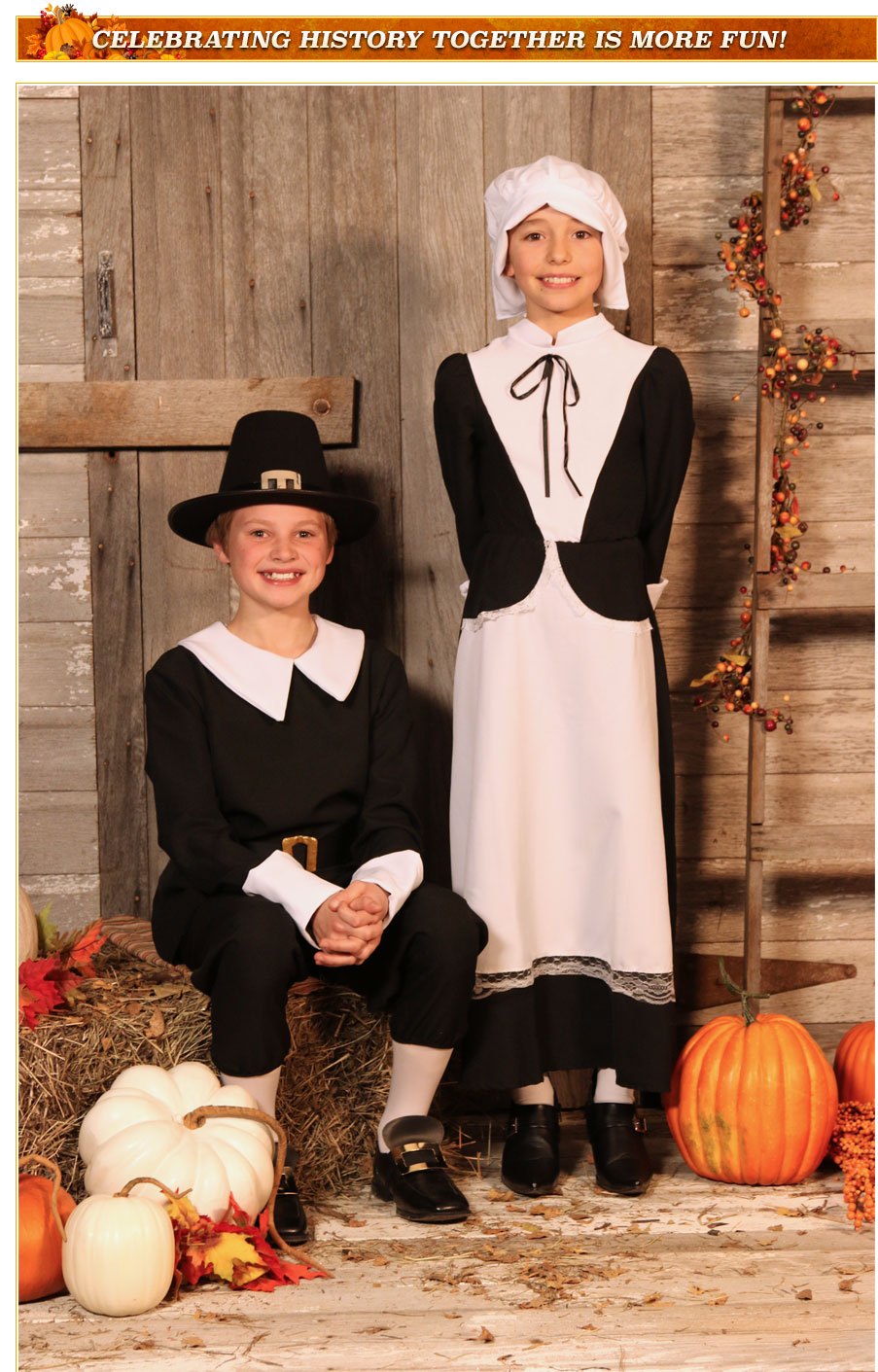 Look like a true Jamestown family from the 1600's. Now the whole family can wear matching pilgrim costumes. Dress the kids up in these costumes that mirror the adult ones and take tones of cute holiday pictures. They'll be something you'll always be thankful for!

Take time during your Thanksgiving celebration to acknowledge the Native American people who have always been a part of our nation's history and heritage. Dressed in these historical costumes, you can play the role of proud dinner guests and friends of the early settlers. We have costumes available for the entire family as well as lots of colorful costume jewelry pieces and feathered accessories.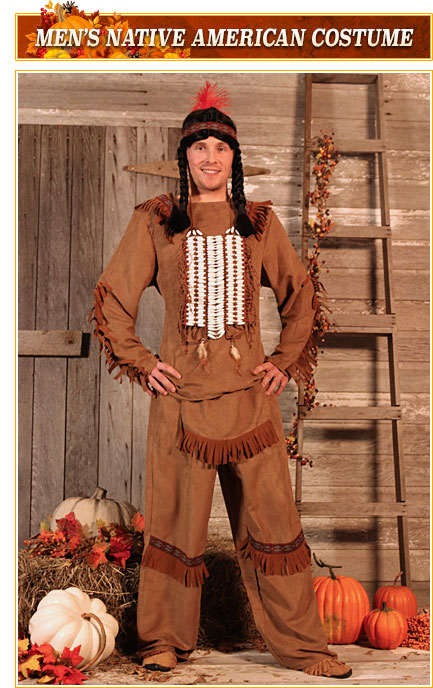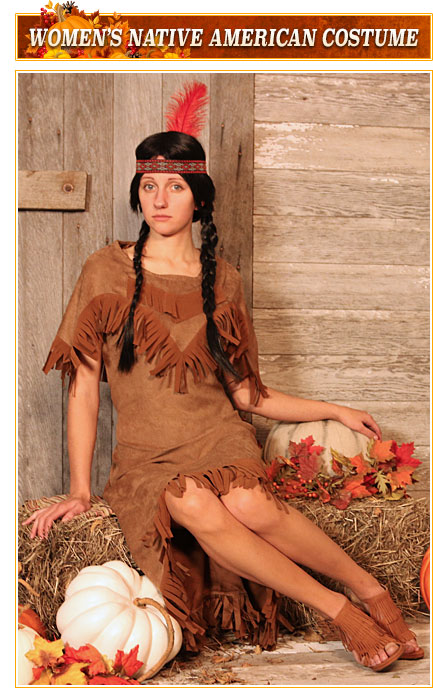 | | |
| --- | --- |
| Nothing says, "I'm the chief of this Thanksgiving feast," like two braids, a fringe loincloth, and some suede moccasins. When you're dressed like this, there won't be a need to say "pass the potatoes." Everyone knows that the Chief always gets the potatoes first. | Native American gals know that it's all about the fringe. Fringe on the headpiece! Fringe on the dress! Fringe on the heels! There's just something about it that makes you feel sassy, and festive of course. |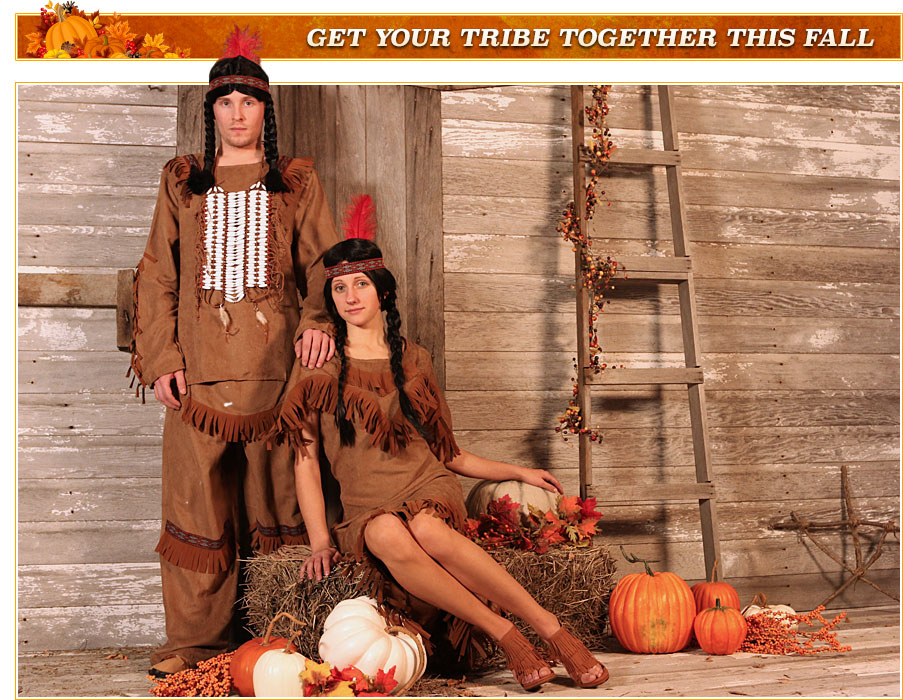 Be the power couple that dominates this year's feast. Show up in your matching couples' costumes and squash (pun intended) the competition. Nothing is cuter than matching couples' hairstyles decorated with red feather headpieces.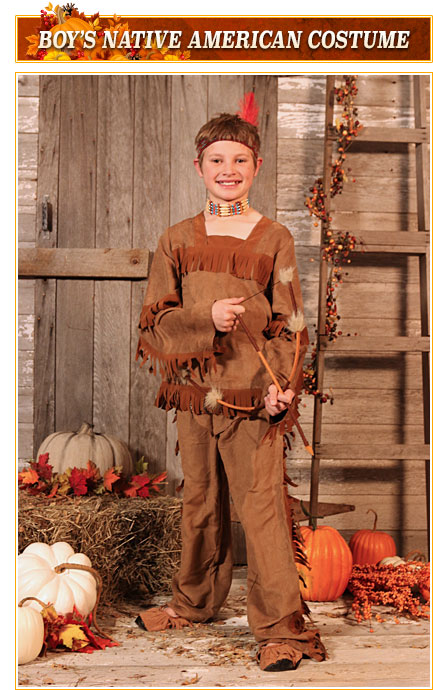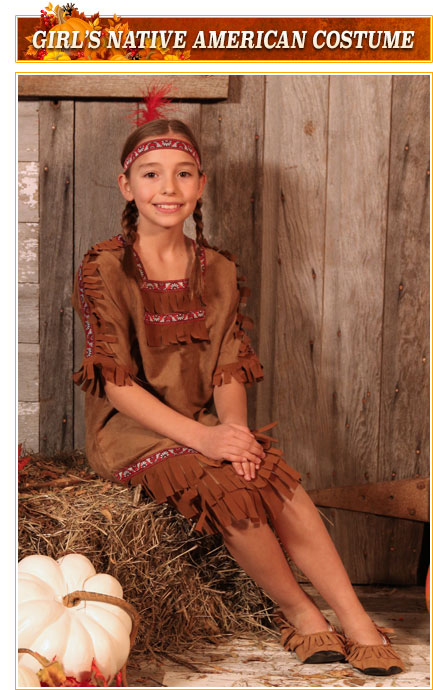 | | |
| --- | --- |
| You could pretend you are from the Navajo, Lenape, or Sioux tribe while you are dressed in this fun Indian costume. Do some exploring and then help your family prepare for the big feast like a true Native American! | Pocahontas who? Look better than that Disney princess by wearing this realistic Native American girl costume. You can't go wrong showing up to the big meal in fringe, feathers, and beads! |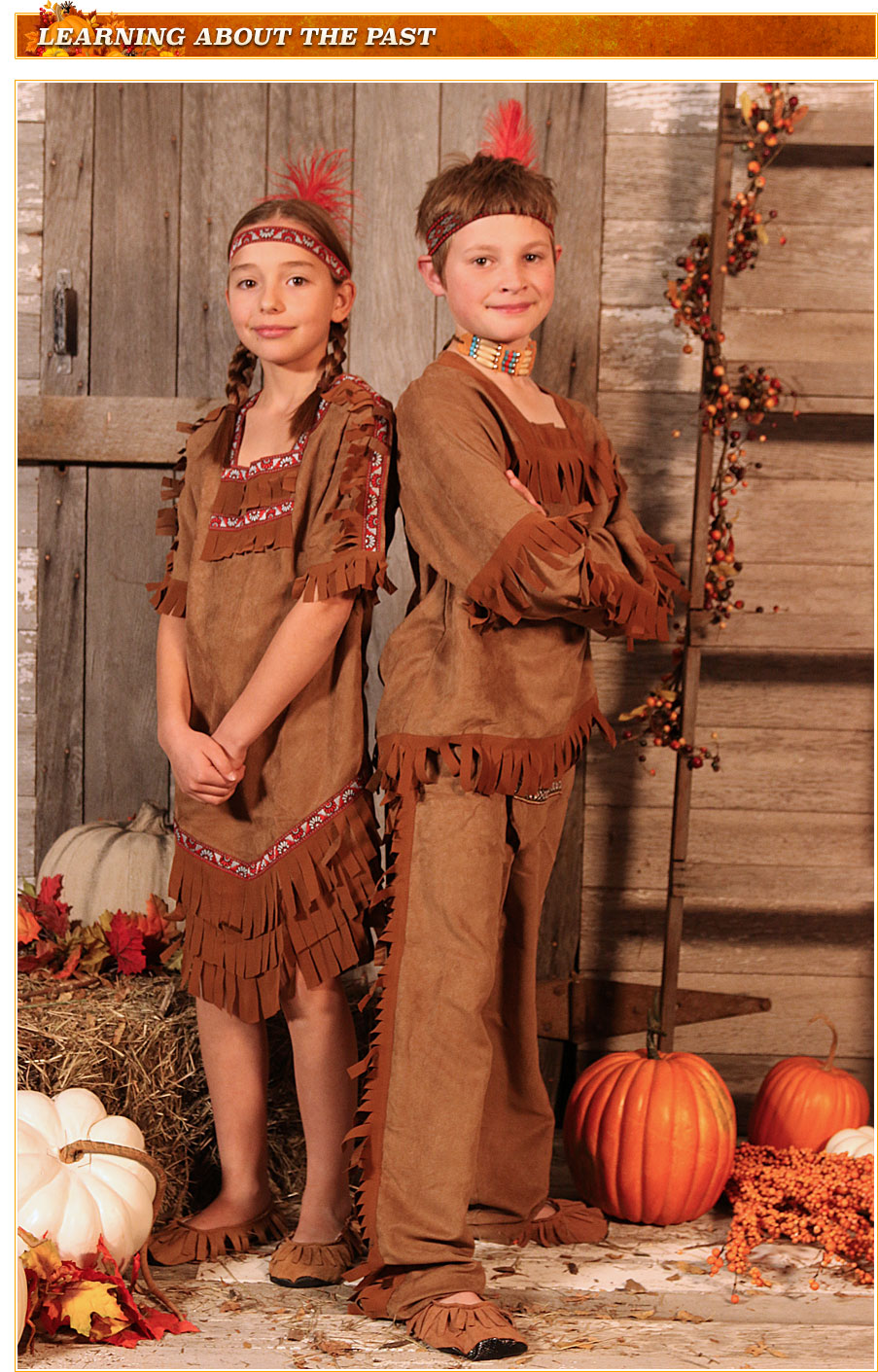 Meet the new tribe in town! Say, "hao" to these friendly Native American kids. They can't wait to carve into the turkey with their new pilgrim friends.

Sure, pilgrim and Native American costumes are always a hit during historical reenactments. But everyone knows that the real star of Thanksgiving is the turkey! If you want to enjoy the limelight for a day, dress up in a turkey costume and let out your best "gobble! gobble!" when your guests arrive! These colorful suits are going to make for some wonderful memories as well as some pretty funny pictures!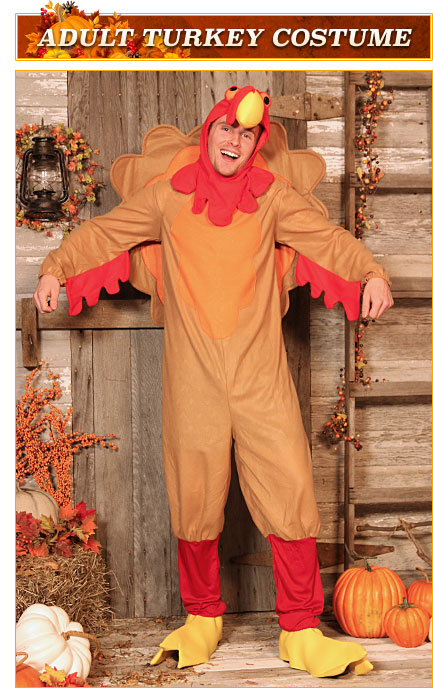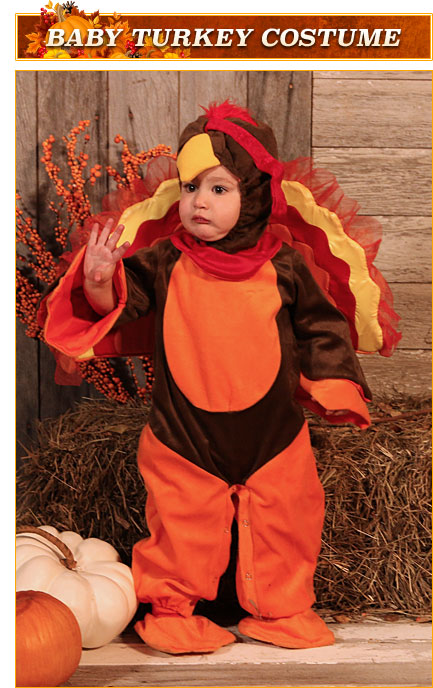 | | |
| --- | --- |
| Everyone will clap when the extra large turkey waddles into the room. Sure, they will be excited to see you but they will be more excited to gobble you up. Can you blame them? Those wings look tasty! | Even your grumpy uncle won't be able to resist cracking a smile when they see your little one dressed in this colorful baby turkey costume! Just be ready with plenty of comfortable places to sit because this tiny turkey is so cute, people can hardly stand it! |
Whether you are looking for the right pieces to complete your traditional Thanksgiving costumes, or just want to add a subtle festive look to your everyday clothes to celebrate the holiday, our collection of pilgrim and Native American costume accessories has something for everyone. Everyone knows that it's the details that take an ordinary celebration and turn it into one that is remembered for years!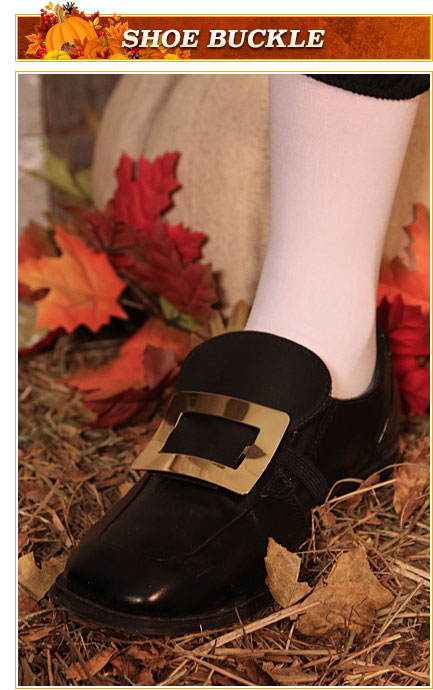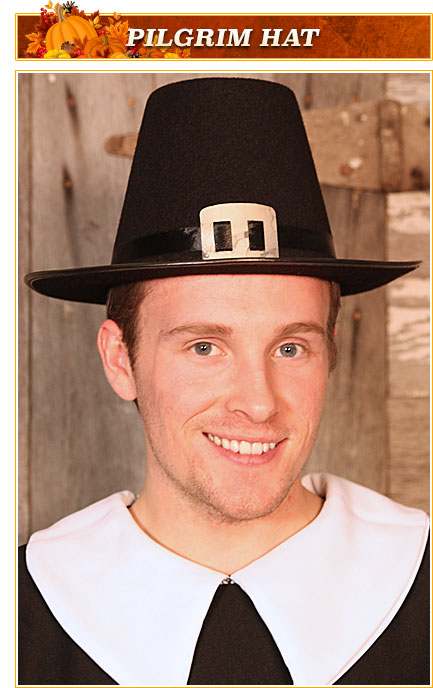 | | |
| --- | --- |
| Pilgrims could rely on the comfortable gold buckle loafer to support them throughout the day while they completed many grueling tasks. Since that isn't a popular shoe style now days, slip this gold buckle accessory onto your own shoes to recreate the look. | This classic Pilgrim hat with a gold buckle will pull the whole look together. It will also match the gold buckles on your shoes and your belt. |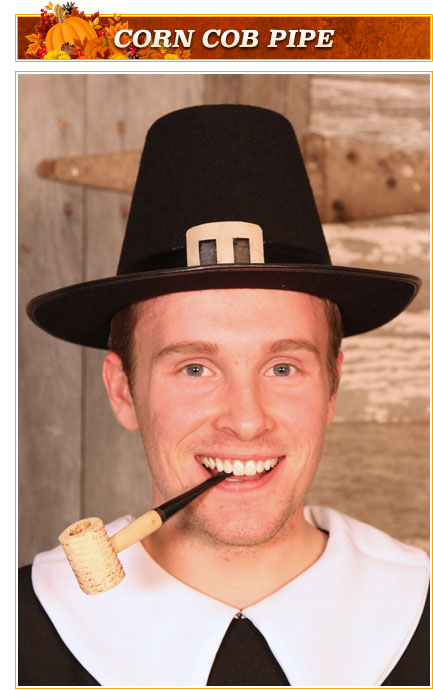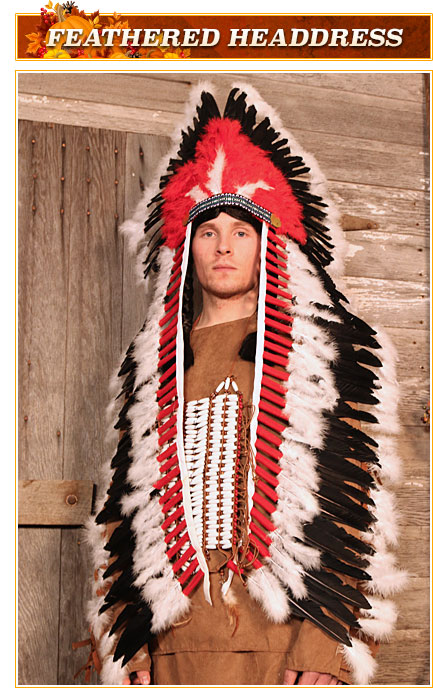 | | |
| --- | --- |
| There's nothing like kicking off your loafers, sitting back, and lighting up the old corn cob pipe. After all that tryptophan from the turkey has kicked in, you'll be looking forward to some relaxation and quality time with the good ol' pipe! | A headdress or a 'war bonnet' means that you are a selfless leader and revered warrior. You'll instantly be chief of the Thanksgiving feast and you'll sit at the head of the table when you show up to dinner dressed in this traditional Indian accessory. |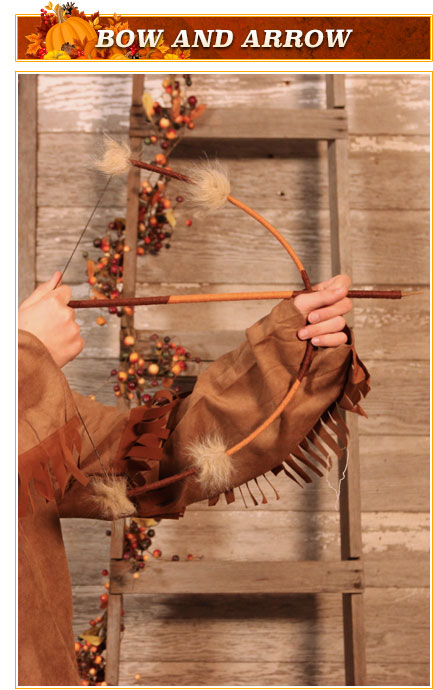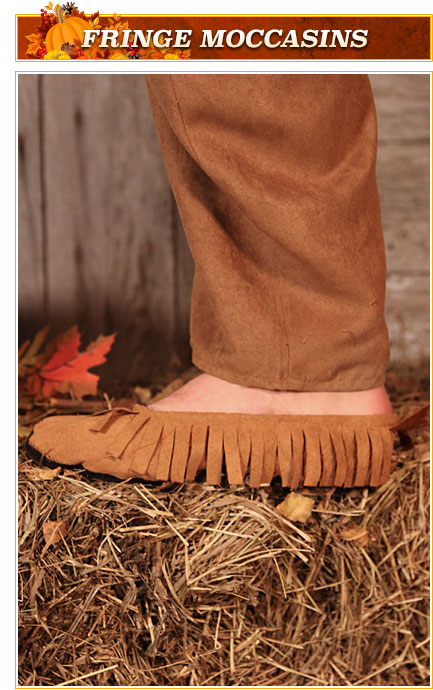 | | |
| --- | --- |
| Did you know that nearly every Native American tribe used the bow and arrow for either hunting or going to war? Thankfully, you don't have to hunt your own food or go off to battle but you can surely pretend to do so when you pick up this bow and arrow prop. | Want to be taken seriously at the pow wow? Step out wearing these comfy moccasins and everyone will know that you mean business. You can pretend to hunt, gather, and explore in these trusty shoes that are similar to ones that real Indians wore. |

President Lincoln declared Thanksgiving an official Federal holiday in 1863.
Macy's Thanksgiving Day Parade began in 1924 and originally featured animals borrowed from the Central Park Zoo rather than giant balloons.
Americans ate 736 million pounds of turkey during Thanksgiving 2012.
Since 1947 the National Turkey Federation has presented the President of the United States with a live turkey and two dressed turkeys in celebration of Thanksgiving. After the ceremony, the live bird retires to a historical farm to live out the rest of its years.
The heaviest turkey on record weighed 86 pounds.
An estimated 20% of cranberries eaten each year are consumed on Thanksgiving. More than 94% of Thanksgiving dinners include cranberry sauce.
An estimated 40 million green bean casseroles are served on Thanksgiving. Green bean casserole was created by Campbell's in 1955 for an annual cookbook. Campbell's now sells $20 million worth of cream of mushroom soup each year.
The brand Stove Top introduced their famous boxed stuffing in 1972 and now sells around 60 million boxes of stuffing at Thanksgiving.
In 2010 the world record for the largest pumpkin pie was 3,699 pounds.