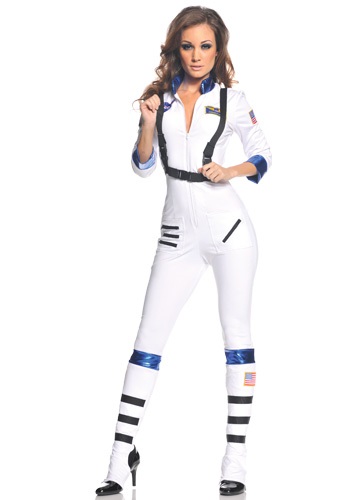 Jumpsuit

Boot tops

Belt w/ attached suspenders
We know that you secretly pretend that your car is a space ship, but it's okay. We won't tell anybody. If you're real nice, we can hook you up with a NASA style astronaut jumpsuit, though. You can tell everyone you picked it out for the party because it looked cute, but we both know it's because you want to wear it in your car and make rocket ship noises.
100% polyester

White jumpsuit that stretches for a form hugging look

Fits with zipper in front

Astronaut patches on chest and shoulders

3/4 sleeves

Blue metallic collar w/ foam interior

Matching boot tops fit over most high heels

Black adjustable belt w/ clips
Sexy Astronaut Costume
Product # UN29311
There are no reviews for this item.Be the first to write a review!