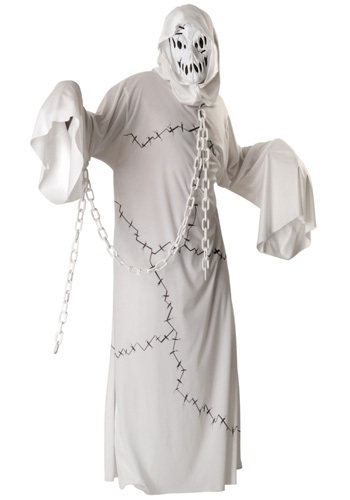 Product Description
When ever you enter a haunted house you better keep your eyes open. Because somewhere lurking in the shadows there is always a spirit ready to jump out and scare anyone walking into their home. Ghosts hate it when uninvited guests come in unannounced. You see, it is a very little known fact that ghosts love politeness. They only are tempted to scare when they feel there is someone who is impolite around them. So next time you plan on going into a haunted house be sure to send a letter before hand saying what time you'll be ariving at.
100% Polyester
White, hooded robe with printed stitching
Mask with black mesh over the eyes and mouth
Four foot grey, plastic chain
(Chain is not attached to the costume)
Product Reviews For:Adult Ghost Costume1 Review
Wife Scarey Costume
The costume was easy to wear and comfortable. I like a mask instead of having any crazy makeup on my face. It was like wearing pajamas and I was fully dressed and appropriate for any age party but enjoyed an adult party and mask was comfortable & easy to wear. The chain was not as long as it appears in photo but was just perfect to complete outfit & I tied my e-cig to chain. Thank you!!!
Fit Finder
For additional help: