Valentine's Day is a great day for couples, but it's also a great day for dressing up in your favorite costume! We have a variety of costumes for Valentine's Day including fun Cupid costumes as well as sexy Valentine's Day costumes for that special someone! Also check out our other red and pink costumes and accessories to add a little something extra to your Valentine's Day events.
MEDIA /
Valentines Day Costumes

When you hear 'Valentine's Day' you might think of bright reds, soft pinks, and a mountain of candy hearts with silly phrases on them. You might even think about cherubs, Cupids, and even a hot devil or two. Valentine's has been around a long time, and while costumes might not be the first thing that comes to mind when you think of the lovey-dovey holiday, perhaps our costume guide will inspire you to throw your own party on February 14th! What can we say? Love is in the air!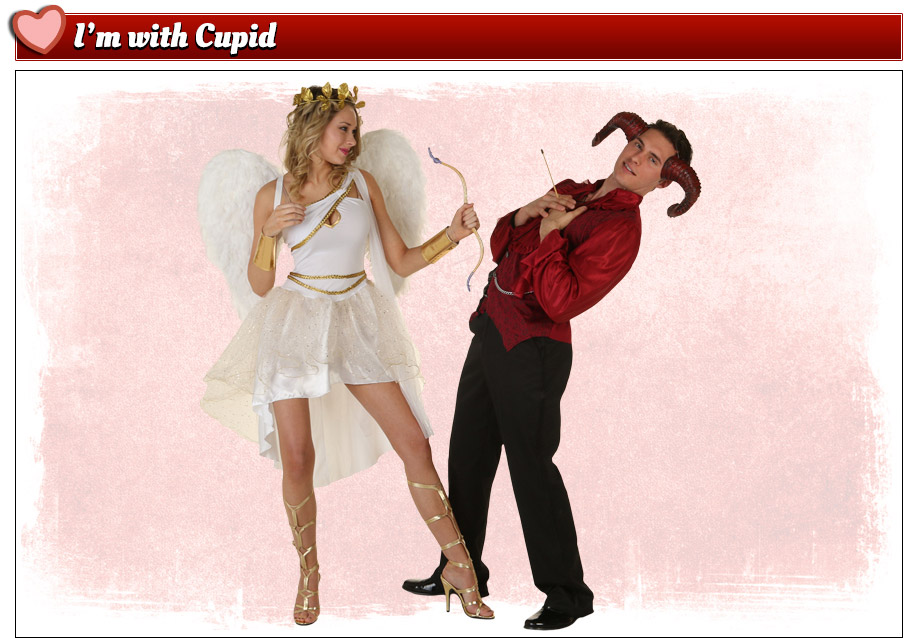 Cupid here is seen with her legendary bow and arrows, and our Devil is obviously smitten. Would you believe he's actually wearing one of our vampire costumes? They work really well as devils, especially when you add a pair of horns. Cupid is wearing our women's Hermes costume to get that classic greek style, along with a pair of feather wings. Together you've got an adorable couple representing both good and evil. We like to think, though polar opposites, they've really found a romantic harmony.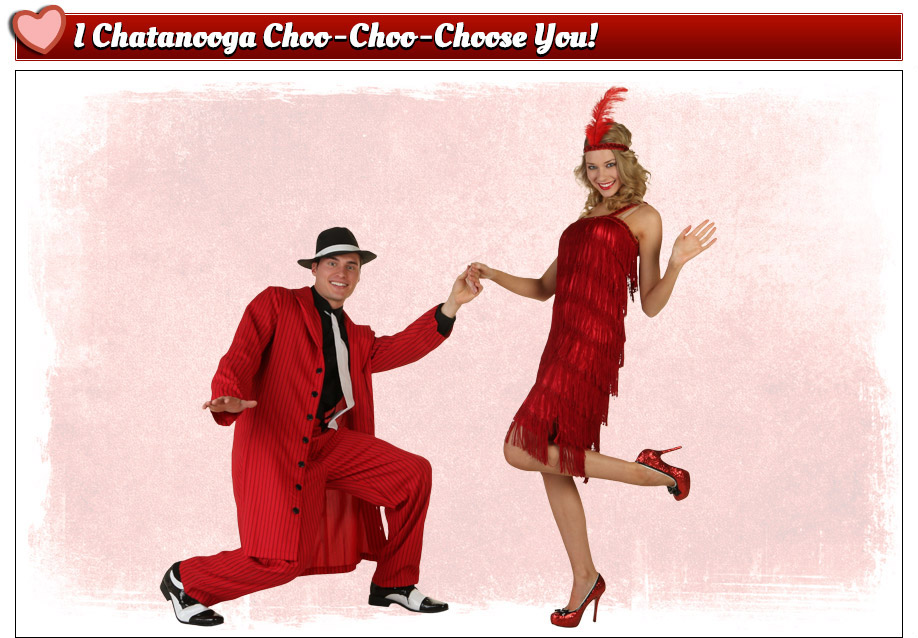 What do you do when you go to a Valentine's Day party? Why, you DANCE, of course! If you plan on taking your date dancing, or just to a sleek and swanky dinner at the nicest restaurant in town, then our 1920s style costumes are perfect. The guy here is wearing our red zoot suit with our two-tone shoes and hat. The girl is wearing our red flapper dress, which looks fantastic, especially with a little jitterbug shimmy. Show your love that you Chatanooga Choo Choo Choose them with these classic costumes, which, if you didn't notice, have lots of passionate RED featured throughout.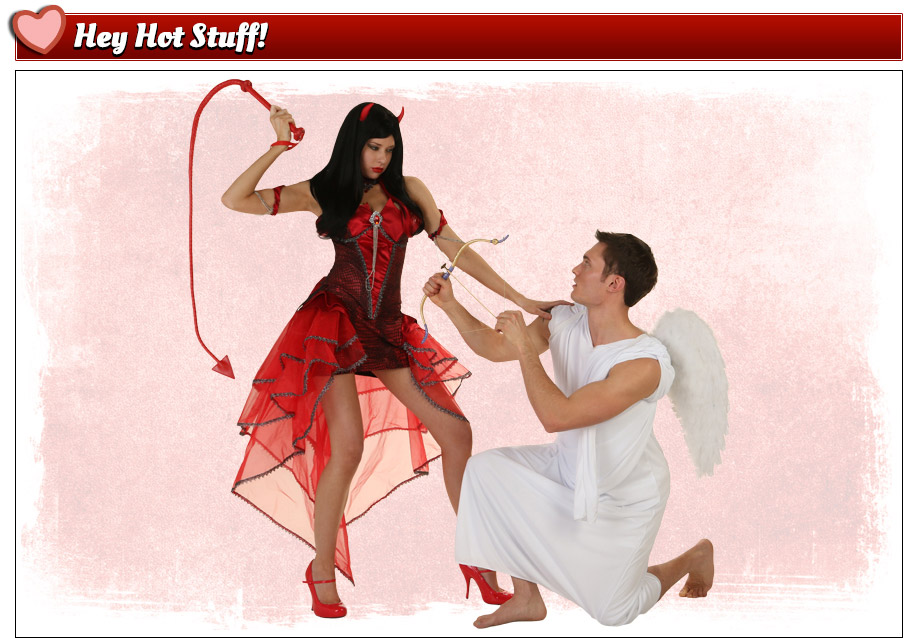 We've switched around from our first image of this pairing, so that the woman is now the demon, and the man is Cupid! That's a fun little twisty-twist. She is one seductive devil, using our devil tail whip to really sell that whole look. Our Cupid is wearing our toga, the same feather wings, and also an intimidated face as he tries to defend himself. Don't even try, dude! Sometimes, the "bad" side has to win.

There's been some legendary, fantastic, mysterious, beautiful, and tragic romances throughout human history. Some of them really happened, and others turned into myths, plays, and novels. We love it when people get inspired by history for their costumes, and even though Valentine's isn't known as a dress up holiday, we'd like to show you just a few reasons why it SHOULD be. Throw that Valentine's Day party for coupled and single friends both by using these ideas of famous lovers... who knows, you just might kick start a new, legendary romance at your party.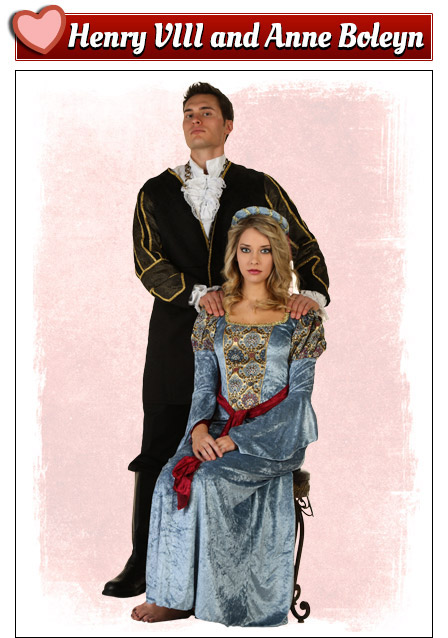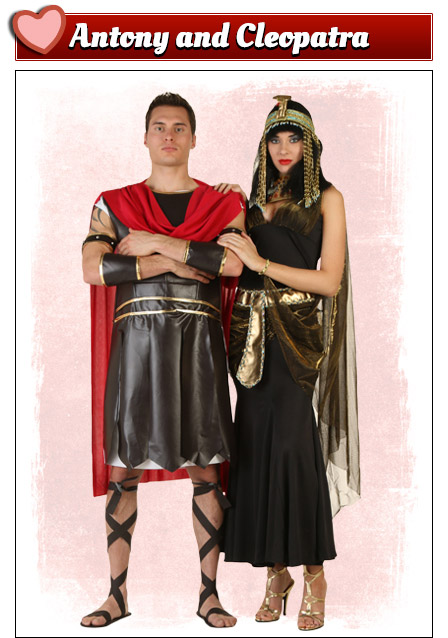 | | |
| --- | --- |
| Okay, while these two certainly didn't have a blissful marriage, they are still a fantastic example of a legendary romance, despite the way it ended. Henry VIII loved Anne Boleyn so much (or was attracted to her so much) that he actually separated from the Roman Catholic Church to get a divorce from his first wife, and then started his OWN church, of which, he was the leader. Of course, Anne ended up losing her head years later, but at the time, their romance was the talk of England. | Yes, Antony and Cleopatra were real people, but the fiction about them has, perhaps, taken hold as legend. William Shakespeare himself wrote an entire play about their love affair, and many centuries later Elizabeth Taylor and Richard Burton portrayed them on film to critical acclaim. The story, sadly, ends tragically, but they were one of the world's original power couples, and are a blast to portray for a night. |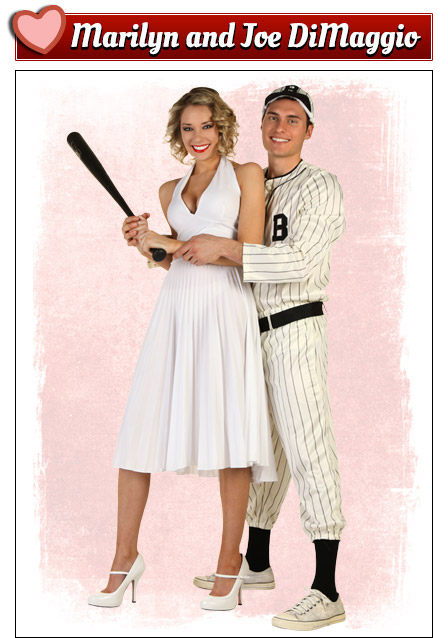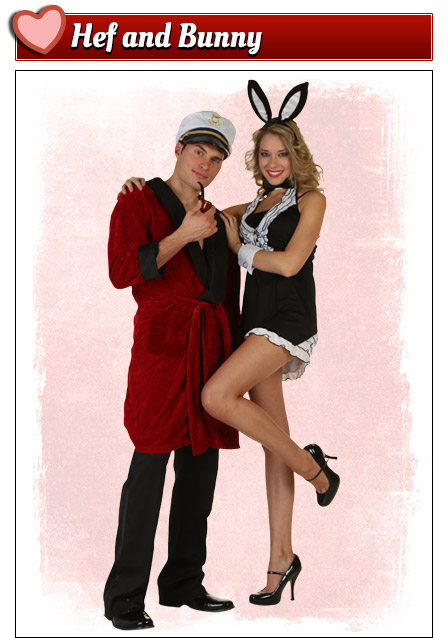 | | |
| --- | --- |
| You might not have known, but Joe Dimaggio and Marilyn Monroe were married! They were quite the famous couple in their time, and an early favorite of celebrity gossip as we know it today. They couldn't make it work, unfortunately, but they left plenty of black and white photographs of them looking very happy together for all of us to enjoy even decades later. | Despite his fondess for being a perpetual boat captain here in the twenty-first century, when Hugh Hefner got his start 60 years ago, he was quite the media mogul! Playboy has now become infamous through its magazine, and perhaps more so through its "lifestyle" which had a certain resurgence with shows like Mad Men. No matter how you feel about the whole swingin' bachelor thing, the Playboy Bunny and Hef himself are an iconic duo. |

You've decided that you've got to have a Valentine's Day costume party, you even got your own costume picked out, but now, how to accessorize? We've got this handy guide to show you some of our favorite items! Wings, hearts, and red, of course, are prominent! We hope our accessories of love inspire you to really make this February a passionate one.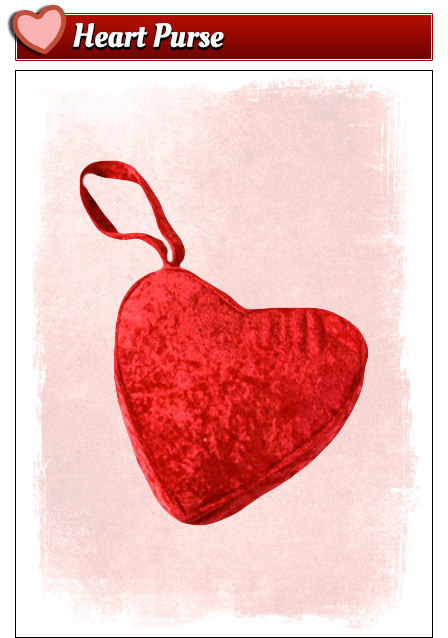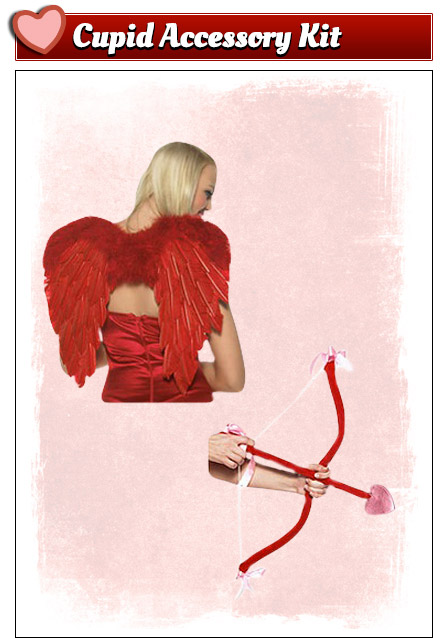 You've got to keep all of your belongings secure, but you don't want to just carry around your normal handbag and ruin your theme... get our heart purse! It's bright red, and in the shape of a classic Valentine's heart. Now that you've got your purse, you really can't fly away and do your Cupid duties without a pair of wings and the obligatory bow and arrow! Our red wings and bow set are soft and plush, and will make for a fun night of slinging arrows at your crush.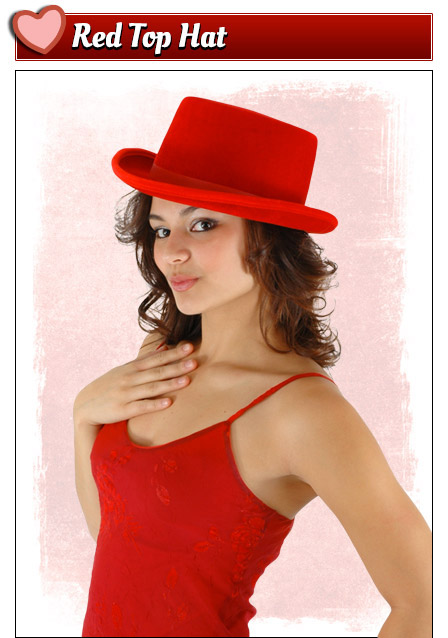 ?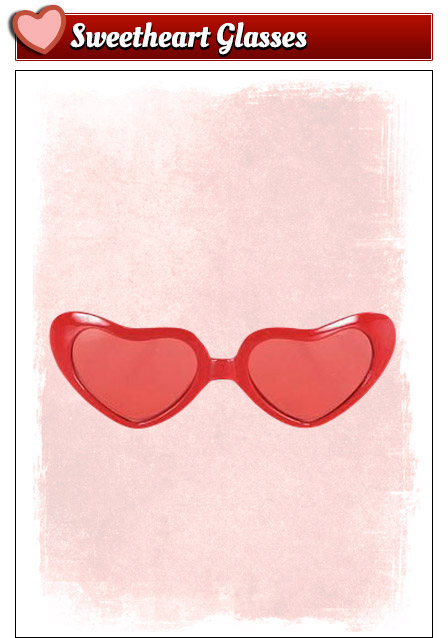 You've thrown a big party, and now the person you most wanted to talk to is across the room. How do you get their attention? Well, if you're wearing our red top hat, just give your hat a subtle tip in your crush's general direction. Before you know it, they'll be right over telling you how awesome your costume is! Have you ever heard the phrase about seeing the world through rose colored glasses? These sunglasses do just that! But it's Valentine's, so who wouldn't want to see the world with a pretty pink tint, right? You'll truly have love in your eyes when you go in these lovely shades.